The second half of our Bulgaria trip involved more monasteries, huge concrete monuments, fortresses, the coast and a peaceful nature park.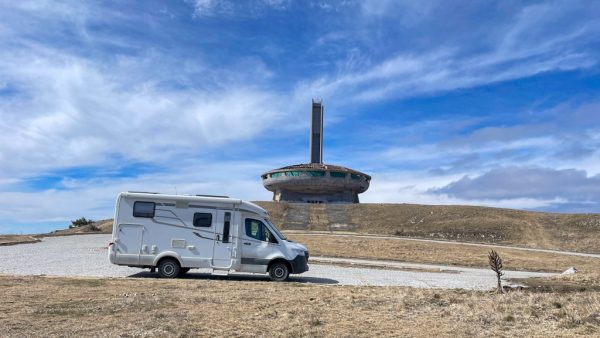 From Velingrad we headed to the Shipka Pass and the UFO-shaped Buzludzha Monument perched high above the pass and built as a communist assembly hall. Our tip for driving to the monument is to access it from the south and not take the road by the Freedom Monument to avoid over 5 miles of potholed road! We spent a couple of nights in the car park at the base of the Buzludzha Monument, one of which was very windy to say the least.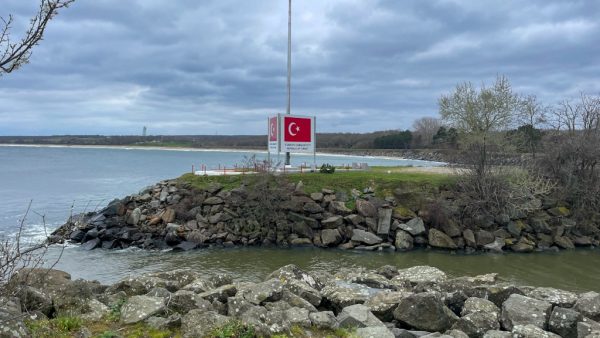 We headed back to the Black Sea coast, starting right at the most southerly point on the border with Turkey. In the area of Resovo we were stopped a few times at police checks and also had a subtle visit from the border police whilst we were parked up – they didn't question us but walked around the van a few times. We also stopped at Varna to find a beachside thermal pool which was an experience – definitely a meeting place for locals.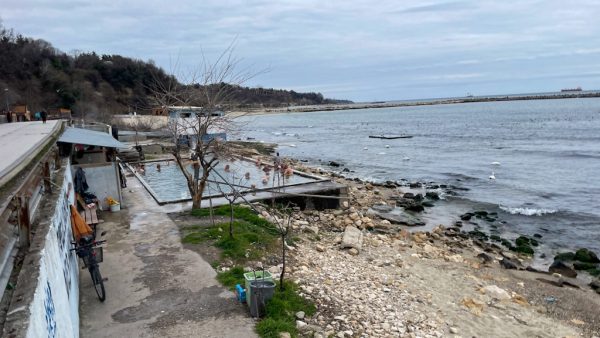 The Tsarevets Fortress in Veliko Tarnovo is worth every penny of the entrance fee (less than £5 each). It's a large area to explore and on a good day, it would be a good place to take a picnic and enjoy the views. The unconsecrated church in the Patriarch's Complex is home to some modern frescoes which are very different to those we had seen so far on historical monasteries. After leaving the fortress we had a wander around the picturesque old town which was full of craft and antique shops.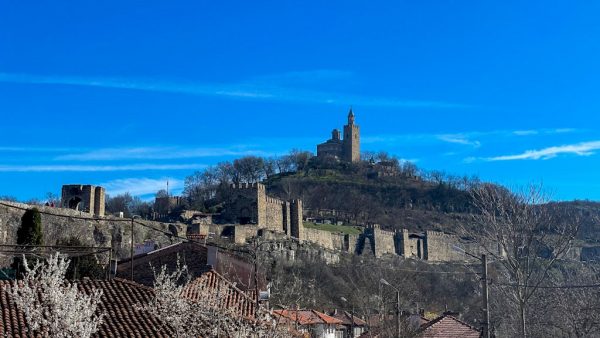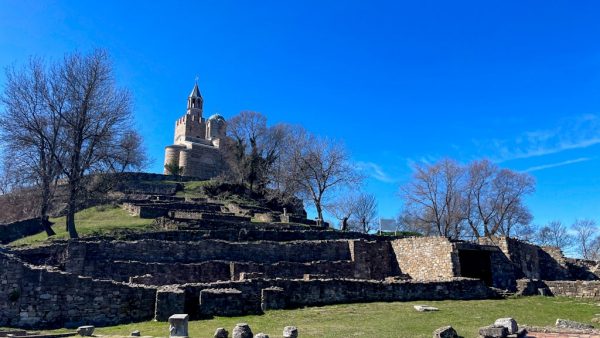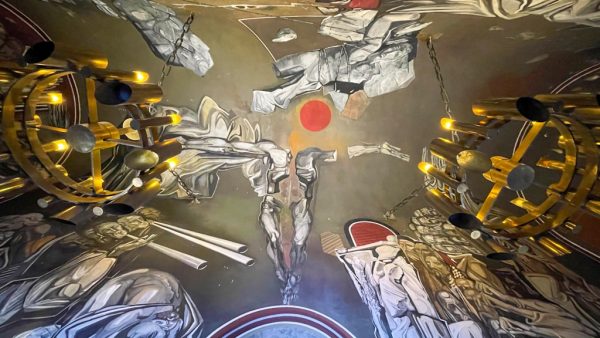 If you're looking to escape everything then visit Shumen and the Rusenski Lom Nature Park. Shumen is home to the Founders of the Bulgarian State Memorial, a huge brutal concrete structure high on a hill overlooking the town of Shumen and surrounded by forests which were great for walking. Rusenski Lom is an area of rock churches and steep gorges and again great for walking.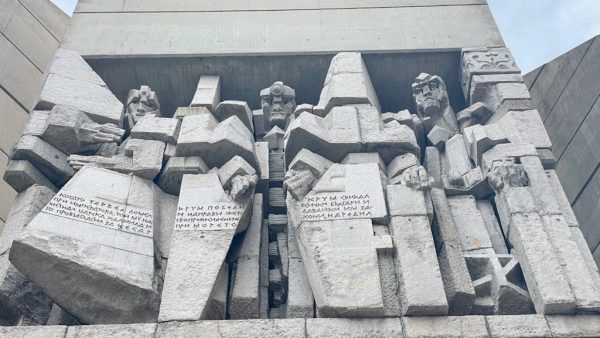 On the whole motorhoming in Bulgaria was easy and there was plenty of parking available. Water wasn't as easy to find as it was in Turkey as a lot of roadside springs didn't have tap fittings or were dry so we had to resort to buying bottled water again. Fuel was still relatively cheap at around £1.30 a litre and LPG everywhere, costing just over 50p a litre.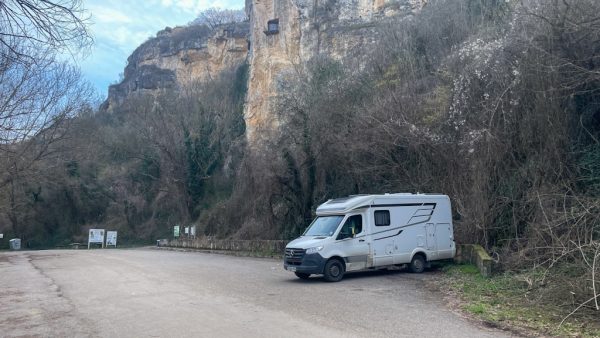 All in all a good place to visit and even more of a reason to visit soon is because Bulgaria, whilst in the EU is still not part of the Schengen area so a stay here helps to offset the 90 day limit and enables a longer visit to continental Europe.
Campsites used:
Burgas Camperstop: BGN30 (£13.50) for 24 hours. Price includes EHU, fresh water tap, showers, WC emptying and fast WiFi. Flat parking on the dockside inside the marina gate. Very quiet overnight.
Other overnight parking:
Troyan Monastery: Parking is BGN3 (approx £1.35) and we were allowed to stay overnight. A large hard standing car park for the monastery. No facilities.
Buzludzha Monument: several hard standing parking spots around the monument. Need to check weather (especially wind direction!) and park accordingly. No facilities but stunning views for miles. May not be accessible during heavy snow.
Veliko Tarnavo: a free P4N spot by the State Art Gallery. No real flat spots and no facilities but relatively quiet (apart from the local busker who was there in the afternoon!). We drove to a paid car park to visit the Tsarevets Fortress – it's a hilly town strung along the steep sides of a river.
Resovo: A couple of nights parked up by a closed beach bar at the most south-eastern point of the EU. Relatively flat and quiet, overlooking the narrow river border with Turkey. No facilities.
Varna: Free parking at the northern end of the town, next to the beach. Flat with no facilities and a short walk into the main beach area with bars and a thermal pool. Parking is next to a road which is busy during the day but was quiet overnight.
Shumen: Free parking in a large car park close to the Shumen Fortress and a restaurant. Flat and no facilities but great for exploring the local area with lots of marked walks in the surrounding forest.
Rusenski Lom Nature Park: One of our quietest park-ups in the nature park close to some rock churches. Flat and no facilities although maybe some cafes during the summer. Great place to walk and then to sit and listen to birdsong.
Ruse: Free parking between a railway track and the River Danube about 20 mins walk from the city centre. The trains run back and forth to the docks but don't run overnight so a surprisingly quiet stop. No facilities. Close to the Romanian border crossing.
Blog: www.bobandjune.com
YouTube: https://youtube.com/user/bobclewley
Polar Steps: https://www.polarsteps.com/ClewleysOnTour/5755379-the-balkans-and-beyond?s=0A28668E-486F-4DEF-80BA
Our Route: http://www.bobandjune.co.uk/the_balkans_and_turkey_route/