We bought a eTA visa for Canada at 7 Canadian dollars each. There isn't any documentation returned the visa is applied to your passport electronically.
As we intend to spend more time in the US than the 90 days an ESTA allows we went for a B2 visa. This gives us up to 180 days. There are various rumours on the internet of ways to get it extended. We wouldn't take any for sure unless it was from a government website. We will ask once in the States if we need it.
Our process included an online application in which we had to give all the details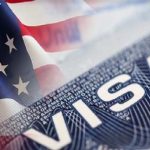 you would expect and details of any social media accounts you have. Once we had complete the online DS-160 and paid the fee ($160 each) we booked an appointment at the US Embassy in London. Worth noting that we had to get a passport style photo of each of us but 2 inches square. The standard UK passport photo will not be accepted. (We went to Snappy Snaps for ours)
The interview at the embassy went really smoothly but I would advise to book an early appointment. We booked 8.00 am and arriving at 7.30 am there was already a queue. When we left, about 9.00 am the queue was 2 or three times longer. Check with the US Embassy's website as to what you are allowed to take in. You do go through an airport style security scanner.
The interview itself was very straight forward albeit there were a few problems with the interview allocation screens. Having said that the staff were very quick to sort out a manual system.
We were told there and then that our visa had been approved and we were able to collect the passports, from a different address, 4 days later.
It all went very smoothly for us.