As we left Norwich to head back towards home for a second jab appointment, the weather began to change and it was rather wet as we arrived in Tring.
Balmers is a site we have used often to escape for a weekend from home especially when we've been to Chilfest, an 80s music festival. As we stepped out of the van on arrival the ground beneath us squelched a little but we got the mats under the tyres and had no issues moving off the next day to get to Watford for Bob's jab. Also managed to get June's done at the same time as they had just opened up to walk-ins for anyone eligible for a first or second jab and it was eight weeks to the day since June's first jab so she just scraped in!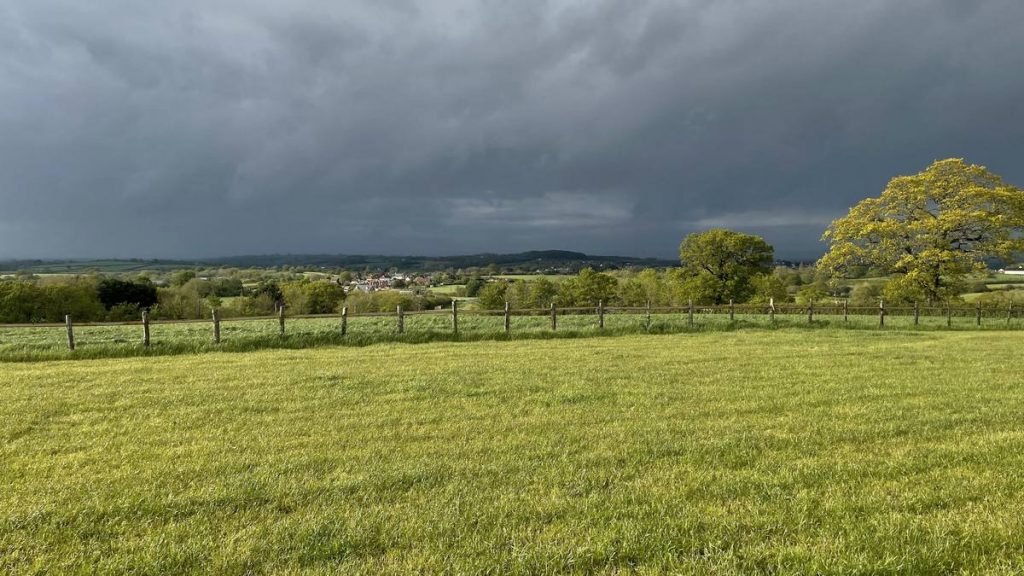 Turned out to be a busy weekend with friends visiting on the Saturday for a BBQ and then meeting family for lunch on Sunday. The BBQ didn't quite go to plan as the weather intervened and we all ended up sitting outside under the awning wrapped in blankets!
Despite leaving our mark on the field in the form of track marks we got to the paved driveway relatively easily and made our way to Dorset and What A View, a CL that certainly lived up to its name overlooking the rolling Dorset countryside. But boy was the ground wet! We pulled on to our pitch and were going to reposition the van but became stuck in the mud. Luckily we weren't planning to move for a couple of days and our caravanning neighbour offered to pull us out with his 4 x 4 when we did need to move.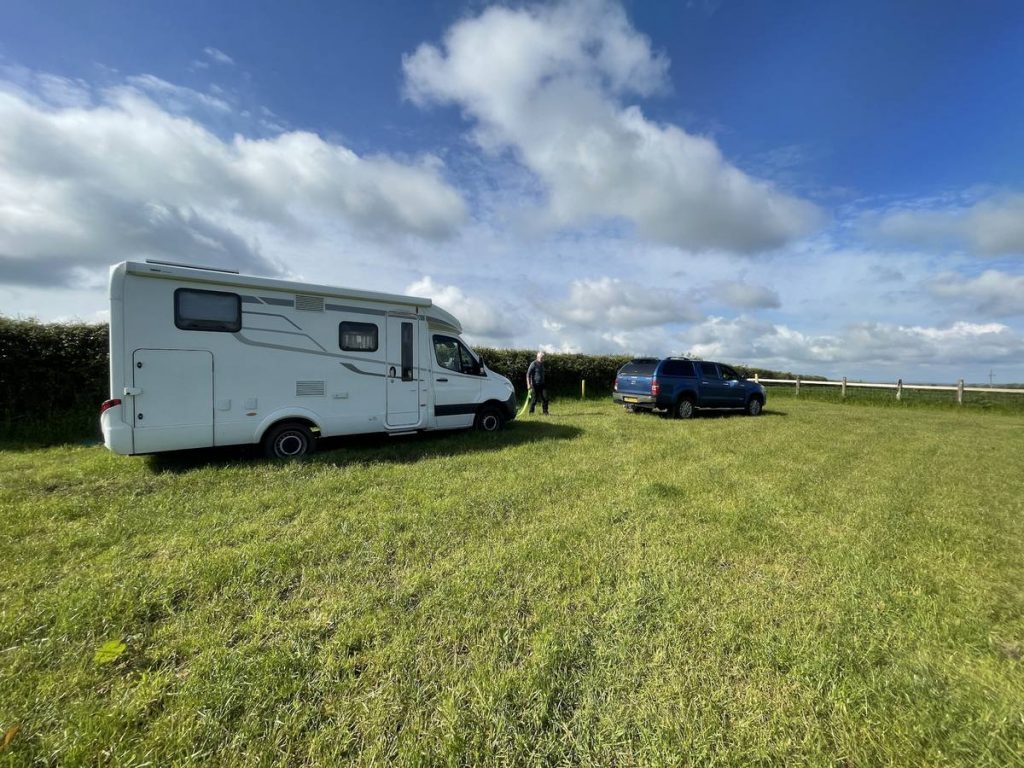 We spent a couple of days walking locally, one of them with a friend who took us to the Iron Age hill fort at Hambledon Hill and the Roman hill fort at Hod Hill before a leisurely lunch in a local pub.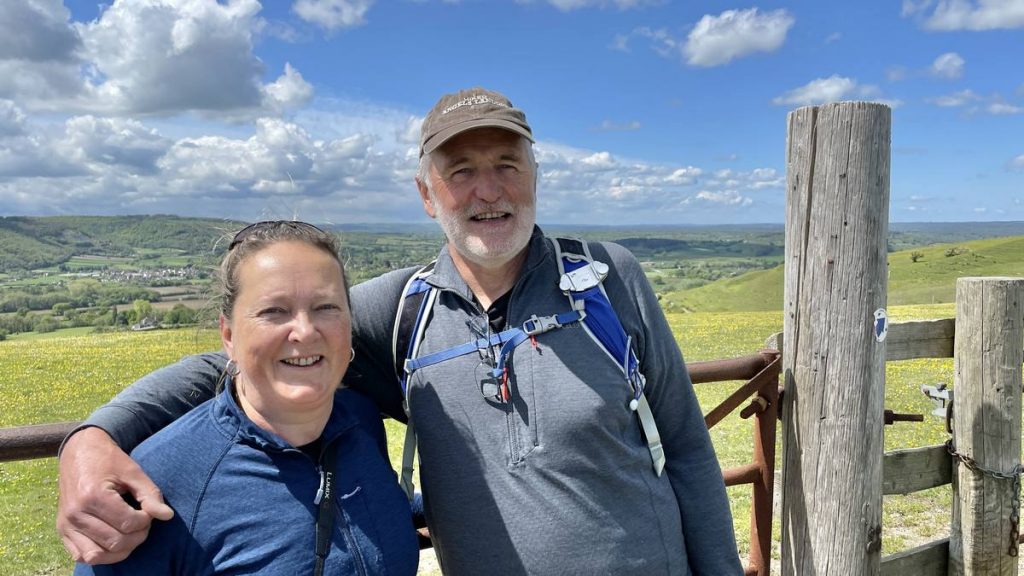 With the sun finally making an appearance and having repositioned ourselves on our pitch we were able to leave without any further incident and headed towards the coast for the first of two seaside weeks.
Our destination was the CS at Manor Farm in the village of Burton Bradstock. Being the first school holiday after lockdown restrictions had been lifted, a bank holiday and good weather forecast, it was understandably busy and we were lucky to get in although on the overspill area, along with several other vans. We didn't mind this as we had hardstanding and EHU and didn't plan to be around the site too much.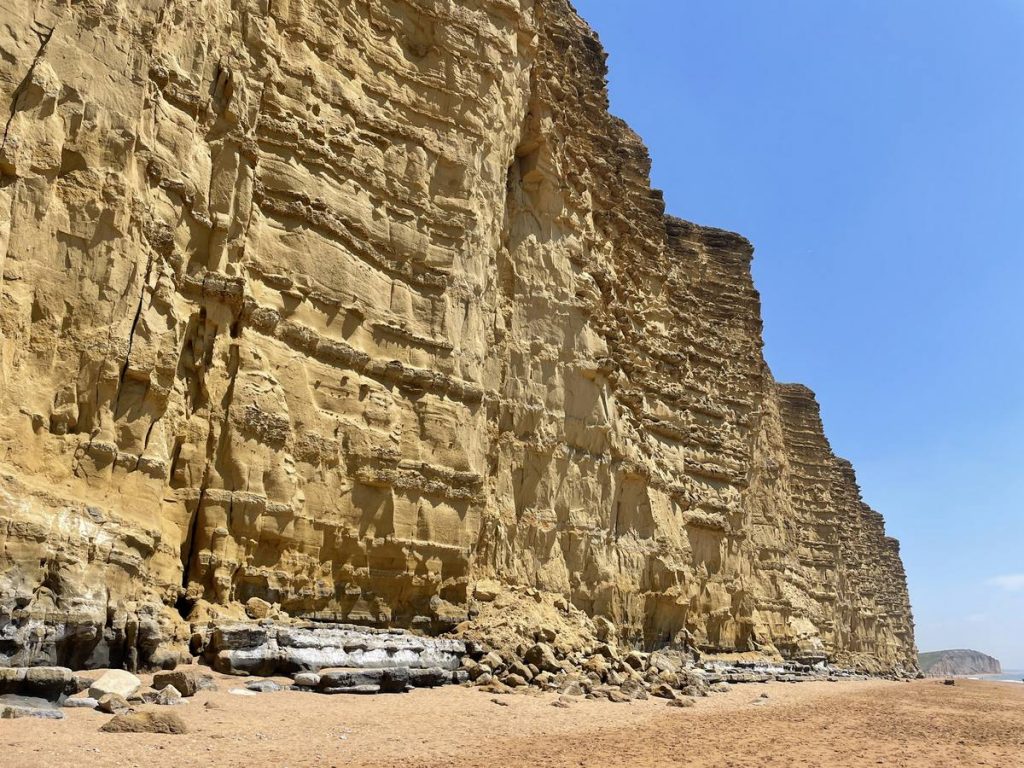 From here we had easy access to the South West coastal path as well as a nice walk into the local town of Bridport (Saturday is market day). The village is all old stone buildings, as were many of the villages we passed en route, and has a village shop/post office for supplies. It also seemed well served for bus routes to explore further along the coast without the need to move the van.
We wandered into West Quay on the sunny bank holiday Monday which was maybe not the best idea but crab sandwiches were calling!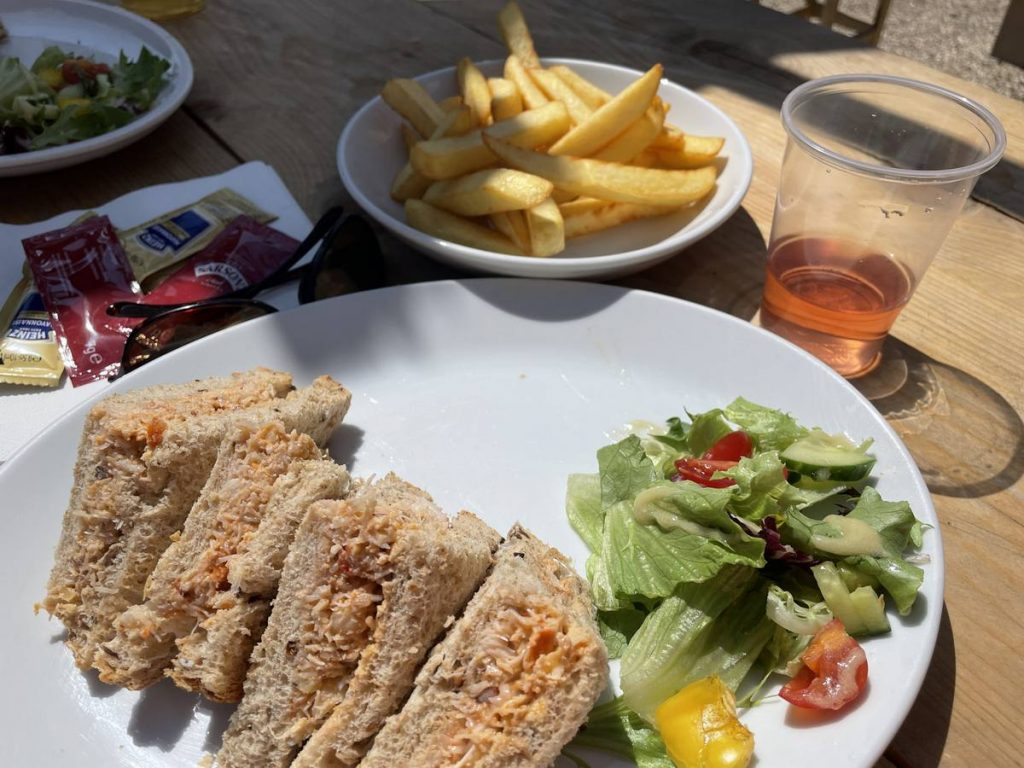 We decided to move on a day earlier and found a pitch at Stover CMC site located next to Stover Country Park. On the way though we popped into Abbotsbury Swannery. It really is a fabulous place to visit with, as you would expect, lots of swans and dozens of cygnets.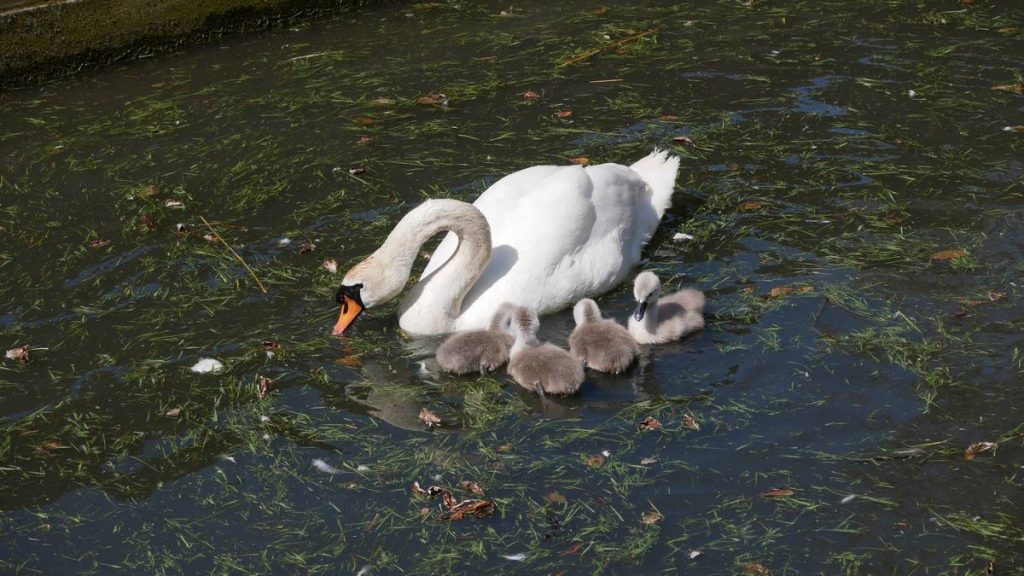 Stover is a great little site for a short stay – well maintained and spacious but no toilets or showers (not just closed due to COVID – they don't exist!) but that's not a problem with a self-contained motorhome. The rain had come back for a couple of days but we escaped for a few hours to walk around the lake in the country park and took a path out of the park to find a war memorial to the Canadian lumberjacks who had been resident in the area during the first world war.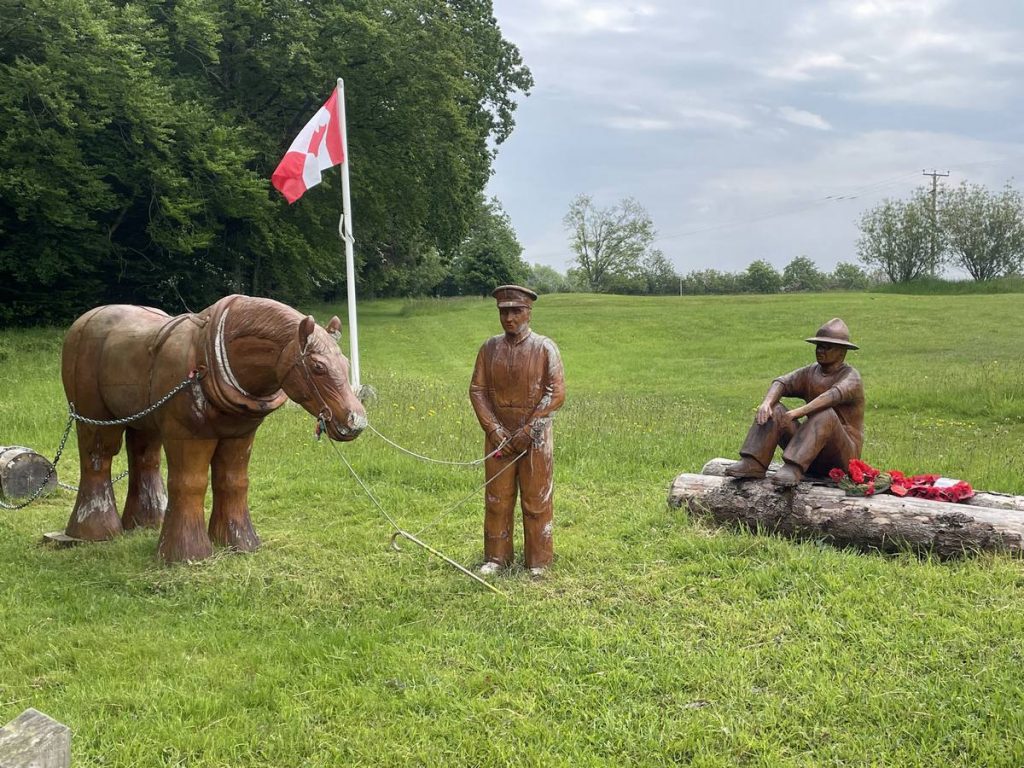 The next stop was a long awaited (eight years as it turned out!) catch-up with friends as we moved towards the north coast. A lovely relaxed time enjoying their hospitality, meeting their menagerie of rescued animals and the evening sun.
Another weekend and another HOG (Hymer Owners Group) event, this time on the large campsite of Easewell Farm, near Woolacombe in North Devon. We have been spoiled at the two events we have been to with fully serviced pitches and washing machines! It's great to meet the people you "chat" to on Facebook on all things Hymer as well as motorhoming in general, and spend a couple of evenings with a glass or two of wine sitting around swapping stories.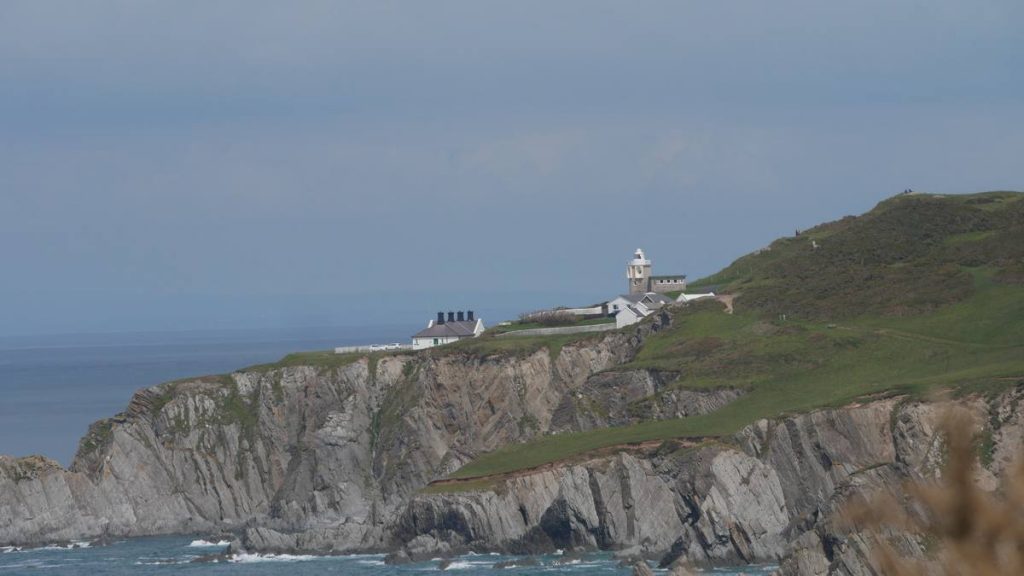 Although we had been to this area last year we still did two spectacular coastal walks; across country and down into a wooded valley into the village of Lee and then along the coast to Mortehoe, spotting seals on the way, and secondly, the coastal path through Woolacombe out to the headland at Baggy Point. After almost 23 miles of walking in total and over 2,500 feet of ascent, the fish and chips after the second walk were well earned!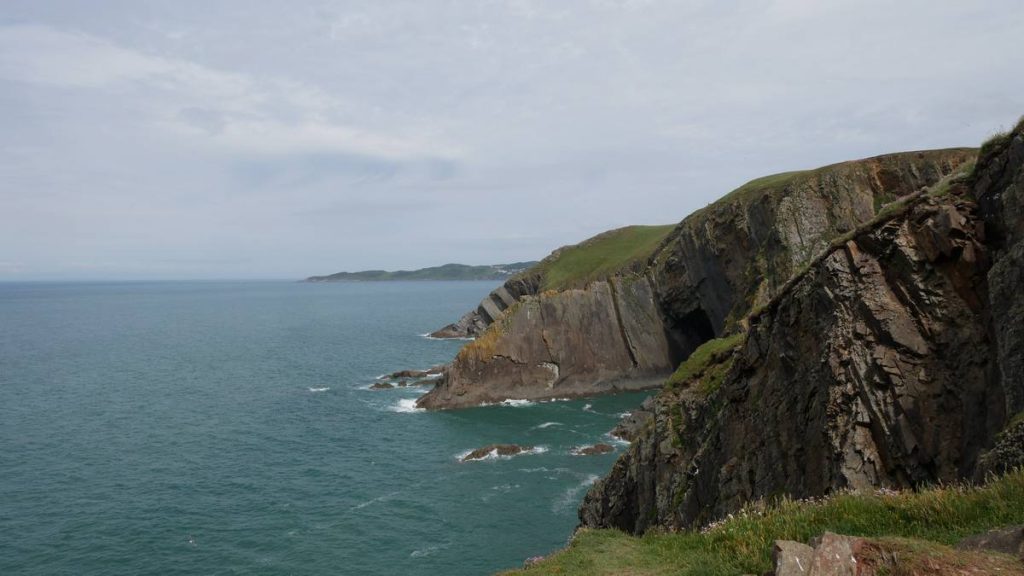 With an empty dirty washing bag and a severely depleted food/drink cupboard, we had our longest day driving so far since staring full-timing, as our next stop was The Paddock CS, an adults only site on the south shore of Rutland Water. We needed to have the van engine serviced and had tickets to the Peterborough Motorhome Show so did both from Rutland Water, using the Intercounty Truck and Van Mercedes dealership near Peterborough for the servicing.
Having spent a lot on time in the van, we needed to get out walking and spent the best part of a day walking around the reservoir. Those 16.5 miles obviously included the obligatory #clewleysstopforcoffee and as a bonus, a #justtheone almost at the end although for one heart-stopping moment we thought the pub was closed – thankfully not!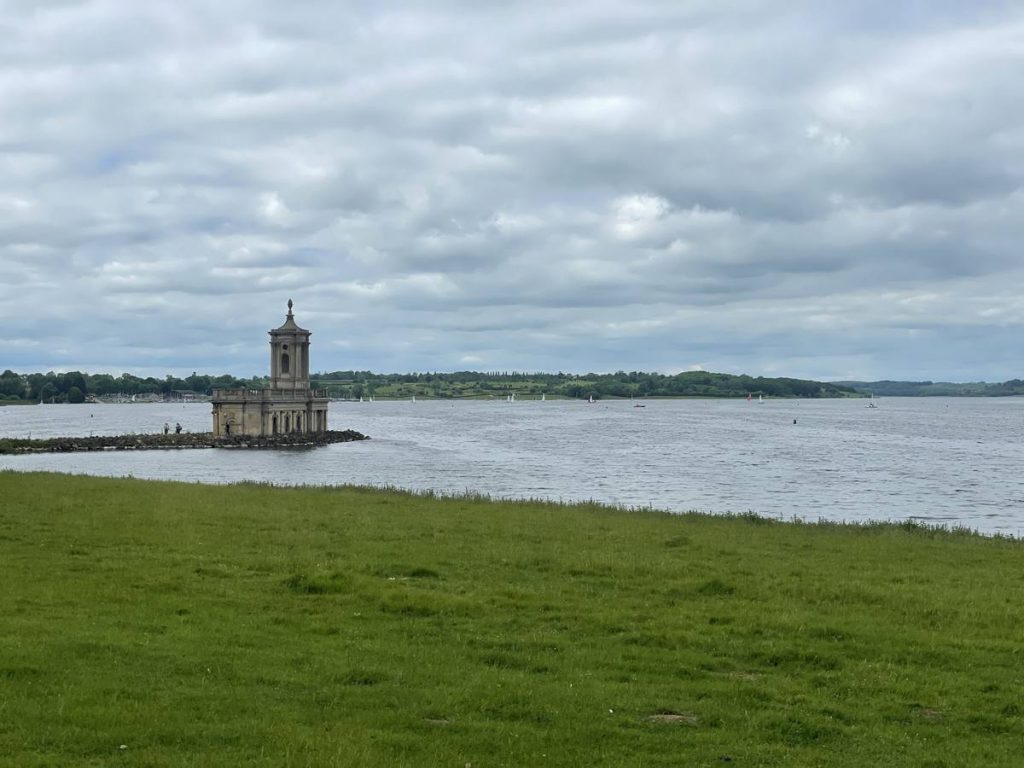 We have a couple more days here with hopefully a warmer visit from friends this afternoon and a visit to the nearby osprey centre tomorrow before another week of meeting family and friends back in London.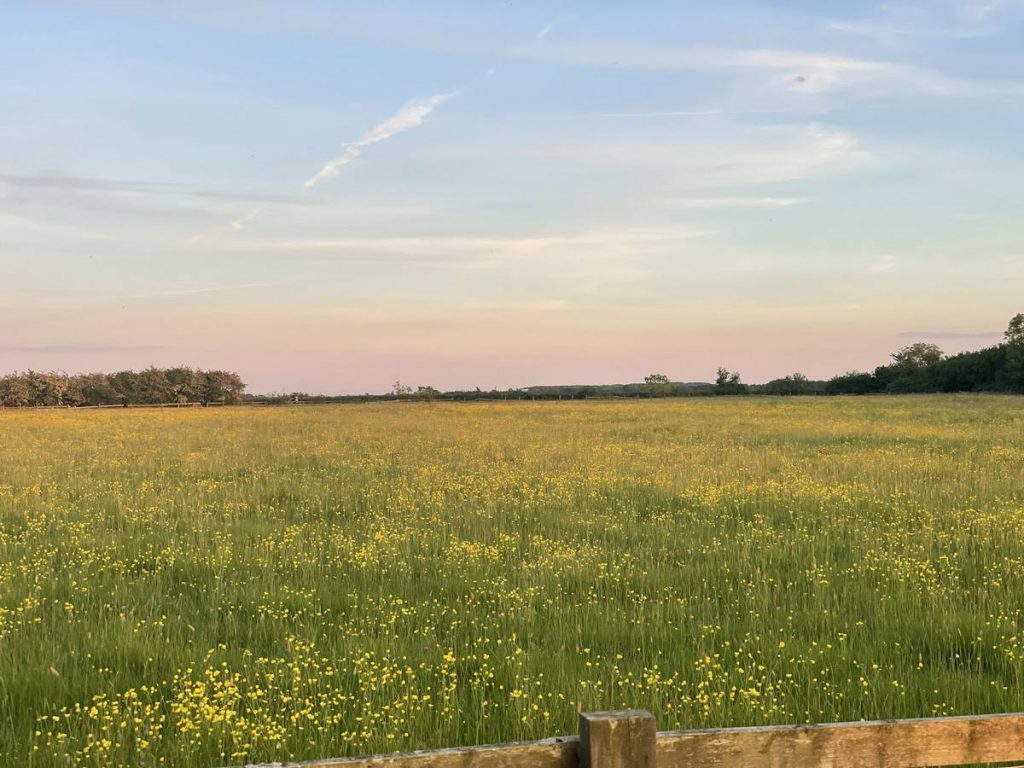 Sites used:
Balmers CL, Wigginton, near Tring: £7 per night. No EHU but water and dumping facilities. All grass.

What A View CL, Sturminster Newton, Dorset: £12 per night. No EHU but water and dumping facilities. All grass.

Manor Farm CS, Burton Bradstock, Dorset: £18 per night. EHU, water and dumping. Mixed pitches

Stover Camping & Caravanning Club, Devon: £22.50 per night. EHU, water and dumping but no toilets or showers on site. Mostly hard standing.

Easewell Farm Campsite, near Woolacombe, Devon: special HOG meeting rate. Large family holiday park with various pitch types available.

The Paddock CS, Rutland Water: £15 per night. No EHU but it is available (extra £5 per night), water and dumping facilities. All grass.