To complete our trip to Turkey we had planned to follow the Black Sea coast pretty much as far as the border with Bulgaria but as usual we took a few detours along the way!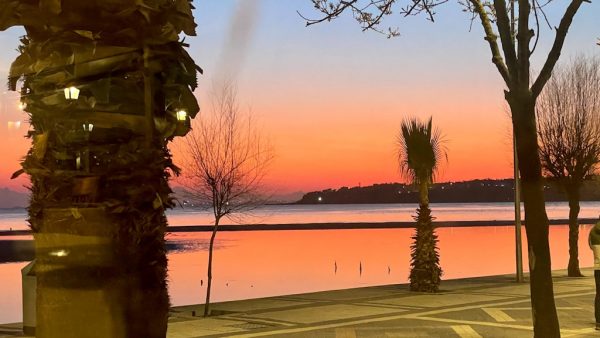 The coastline itself was a never ending series of, well to us anyway, very similar towns spread along one of the main truck routes from Georgia and Azerbaijan and not very inspiring. Maybe it was the weather, or that places were busy so we had problems parking but we just weren't feeling it. Heading inland a little though, the hills are covered in tea plantations and very quickly you are back in the mountains again, much more our thing.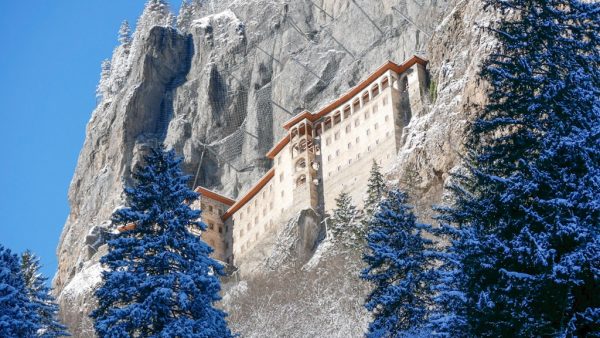 We did however enjoy our visits to the old towns of Safranbolu and Edirne, our final stop in Turkey.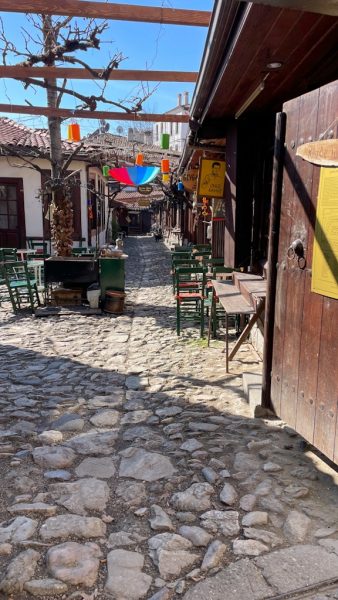 Safranbolu made its name as an isolated source of the precious spice saffron. Nowadays the old cobbled streets cater for tourists but it's well worth visiting. We loved the workshops of the Metalworker's Bazaar where Bob was invited to try his hand at forging something.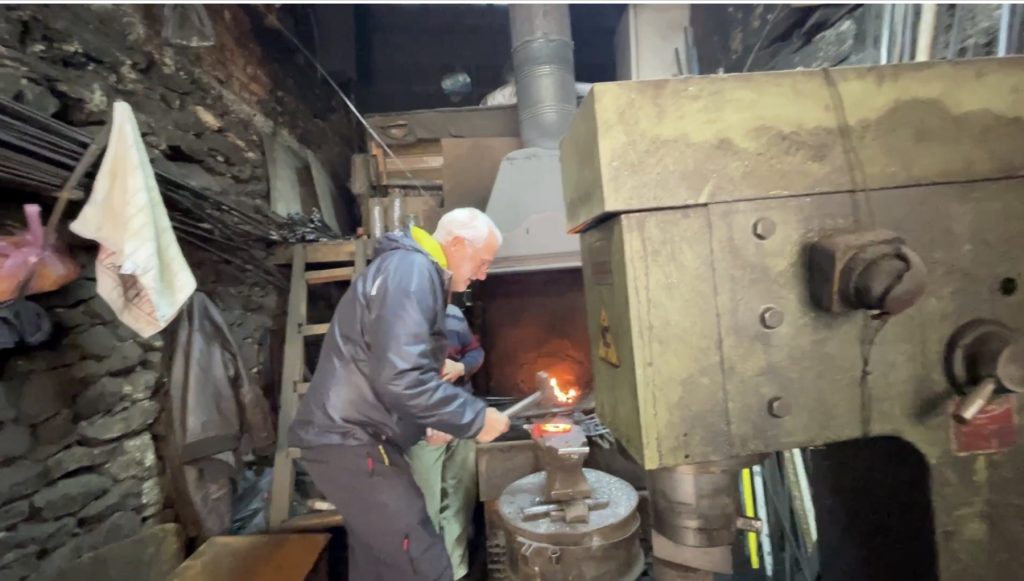 Most people leave here having bought saffron or local Turkish delight but we came away with a hand forged axe and some handmade cups and saucers from the pottery next door.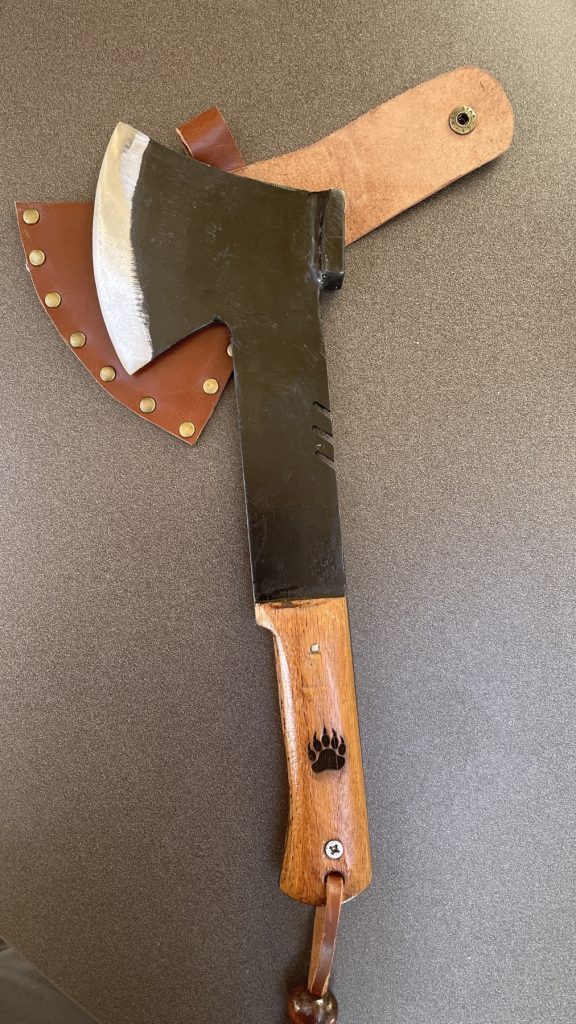 We had to stop for the obligatory gözleme and this time we got to see the café owner making the pancakes.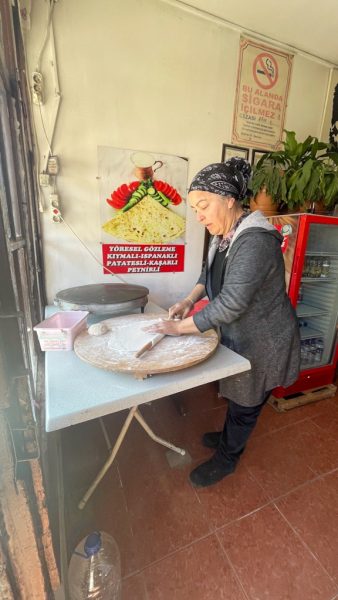 We stopped in Edirne to see the Selimiye Mosque but it is currently undergoing extensive renovations. However there are several other beautiful mosques close to the old town so we visited those – we both love the architecture and the internal decoration of the mosques. We will miss the daily prayer calls, even the dawn ones!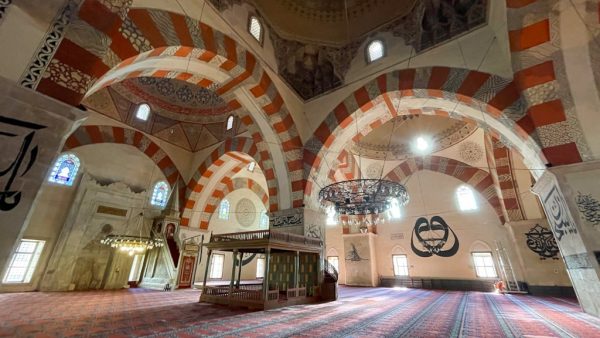 We have really enjoyed our trip to Turkey and will come back again one day and not just because we were buying fuel at under £1 a litre! Motorhoming was easier than we expected as water and LPG were readily available, although the roads can only be described as variable! Don't underestimate the size of Turkey (we drove just under 5,000 miles in all) and even after almost three months, there is still so much to see.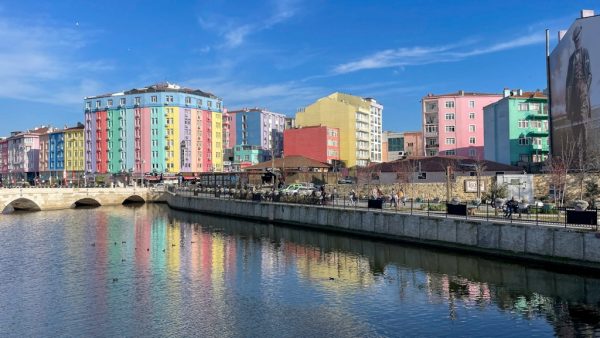 There is something in Turkey for everyone – beautiful coastline, high mountains, ancient history, modern cities and great food. The people are so friendly and we were welcomed everywhere we went.
We will post a summary of the trip shortly but if you are thinking of visiting Turkey in your motorhome then do it!
Campsites used:
Danzi Camping, near Ardeşen: tl250 per night including EHU. A relatively new riverside campsite close to the Georgian border, run by a very friendly couple. The site is mostly for tents but there are a couple of mostly grass but flat pitches for vans. Newly built block housing showers, toilets and a communal kitchen which has a washing machine and tumble dryer (both cost tl50 a use). Small lounge area in which food and drinks are sold.
Safranbolu Karavan Kamp, Safranbolu: tl250 per night with metered electric extra. Very sloping site although the owner said he intends to level out the pitches, and when we visited, it was very muddy! Pricing was a bit confusing and he didn't mention metering the EHU until the following morning – not that we had an issue with that but we just like to know upfront! Great site for walking to the old town of Safranbolu.
Other overnight spots:
Sumela Monastery: we would have stayed in one of the payable car parks but because of the snow, they were all closed! We managed to tuck ourselves away for a free night. Toilets close to the monastery but closed when we visited.
Terme: an overnight stop on a beachside track to the east of Terme. A rough track surrounded by lots of rubbish but it had been a long driving day and all the campsites were along the main road. No services.
Vezirkopru Park: tl95 for entry to park. A beautiful country park that allows overnight parking. Toilets and freshwater taps throughout the park. Slightly sloping but hard standing parking spaces.
Horma Kanyon: another park up disrupted by heavy snow! We couldn't get into the official car park for the canyon so tucked ourselves into a little pull in and spent a night there wondered if we'd get out the next day! No services.
Alapli: large beachside car park and picnic area. Given it was a Saturday night there were a few locals around revving their engines but they quietened down as we went to bed. Toilets nearby but no other services.
Silivri: a large grassed area, a short walk to the town with its restaurants and cafes. Lots of cars coming and going but quiet at night. Close to a supermarket. No services.
Selimiye Otopark, Edirne: tl105 for overnight parking. Large flattish car park close to the Selimiye Mosque, with large spaces for motorhomes and coaches. Be careful of some people trying to steer you to parking in less salubrious areas! We nearly fell for it but gut instinct told us we were not in the right place. No services.
Blog: www.bobandjune.com
YouTube: https://youtube.com/user/bobclewley
Polar Steps: https://www.polarsteps.com/ClewleysOnTour/5755379-the-balkans-and-beyond?s=0A28668E-486F-4DEF-80BA-D43AA17F7A87