Saturday 15th February
For this trip we were going with Amy and Chloe, something we hadn't done for a few years.  Had to go during the half term as it was the only time we could all get together.
The day before we left the UK we had a bit of an issue when we found that you could no longer get a tourist visa at the airport.  June had been to Turkey with work several times and had always paid for the visa on arrival.  When checking the cost on the Friday afternoon June found that was no longer the case and you had to get a e-visa.  Thankfully it was a simple online process with immediate delivery of the visa but at $36 each,  slightly more expensive than the previous £10 on arrival!
This was a British Airways holiday and having arrived in Istanbul late afternoon, we had a pre-arranged transfer who took us to the Hotel Byzantium in the old City.  When we got there we were told that due to planned building work going on in the hotel we would have to stay in another hotel next door for one night….  Not a good start but it got better.
We had chosen the Byzantium as it was right in the middle of everything in the Sultanahmet area and surrounded by restaurants and cafes.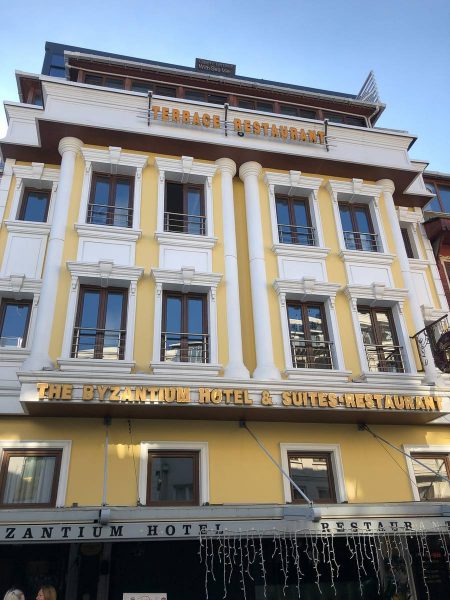 The first night, somewhat spoiled for choice, we ate at the Magnaura.  Really nice restaurant.  The girls went back to the hotel while we had a short bimble.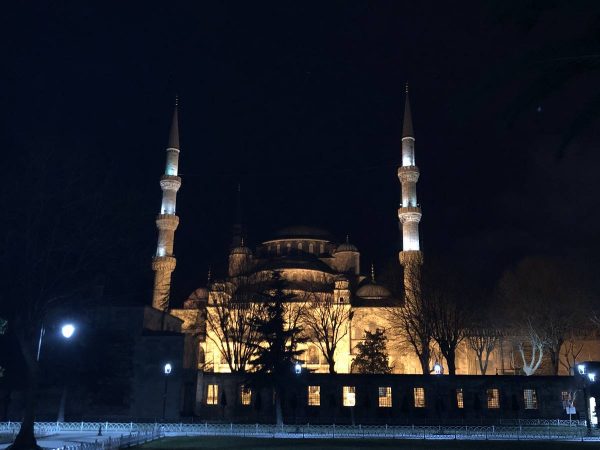 Sunday 16th February
The next morning we returned to the Byzantium where the staff were very apologetic about our first night and quickly sorted us out with a family 2 room suite. 
Once settled in we headed off to Hagia Sophia.  As we arrived there were quite long queues for tickets.  At that point Omer, (omercakircali@yahoo.com) a local guide, approached us and won us over with his patter and the fact he could by-pass the queues….
Once in Hagia Sophia Omer came into his own.  His 'bullet point' guide style was perfect for us as he showed us around the stunning building.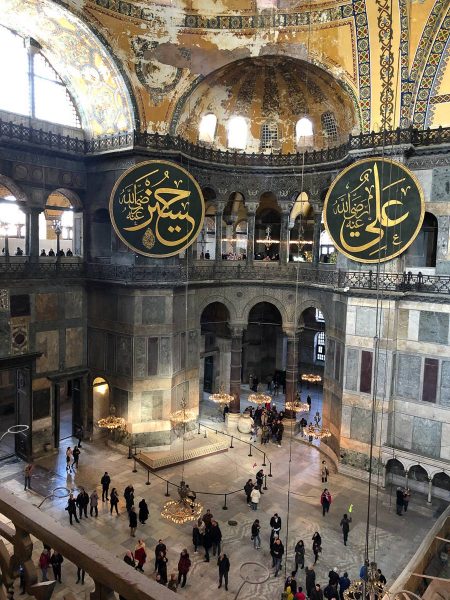 It was hard to miss the fact that there was a lot of renovation going on, not just here, but at a lot of the other tourist attractions.  I guess it must be a constant job with buildings as old as these.
Omer left us for 30 minutes to look about for ourselves before we caught up with him again to visit the Basilica Cistern which at 9,800 square metres, is the largest of the cisterns that lie beneath the city.  Originally fed with water from 19 kms away to the north via aqueducts
This setting was used in Dan Brown's Inferno and other films.  It is a  real must go to place.
Again this was having work carried out and once completed you will be able to walk on a glass floor looking down on fish in the water below.
Several of the columns in the cistern are recycled and include one carved with the head of Medusa and installed upside down as it was the best fit.  After all when under water the fish won't mind too much.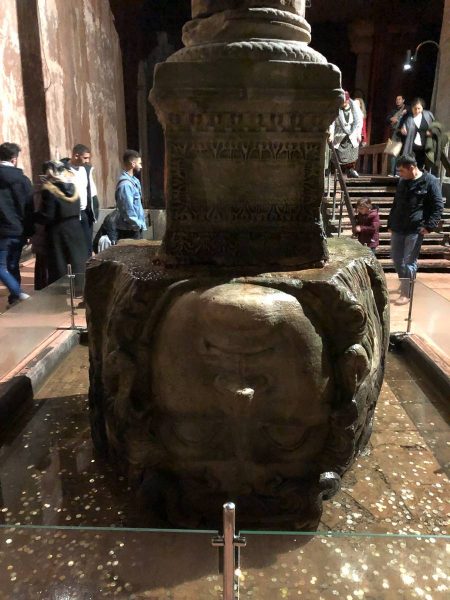 After a tasty lunch at the Karadeniz we returned to the hotel for an afternoon kip…..  Well it had been a busy day 🙂
That evening we ate at the Turkuaz gurme Restaura just a few metres from the hotel, again really nice food….  This was going to be the theme of the stay to be honest.
Monday 17th February
At the hotel we had bought a ticket for a IBO boat trip on the Bosphorus, a short cable car ride and coach ride around the old city walls.
We were collected from the hotel at 10.30 and headed off to the moorings and then headed off along the Golden Horn and into the Bosphorus.  The day was beautiful with clear blue skies.  There were no more that 30 of us on the boat,  but we can imagine in full season it would be crowded and you wouldn't have the space that we did.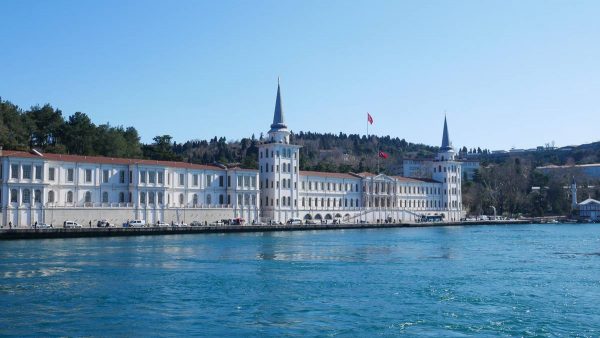 We passed many palaces and beautiful buildings as we headed north towards the Black Sea.  After about an hour we moored up at Bebek where we jumped off the boat and grabbed a coffee at the best Starbucks in Istanbul.  Well the view across the Bosphorus was stunning.
The return was along the eastern side of the channel and passing Maiden's Tower before returning to the starting point.
Once moored we jumped on to the coach and headed off to Pierre Loti  a cafe with a bit of a view across the Golden Horn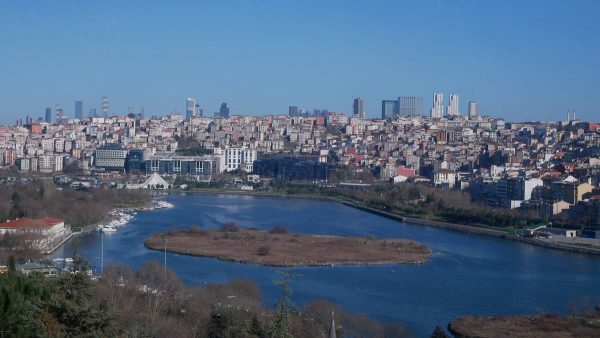 The cable car was a little disappointing but I guess it was never going to compare with those in the Alps.
The coach then took us on a short trip around the City walls where the guide explained that it actually consisted of 3 walls and that is why it was quite a secure city 'in the day'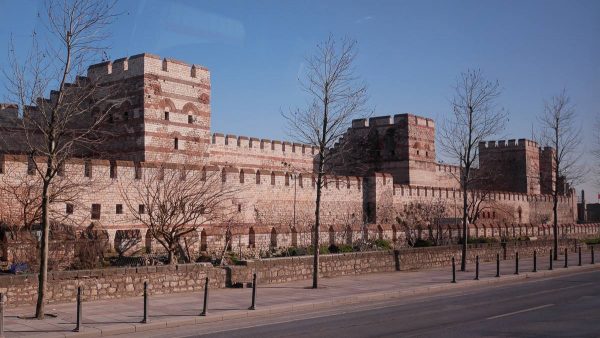 That evening the girls took us out for a meal as a belated Christmas Present.  They had chosen to take us to Sultanahmet Ottoman Fish Terrace House 
Beautiful meal and wonderful location.  Thank you Amy and Chloe.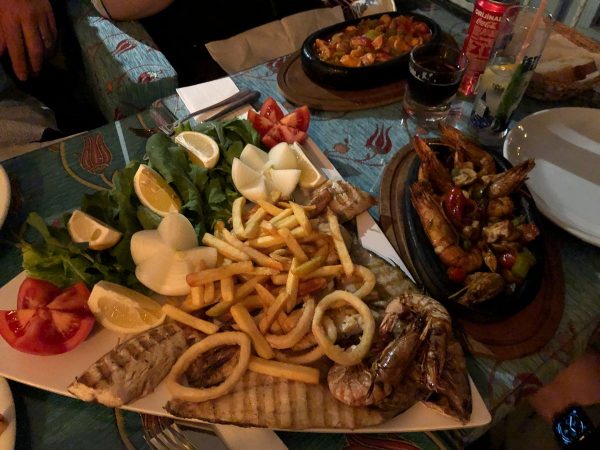 Tuesday 18th February
Today was a wandering day.
First we headed to the stunning Blue Mosque where like many of the places we visited there was restoration work going on.  It remains a functioning mosque and was built between 1609 and 1616.  It constantly amazes us how these huge building were built without today's construction equipment.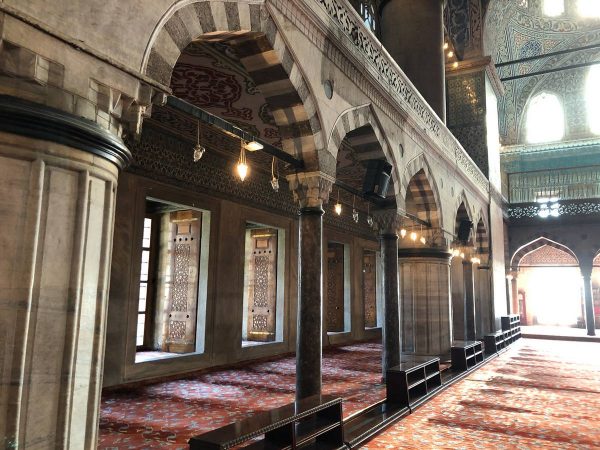 Next on the list was the  Galata Bridge.  One of the bridges over the Golden Horn.
On the bridge there are dozens of fishermen catching small to medium size fish that they then sell to commuters on their way home.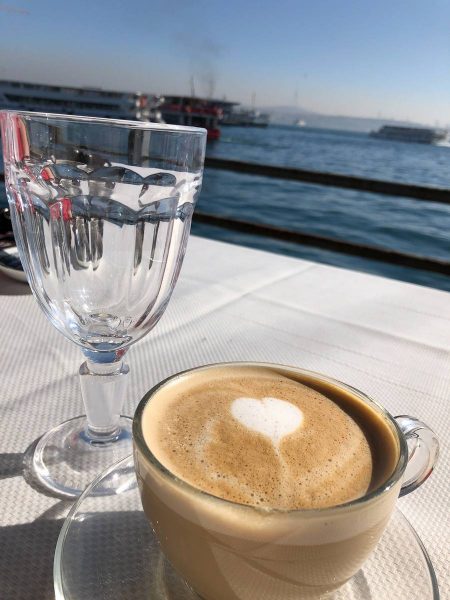 After a coffee, of course, we continued over the bridge to the Galata Tower where you can get a great view over the city. This nine story tower is almost 67 metres high and was built in medieval times.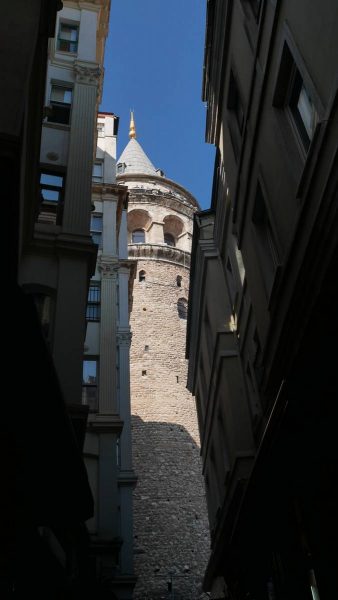 From the tower we meandered back to the Galata Bridge where we had fish for lunch.  When I say fish, they brought out a whole Sea Bass weighing 1.4 kilos for us to inspect.  Off it went to the kitchen to be cooked coming back very tasty.
That night we ate at the Babylonia Garden Terrace Restaurant.  Again very good food.
Wednesday the 19th February
Topkapı Palace was the first place on the list today…  This is a large museum and previously the main palace for the Ottoman Sultans.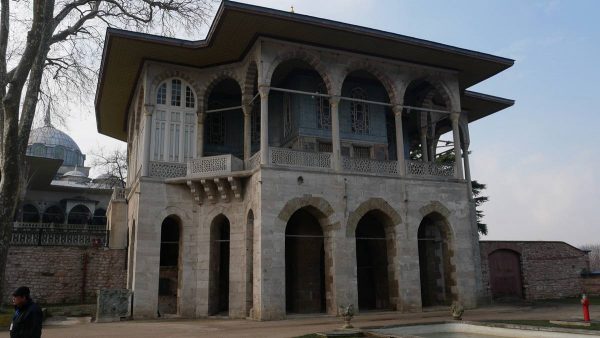 After dropping into Hafiz Mustafa for coffee and sweets, great recommendation Imran) we headed off to the spice bizarre and what is regarded as one of the first 'shopping malls' in the world, the Grand Bizarre.
We could have wandered around here for days on end.  Much like a calmer version of the Souks in Marrakesh it has stalls for everything you could think of.  Amy came away with a silver chain and pendant….  the rest of us came away with wallets intact.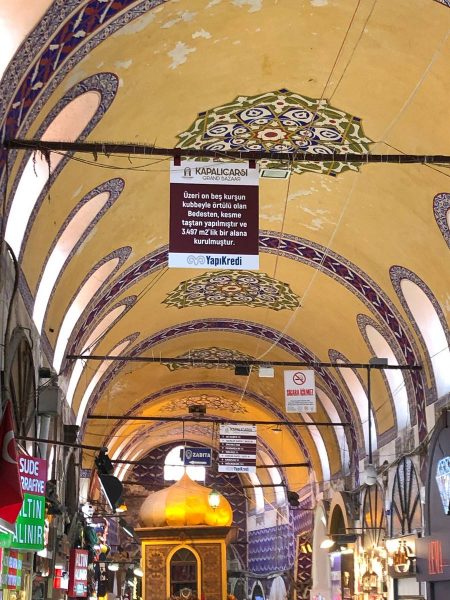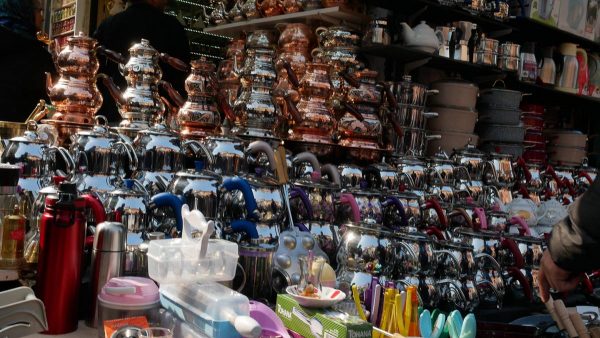 Thursday the 20th February
Today was going to be a little different.  One of June's former work colleagues is Turkish and lives in Istanbul and they hadn't met for over 20 years.
The tube system in the city is clean and, from what we saw, very efficient.  Fortunately we met a German guy, who is now living in Istanbul, who seemed to pick up that we hadn't a clue where to get the tickets ( apparently the Oyster card from London doesn't work 🙂 ).  He took pity on us and led us to the platform where we bought 4 tickets and off we headed to Haciosman at the end of the line.
A few minutes later we were picked up by  Ozge and we taken for coffee of course.  It was great to meet her and hear about the real Istanbul life.
Ozge took us to Emek Mantı for lunch which was was great.  We had some great recommendations including, Cig Borek, a deep-fried turnover with a filling of ground or minced meat and onions and Manti, dumplings with spiced ground meat and onion, is one of the all time favourite dishes in Turkey.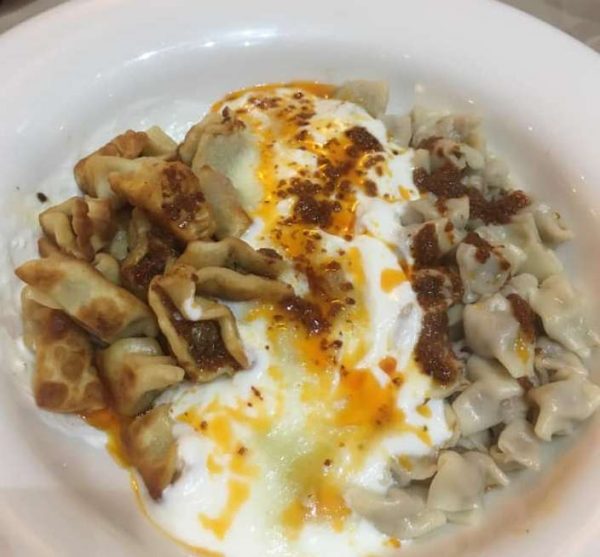 After lunch June and the girls headed off to the hotel spa for a bit of pampering – you can't come to Istanbul and not have some sort of scrub down and massage!
That evening we ate at the Şiva Cafe Restaurant which was almost next to the hotel we were staying at.  The food was really good.  June and I having a kebab that was cooked in a clay type pot which was then set alight before serving…  Lots of show 🙂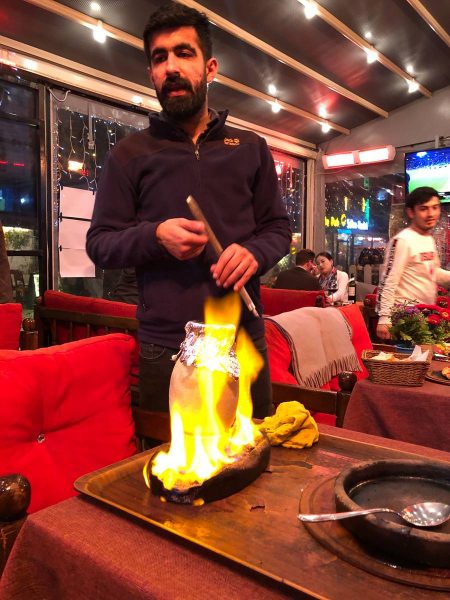 Friday the 21st February
This afternoon we would catch the flight home but not before more food and coffee at Hakki Zadc where Bob tried Tavuk Gogsu.  Ozge had recommended this the day before but even for me there is a limit to how much I can eat in one day.
This sweet dish is milk pudding made from shredded chicken.  Yes you read that right shredded chicken.  It is one of the signature dishes of Turkey and sprinkled with cinnamon it is beautiful.  Like a think white blancmange in texture and no chicken taste at all.  However as milk causes Bob to cough it did cause a few irritations for a few days.
It also rained a little today, which was the first we had seen.  We had been very fortunate with the weather with blue skies.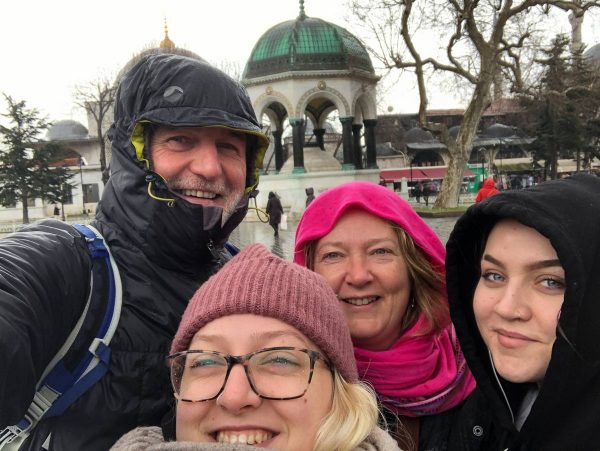 This was a great trip and we would really recommend Istanbul.  The hotel we used was in a perfect location for us and what we did.