Overnight, as normal, we had a little rain but by the morning this had stopped and our journey home started.  There is no doubt in June or my minds we will be returning. In fact when the time is right for us to live this lifestyle permanently, about 2020, we will be bouncing from mountain range to mountain range.  We both love the rugged views and even more the rugged driving.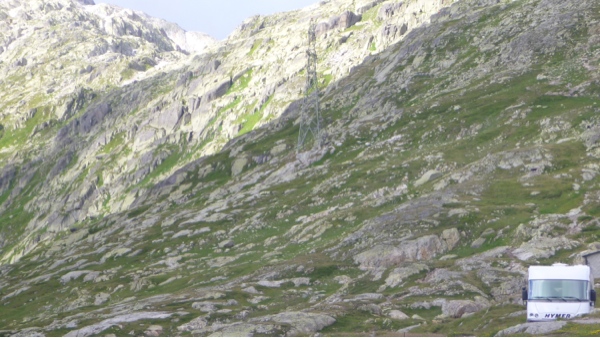 Our aim was to stop near Reims so we could Carrefour shop.  However we left picking an Aire too late.  We aimed for one we had used a couple of years ago on the return from Lac Annecy but it was full.  The handy app showed another nearby but when we could locate it and asked a local he shook his head saying there wasn't one, despite there being a sign up on the wall of a house (put no parking places). We headed back to the motorway and picked a small Aire and slept well.
From there we moved on in the morning towards Calais for a bit of shopping.  We found the fuel at the Auchan in Avenue Roger Salengro at least 20 cents a litre cheaper than the motorways.  When you are filling up with over 80 litres that is more than enough for a #Clewleystopsforcoffee treat.
By the time we get home we will have travelled 3750 Kms, 2343 miles. Our 18 Overnight stops were around £360 (including 4 nights at campsites which accounted for about £230). The tolls were around £225 plus £23 for the Swiss Heavy Duty Tax as we are over 4 Tonnes). We used Tesco points towards the EuroTunnel and ended up paying about £30.
Update from the Motorhome parking at Citie Europe.
We have used the Motorhome parking here many times and today was the first time we have ever witnessed any suspicious activity.  While cooking June saw a guy trying to get into a Hymer parked behind us and against the wooded area. Fortunately the van was locked and occupied.  The guy ran off into the woods. Bob went to have a 'look' but he had long gone.  As always security should be taken seriously as you would at home.  We never leave the van unlocked or unalarmed. I have other security devices (including my big Maglite) fitted to the Motorhome and ways of monitoring it while we are away.  There is kit out there folks please find it and use it, but never stop living the dream.
A few of the photos we took on this trip.
[wppa type="slide" album="16″][/wppa]