There are more photos in the Spain Album
A quick drive to the car park at Puente Poncebos where we managed to get a space big enough by arriving before the rush – we would recommend getting there early as the car park was filling up at 9am and we are here out of season. All kitted up (although with everything except the warm weather stuff we would have appreciated later in the day!), we set off along the made up road and then to the track that climbed a bit……well I say a bit, I mean quite a bit.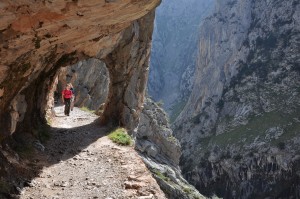 I will state here that the guide book said 'this walk had little in the way of ups and downs except for a 250m/820ft accent / decent at the start beginning / end of the route'. That, your worships is my defense along with the promise, from the same guide book, of a 20km / 12.5 mile round trip – we clocked about 28km on the phone.
The route is easily followed and is a beautiful walk; I would go as far to say that it is one of the most stunning I have ever walked. The path was constructed in the 1940's to assist in maintaining the hydro electric canal that runs between Cain and Camarena. There are sections of this canal that are open and somewhat log flume like (in Bob's mind anyway….).  Warning for anyone who doesn't have a head for heights as the path doesn't run at river level but at some height above it – upto a few hundred metres at various points. 
There are refreshments and facilities at either end but be prepared to walk the return route or give away 120 Euros for the taxi back. It is a 2 hour 30 drive and it only took us an extra hour and half to walk back…saving enough to fund the ice cream budget for two or three days
Amy's view on the walk: On the way to the walk you could just tell this was going to be a good one. Once parked and ready to go we set off on our meant to be flatish walk. First of all we went up the road and then on to the beautiful mountains we walked up a steep part of the mountain for about 1 mile which I thought was just a little climb to the flat ground. Wasn't I wrong the walk was all together 18 miles long ( 28 km ) and about 14 miles of it was the up and down of the mountain yet all of it was worth it as at the end of the walk we got to have an ice cream , which makes it all better. All together we had an amazing walk seeing beautiful surroundings and having nice food. 🙂
Some of the data is a bit 'sus' as the gorge sides are very steep and I am sure blocked the GPS signal now and again.  However, it does give the general route on the map below. [sgpx gpx="/wp-content/uploads/gpx/Walkmeter-Walk-20140414-0925.gpx"]