In just a few days, with my eldest son entrenched in the house ( well it gives his mum a break and we leave the house with a built in security guard- win-win) we are off to Northern Spain.
This should give us a couple of really good looking walks and a few days just bimbleing.
We are planing to walk along the Cares Gorge and a round trip from the cable car at Fuente de Bulnes.
So far we haven't booked a camp site as those we have tried have not replied. Still there are quite a few about that area. The one I really would like to stay at is the one 200 yards or so from Fuente de cable car. Fingers crossed.
The trip down was fairly uneventful and we didn't even get lost in Rouen where we stopped to stock up in Carrefour and give the credit card a little bit of exercise in Decathlon.  Chloe managed to find a new BFF before we even crossed the channel – something to do with the band t-shirt she was wearing and with Amy crying at every film she watched, we could probably have sailed across rather than taken the tunnel!  One little hiccup on the fuel front almost curtailed the journey in France but other than that we made Bordeaux as we hoped and then into Spain on Sunday morning.  One day we will have the time to travel properly around France rather than a quick splat through it on our way elsewhere.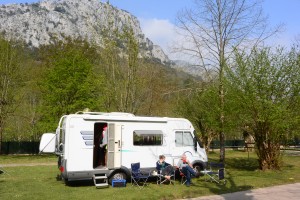 First campsite in Spain was Camping Naranjo de Bulnes in Arenas de Cabrales, a real little gem on the banks of the Cares river (although we were on the part of the site across the road as the riverside pitches were closed). Various sized pitches, clean toilet/shower facilities, washing machine/drier and located only a short walk into town ticked all the boxes and we'd go back again.  I would say though that we are visiting out of season and although there are plenty of people around, things could be very different at peak holiday time.
After three nights, we moved from the western to the eastern Picos although there's no driving through the mountains and the only road goes around the edge of the National Park so it was back to Panes and then on the road to Potes, a beautiful town with a medieval look although I imagine a lot of it has been rebuilt over time.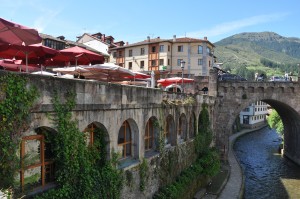 We had no campsite for the next three nights but were heading to a site at Fuente De where we had tried calling ahead but without luck as many of the sites were just opening for the season.  No joy though as the site was closed when we arrived and having taken a quick walk down the entrance we are not sure that we'd actually have got the van on to the site.  After the obligatory coffee stop we headed back to Potes and to Camping La Viorna which turned out to be another excellent campsite, set on terraces on the valley side overlooking green fields and forests to the front and surrounded by snow covered peaks behind.  Apart from the location, the facilities were spotless and the site had a restaurant, a bar and terrace and a reasonably well stocked shop.  The town of Potes is about a mile away – an easy downhill walk on the way there but slightly more challenging on the way back with shopping and in the heat of the sun!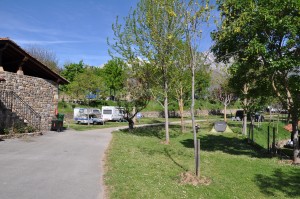 We have both been fortunate to have travelled a reasonable amount but the Picos have grabbed us with their stunning scenery and picturesque towns; we both agreed we could live here and are going to find it very hard to leave.  We will be back for another fix!