Today was another day to just wander around this glorious city. We started off by heading towards Jewish quarter.  We dropped by Dar Si Siad which is former palace / royal house that now houses Moroccan arts.  The building itself is along the same theme inside as the Kasbah at Telouet and the Alahambra with ornate stucco that the crafts men carve while still wet. The design are very detailed and must take an age to complete.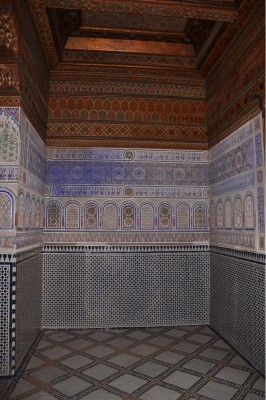 After a quick coffee we wandered around the old Jewish Section, While trying to find the entrance to the El Badi Palace we bumped into Mustapha, a 19 year old who is studying to become a motor mechanic.  He started to take us to the palace when we realised that it would closed in a shortwhile.  Mustapah then offered us tea at his house.  We took him up on the offer and although the tea wasn't the best we have experienced but it was a little different.  We never did get to see the view of the palace from his house that we were told was 'very very good'.  We dropped him a few Dirham for his time and headed off to the Kasbah Cafe, which was nearby, for lunch.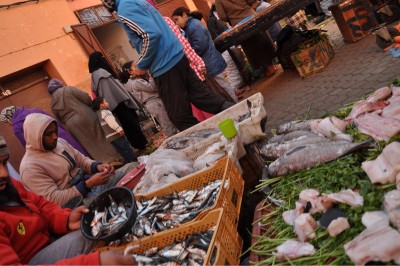 It was only a short walk…well about 3 km, to our next venue.  The Jardin Menara.  We had seen a few photos of the lake there with the High Atlas in the distance.  Ever the keen photographers we aimed to recreate this image. Well the view of the snow covered mountains was stunning but sadly the lake was a little choppy to get the reflections we had hoped for.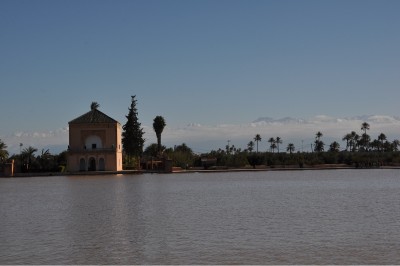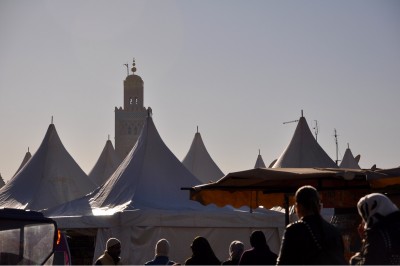 Back to the main square for a bit of people watching while we drank mint tea…  well this time our eyes were caught by a couple of 5 or 6 years olds who were busy trying to sell cakes. There clearly was a bit of a turf war between them and it was a little sad to see young children, the same age as my grandchildren, having their childhood stolen.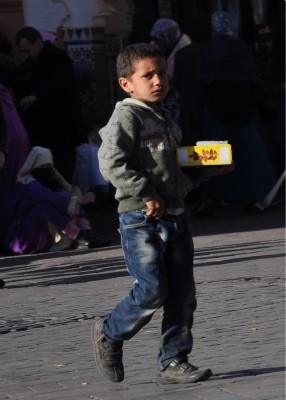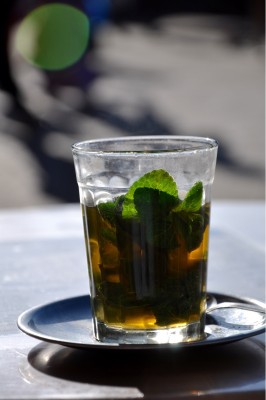 This evening we returned to the square to eat at stall 118.  Abdul recognised us straight away.  The  guys who are enticing potential customers to pick thier stall are all real characters with all the patter and banter.  If you join in the whole experience is more enjoyable and they really don't mind if you say no. It is a very similar scene to that of parts of France, Spain and Greece….but with more humour and fun.