Today was always going to be a day of shopping.  We started off at the Complexe D'Artisanat in Rue de la Kasbah.  This is one of the few places in Morocco that you don't barter.  The prices are fixed and for some that is a real help.  Personally I love a good bit of barter banter. Leaving surprisingly empty handed we headed to, via a coffee stop of course, to the Ensemble Artisanal on Avenue Mohammed V.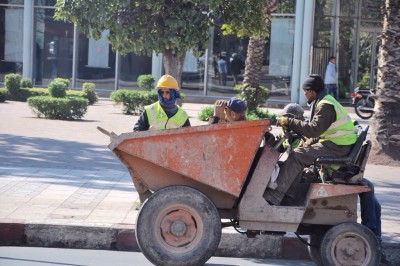 This is where June had seen a hat before and today was decision day.  Having watched how the hats are made a purchase was completed.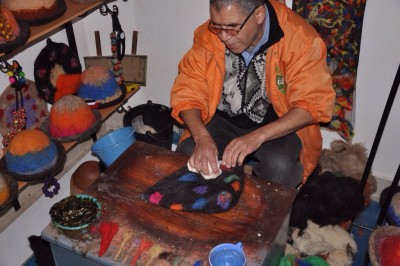 From there we headed off to the Photographic museum and back to their roof top restaurant. Today was so much clearer than our last visit so much so we could easily see the beautiful snow covered High Atlas to the south..
In the afternoon we managed to tick all off the shopping list but were still on the look out for a pair of ear rings to match the neckless June bought on the `kasbah trip.  One of the guys in the souks, on hearing what we were looking for,  took us for a hike (probably a bit longer than we needed) to one of his mates.  He didn't have what we were looking for so he took a neckless apart to make a pair.  Not sure we would get that level of service in the UK.
During one of todays wanders through the main square we saw this a guy wearing pink wings and selling toys.  So the next time you think your job could be better just remember the photo of this lad.