Having visited most of the major sites in a Marrakech during previous visits, today we decided just to walk and see where we ended up whilst heading generally towards the east of the city. Things didn't quite go to plan when we got lost in the souks but as there always seems to be a sign pointing towards the main square we followed one of them to get our bearings and start again!  This time we got it right (eventually…) and arrived at the Museum of Marrakech.  Not the largest museum we've been to but being located in a restored palace makes it worth a visit.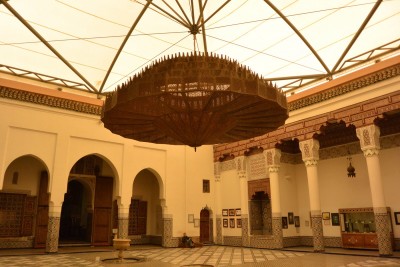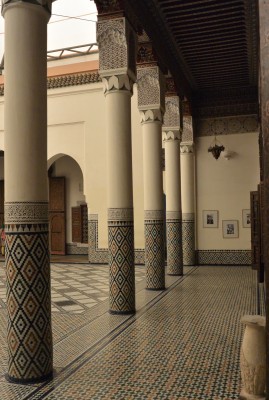 From there it was a very short walk to the Medersa Ben Youssef (combined admission with the museum of 60Dh each – under £5 at today's rate) which was a former religious school.  To quote from our guidebook "It displays all the fine decorative detailing that characterises what was the golden age of Moroccan architecture." and that pretty much sums it up! If you like architecture head here.  Point to note here, we were approached by a young man who was trying to get us to visit the tanneries and told us that the Medersa was closed due to a religious holiday – it wasn't!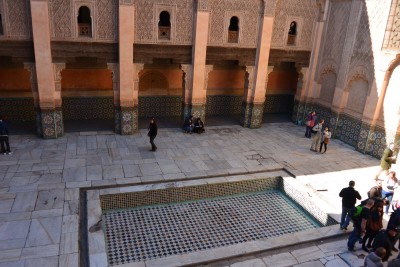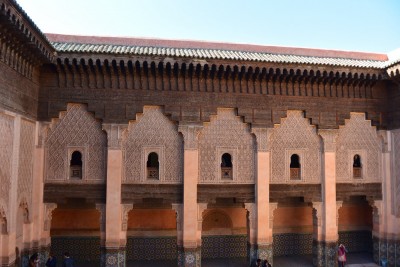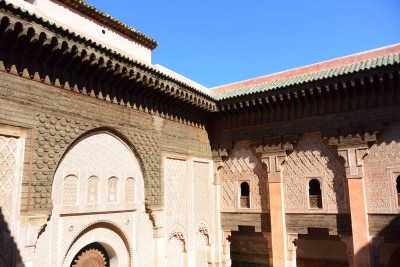 A lot of walking usually involves geocaching for us, and although there are not too many caches in Morocco, we were not too far from one so it was off down the alleyways in search of it. The Moroccans are born traders and (sorry, spoiler alert) what better way of getting someone into your shop than by putting the cache there! Worth pointing out though that there was no pressure for us to buy anything and we had a very friendly chat with the shop owner.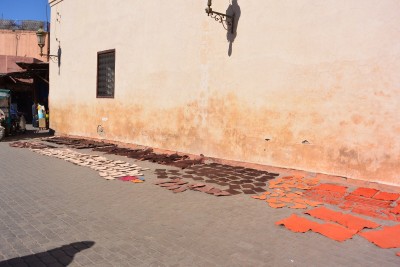 As we mentioned we were off the main tourist track today so our next stop was the Maison de la Photographie de Marrakech, which houses a collection of photographs of early 20th century Moroccan life. Entry was 40Dh (£2.80 ish) but we can visit as often as we like which given the great little cafe on the roof terrace we will probably take advantage of!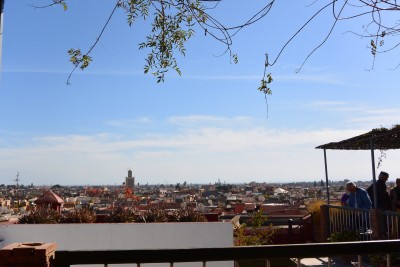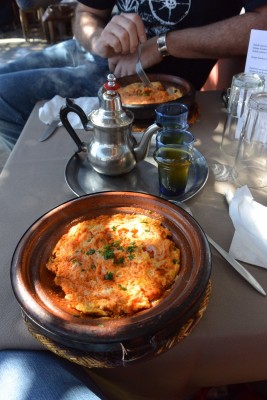 Being on the east side of the city and despite what we told the young man earlier, we had always intended to visit the tanneries. We were approached by a "guide"  who offered to show us around and despite being a little sceptics it was actually quite interesting! However having visited the tanneries at Fez, the ones in Marrakech were a little disappointing and of course the visit ended up in a shop which sold a variety of leather goods.
In desperate need of coffee (no surprise there!) we made our way back to the main square and one of the many roof terraces providing the best places just to sit and watch the world go by.  Feeling suitably refreshed it was time to head back home but managed to take the wrong turn again which also happened when we came back in for dinner and then on the way back again….. By the end of the week we'll have it all worked out…..we hope!
Edited with BlogPad Pro