Having stopped at the Gatwick Hilton, with no free wifi in the room I may add, it was an early start to Marrakech taking off at 8.00. Made good time though arriving at 10.50, ahead of schedule.
Through passport control and onto Dar Romarra, the Riad we had used for a long weekend in October. We felt that with June's arm recovering we needed a little haven in a mad mad city….
At 14 C it was a little cooler than last time….but warmer than the freezing UK we had left behind.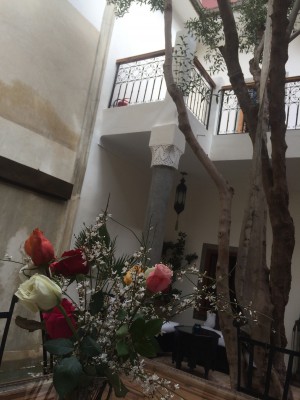 After a bit of a kip we wandered through the souks to the main square, Jamaa El Fna. It was far busier than October and a real hive of activity.
A quick coffee on a roof top terrace gave Bob a chance for a bit of timelapse ( will be posted once we get home). Then down to the food stalls. We were bombarded with requests to eat here and here….. they all knew too much about our TV adverts. Quotes like, ' this isn't just any food…it's Marks and Spencers food' and 'cheaper than Morrisons' were everywhere. One of the guys thought from something June had said she was from Scotland and then started quoting East Enders. He knew more about the story line than either of us.