An early start today as we were heading over the a High Atlas and back again in a day; luckily we were not driving but were able to book a car and driver for the day at a very reasonable rate. Younes from Ecovoyages Marrakech arrived promptly and by 7.30am we were clear of the city traffic and heading towards the mountains. A quick stop for coffee after a couple of hours before we hit the Tizi-n-Tichka pass, the highest pass over the High Atlas.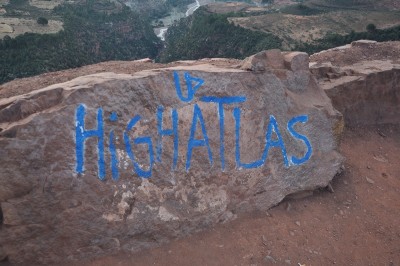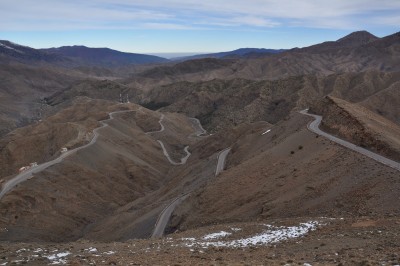 Our first destination was Kasbah Telouet and a real gem of a place and well worth the long drive along a road which in parts lacks any Tarmac. At first the place looked nothing more than a pile of ruins (the whole site is actually three kasbahs in various stages of decay) but there was a surprise awaiting in the form of four rooms almost exactly as they were the Kasbah was built in the 19th century. Our guide Rasheed was very knowledgeable and well worth his tip as he explained the history of the site. The family who lived here made their fortunes from the caravans passing through from the south to Marrakech, exchanging salt for gold and sugar for marble.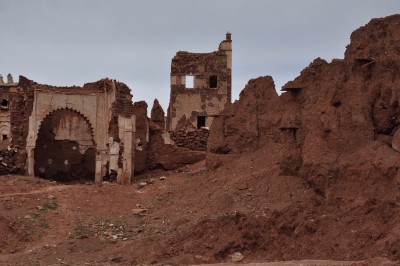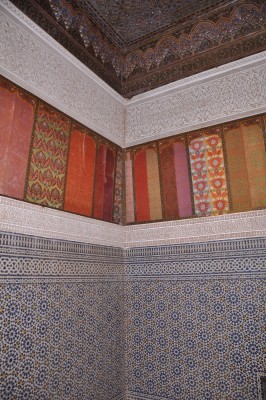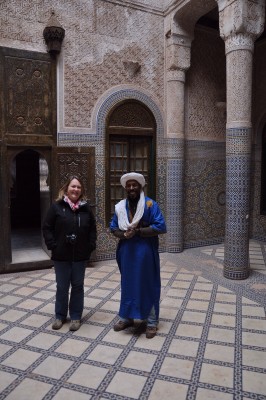 From there we continued along the same road following the Oued Mellah (literally translated as river of salt. Lesson learned today was that Morocco had salt mines!) and on to Ait Benhaddou whose claim to fame is to have appeared in numerous Hollywood films: Lawrence of Arabia, Jesus of Nazareth and Gladiator but to name a few. We didn't have a guide, despite their best efforts for us to hire them, and were happy to wander around the place on our own.
Ait Benhaddou
Ait Benhaddou
Ait Benhaddou
People still live in the kasbahs which make up the area and to get to the highest point you have to run the gauntlet of several shop owners trying to entice you to view their wares. We did give in on the way back down and took tea with Hachim whilst negotiating on the price of a silver necklace and an "antique" wooden spoon….. Bob retained his reputation of bartering like a Berber and we were all happy in the end!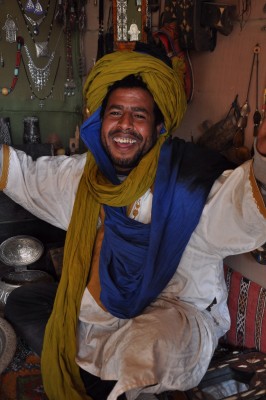 Then began the long drive home and this is where the 20,000 photos comes in. Having got a new toy after a last trip here (thank you Colin!), Bob had attached his GoPro to the outside of the vehicle and recorded time lapse photos of the routes we were taking. The plan was now to record the journey back over the Tizi-n-Tichka pass. The camera stayed in place but we won't be able to post the short video until getting home to the UK.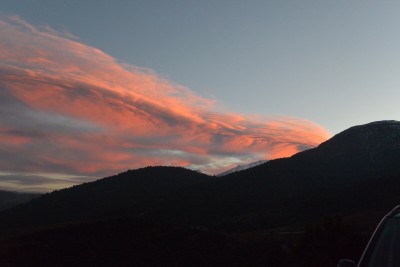 The long day ended with a spectacular view of the sunset in the mountains and home to Jamila's wonderful cooking…
Edited with BlogPad Pro