When you look at a map and see roads like this you know it is going to be a good day at the wheel. On top of that Bob's birthday too. Woken to tickets to Supertramp at the O2 later in the year the day's started good….. and just got better.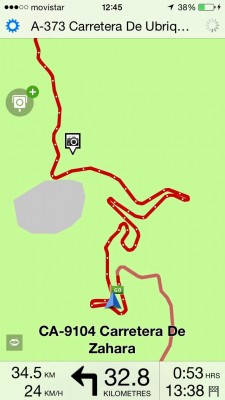 Leaving the aire at Olvera we took a short drive to a car park in the town itself before having a short wander. Most places were closed as it was Monday but we did manage to take a few photos.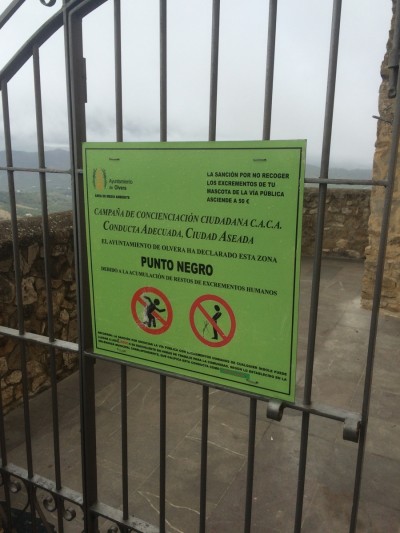 From Olvera we headed along a minor road to, one of the many white house towns in this area, Zahara (well worth a drive to the reservoir even if you don't do the drive through the mountains).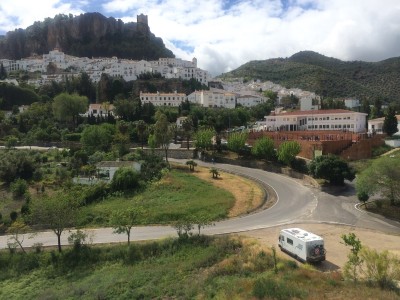 From we took the CA-9104 to Grazalema. This road was on our list as it looked full of twists and turns in the mountain. On top of that we were told by someone in the know that it was a spectacular route. And it was….. without doubt a brilliant road…. one for 'driving' even if it was a 4 tonne Motorhome.
From Grazalema we continued on to the 'leather' town of Ubriqiue. The intention was for June to have a little purchase or two… However that was not to be…. Very few places to park and one of our routes took us towards a road closed sign with the diversion down a very narrow, steep lane with a blind bend at the bottom. As Bob started to reverse a local indicated that we could do it even in our van…. so putting trust in the Spanish we gave it a go…. it was fine and saved reversing 100 yards or so in the narrow streets. So after a quick lunch we left sin purchase and continued towards tonights stopover – an aire on the outskirts of Benarraba. As we arrived we joined two other motorhomes already there and took a wander into town.