Following the brilliant wedding of Tom and Jade we decided to head north to the Peaks.  We stopped at the Caravan and Camping site at Hayfield. Meeting up with Waddy and Jo who were already there.  Bob used to work with Waddy in the day on the unit.  There were going to be a few old war stories of daring do and how they saved the world….even when it didn't need saving..
The campsite is really well placed for walking up onto Kinder Scout which we did on the Sunday.
It was a great day out on the hills albeit we didn't follow the footpath a few times we did manage to bag a cache by Mermaid's Pool at a lunch stop.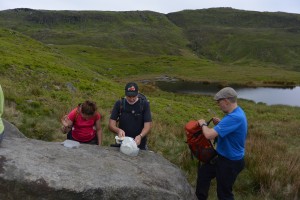 The next day Waddy and Jo had left for home so we wandered into the village on the lookout for a cafe…  After a good 30 minutes or so we gave up and wandered slowly back to the van….  We saw the cafe the next day…shared with a drapers!
Still a great weekend and really good to catch up with friends.
[wppa type="slideonlyf" album="10″][/wppa]