The following morning we went for a walk up along the track which ran behind the campsite and up the mountain where we had spectacular views of the valley in which Chefchaouen is nestled.  The afternoon was spent trying, unsuccessfully, to avoid the heat as it is apparently unusually hot for this time of year – temperatures are around the mid 30sC  during the day although the evenings are considerably cooler and sleeping is not difficult.  Another group meal, this time at Casa Aladin which is set on four floors overlooking the main town square and again ridiculously cheap at Dh85 (£6.50) each for a three course set menu.
Fri 10th and up early for the journey to tonight's wild camping beside a lake.  As the crow flies this is a journey of no more than 50miles but with the bulk of Rif Mountains in the way and lack of decent roads this becomes 150miles which takes 5 1/2 hours.  The driving is, shall we say, a little on the iffy side; no thoughts about lanes, overtaking into oncoming traffic on blind bends, the road shrinking to one vehicle wide……
The scenery continues to be breathtaking as the road winds its way up and down and around the mountains.  We drive through Bab-Berret where people, cars and cattle cross the road as they want.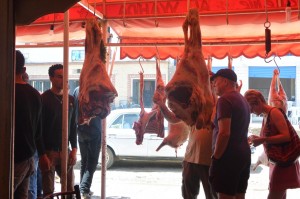 Lunch was at Ketama and literally at a roadside butchers; you have to go through the carcasses hanging outside to get into the seating area where we had freshly made lamb keftas and cutlets.
The road continued through the Rif and we headed towards Ourtzarh across a bridge; well I say bridge….it was one lane wide, just, and in places the river below can be seen through the holes in the boards.
The campsite that night was on the banks of a lake with just donkeys and sheep for company.  However given the intensity of the driving it was an early night all round just after a beautiful sunset across the lake.