We left the madness of the border and headed to Martil and Camping Al Boustame – no real change to the campsite since the last time (no shower heads and only one proper loo with a bucket of water instead of a chain) but the town itself has had millions spent on it;  the promenade along the front could be any resort in Europe of wide pavements edged with cafes.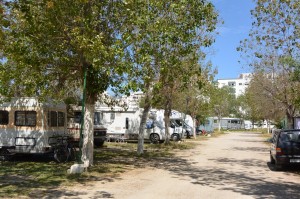 A little admin done and it was time for our first proper mint tea….nothing quite like it.  Most of the group decided to have dinner at the onsite restaurant that night. We had the swordfish which had been delivered fresh that afternoon and was cooked to perfection.  It was take your own booze so the two course meal for the two of us was the vast sum of £24!
Not so early start this morning before heading into the Rif  Mountains via the supermarket and petrol station; at today's exchange rate fuel here is about 64p per litre so we will try to leave the country will a full tank!  It was our first trip into the Rif that started our fascination with Morocco – everywhere is so green and the scenery is stunning.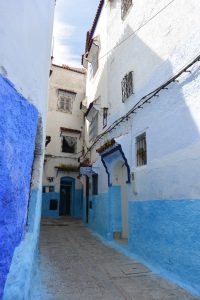 The stop for tonight (Wed 8th) is Chefchauoen, the "Blue Town" and a favourite site based on location (don't think we'd ever rate a site here on facilities!).  After the usual briefing meeting to orientate everyone to the campsite and the town (and this time with the extra of cake to celebrate several birthdays) it was a short walk into the maze of the town.  The four of us (we're here with Penny and Chris who we met on the last trip) got totally lost trying to get to the main square.  We were finally shown the way after Chris promised a shop owner he would visit again tomorrow to buy something – sadly we are busy in the morning! A quick wander around the town and it was time to watch the crowds with a mint tea. a pattern we'll repeat in most towns.