SAt 11th and we leave the lake for our first major city – Fes, the former capital of Morocco.  But first we had
to get through the market at Ourtzarh where it seems everyone had come to sell their wares and at one point it
looked like someone was trying to load cows into the back of a transit!  Having negotiated our way through the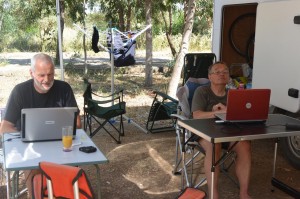 mayhem of the market, it was back across the rickety bridge and then onto the main road to Fes.  The dramatic mountain scenery has temporarily been replaced by green rolling hills and fields of crops; farming here plays a major part in the economy but there seems to be little machinery and many families go to and from the fields on their donkey (and usually with the man riding and the woman walking a few paces behind).
We get to Fes without incident but then panic a little when the sat nav seems to be taking us right through the centre of the city.  Luckily we stick to a main road running along the outside medina walls and find our way to the campsite fairly easily. After lunch provided by Steve and Muhammed, it's a quiet afternoon around the van and with
a decent power supply we can use the coffee maker and the air conditioning although not at the same time – it's not that good!  Campsite facilities are basic but clean and useable.
There's a great pool area and even a bar
selling alcohol (very unusual) but sadly the pool is empty…..we would all have appreciated it in this heat.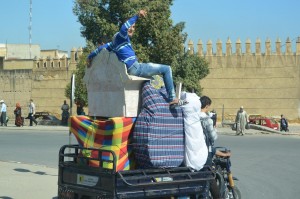 Sun 12th and we're off for a tour of Fes.  The campsite is in the Ville Nouvelle which was designed and built by the French before Morocco gained independence.  We travel through the more decorative Jewish city which contains the Kings Palace and then to the Medina (the largest in the Arab world) where the shopping begins…..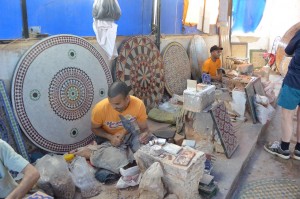 First to the potteries where we see ceramics being made in the traditional way with a lump of clay being thrown on a wheel and crafted into plates, bowls and tagines and then painted by hand.  Mosaics are made here too with the plain coloured tiles being broken and cut by large hand held hammers before creating intricate patterns.  A couple of small purchases here and then it's back into the labyrinth of the medina and the carpet shop which is based in an old
several storied house.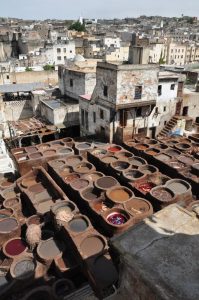 We did actually intend to buy a rug on this trip and after a talk on the history of how carpets are made and a glass of mint tea to help with the negotiations, we succeeded.
As usual with the guides here they direct you to shops where they receive the best commission and after a "Berber" pharmacy and a leather shop by the tanneries, people were starting to flag a little so it was back to the campsite.