Very much on our way home, Slovenia was the penultimate country (excluding those that we simply drove through) of this tour. We said when we visited briefly in 2022 that we wanted to come back but didn't expect it to be quite so soon!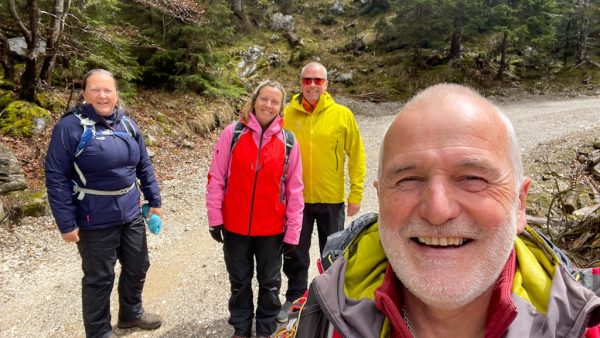 Our route was basically straight across the north of the country from Hungary to Italy taking in some of Slovenia's most scenic spots. Given we were back in Schengen, the border crossings were simple and usually unmanned.
We were keeping a close eye on the weather forecasts as they were not looking good. Our next stop would be northern Italy where they were currently experiencing severe flooding and most of Europe was wet to say the least!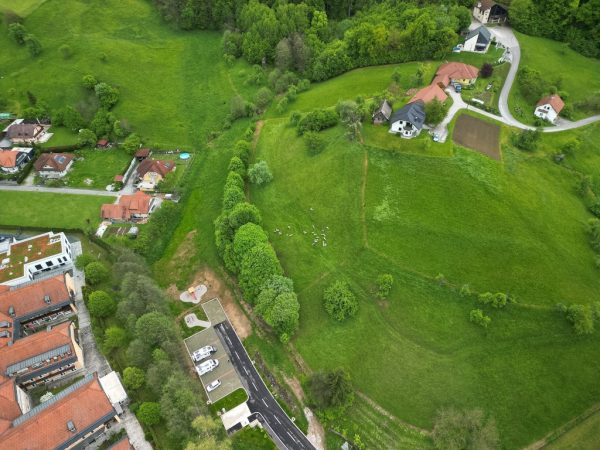 Having decided to slow down the drive to Bled, we first stopped in the small town of Sentjur where we stayed a couple of nights in a new, free aire. It was a great place to park up but just a shame that they didn't appear to have switched on the fresh water and EHU posts!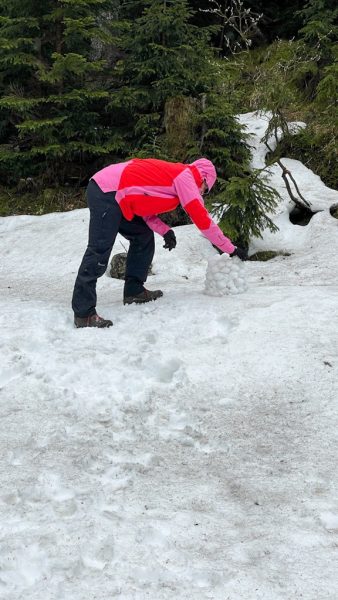 With a small break in the weather forecast we moved on to Velika Planina, which literally translates as "high pasture", a high scenic mountain plateau. It is home to numerous shepherd huts used by herdsmen when they move their animals up to higher pastures in the summer and some are now available to rent as holiday homes. The area is also a ski resort during the winter with a couple of chair lifts and a cable car from Kamniska Bistrica, although nothing was running at the time of our visit.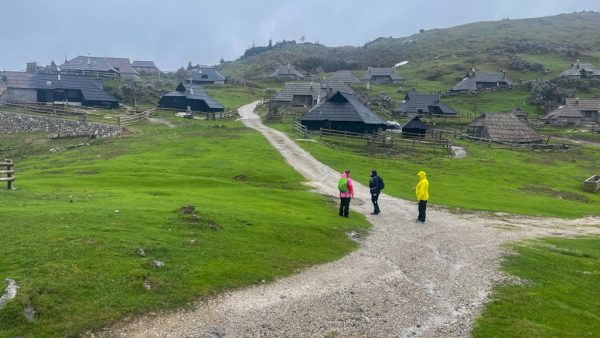 Having driven up the mountain roads and paid our park entrance fee, we were directed to a car park where we could stay overnight and set off for a walk. The break in the weather was sadly brief, so cold and wet, we headed back to the vans for the evening.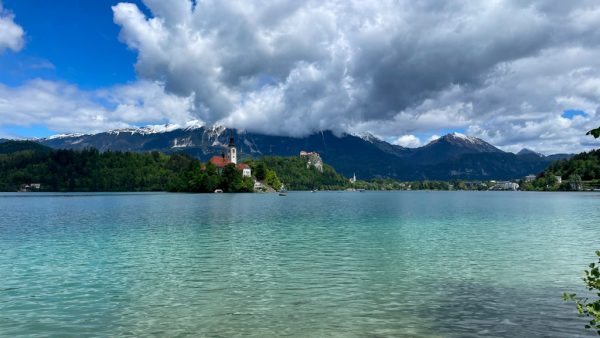 By contrast, two days later we had a fabulous day visiting Bled! Still with Jason and Katie (@forevercopilots), we strolled around the lake, stopping halfway round for lunch and maybe #justtheone, and then stuffed ourselves beyond full with Bled cake delivered by a robot waiter in a lakeside hotel.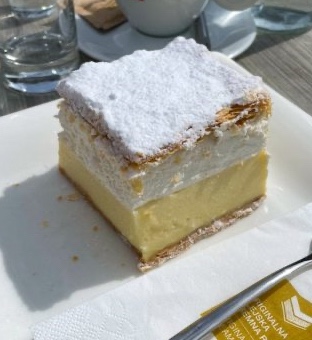 Slovenia is a stunningly beautiful country, the Julian Alps and Triglav National Park in particular. After driving the 50 hairpin bends of the Vrsic Pass where it was snowing at the top (1,611m above sea level), we stopped at Camp Soca for a few days from where we could explore the Soca Gorge and swim in the icy waters of the river.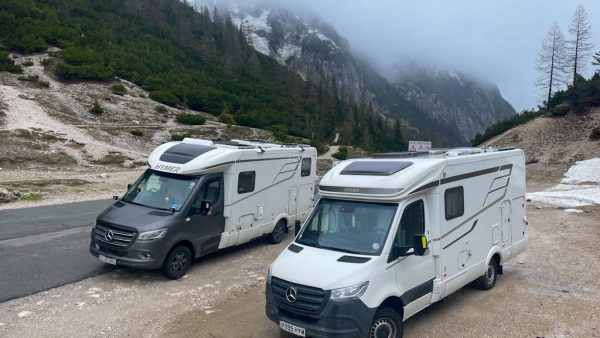 Having seen a write up on another Hymer owner's Facebook page and having a couple of days spare, we doubled back on ourselves to visit the old mercury mine in Idrija. It's a fascinating place to spend a couple of hours and have a history and geology lesson all rolled into a 90 minute tour (€15 each entry fee). The town itself grew around the mine and many of the original buildings still stand.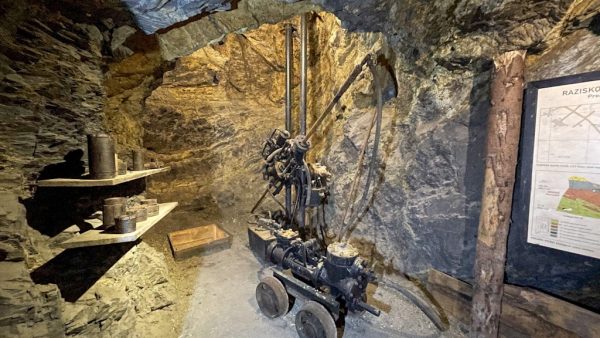 On our way back from Idrija we stopped at the Tolmin Gorges and the lowest point in the national park at the confluence of the Tolminka and Zadlascica rivers. Free parking is available in the lower car park which is a 15 minute or so walk from the gorge entrance. There is an entry fee for entering the gorge of €8 per adult and access is in allotted time slots. You follow a self-guided walk down into the gorge and back up again crossing the rivers whose water is the most vivid shade of turquoise. We thought it was well worth the visit.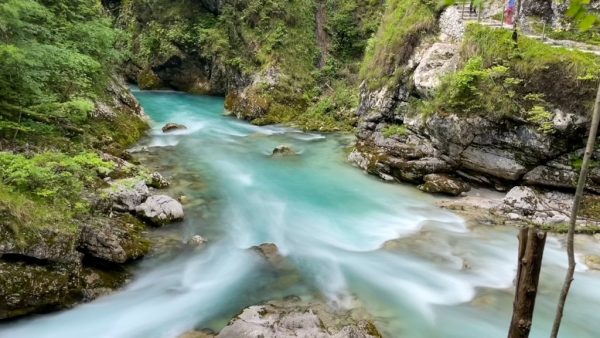 So another short but very sweet visit to Slovenia, a country we find to be safe, clean and easily accessible in a motorhome, especially as there seem to be more aires popping up so avoiding expensive campsites. We haven't spent any time at the coast but the northern mountains are an area to which we'd happily return.
Next stop Italy and lots of men in Lycra riding very fast bikes!
Campsites used:
Camp Soca: €29 per night. EHU available at extra cost. Water taps across the site, several black tank disposal points, two toilet/shower blocks (one with washing machines and dryer) and a drive over motorhome service point. Grass/gravel pitches. A large campsite right on the Soca Gorge with all usual facilities plus a small coffee shop and bar. Fresh bread available to order. Wifi was a little flakey and depended on proximity to the router. Parking was a free for all meaning that in the areas close to the river, vans were jammed in – there were no rules/guidance on keeping any sort of distance. We did manage to find a quiet part of the site, still next overlooking the river – turn left immediately after entering the campsite and there are several pitches by the chalets. Private access to the river and gorge.
Other overnight parking:
Sentjur Camperstop: a new five pitch aire with fresh water and EHU which should be available at a small cost but it looked like the services had never been switched on! With the weather not looking great we parked up here in the quiet car park for a couple of days to catch up on stuff. A short walk into the town centre where there is really fast public wifi – a good excuse to stop for a cup of coffee!
Velika Planina: car parking €20, payable on entry and we were able to stay overnight. No facilities but toilets are scattered throughout the national park.
Preddvor/Hrib: free overnight parking next to a sports stadium. No facilities. Close to a small lake with a cafe although that was closed when we visited.
Bled aire: €25 per 24 hours and payable via a machine in cash only! The parking fee includes up to 150l of fresh water, a small amount of electricity, grey/black disposal and free wifi. The aire is close to a couple of supermarkets and is a 10 minute walk into town and the lake. Not picturesque but definitely functional and the spaces are large and hard standing.
Idrija Camperstop: free aire close to the mercury mine and town. Surprisingly quiet given its location by the bus station and on a supermarket car park access road. A small service point offering fresh water (€1 for 100l of water), black and grey disposal and EHU (paid for as required). Hard standing but slightly on a slope – we are not fussed about being exactly level but we did get the ramps out here.
Blog: www.bobandjune.com
YouTube: https://youtube.com/user/bobclewley
Polar Steps: https://www.polarsteps.com/ClewleysOnTour/5755379-the-balkans-and-beyond?s=0A28668E-486F-4DEF-80BA