Our original plan was to head to Serbia after Romania but we decided to follow Jason and Katie from Forever Copilots into Hungary.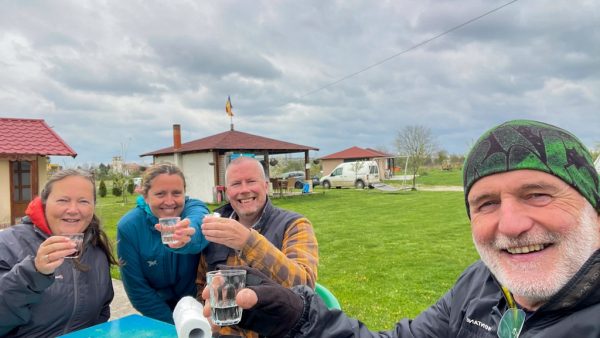 By doing so we were heading back into the Schengen area but at least this time we had no time restrictions other than to be home by the end of May for family reasons. The border crossing was straight forward and with our passports stamped we drove straight into the Great Plain region.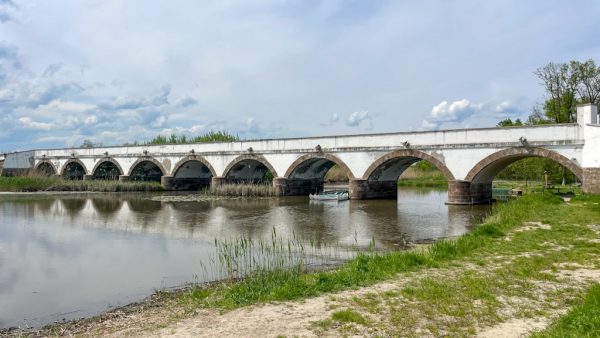 Our destination was Hortobagy National Park, an area known for its bird life and cowboys. Sadly when we arrived at the small town of Hortobagy, it was mostly closed, including the tourist information centre. We took a stroll to see the "famous" Nine-Hole bridge, apparently the most photographed and painted bridge in the area, and then given the lack of overnight spots, drove straight on to the city of Eger.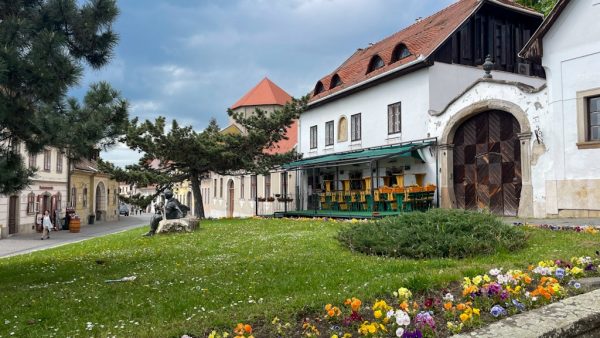 The historical town of Eger is full of grand baroque buildings, some of which are from the time of Turkish occupation, including an original Ottoman minaret.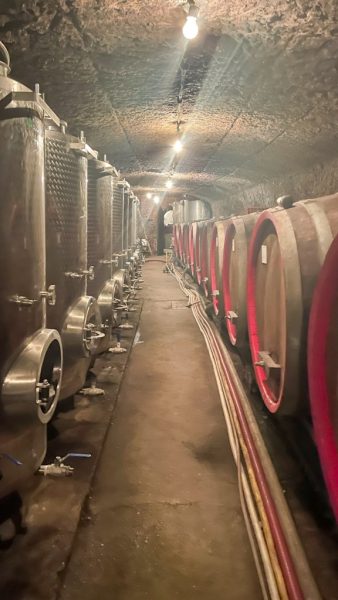 Just outside the town is the Valley of the Beautiful Women, home to more than two dozen wine cellars which are built into the rocky hillside. We spent a very enjoyable afternoon wandering from cellar to cellar sampling the different wines (tasting was usually around 80p to £1.50 for a 100ml glass). There are also some food options here if needed. It was then just a short stagger, oops I mean walk, back to the campsite!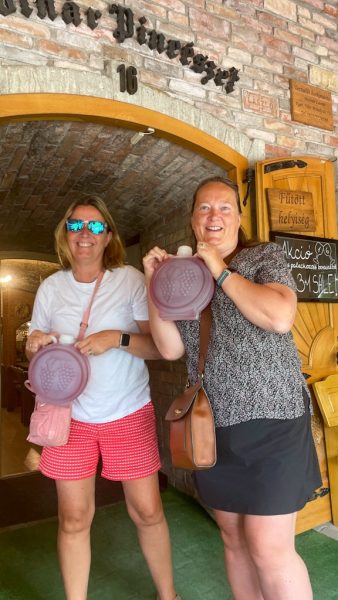 We're not usually city people but thoroughly enjoyed our couple of days in Budapest, a lot of which was down to Jason's planning! We bought a Budapest Go travel card which for HUF5,500 each (just under £13) gave us 72 hours of unlimited travel on the buses, Metro and trams. The motorhome park up is close to the Mexikói Metro station from which trains departed every few minutes and arrived in the city centre about 15 mins later.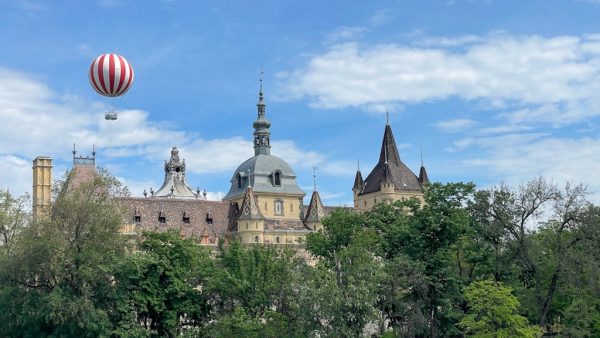 We walked miles, saw lots and ate ourselves silly. We didn't go into any of the museums but if you have time it might be worth considering buying a pass which will give you free or discounted entry.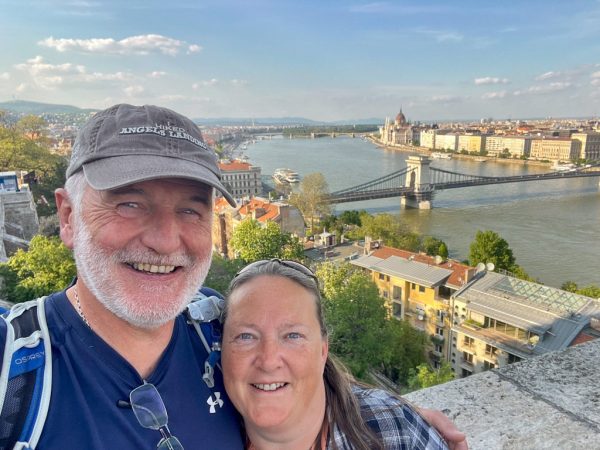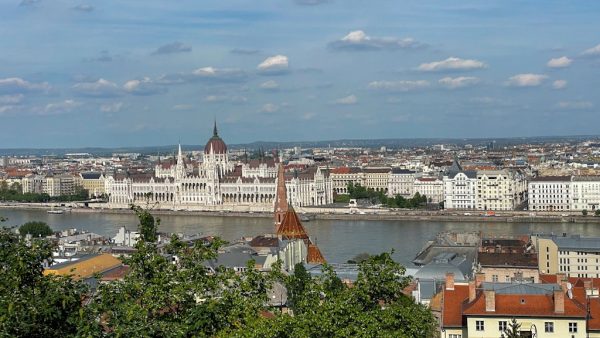 We timed our visit perfectly – we had good weather and places were busy without being overcrowded. We'd definitely recommend Budapest as a place to go as there's something for everyone there to many of the attractions.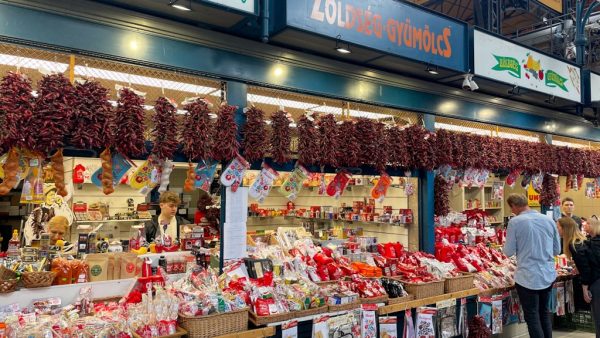 City Park was a short walk from the camperstop so, as it was another sunny day, we took a picnic and had a wander around. The Millennium Monument in Heroes Square is also close by and features important figures from Hungarian history.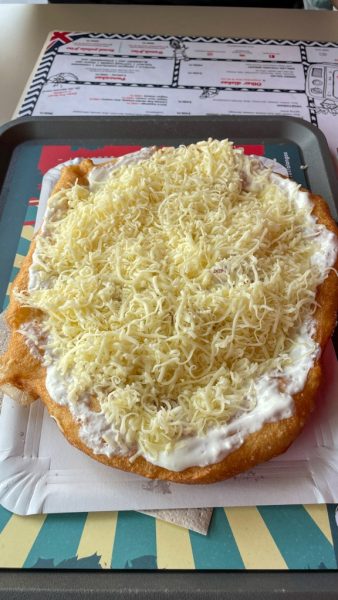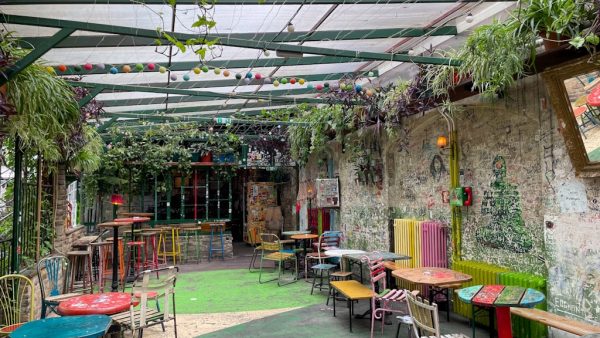 Our whistle stop tour of Hungary would finish at Lake Hefiz but on the way we stopped for a little Urbex (urban exploration for those not in the know!) of two abandoned areas. Firstly it was the Hajmasker Barracks, one of the largest military barracks of the Austro-Hungarian period. The buildings became a POW camp during World War I and it grew so big it even had its own currency. World War II saw it move into Nazi hands and then post war it became a Soviet army base. The buildings were abandoned in 1990 after the fall of the Soviet Union.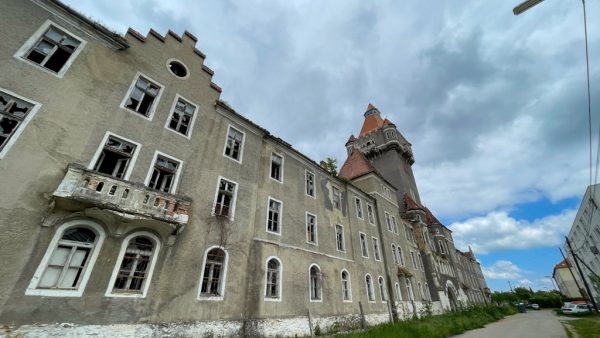 We also visited another abandoned Soviet base at Szentkiralyszabadja which has been out of use since 2004 when the last Hungarian helicopter regiment which was based there was disbanded. The base is gradually succumbing to nature but a few buildings are still accessible.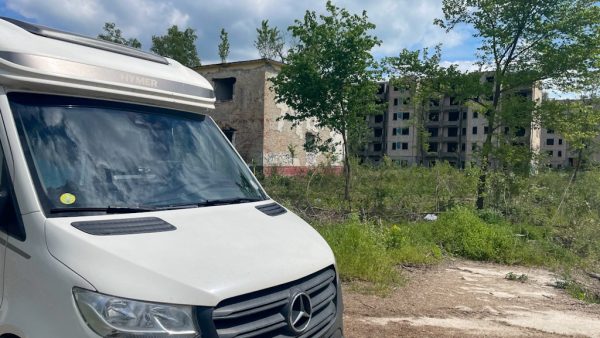 There are so many thermal springs across Hungary but it's very hard to find any natural springs as they have mostly been developed into spa resorts or health centres. Lake Heviz is a small lake fed by underground springs and even in winter the water temperature doesn't drop below 22°C. Sadly though it is fully fenced off and you have to pay to access the water. We opted for a "closing hours" ticket which allowed us for the last two hours of the day (and you can't get in a minute earlier!) which was the cheapest option at HUF3,600 (about £8.50) each and we had plenty of time to float around the entire lake. There are multiple spa and recuperation clinics around the lake and in the town.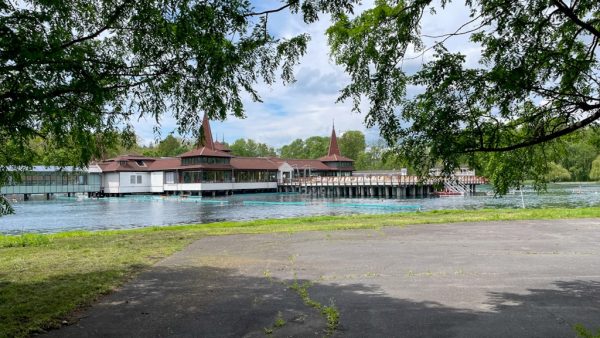 However, it is possible to swim in the thermal water for free! You need to follow the river out of the lake, passing by the campsite and to an open area where you can easily get in and out of the river. The water here was just as warm as the lake but as it's used by locals, is probably very busy in the summer.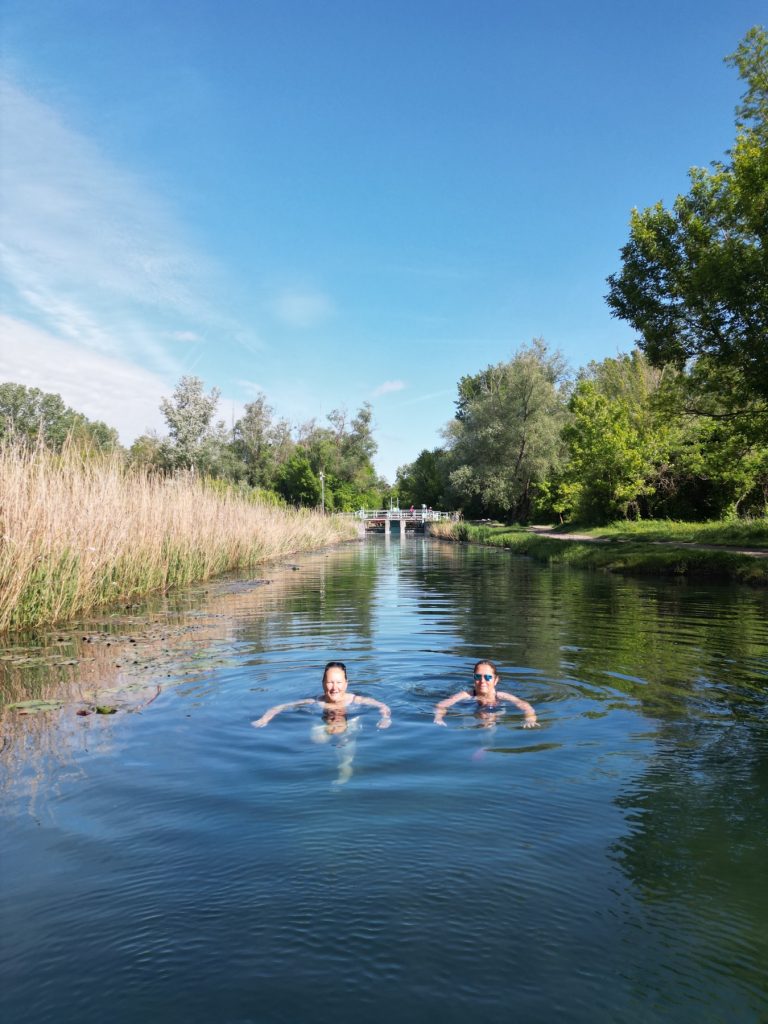 And that was our brief tour of Hungary! The country is very clean (a welcome change) and easy to drive around but we found few opportunities for overnight parking outside campsites. That said, we were visiting the most popular places so that always limits where we can park but they haven't really embraced the idea of aires yet.
With the weather taking a turn, it was time to move on an next stop, Slovenia!
Campsites used:
Kemping Tulipan, Eger: HUF8,500 (approx £20) per night, EHU extra. Well marked and maintained gravel/grass pitches. Toilet and shower block with washing machine (paid for token from reception). Fresh water and toilet dumping area are next to each other and people were using the fresh water hose to clean their cassettes – we used our own hose! Despite being advertised as such, the Wifi didn't cover the whole site. Easy walk into the town centre and the wine cellars in the Valley of the Beautiful Women.
Castrum Camping, Heviz: HUF9,994 (approx £23 per night), EHU extra. Large riverside campsite with grass pitches. Pricing is partially based on pitch size but there are few cheaper pitches available. Two bathroom blocks with washing machines and one dryer (a rarity we've found!). Small restaurant on site and daily visit by a bakery van. Easy walk to Lake Heviz and the town.
Other overnight spots:
Stellplatz Budapest: Approx EUR20 p/n, payable EHU available. The actual cost is charged by total parking time via the PARKL app which you need to activate the access gate. Fresh water and dumping facilities are available. It's a large car park with an area specifically for motorhomes so not picturesque but great for easy access to the Metro into the city and despite being on a main road, it was fairly quiet at night. The City Park is a short walk away.
Blog: www.bobandjune.com
YouTube: https://youtube.com/user/bobclewley
Polar Steps: https://www.polarsteps.com/ClewleysOnTour/5755379-the-balkans-and-beyond?s=0A28668E-486F-4DEF-80BA-D43AA17F7A87