Friday 9 – Sunday 11 August.
With the girls away it's time for a couple of grown up weekends starting with canoeing on the River Nene with www.canoe2.co.uk
A short trip up the M1 on Friday night after work to Canoe2's base just outside Wellingborough, Northants, which also has a campsite attached. The campsite is basic but has toilets and showers and a small cafe/shop which is open during the day, but for £12 a night we were not expecting anything too grand and it was ideal for what we needed.
An earlyish start Saturday morning for the short stroll to the river where after the paperwork was complete, we were given a thorough safety briefing by Ian. The canoe hire includes the canoe (funny that!), paddles, buoyancy aids, drums to stow stuff and keep it dry, wheels (more later) and maps of the river. We had opted for the full day Ditchford Lock to Thrapston Arches trip which is about 10 miles (slightly longer if you take some of the backwaters to avoid the locks) but all downstream so not too hard paddling and when you've finished Canoe2 pick you up and bring you back to base.
So once all the admin was done it was time to actually get in the canoe and avoid falling into the river – easier said than done but we managed it and with a destination of a coffee shop in mind we set off. Luckily the river was quiet and wide enough to accommodate our canoeing skills; we only ran into the banks a few times on the narrow backwaters where we also had to fight with overhanging trees and the occasional swan family protecting their little ones.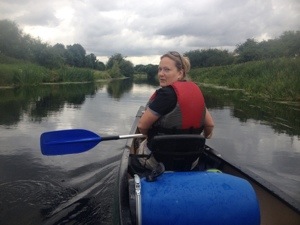 Now back to those wheels. The route we selected involved negotiating several locks only two of which we were able to avoid by moving off the main river. For safety reasons you cannot take the canoe through the lock so at each one we had to take the canoe out of the water and re-enter the other side. In some places this was a case of just a few yards so we could carry/drag the canoe but for some it was quite a distance at which point we simply strapped the canoe to the wheels and pulled it along the bank. I'm using the word "we" here very loosely and in fact it should probably read as "Bob"!
Not only did we have the water with us but the weather was on our side too and we thoroughly enjoyed the leisurely paddle along the river. Lunch/coffee was at the Woodford Mill Tearooms and as we arrived at Thrapston ahead of the scheduled pick up time, we took the opportunity for a swift pint or two. Can really recommend Canoe2 – they do think of everything from the briefing (a tongue-in-cheek "canoeing can posssbly lead to drowning….") to the equipment. We will definitely be back!