We finished the last post at Camping Honigberg, taking a few days to catch up with ourselves. Whilst there we were joined by friends and fellow travellers, Jason, Katie and Elsa aka Forever Copilots. We had planned to meet up in a couple of weeks in Slovenia but as often happens with this lifestyle, plans change.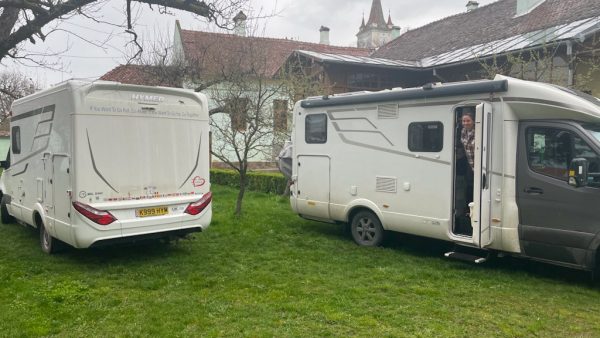 We left them the following morning with arrangements in place to meet up again in a couple of days and then wend our way out of Romania together.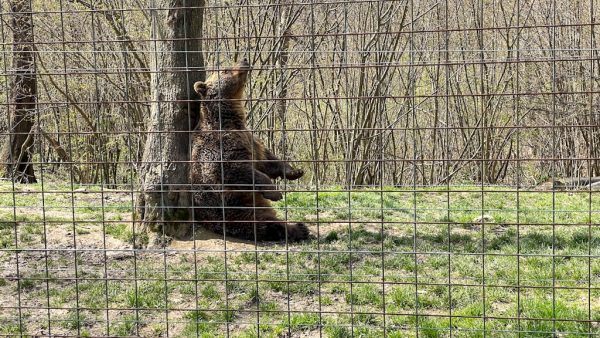 Having not seen any bears in the wild we decided to visit the Libearty Bear Sanctuary near Brasov, a large enclosure for bears rescued from captivity and often traumatic lives in circuses, zoos and private owners. You have to take a guided tour (daily tours in English are available) and we were lucky to time it so the lunch truck was doing the rounds so the bears were all coming out for food. Some of the back stories are truly awful and whilst we'd rather not see animals in captivity, they were definitely living better lives here.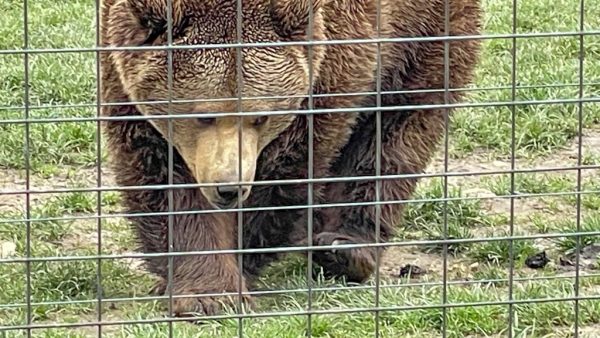 We met up again with Jason and Katie at Rupea Castle, the partially restored remains of a 14th century fortress on a basaltic outcrop which separately is a protected geological natural reservation.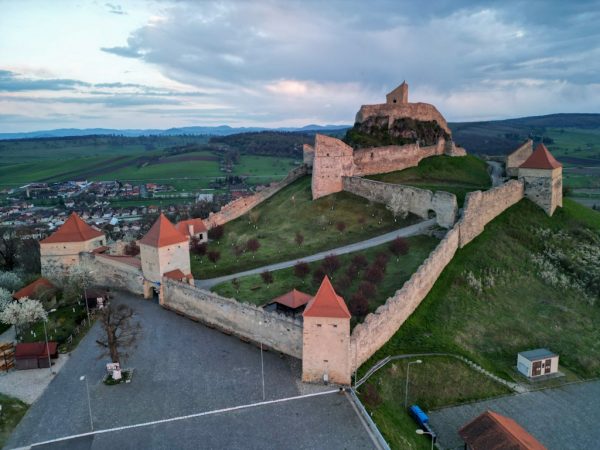 Although the town of Bran is closely linked to Dracula, Sighisoara was actually the birthplace of Vlad Tepes, better known as Vlad the Impaler, or Dracula. The UNESCO protected hilltop old town is worth a visit to explore the narrow cobbled streets and take in the pastel coloured houses. There are lots of tourist shops and the town is probably overrun in the summer, but whilst busy when we visited, it wasn't too overwhelming.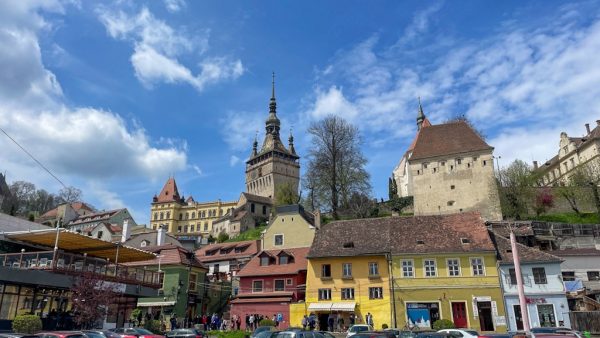 Next stop – Turda, to visit a salt mine. Oh and it was Mr C's birthday so we wanted to be on a campsite to be able to celebrate without worrying about getting moved on. We had read and heard various reports about the salt mine so we visited it with low expectations and had a great time! Where else can you ride on an underground ferris wheel and row a boat on an underground lake? The mining operation closed down in 1932 and there are still remnants of the former industry on display as well as information boards explaining the history of the various chambers. Yes, it is aimed mostly at tourists but it's a fascinating place nonetheless.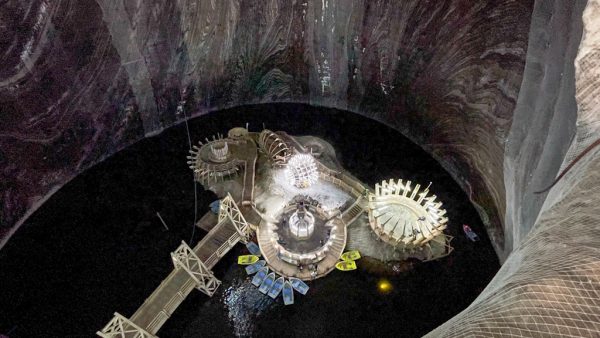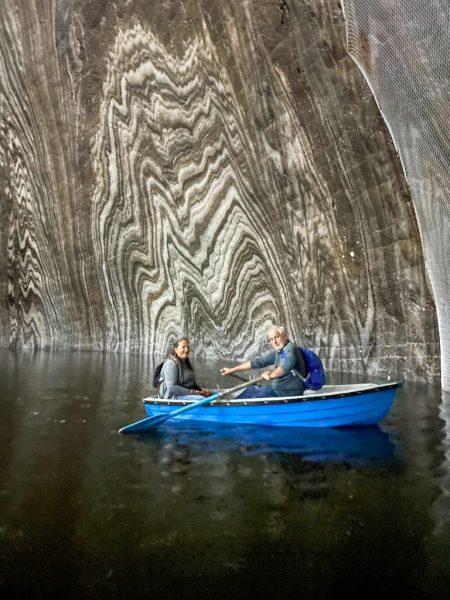 We finished the day with a BBQ and birthday cake after the campsite let us decorate the communal outside kitchen with balloons for the birthday celebrations and maybe a glass or two of the local hooch was consumed….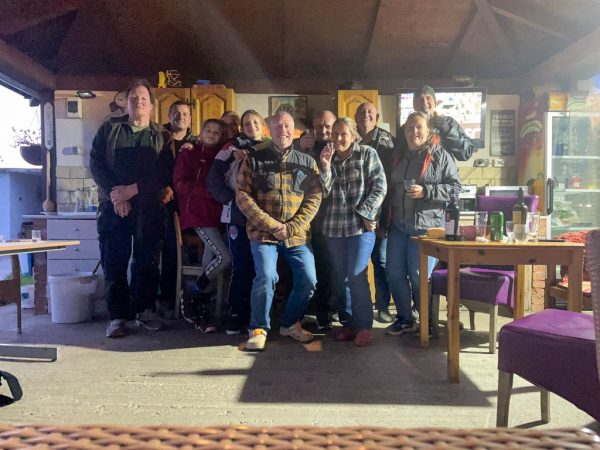 After a quiet night parked outside the Lupsa Monastery, in which is the oldest (built in 1429) remaining wooden church in the country, we moved towards the Apuseni National Park stopping high in the hills outside Garda de Sus to visit the Ice Cave (Pestera Ghetarul), one of Europe's largest underground glaciers.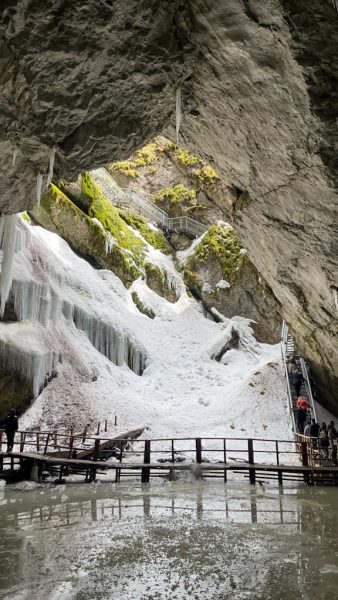 It's a steep climb down a metal staircase to the cave which contains a large lake of ice which also descends into three vertical chambers. The "Great Hall" which you walk around on a wooden walkway over the ice, has many stalactites and stalagmites. You then follow the same route back up the stairs to exit. Visits are all guided and group size varies – we had at least 100 people on our visit and couldn't hear (nor understand) the guide said!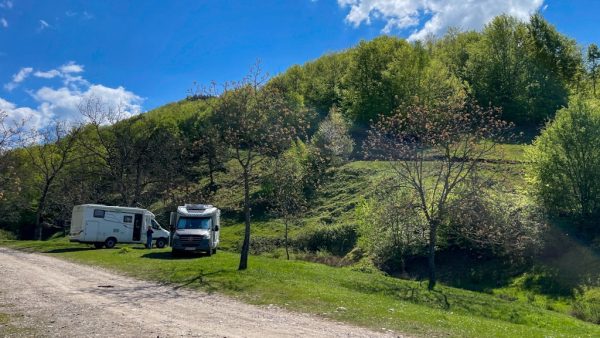 Our final night in Romania was a quiet night near the village of Finate, next to a small stream and with an occasional flock of sheep passing by. To get here from the cave we drove along road number 75 which takes you through the Apuseni National Park, a stunning drive with amazing views over the surrounding countryside.
Campsites used:
Camping La Foisor: Lei70 p/n (EHU at extra cost). All usual facilities available plus a washing machine at Lei20 per wash. Flat grass parking. Communal kitchen area plus shower and toilet block. Once parked the owner shows up with his bottles of homemade Palinka and fruit brandy. This scenario was repeated a few times during our stay, ie each time we stepped out of the van! They were very friendly and chatty and not just because they always seemed to have a drink in their hands. It's an easy walk into the town centre and the salt mine is within walking distance but is about 3km and mostly uphill on the way there.
Other overnight parking:
Poiana Narciselor Nature Park: A small hard standing carpark surrounded by rolling countryside. No facilities and very quiet.
Rupea Castle: hard standing parking in the castle car park. We asked if we could stay when we visited the castle. The security guard puts a chain across the car park entrance at night. Toilets in the upper car park but no other facilities.
Sighisoara: Lei10 per day parking in a busy town centre car park. No facilities but great access to the old town. Lots of restaurants and bars nearby.
Lupsa Monastery: free parking in their car park (we did talk to one of the monks first). Again we were asked if we needed anything and were told the toilets would be accessible all night. There is a water tap just inside the gate.
Ghetari: Lei25 for overnight parking in a field close to the ice cave. All grass and not many level areas. Cars parking for the day got tickets/receipts but we didn't – there was no advertised going rate for overnight motorhome parking. It's an uphill walk to the entrance to the cave and there are a few eating places and souvenir stalls around.
Finate: parking at a popular local picnic spot but quiet enough overnight. Grass parking next to a small stream – needed ramps to get somewhere near level. Shame about the rubbish strewn around the place but that has been par for the course in a lot of areas.
Blog: www.bobandjune.com
YouTube: https://youtube.com/user/bobclewley
Polar Steps: https://www.polarsteps.com/ClewleysOnTour/5755379-the-balkans-and-beyond?s=0A28668E-486F-4DEF-80BA