The journey from the UK to Croatia was uneventful taking us through France, Switzerland, Italy and Slovenia. The most exciting part was spending a night at the top of the Stelvio Pass with stunning views down the pass into northern Italy.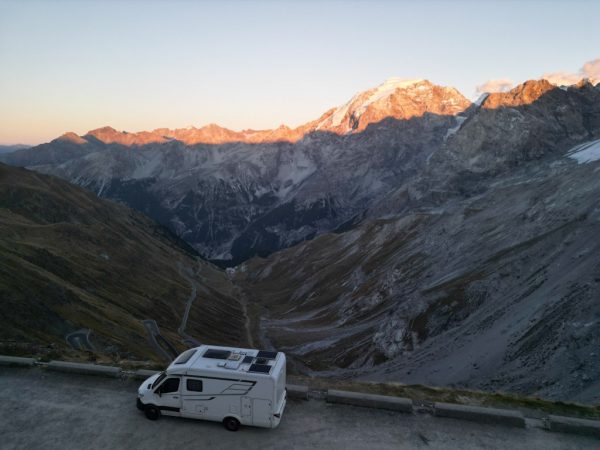 Our original plan was to spend a couple of days just over the Croatian border, south of Trieste before moving straight on to Bosnia but having seen that the CRO Race (a pro-cycling event formerly known as The Tour of Croatia) would be in the region in a few days, we decided to hang around and explore a little more.
The Slovenia/Croatia border crossing was quick and easy (no questions, no searches) and we got the necessary stamp showing we'd exited the Schengen zone – oh, the continued joy of Brexit!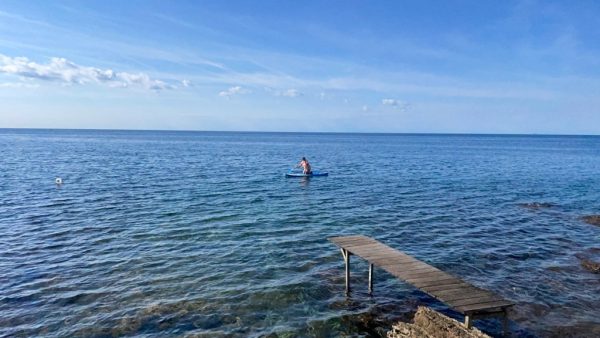 We had stayed close to Savidrija previously, albeit a different campsite, and didn't really do much although we swam and the paddle board did come out briefly before the wind got up.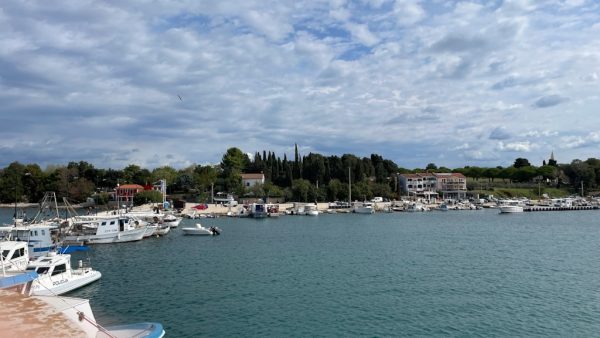 When we visited Croatia last year we bypassed Rovinj, so this time we made the effort to find a nearby campsite and spent a day wandering around the old town. You can really see the Italian influence here and could quite easily be exploring the backstreets of Venice.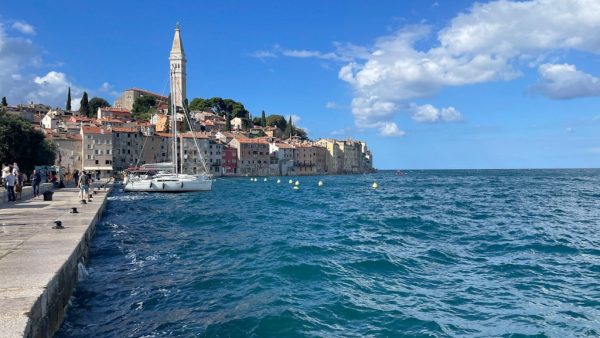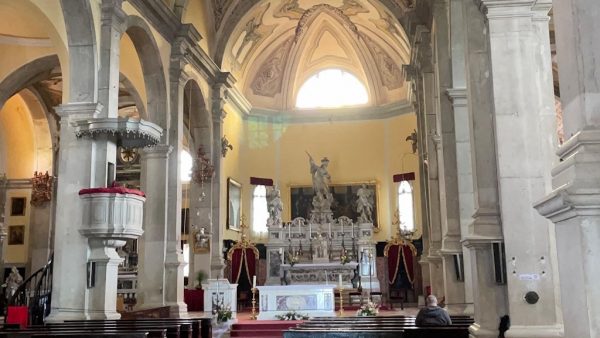 We left Rovinj and moved inland. Istria is a region of vineyards, olive groves and hilltop villages reached by steep winding roads. Our first stop was Grožnjan, also known as the "Town of Artists" as a number of the old buildings have been turned into studios and galleries.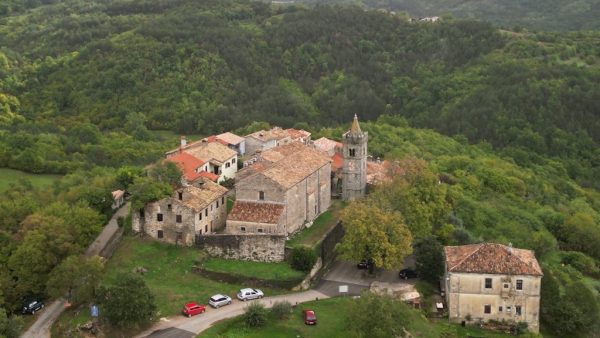 From Grožnjan we moved to Hum, which by the 2011 census was the smallest city in the world! The "city" is really just two main streets surrounded by walls built on top of a hill and the first mention of it in any documents was in 1102.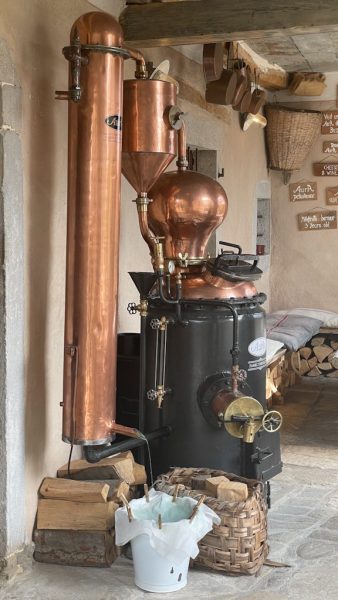 The few shops very much cater for tourists selling local products including olive oil, wine, brandy and gin, a bottle of which may just have found its way into the van – we do like to do our bit for the local economy!
Possert Fort was a little hidden gem and very much off the regular tourist trail. We were able to park right by the ruins and with no distractions (we saw no-one else all day) we were able to catch up on admin in beautiful surroundings.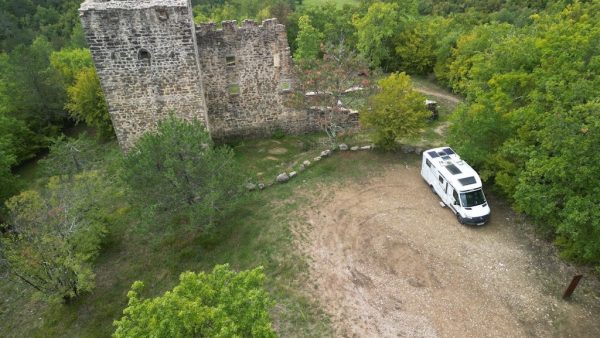 Our last stop in Istria was just outside the old town Labin which was hosting the finish to a stage of the CRO Race. We walked from the campsite to find ourselves a good spot from which to watch the cyclists as they completed a couple of circuits and then crossed the hilltop finish line.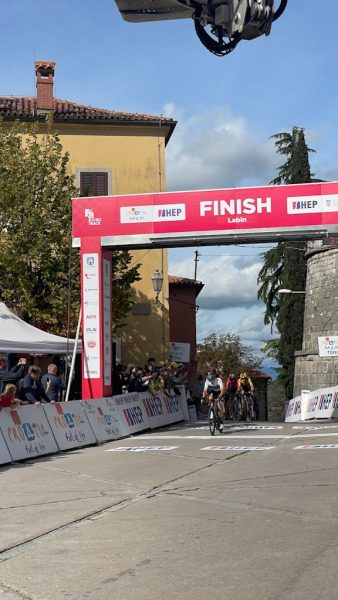 We decided to break up the drive to Bosnia Herzegovina with a night on the coast at the harbour town of Senj but we ended up staying 3 nights for a couple of reasons. Firstly, Gregg and Dawn who we had been talking to via Instagram (@gregg.butler.121) and who had visited the countries we are heading for, mentioned they were on their way to Senj so we decided to wait for them and ended up having a great couple of days relaxing and talking all things travel related. Whilst parked up, Bob had noticed a chip and small crack in the windscreen so after a couple of calls to our insurance company, arrangements were in place for the Croatian equivalent of Autoglass to come to us to replace the glass.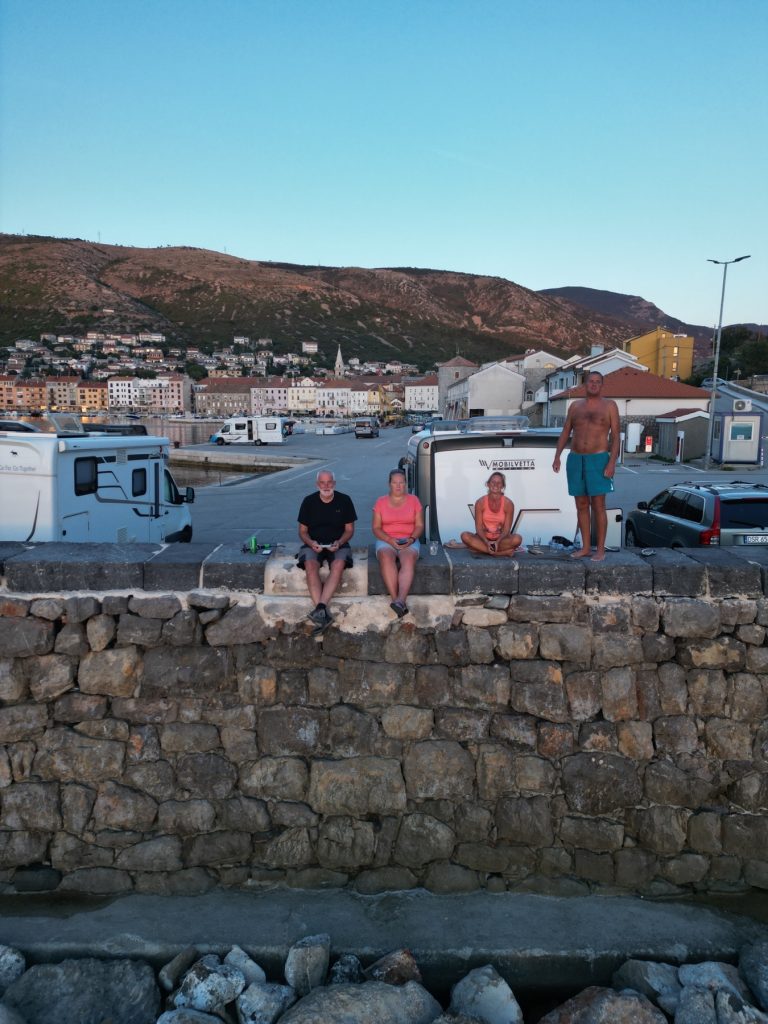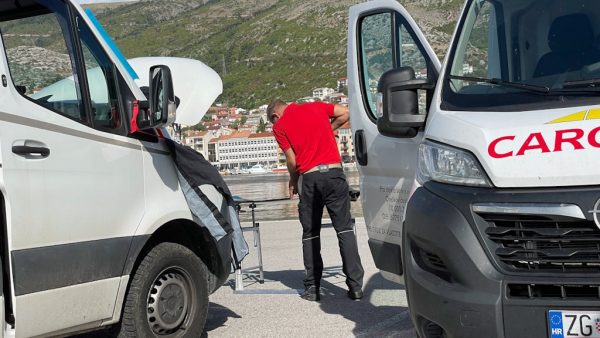 As often happens when we meet other travellers, plans change so we stopped again on our way to Bosnia – this time at the recommendation of Gregg and Dawn. Grabovača Cave Park is near the town of Perušić and is a small area of protected limestone landscape. We don't know if it's a year round arrangement but when paying for our park entrance we were advised that we'd be welcome to stay two or three nights in the car park with water and electric available if we wanted! With a cave to visit, some walks in the park and a total cost of less than £13, it would be rude not to!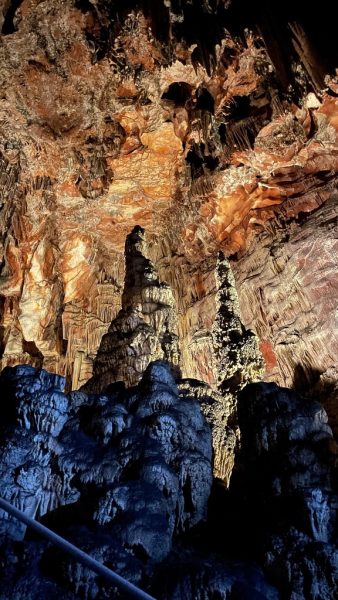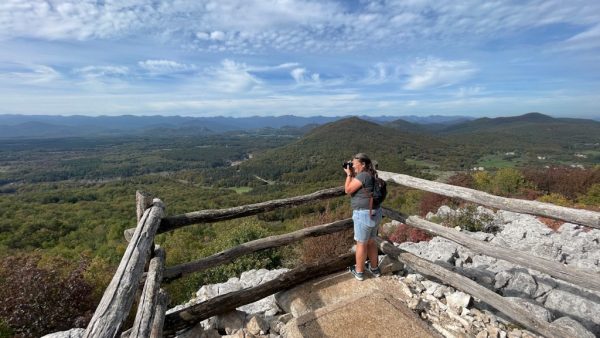 If you can drag yourself away from the stunning coastline, there is plenty to see inland and these sites are often quieter. But now we really are moving on to Bosnia.
Campsites used:
Autocamp Tramontana, Savudrija: €20 p/n. Small campsite on the edge of the sea. Lots of seasonal pitches but we parked on the lower grass tier giving easy access to the sea. Didn't use EHU but it's available. Easy walk into town where there are a couple of bars.
Camping Porton Biondi, Rovinj: kn257.29 (approx £30.50) p/n including EHU. Tiered gravel pitches stretching up the hillside. Large car campsite with all facilities including onsite bakery open in the mornings.
Camping Romantik, Labin: kn165 p/n (approx £20) without EHU. A really well kept little campsite with grass pitches surrounded by fruit trees and vines. Immaculately clean showers and toilets. Washing machine available on request (kn 37.50, £4.40) and site has a small swimming pool. The old town is within walking distance although mostly uphill from the campsite!
Other overnight parking:
Hum car park: kn25 (£3) to visit the village and we were allowed to stay overnight. Large tarmac car park.
Possert Castle: free. Grass area in front of ruined castle. Approach is via a steep, narrow road.
Senj harbour: kn70 (£8) for a day ticket which enables an overnight stay. Large car park with some longer spaces out by the harbour wall where there is a water tap but we're not sure if it's always available. Easy walk into town for restaurants and shops.
Grabovača Cave Park: we paid kn55 (£6.50) each for a guided tour of one of the caves and for that they allowed us to park for a couple of nights (could have stayed another night if we'd wanted). The car park had toilets and access to water and electric, although we used neither.