From Ronda we aimed to get to El Chorro. This started with us driving along an unopened duel carriageway and being let in to the traffic flow by a very nice workman – a sign of the day to come……???
The maps in Spain on our TomTom or the paper map tend not to be overly reliable. We had found the location of a supermarket and marked it as a destination…. Thankfully we didn't follow the route as it tried to take us across a wooded field.
So abandoning the shopping for a bit we aimed for Setenil de la Bodegas. This is a pretty little town where lots of the houses are built into the overhanging cliffs, giving them rock roofs. But we still had to negotiate the village of Arriate. A narrow village to say the least but confidant we could get through we just followed our noses….. Until we came to a Y junction where one option was narrow and the other very narrow. Bob was about to take the very narrow one (always up for a challenge) when another very nice Spaniard directed us to the correct road…at this point there were a few vehicles going through and when we saw a builder's lorry taking this route we tucked in behind it.
No further mishaps and as we zig zagged along the main road through Setenil there was parking on the left more than wide enough for us.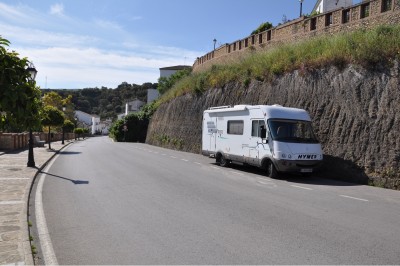 After a quick skirt around the edge of the town to see the church we dropped in to the busiest part of the town for a coffee. It must have been pension day as the average age of the locals was well into the 80's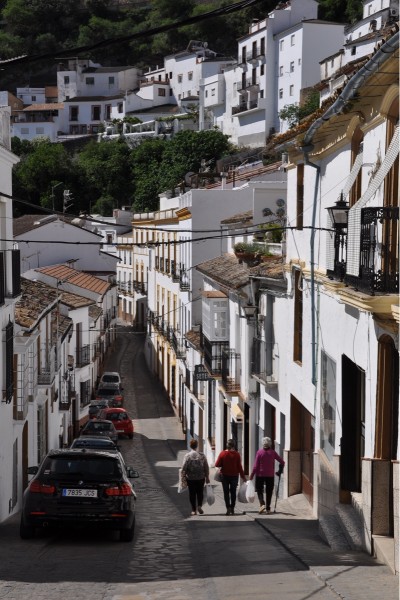 Back on board we headed to El Chorro via a vast plain like area cut through limestone outcrops.
Just after Ardales we left the A357 for a green and yellow squiggly road which had several road signs saying 'Atencion Carretera En Mal Estado' Meaning that the road was in a bad state! Yep we will agree with this; they had done their homework this time.
This took us to Alora where we took another green and yellow squiggly towards El Chorro. To find the campsite Finca la Campana (http://fincalacampana.com/en/) we crossed the dam, drove through the station carpark and took a 'minor road uphill. Then we turned off onto a even more minor road to the site. Well if we we can do it in a motorhome, anyone can do it in a car.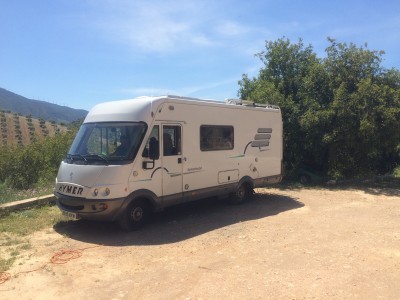 The site consists of a couple of chalets and two areas for motorhomes. After an initial 'have we got this right' moment we decided to stay. And we are so glad we did it is beautiful. Quiet with a small but well stocked shop where you are trusted to write down in a book what you had taken. The owner Jean has been here for 15 or more years and offers climbing, caving and lots more outdoor activities but we were here for the Camino Del Rey…Walk of the King.
This route was initially built in the 1920s to access the dam and hydro electric plant. It fell into disrepair and was officially closed in 2000 although people still walked the disintegrating ledges with ropes etc. It has now been repaired by the Spanish Authorities. Getting access is a bit of a lottery at the moment as it only reopened in April with the official website crashing many times and tickets currently free.  When we tried to book tickets we ended up with having a slot to walk the route but no proof! Chatting with Jean we found that often people managed to get access by just turning up. So that was our plan for the next day!