Having taken the option to get our inbound COVID test at a drive through centre on the way home (thankfully both negative still!) we were clear to go about preparing for Christmas almost as soon as we got back home. It wasn't quite the rush we anticipated as like for a lot of people, the holidays were pretty quiet although it was good to see the family and friends that we did.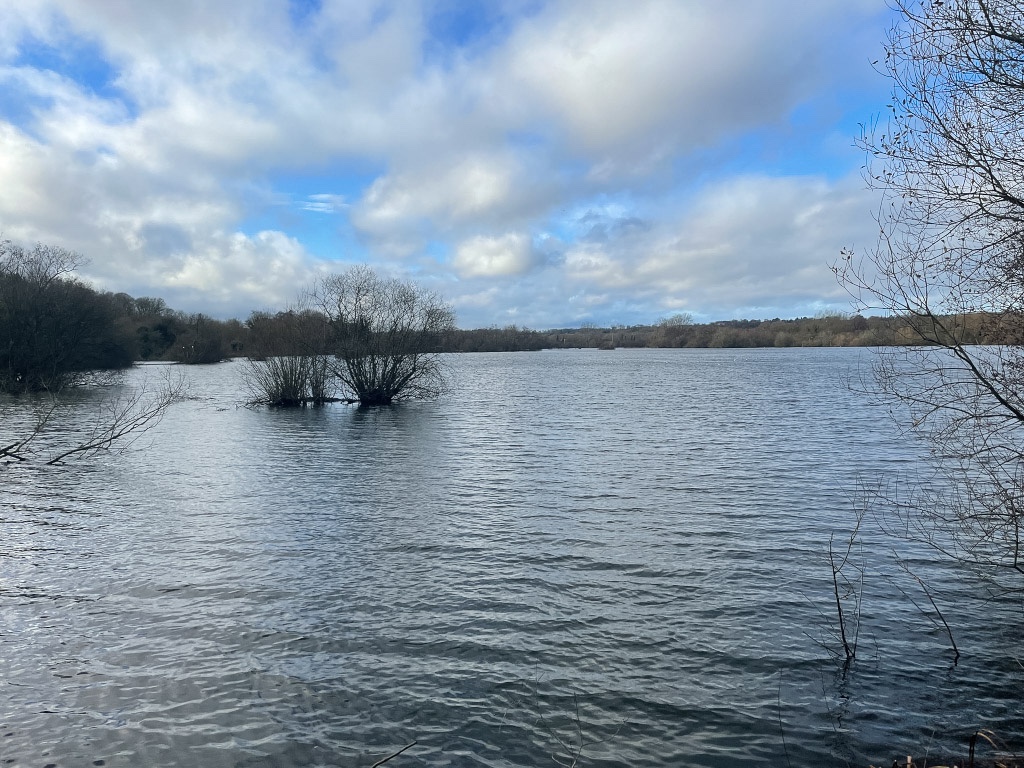 After almost three weeks of feeling strange in our own house (home is now most definitely the motorhome and the house is Chloe's home), we got the call from the Mercedes garage to say that the issue with the central locking and remote key system caused by the lightning strike was now resolved. Luckily Chloe was home so we had use of her car so the following day it was up the A1 to collect the van and back again to check in to the local campsite. We both sat in the van that evening with a big smile on our faces and had our first decent night's sleep in weeks!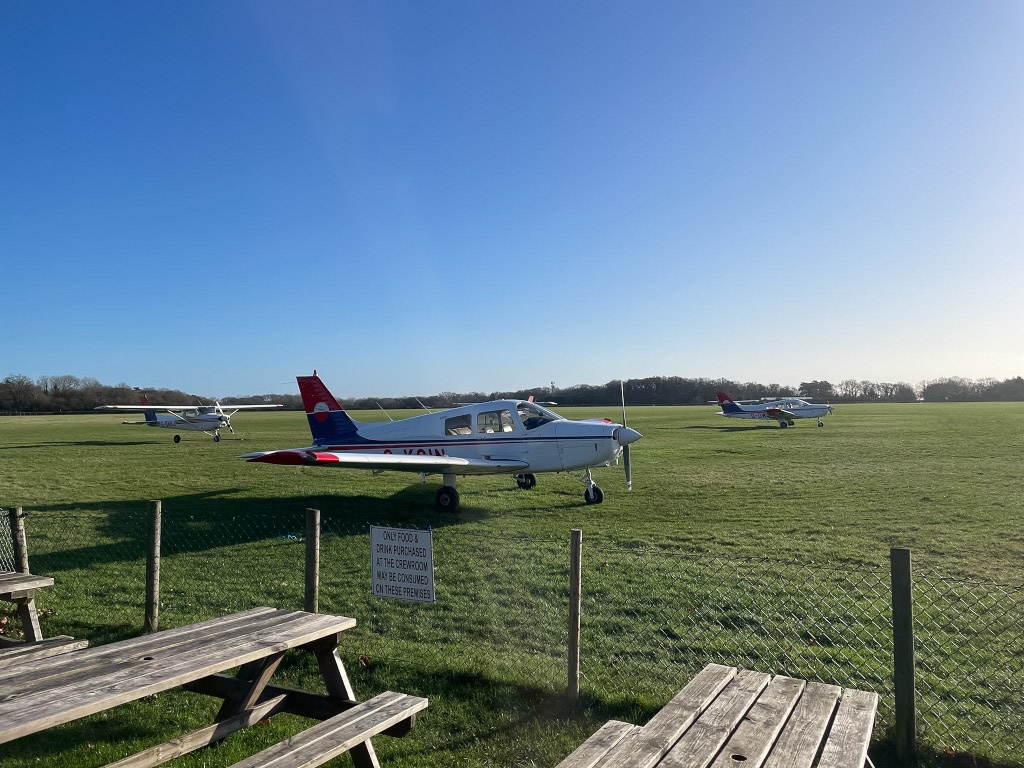 After a couple more days of catching up with people we headed down to Hayling Island for a couple of nights to get some warranty work done on the van. With the dealer we bought the van from having stopped trading, we've been lucky to find another dealer (Southdown Motorhomes) willing to take on the warranty work. Great service from them! We stayed at Stoke Farm, a fairly new CL, with the remaining grass pitches currently being made hard standing. All have EHU and and own water. Sadly we didn't get much chance to explore the area but this would make a good base.
Whilst getting that sorted we were made aware by a few drivers that our reversing lights were permanently on so it was a quick dash the following day to the Mercedes garage recommended by Southdown – Marshalls Andover who kindly squeezed us in and ran the diagnostics. The problem had actually righted itself that morning although we had another scare on the way to the garage when the van wouldn't start at all. But whatever had caused these glitches had disappeared so we found a CL near Salisbury and headed there for a couple of nights with the aim of getting a decent walk in.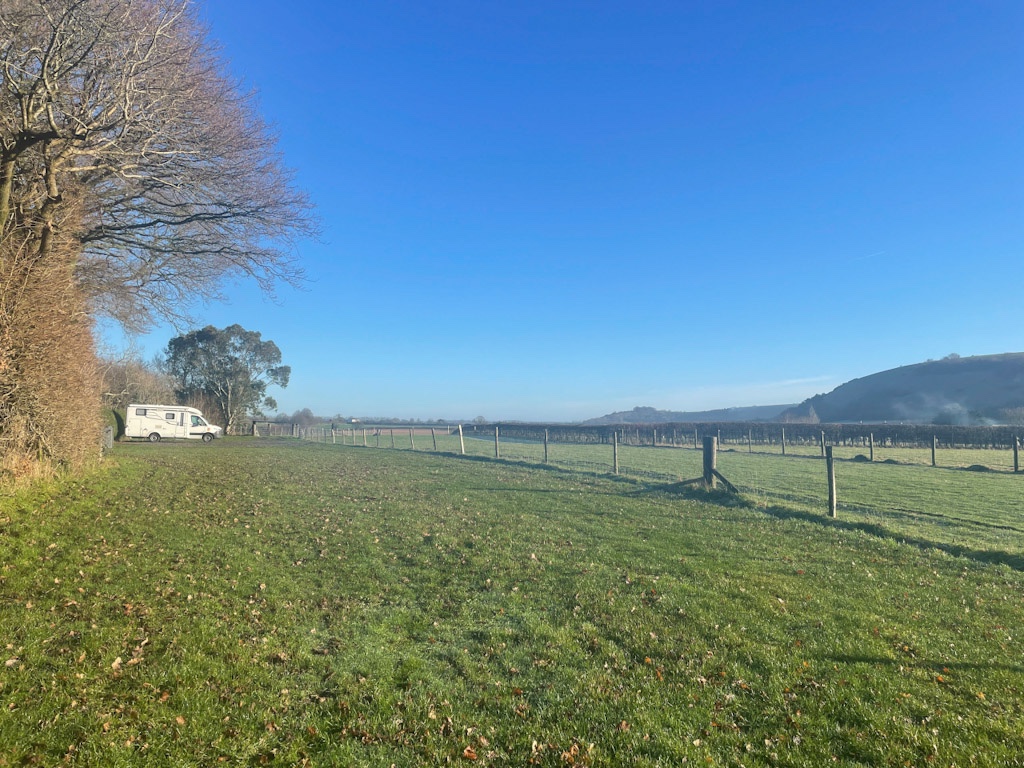 We spent two nights at Copse Side Farm where we were met by the owner. Sad to say we did't get her name but she was so chatty, telling us about caravanning around Australia many years ago and giving us the history of the area around us. Camping is in a long thin field with a view to the hills of Cranborne Chase and there is a footpath directly from the campsite out on to the hills. We managed one very muddy walk out on a glorious winter day!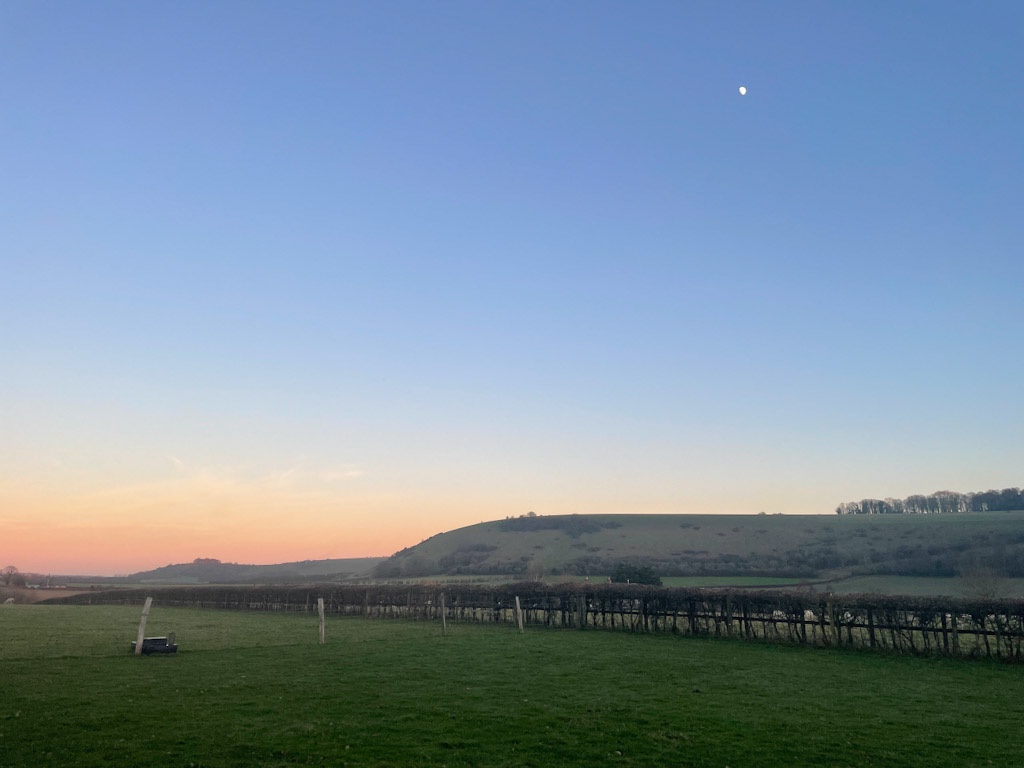 Whilst here we noticed that the alarm indicator lights weren't working so it was on to VanBitz who told us to bring the van in. This entailed a trip down to Taunton which we would do the following week. In the meantime we decided to visit Portland in Dorset and spent two restful nights in a free car park overlooking Chesil Beach. The weather continued to be sunny (but cold!) so we drove down to Portland Bill for a stroll along the coast there. On our way to Somerset, we spent a few hours in Lyme Regis having a wander along the harbour wall and the sea front. Probably because it was a Saturday but the harbour side takeaways had really long queues so we decided to treat ourselves to a sit down lunch in the pub. Has to be done from time to time!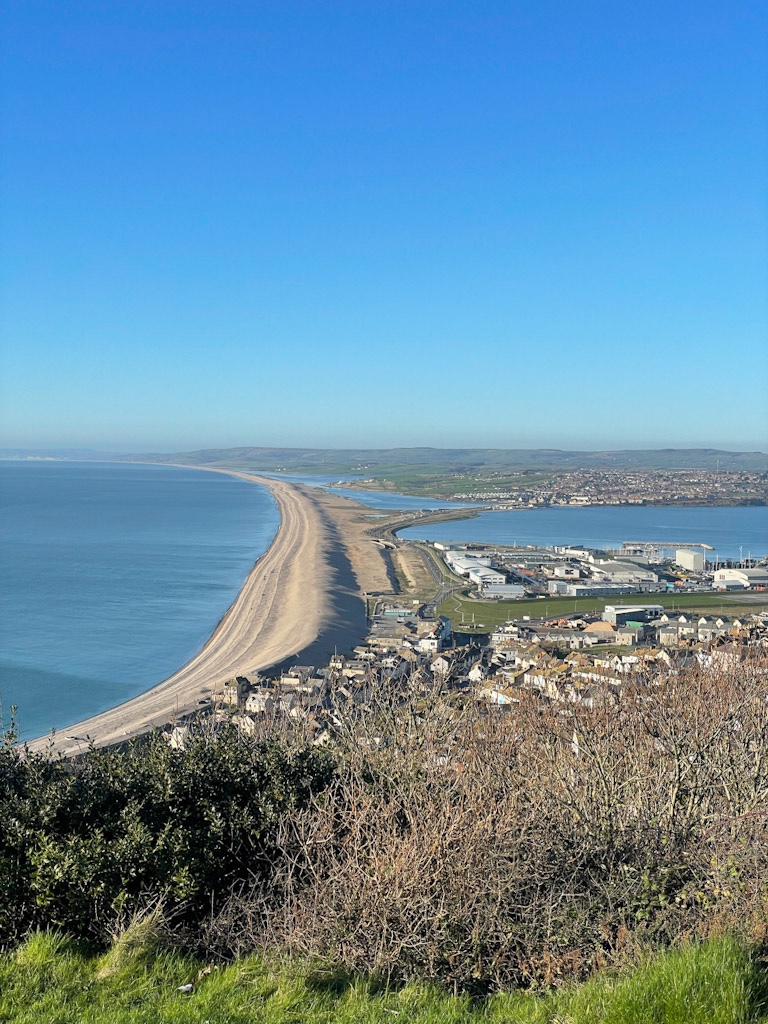 Although VanBitz is located next to a campsite as our appointment wasn't until 10am we decided to stay near Somerton in Somerset on Millway Farm CL. From there we were able to walk out to a very muddy Combe Hill (the mud goes with the time of the year!) and the surrounding woods. The CL is on a working farm and there is a small farm shop selling produce as well as homemade jams and chutneys – can recommend the apple and blackberry jam!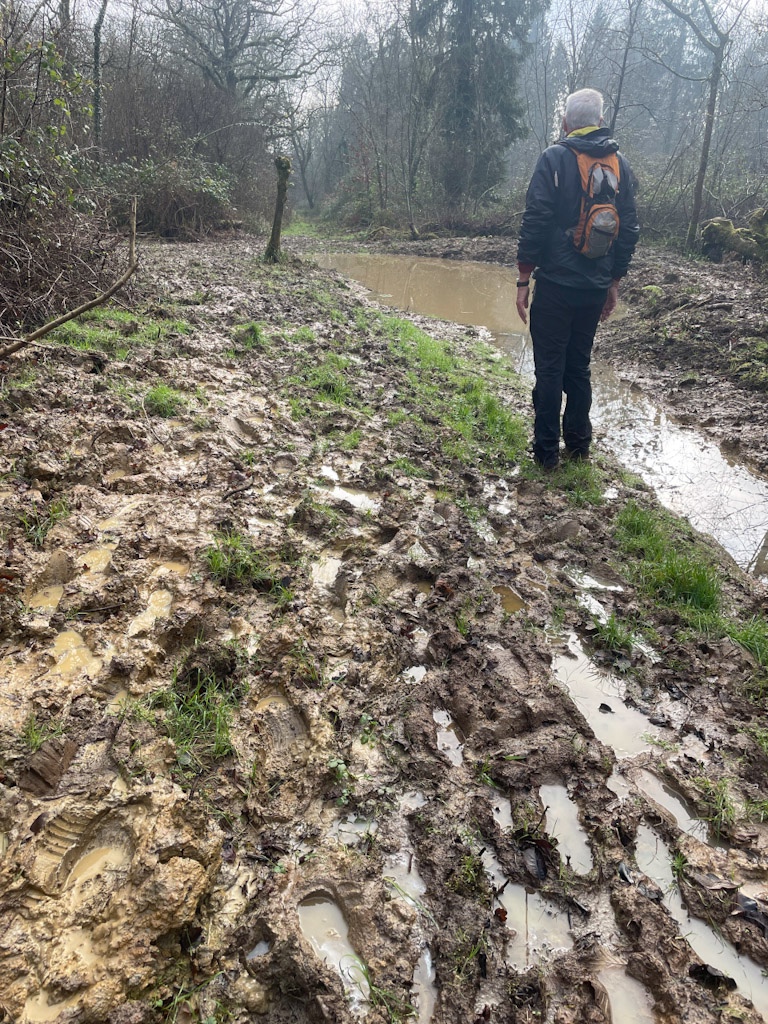 After three LEDs were replaced at VanBitz it was back to Dorset. With all the running around to get the van sorted we really hadn't settled back in to van life so after one night at Dorset Springs, an immaculate CL with pitches located around a lake, we decided that our next stop would be for at least three nights to give ourselves some breathing space.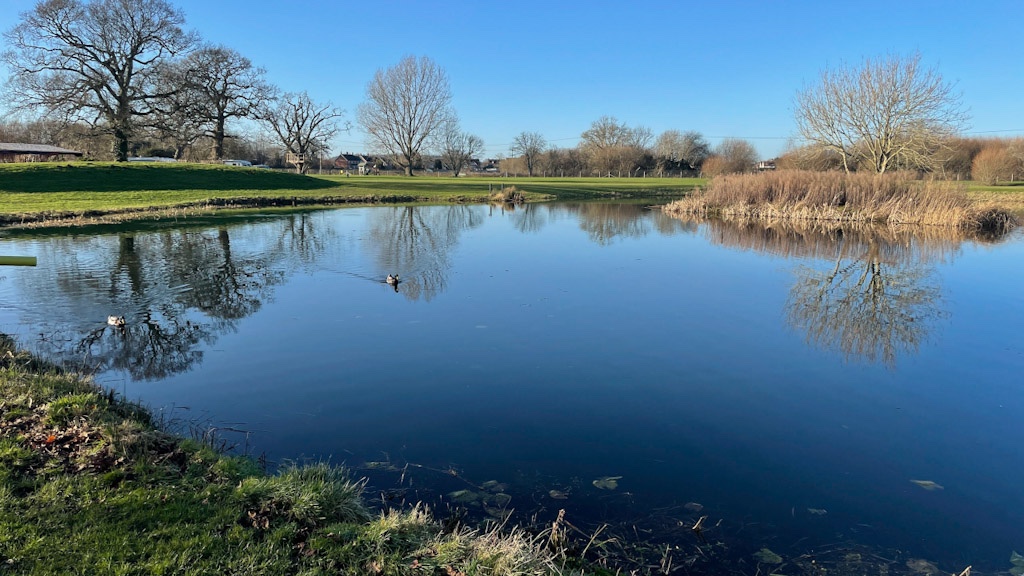 Upon arriving at West Farm CL, near Verwood, we extended our original three nights to six. This is another well kept CL with great facilities – by this time we needed to look for a laundry and as well as a washing machine and tumble dryer, they also have a drying room with racks and hangars so we've managed to get everything done. There is also plenty of walking from the site and the New Forest is just a short drive away.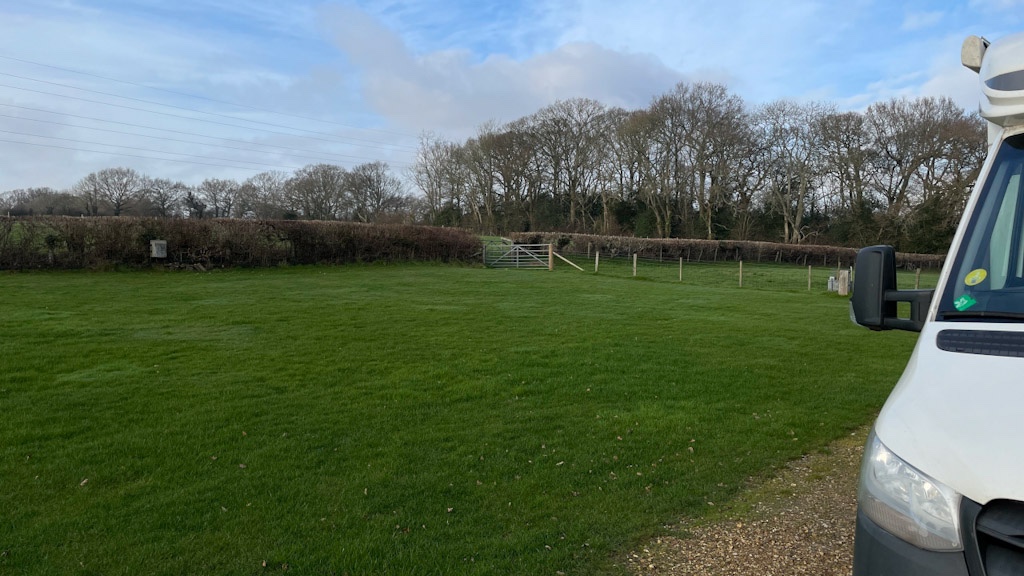 It may sound strange to non-van dwellers but sometimes you really do just need to stop and park up somewhere for a few days! The UK is not very well set up for motorhomes and vans so it's a constant search for places to park, places to empty and fill water tanks and empty the loo. Campsites can be expensive and whilst we are lucky to have a monthly income, we still have a budget. We're not whinging though and wouldn't change this lifestyle for anything.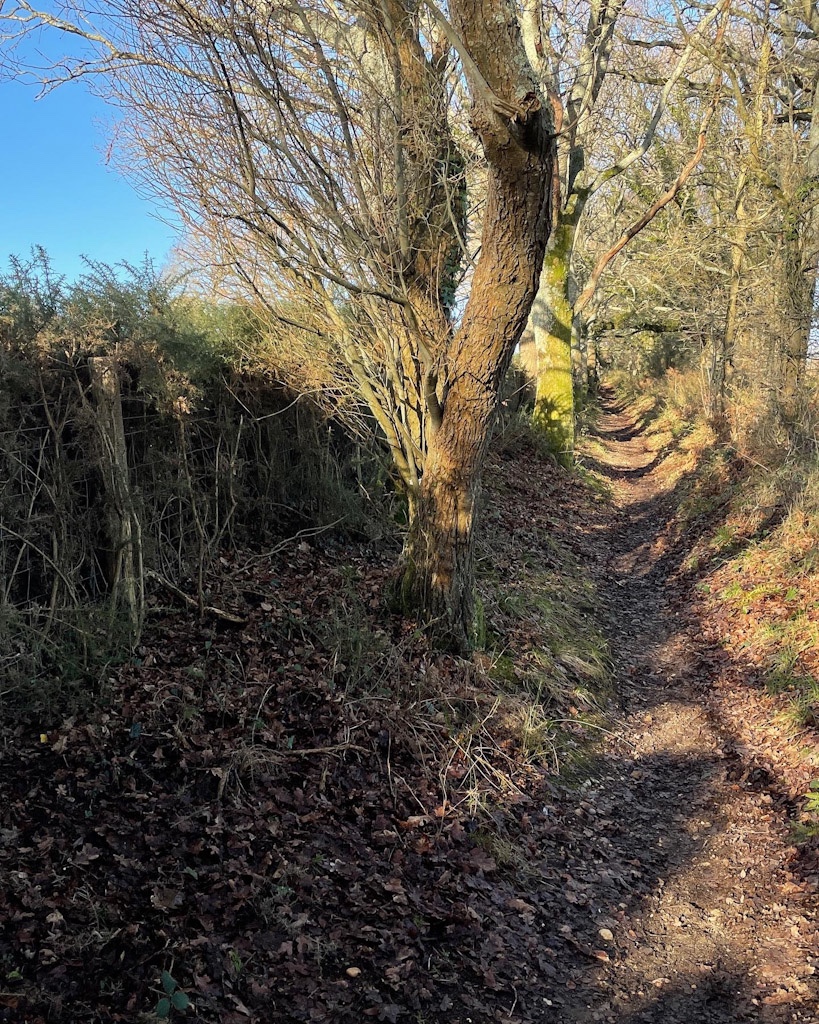 And finally, our plans for 2022. Plan A was for us to have shipped the van to Canada in April 2021 but we all know what COVID did to global travel plans that year! We therefore moved Plan A to September 2022 when, all being well, international travel will have fully resumed and we can head across the Atlantic to start our US, Canada and PanAmerican adventure which had always been our dream for van life.
In the meantime, we will continue to tour the UK, including six or seven weeks in Scotland and then use a full 90 day Schengen block in Norway and Sweden starting in May.
Campsites used
Stoke Farm, Hayling Island: £18 per night. Water and EHU on each pitch. Two hard standing pitches but planning to make the other 3 the same.
Copse Side Farm near Salisbury: £15 per night. EHU and fresh water. Black and grey water disposal. A long thin site with one, maybe two hard standing pitches. Bins available
New Ground Car Park: Free. No services other than rubbish bins.
Millway Farm Somerset: £12 per night. EHU on each pitch and all hard standing. Water along with black and grey water disposal.
Dorset Springs: £20 per night. EHU on each pitch and all hard standing. Water along with black and grey water disposal.
West Farm near Verwood. £19 per night. Two hard standings with EHU on all pitches. Water along with black and grey disposal.