After leaving southern Norway, we headed north and west into the western fjords surrounding Bergen. We followed Route 13 for most of the way with a couple of side trips.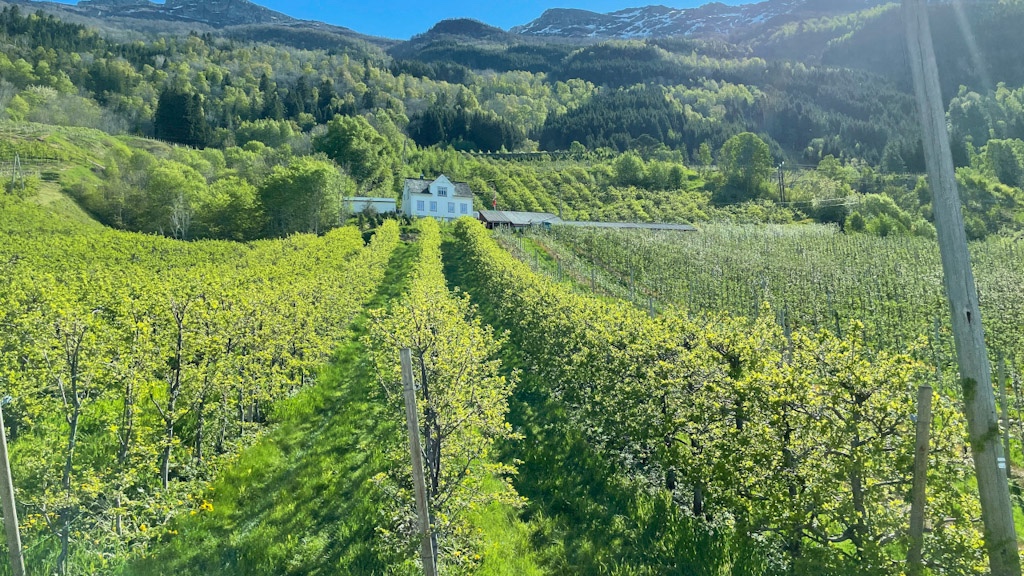 This has to be one of the most picturesque roads we have ever driven (well until we got to routes 7 and 55…!) taken us alongside fjords, over fjords on ferries, through tunnels under and roads over mountains. To top the physical scenery, the area around Sorfjorden is known for apple production and the trees were in full spring bloom.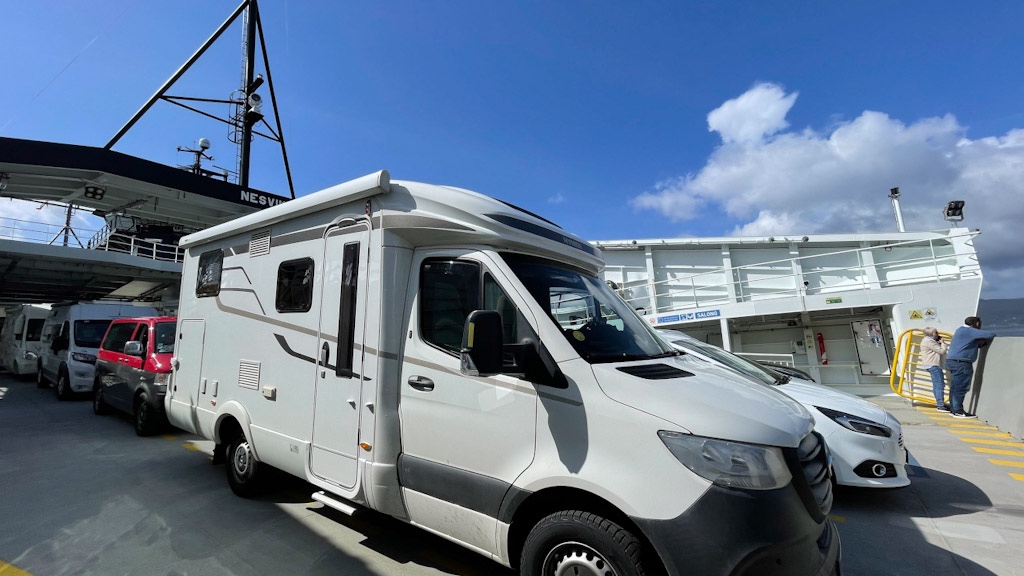 May 17th is a national holiday celebrating Constitution Day with most houses flying the Norwegian and we passed through several towns/villages having parades with people in national dress. We were able to stop for one parade and it was great to see what seemed like the whole village taking part.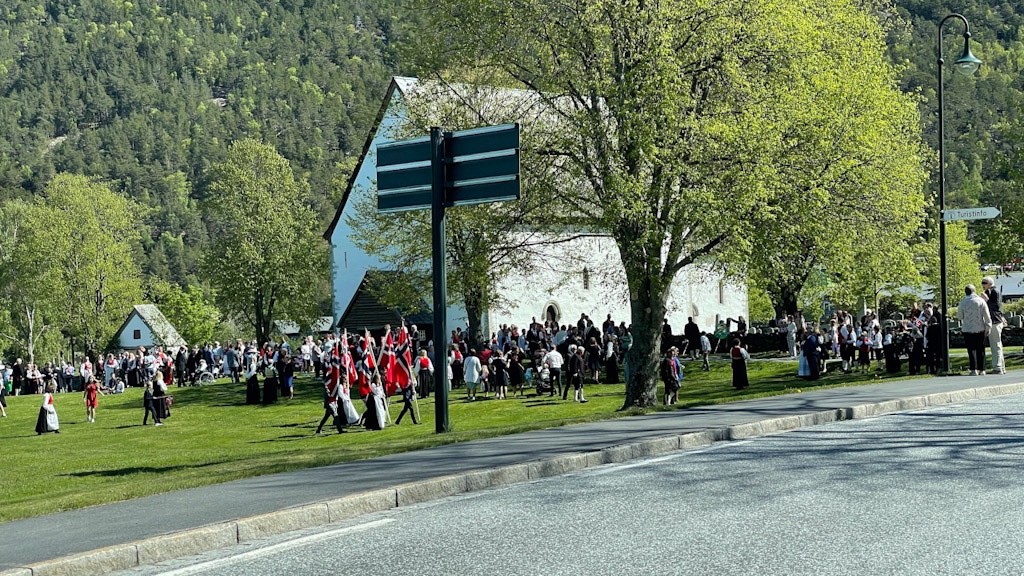 One of the diversions we took off 13 was to the Folgefonna glacier. After a walk through the forest and a scramble over rocks (using ropes in places) we made it to the viewpoint at the base of the glacier. For the more adventurous it is possible to hire a guide and continue to the glacier but getting to the viewpoint was enough for us!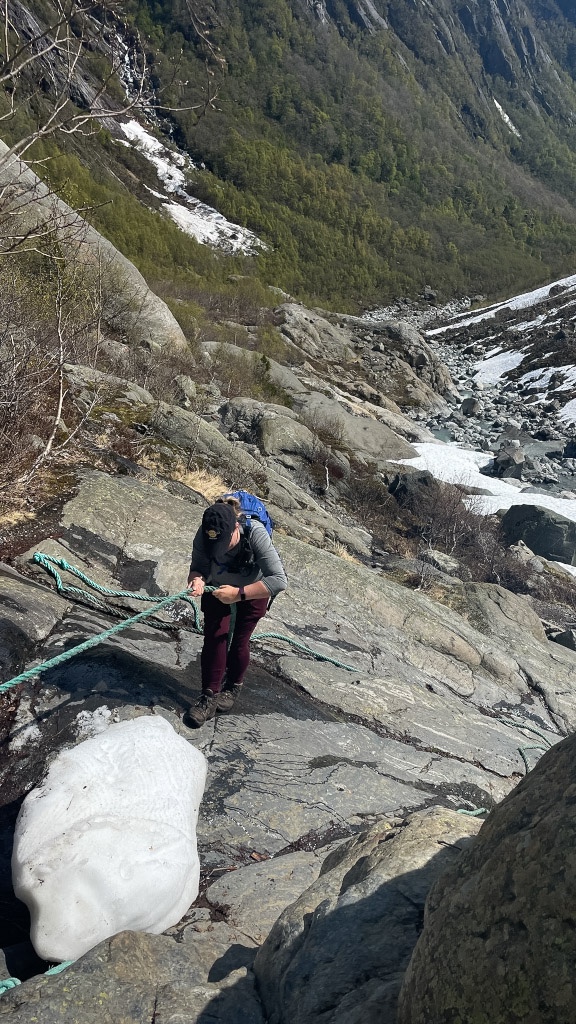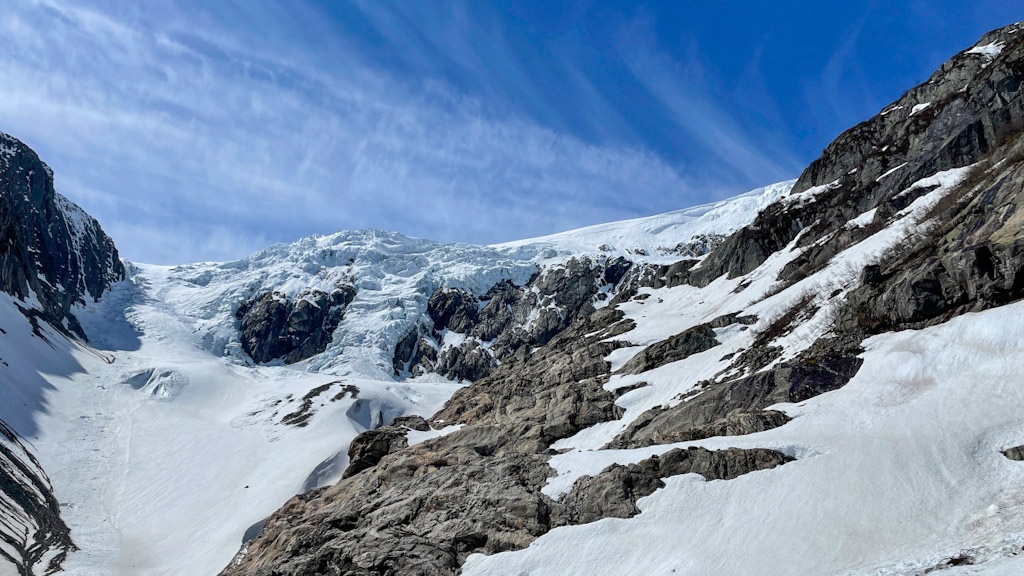 Waterfalls are everywhere and not just little pretty streams – with spring arriving the snow is melting and the force of the water in the falls and rivers is phenomenal.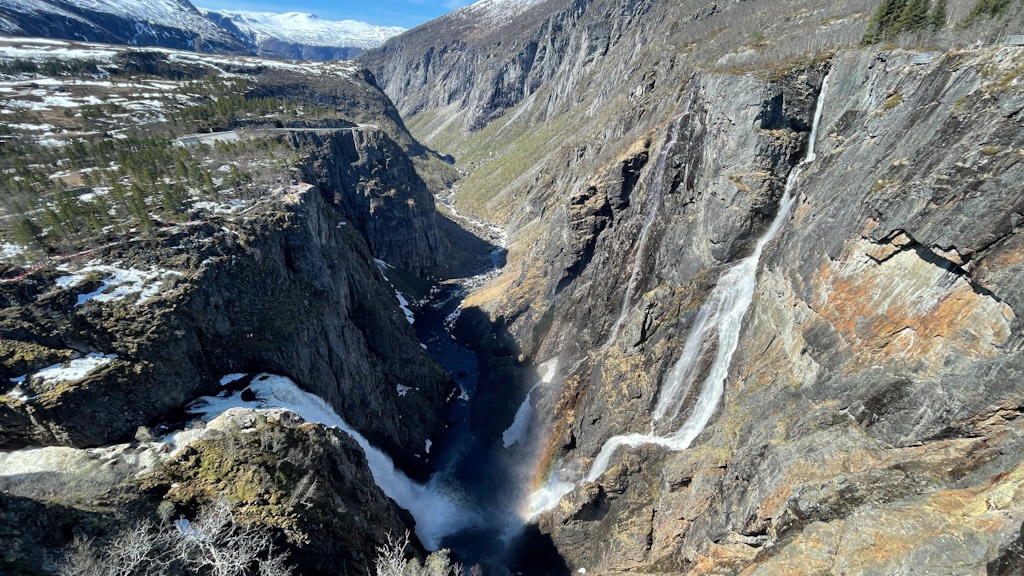 Another road worth a mention is the 7 which we followed on to the Hardangervidda Plateau, Europe's largest mountain plateau and snow covered when we were there, where we visited Voringsfossen and stayed at the Sysenvatn Dam.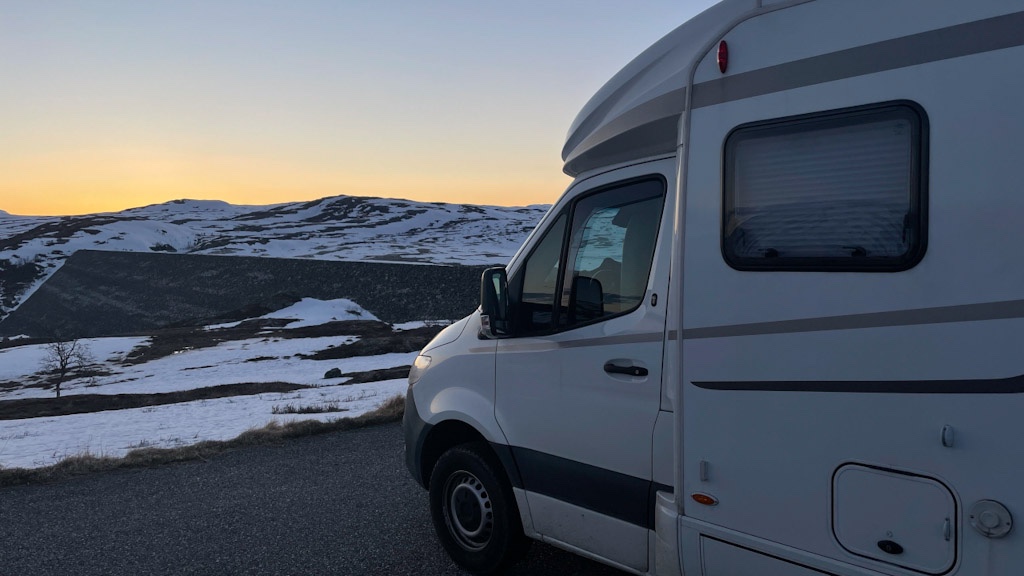 We paid a brief visit to Bergen, Norway's second largest city, taking the tram from our glamorous car park next to an ice hockey rink – NOK300 for 24 hours parking but services and EHU available. The tram was NOK40 per person each way direct into the centre. The city centre was fairly quiet despite several cruise ships being in port but after a walk around the old town and harbour we headed out to the next equally glamorous overnight spot in an IKEA car park!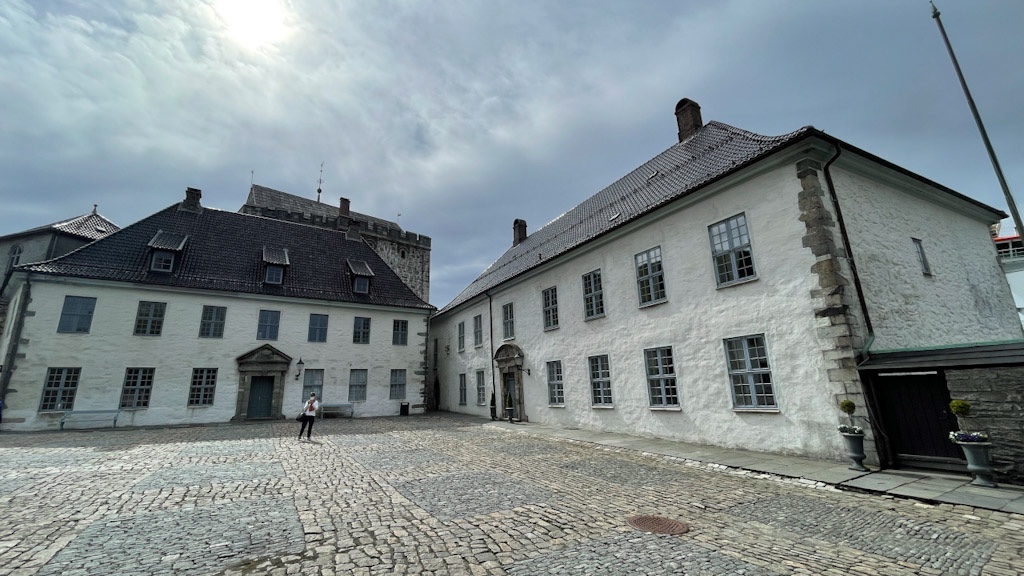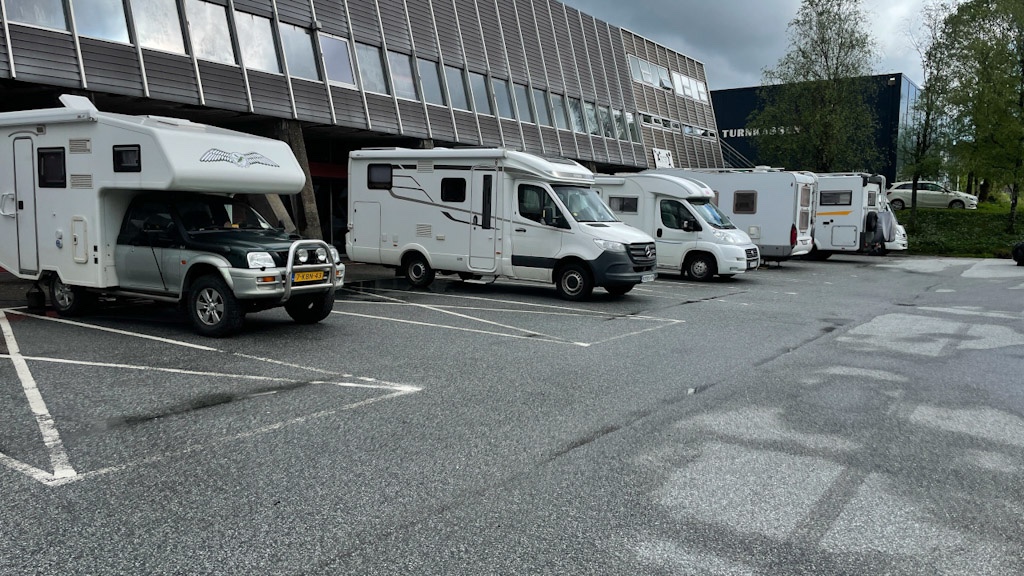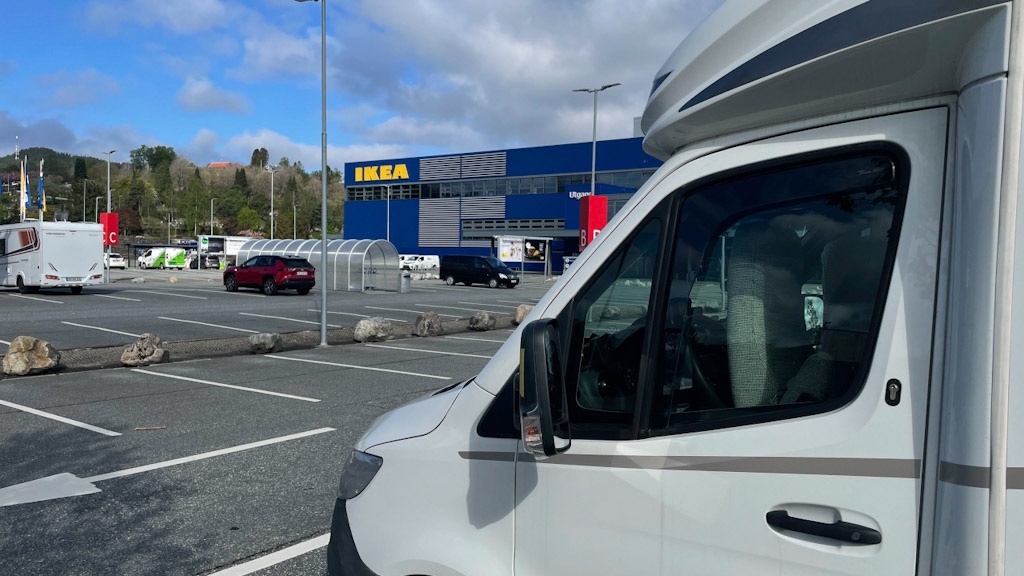 We continued north on the 13 and took another detour to the town of Fjaerland (or Mundal) which is known as Norway's book town. We parked up on the old fjord side quay surrounded by places selling books; old cow sheds, a telephone box, a former toll booth and some conventional shops! Fjaerland is a small one street town but we found a quirky coffee shop (of course!),there are walks from the town, an outdoor activities centre and you can even rent the town sauna which floats on the fjord.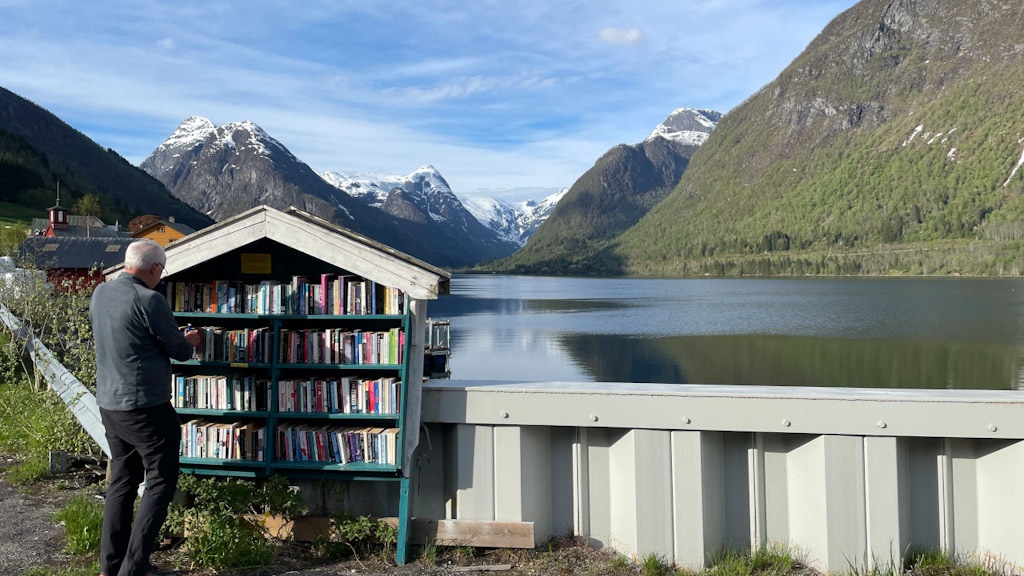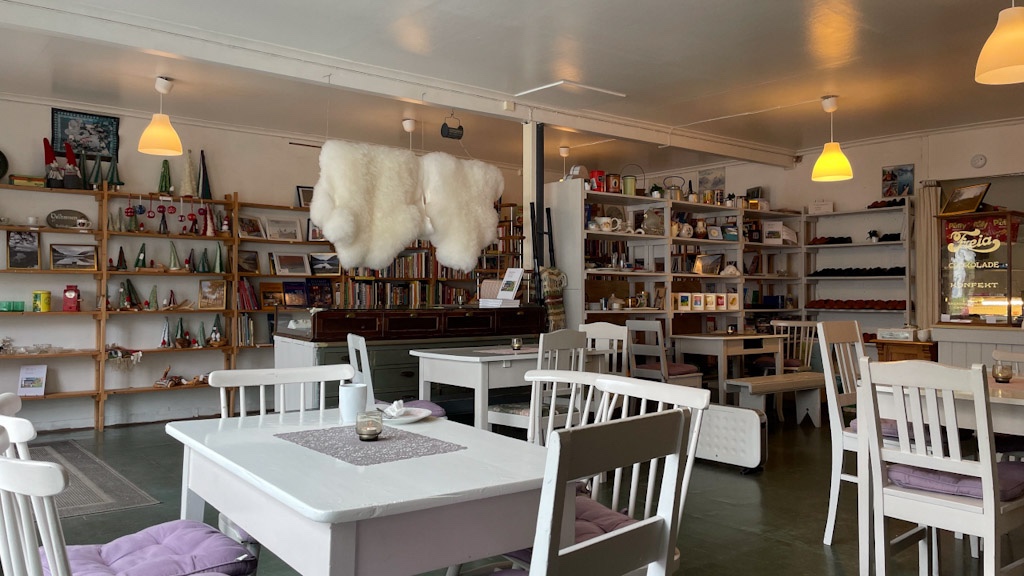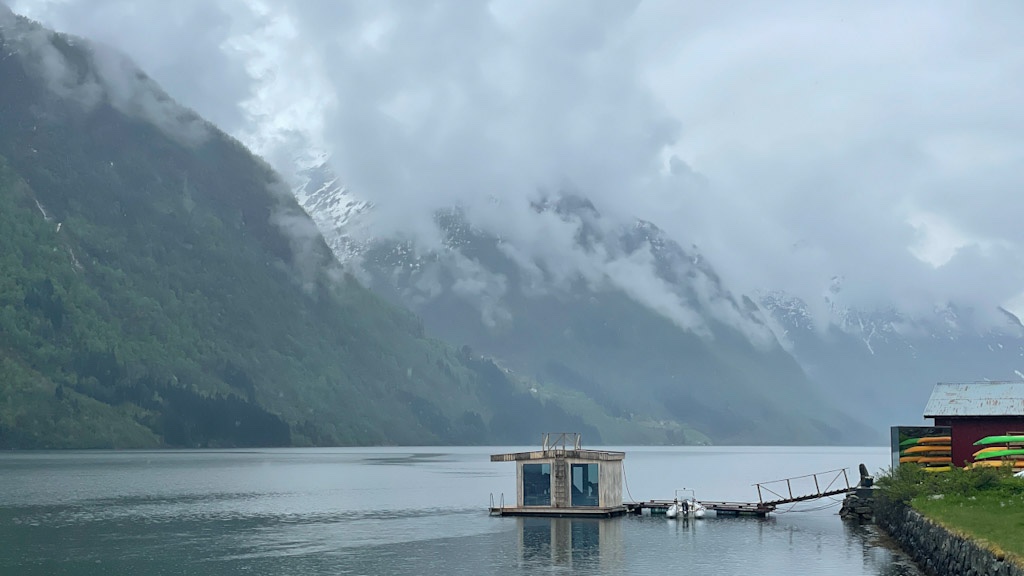 Our next overnight stay was just outside Lom which we reached after driving another stunning road, the 55. On our way to Lom we had lunch at the highest point, 4,700ft above sea level, surrounded by banks of snow which were higher than the van in places!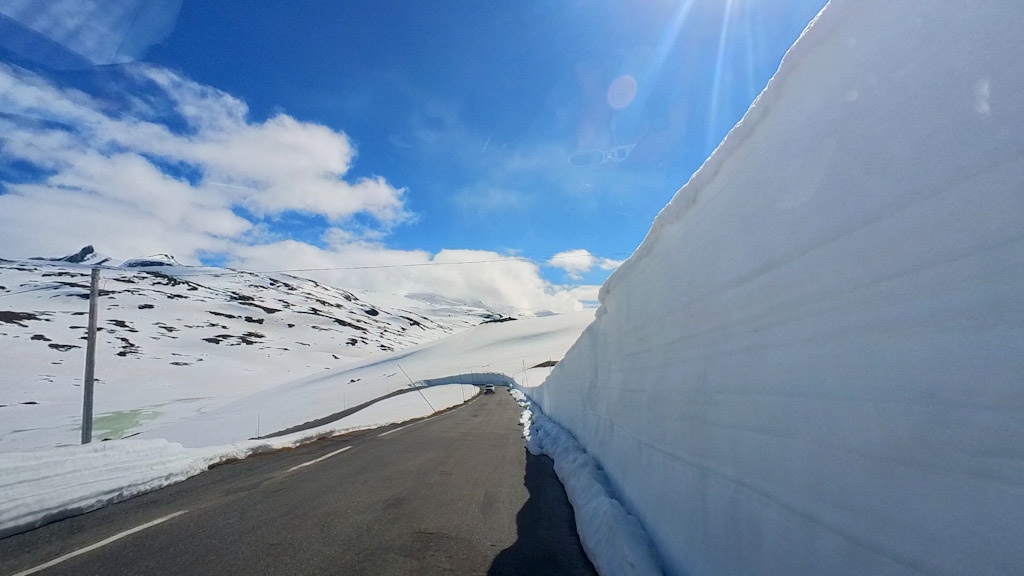 Lom has a beautiful stave church, built from wood and originally dating back to 1200.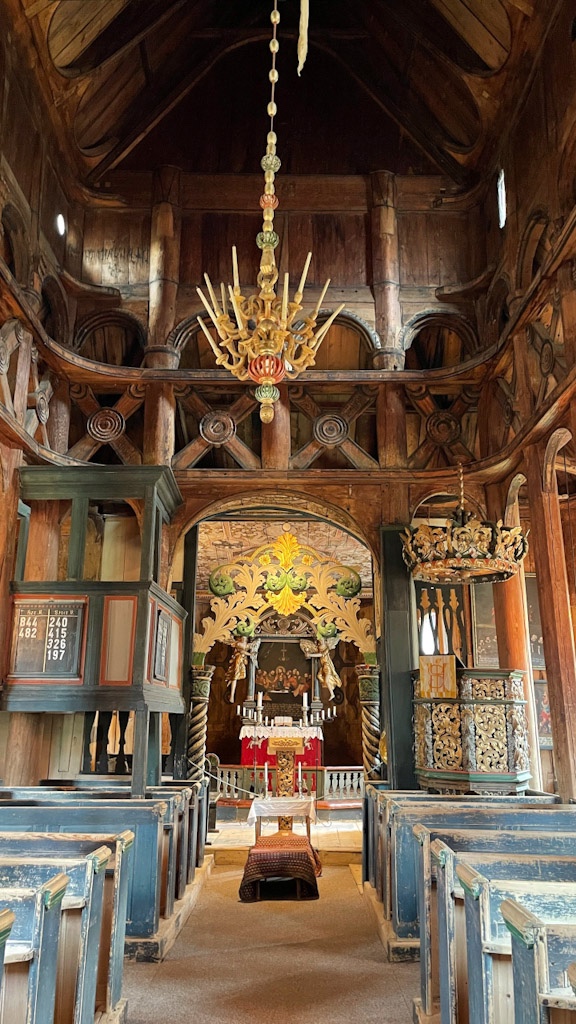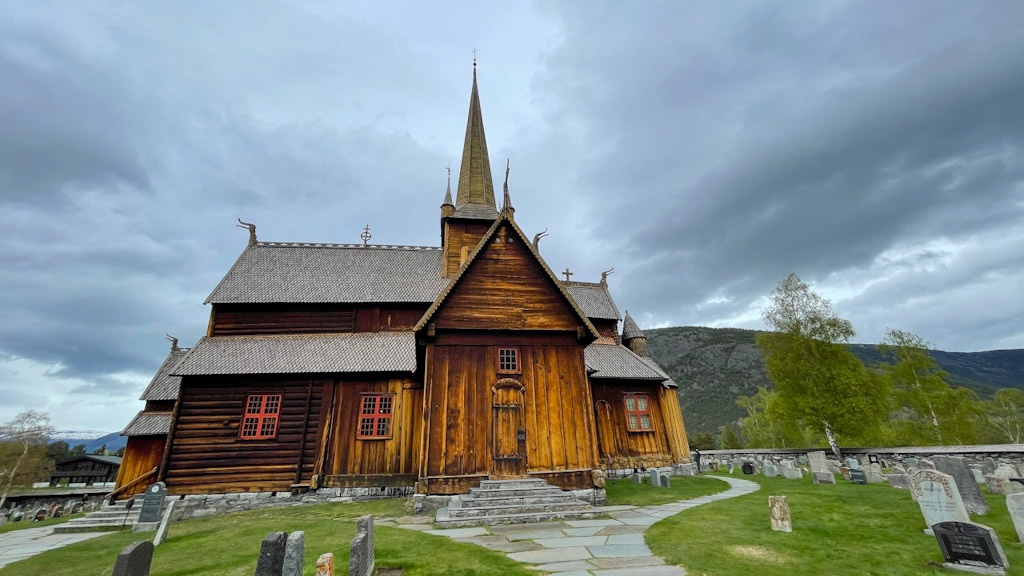 We were then hoping to visit Geirangerfjord and drive along the hairpin bends of Trollstigen but the roads hadn't yet reopened after the winter so we headed towards the coast to see a couple of places in the hope that the situation would change.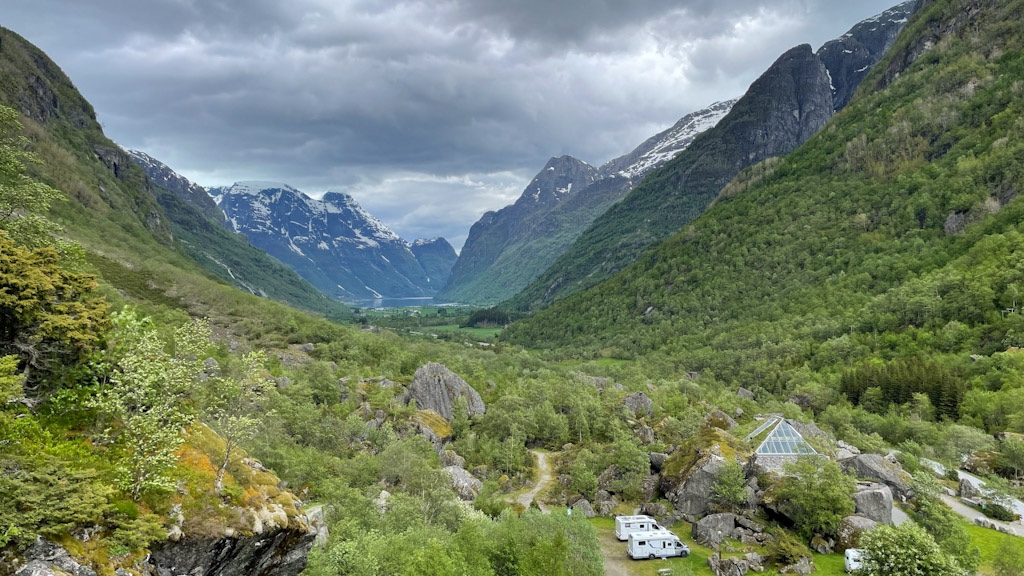 We headed to the inner Nordfjord and Melkevoll Campsite in Jostedalsbreen National Park at the foot of the Briksdalsbreen Glacier. After a couple of rainy days we took the footpath up to the glacier which is a walking geology lesson, so right up our street! We were also lucky to pick one of the bright, sunny days to walk and spent a while sitting by the lake at the base of the glacier.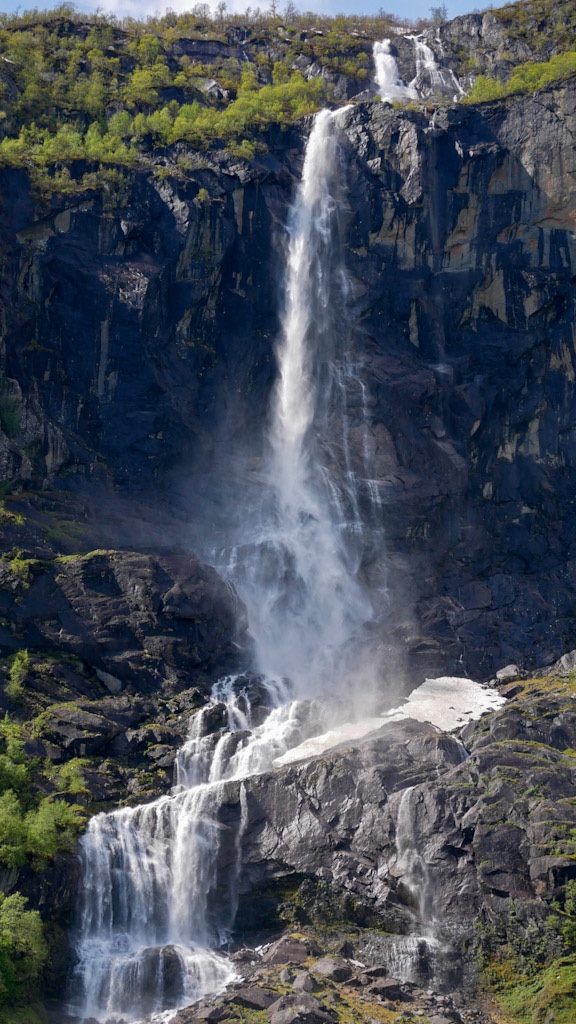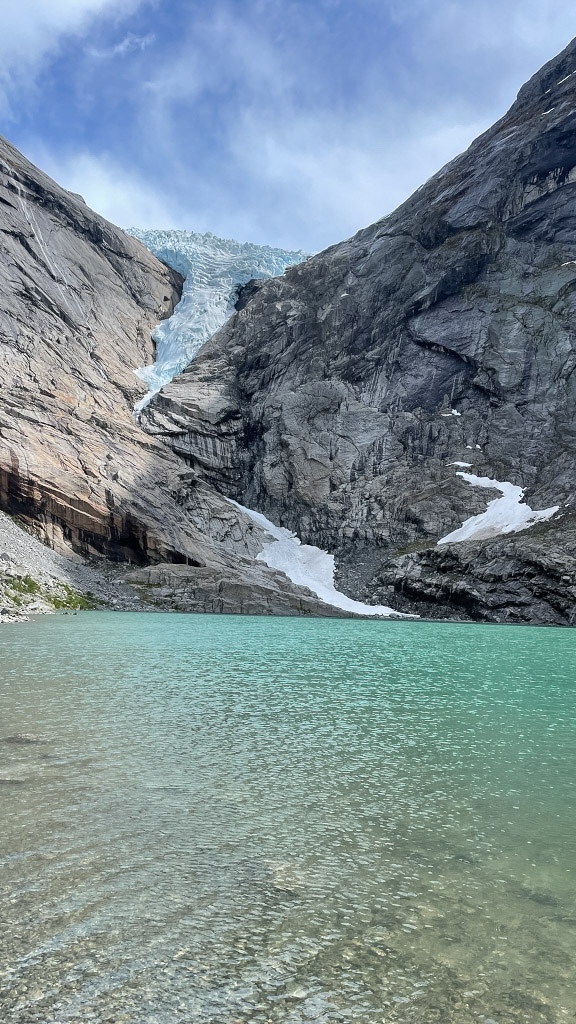 Melkevoll Campsite is a mixture of open pitches and lodges surrounded by mountains and waterfalls. The cost was NOK280 p/n with no EHU and laundry an additional NOK20 per wash/dry. Machines are coin operated and reception will give you the change. The site also has a sauna and a small plunge pool in the river, if you're brave enough!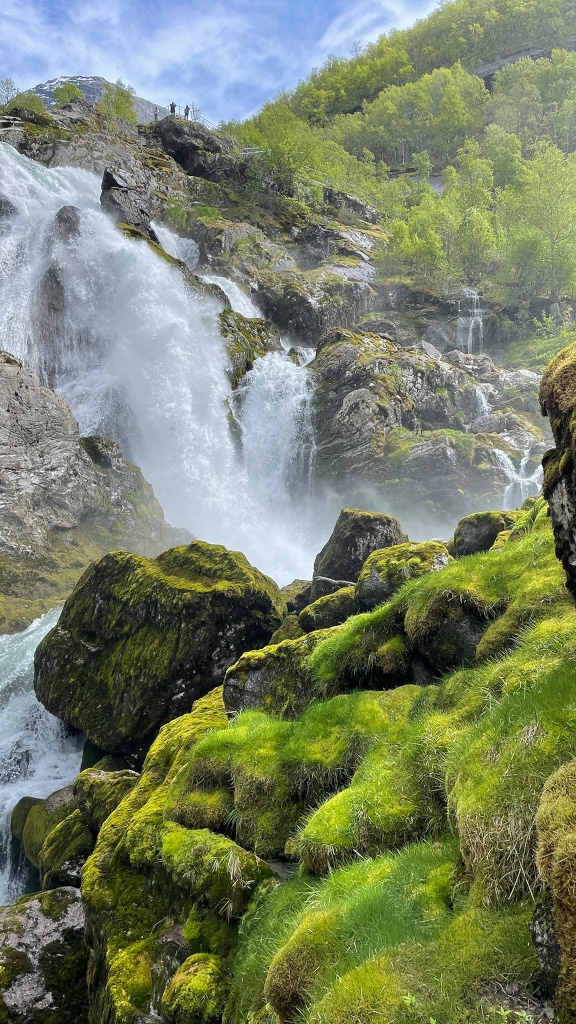 A chance conversation in a car park a few days ago, took us to the island of Maloy to see Norway's "most photographed stone"! Definitely an interesting piece of geology but we have to confess to being slightly underwhelmed…….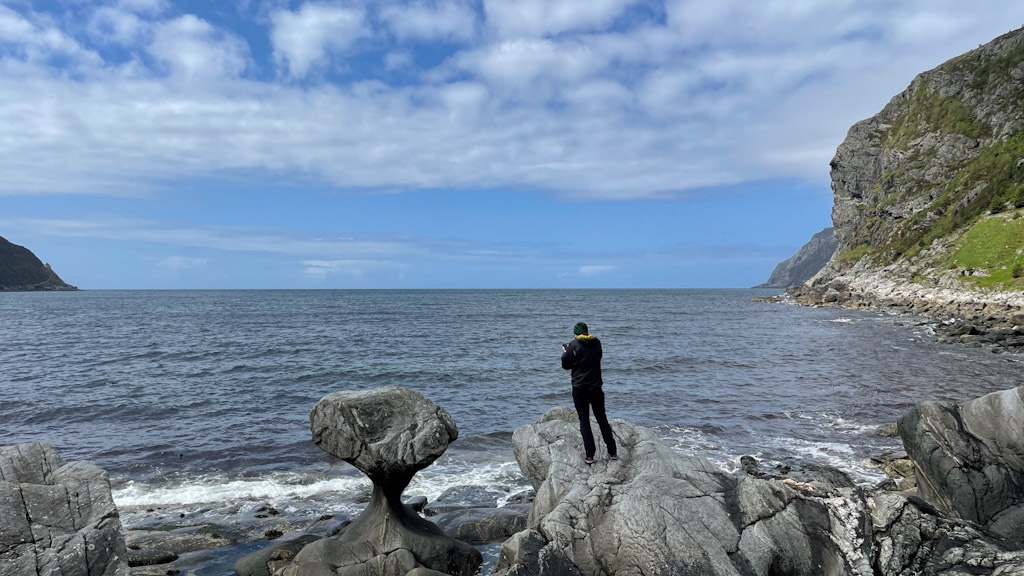 That same conversation also led us to the island of Runde, known as a good bird watching location. We hiked up to the island's north shore and across the plateau to find the puffins which nest on the cliff side at this time of year. We sat for a while watching the puffins coming and going but also spottted gannets, razorbills, skuas and white tailed eagles.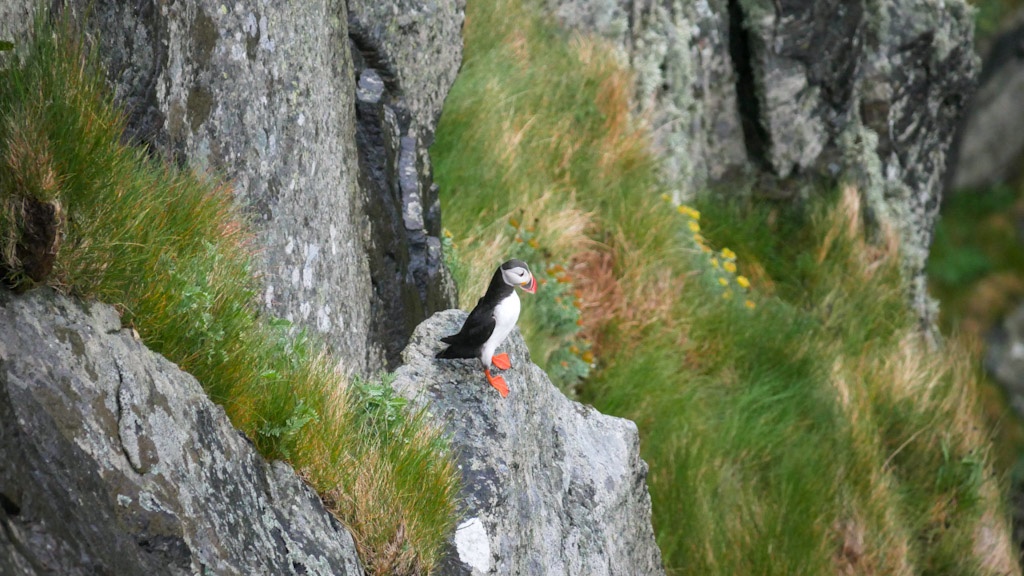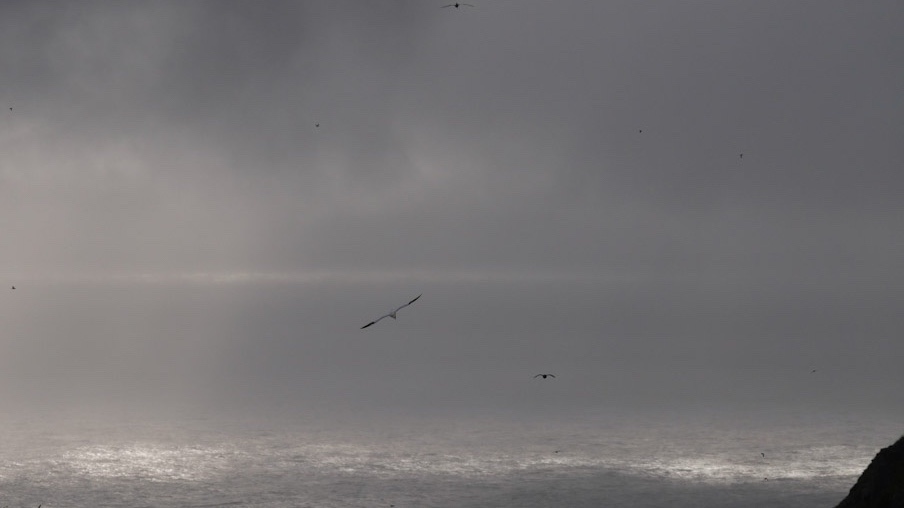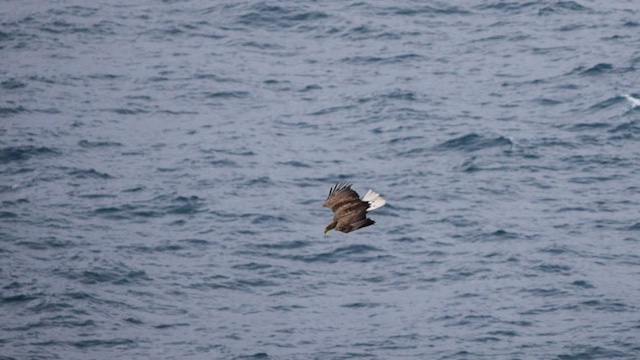 We stopped briefly in Alesund for a wander around the town. It was a Sunday so most places were closed but we did find a fish and chip kiosk open and the familiar smell drew us in!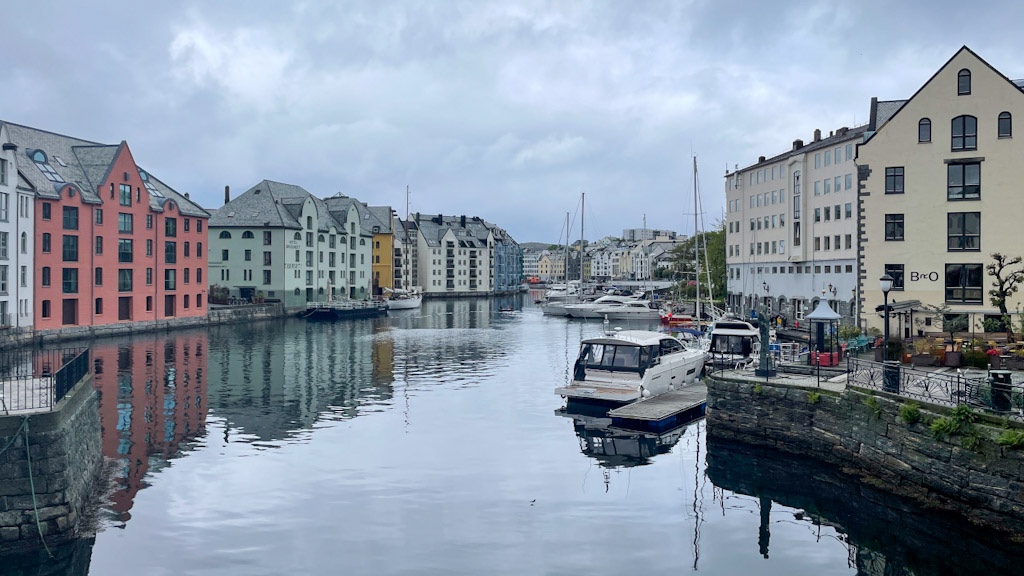 One of the most well known roads in Norway is the Atlantic Highway, a stretch of road linking several small islands north of Alesund. We did miss part of it but drove the 8km section from Vevang which you see in the photographs. There are several pull offs along the road big enough for motorhomes where you can stop to take photographs and one of them has an information centre, a cafe, toilets and a small walk way around one side of the island.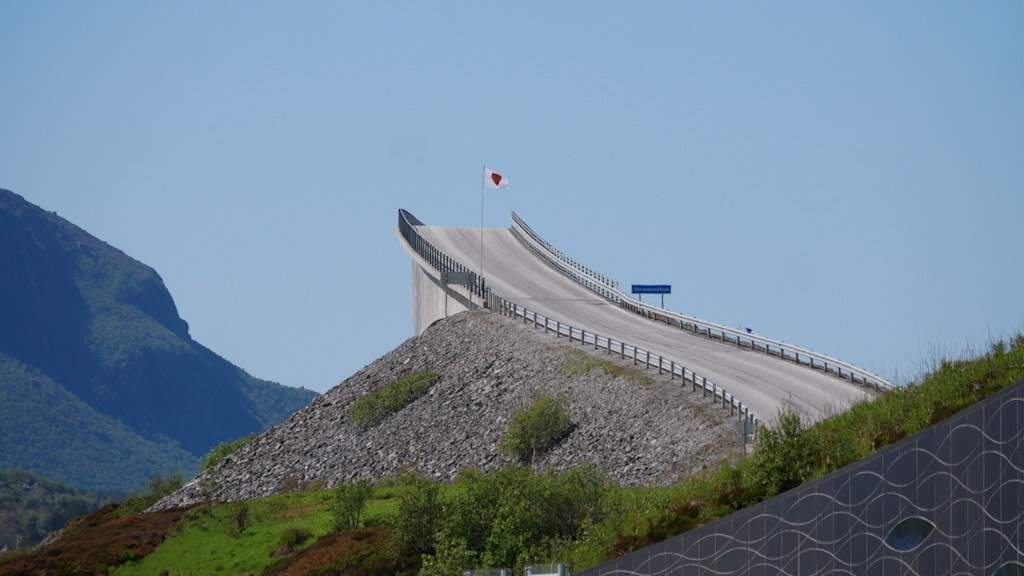 Our final stop in this region was another campsite just south of Trondheim as again it was raining. We stayed a couple of nights at Hogkjolen Fjellcamp (NOK155 p/n no EHU) which has a lot of fixed pitches and some areas for tourers. First impressions were of a site that needed some tidying up but they were deceptive! We camped down by the trees and the services were clean and tidy. Great hosts too, which is how we've found all the campsites so far.
From here we head a north, a long way north!