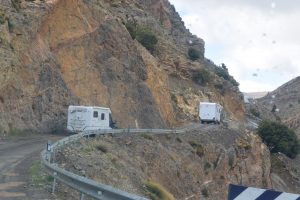 Wed 15th May. We were waved off from Fatima's by the children and left feeling suitably humbled. We continued to head up into the Mid-Atlas with the High Atlas to our south and over Legionnaire's Pass where there is a monument to those who lost their lives in the construction of the road through the mountains. Since coming into the mountains we've rarely been below 1700m, higher than anywhere in the UK.
The scenery continues to change – greys to greens to the bright red sandstone with the rocks bent and broken as nature has taken its course over millions of years. Man's impact on the land can be seen through the creation of numerous lakes as rivers are dammed to provide irrigation for agriculture but the roads are continually washed out by flash floods moving huge boulders down from the mountains.
Tonight's campsite is on a desolate plain bounded by small mountains to the north and south and on the site of a former secret prison for political prisoners. Nowadays the building that is left is used for mechanically crushing rocks mined from the nearby mountains.