After almost two weeks apart and sleeping in five beds in nine days, we couldn't wait to get back into the van. Don't get us wrong, we loved seeing everyone and people's hospitality has been endless but as they say, there's no place like home!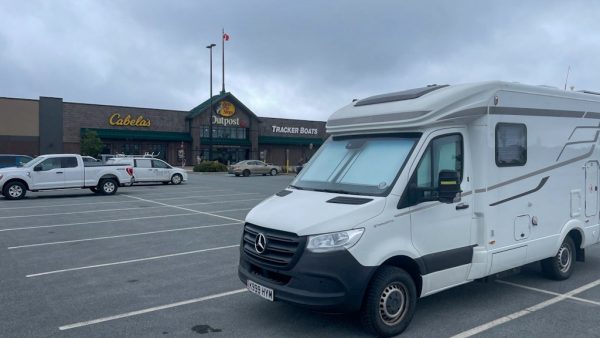 After a couple of days of shopping (still trying to get our heads around prices, taxes and conversions back to GBP), it was time to hit the road again and see as much of this region as we could before the winter set in. Whilst fuel is significantly cheaper, about £1.25 per litre, food seems for an average shop more expensive, and alcohol is definitely more expensive and sold only through government stores.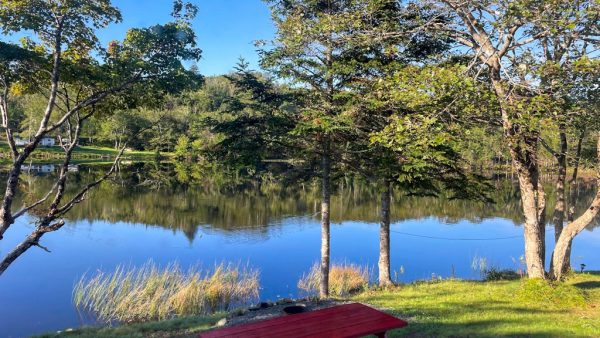 We spent almost three weeks in Nova Scotia exploring the province via a figure of eight route starting in Halifax, then north to Cape Breton, south to Yarmouth and back to Halifax following the coast. There are a number of well signed routes around the province and roads are in reasonable condition but are not always tarmacked.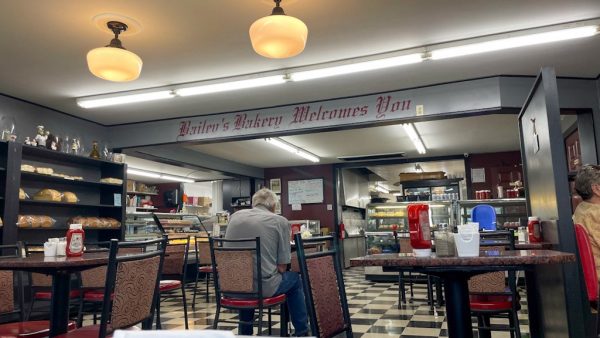 As we left Halifax for the first time we were avidly watching the weather keeping an eye of the severity and route of Hurricane Lee (it's the middle of the hurricane season) as we headed to a campsite to continue sorting the van. We also wanted to be around people should the storm be particularly bad, but luckily for us we escaped with just a lot of rain.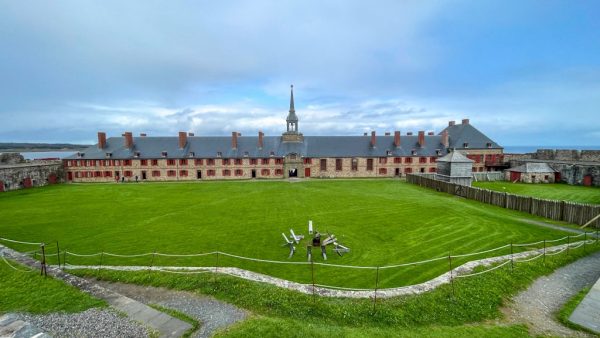 There is so much to see and do here taking in the scenery, the history and wildlife. The indigenous people were the Mi'kmaq Indians but the land has been settled by the French, English, Germans and Scots (Nova Scotia means New Scotland) and many of the town names are familiar to anyone from the UK!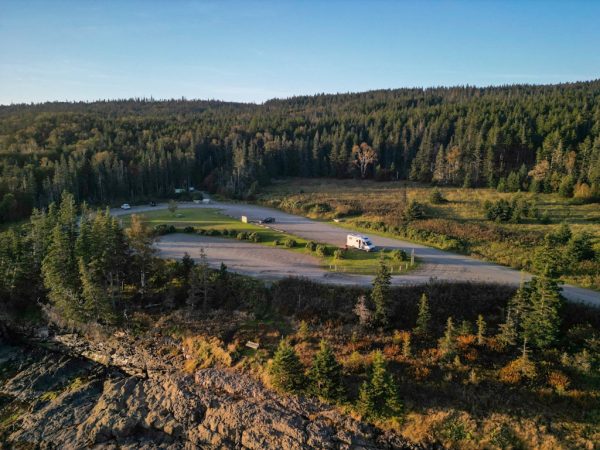 We drove in a clockwise direction around the island of Cape Breton from the relatively flat south to the winding roads of the highlands of the Cabot Trail in the north. Lots of Scottish influence here; some of the road signs are in Scottish Gaelic and the language is still taught in some schools. It's also a licence for the tourist shops to sell anything and everything tartan themed!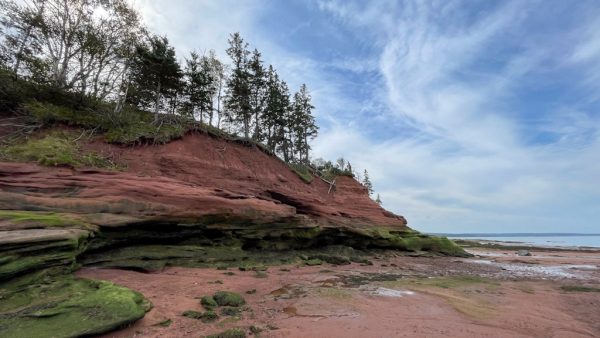 The Bay of Fundy is home to the world's largest tides and watching an incoming tide is apparently a sight to behold (I say apparently as we haven't yet got our timing right to actually see it!). The tidal bore can be surfed and a couple of companies offer rib trips out to play in the bore and the local red mud – too cold to do this now. At low tide it's possible to go out onto the rocky seabed in places with the knowledge that in a few hours the spot will be underwater by up to 16m!
The southern coves are home to many small fishing villages and the coastline is dotted with lighthouses, with the most famous being Peggy's Cove. Being in the van we were able to stay in the carpark overnight and take photos before the place was overwhelmed with tour coaches.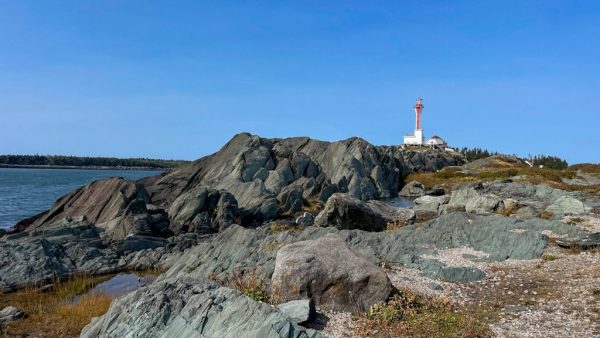 Nova Scotia was a great place to start our tour; friendly people, good food and plenty to keep us busy. Next stop will be Canada's smallest province, Prince Edward Island.
Campsites used:
Note re campsites! Due to power differences, we will not be hooking up on this trip, relying on our solar/inverter/battery set up to keep everything charged and working. Our travel style means no more than two or three days in any one place so even if there is little solar power coming in we will recharge the leisure batteries via the engine. Having swapped from a cassette toilet to a separating one over the summer this also means that we are not looking for black water disposal. This page explains the changes and improvements we have made to the van.
Porters Lake Provincial Park: small lakeside camping area in the park. Grass pitches with some gravel, BBQ pits and picnic benches. Some pitches have power and water. Walking trails and a small boat launch. Booking was via online system (www.parks.novascotia.ca).
We paid CAD28.85 p/n without services.
Nimrod's Campground, Sherbrooke: small lakeside camp with a lot of seasonal trailer pitches. We parked on a small lakeside pitch (we are small by local standards) which was supplied with water and EHU. Pitches are grass and some areas were, not surprisingly, very muddy. Lots of activities available in peak season but our reason for visiting was to sit out a storm!
We paid CAD46 p/n over a weekend.
Other overnight spots:
We find our spots via the iOverlander and Park4night apps with the former having more entries in the Americas. These are usually public car parks where overnight parking is permitted and out of season, there is much more choice. Most are free but not always flat. We always review where we've stayed – just check out the app to see if we've stayed in a particular place.
Cape Breton – Baxter's Cove, Pleasant Bay, Donkin and Gabarus Bay.
Mainland Nova Scotia – Fundy Tidal Interpretive Centre, Cape Split Provincial Park, Cape Fonchu, Peggy's Cove (need to be aware of restrictions in the two car parks), Halifax city centre near Pier 21 (daily rate of CAD12) and Salt Springs car pool carpark.
Blog: www.bobandjune.com
YouTube: https://youtube.com/user/bobclewley
PolarSteps:https://www.polarsteps.com/ClewleysOnTour/8608383-the-big-one-canada-to-argentina-and-back-again