We entered Montenegro with no expectations and very little knowledge of the country other than we'd been told that it was quite beautiful in places. Well, we can definitely confirm this!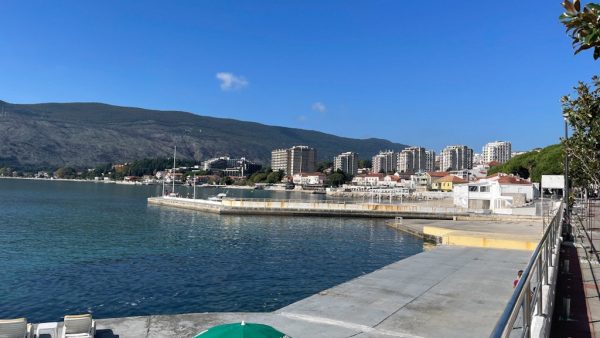 The border crossing at Karacsovići was smooth and we were duly stamped out of the EU again. We were directed to the insurance office where we paid €28 for one month for the van.
Montenegro is not covered under any of our SIM packages but data is readily available and we paid €15 for a tourist SIM which gives us 500gb of data for 30 days. The coverage is excellent and we were only without signal for one night but considering we were over 6,000ft up in the mountains, that's not surprising. The UK could learn a lesson or two here!
Much of Montenegro can be seen via the Panoramic Road network: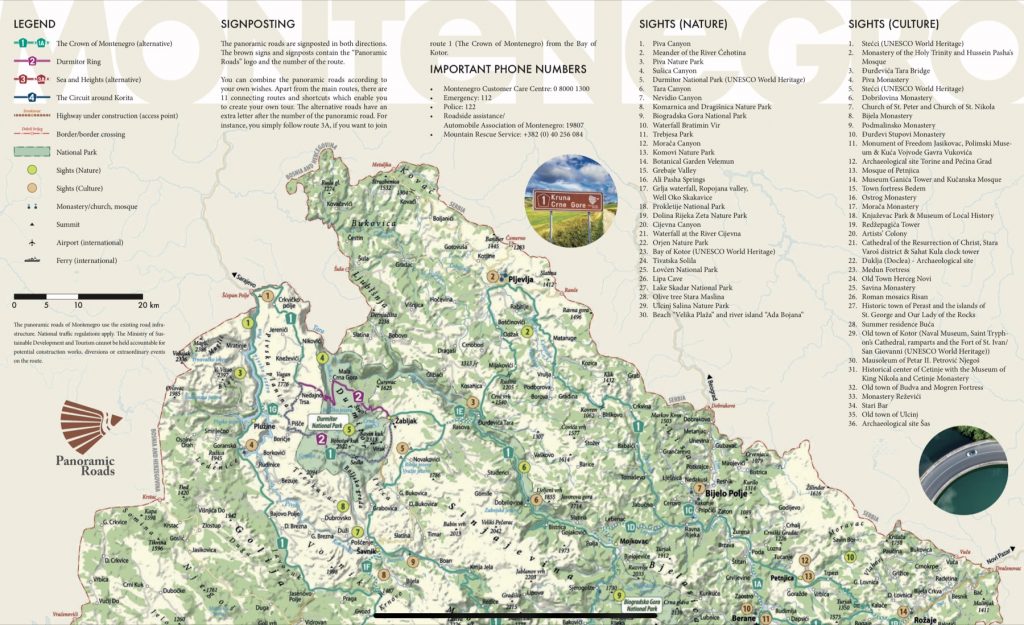 We drove a lot of Road 1, bits of 2 and 3, and the complete circuit of 4. We have had no issues with getting places in the van including winding mountain roads where opinions on whether motorhomes were capable of being driven along them, were split. The main problem with driving is the locals who are "adventurous" with their manoeuvres to say the least!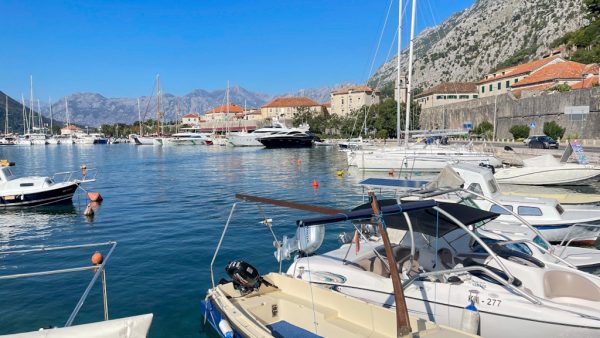 The northern coast area is very much like typical European resorts with lots of hotels, beach bars and long esplanades. The small town of Kotor is on the cruise ship route and we can imagine that the tiny streets of the Old Town would be a tad busy when a ship was in port. We picked the right day to visit as when we woke up the following morning there were three ships anchored in the bay!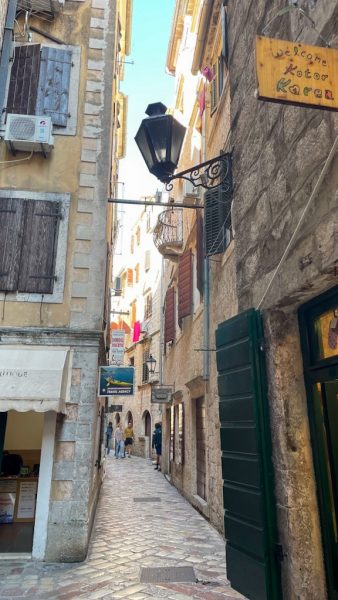 To see the real beauty of Montenegro head away from the coast and up into the Durmitor National Park and Tara Canyon areas. The scenery is simply stunning but there is a lot of construction of hotels and holiday villages going on – the tourist trade is really opening up. Much of it, at least on the surface, appears to be in keeping with the surroundings but only time will tell if there's too much development.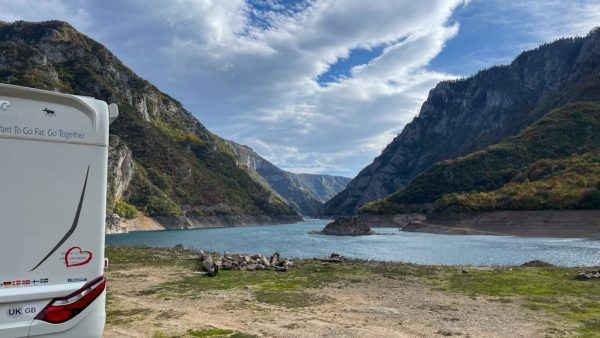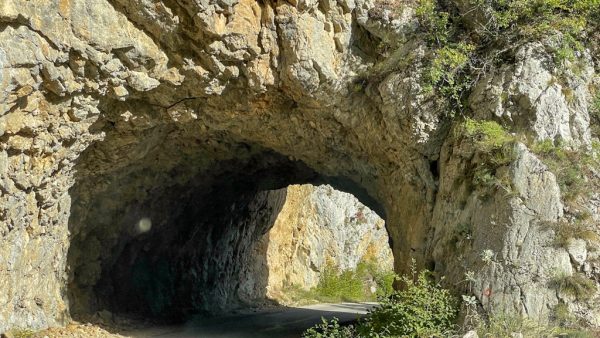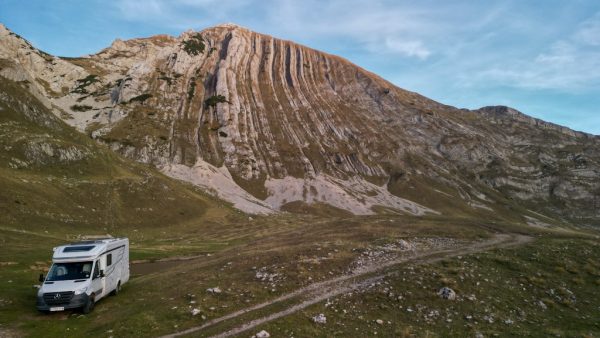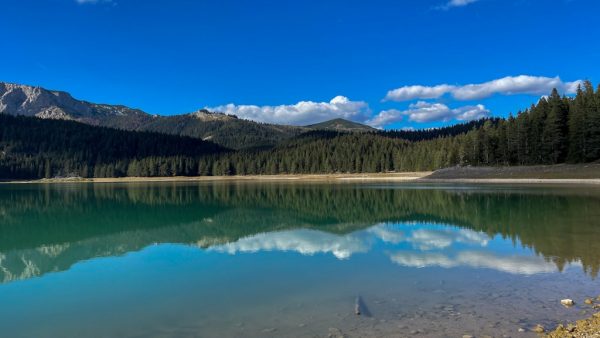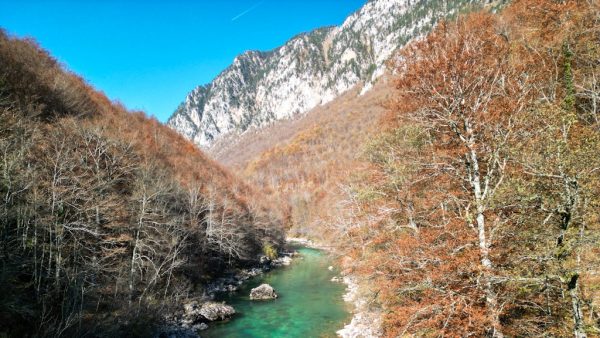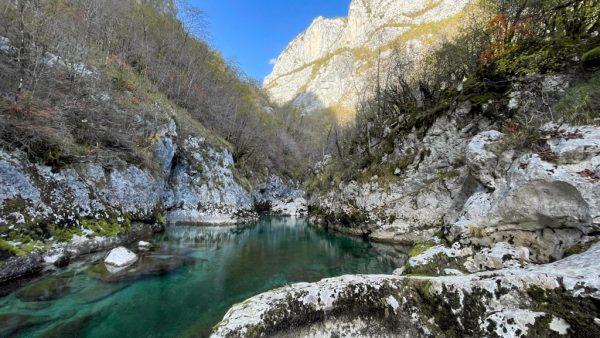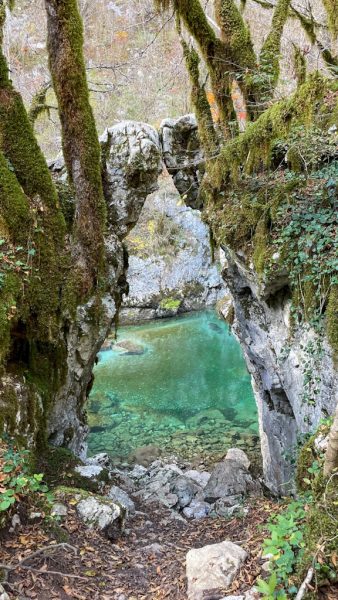 We finished our time in Montenegro at the largest vineyard in Europe, the Sipcanik Wine Cellar where we booked a tour with wine tasting. Nothing unusual in that we hear you say but what makes it different is that the cellar is in the hangars built into the hillside on an old Yugoslav airbase.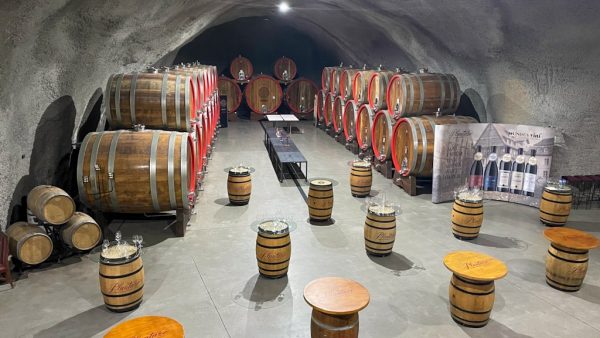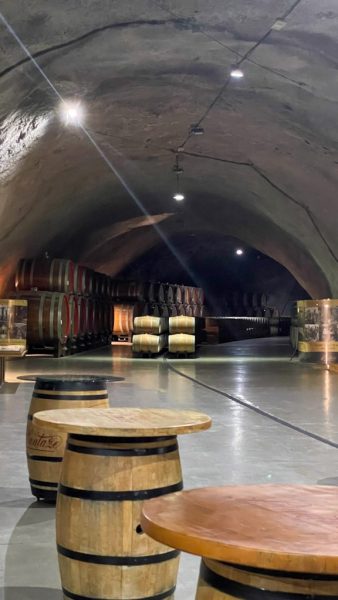 We absolutely loved our time in Montenegro and if you're looking for somewhere a little different, still developing but not completely untouched then we'd highly recommend a visit. If we could, we would have just parked up out of the way and stayed longer but we knew we had to move on. Albania next which is going to be something very different.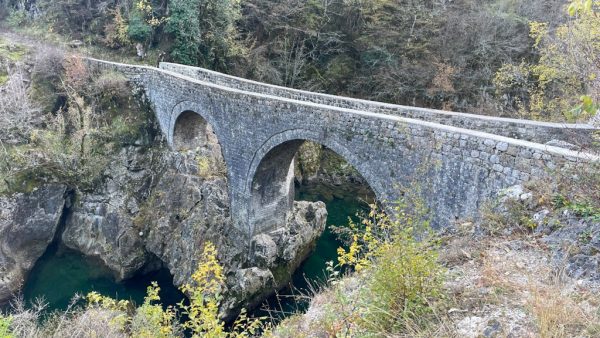 Campsites used:
Autocamp Mlinski Potok, Žabljak: €19 p/n including EHU. All grass pitches. Toilet and shower block plus communal kitchen and inside space. An easy walk into town, to the Black Lake and other hikes. Don't be put off by the reviews saying the site is inaccessible due the steep approach road – it's not difficult at all.
The site is undergoing renovation at the moment before the winter sets in so wasn't at its best, however we received the warmest of welcomes from the owner, Jelena, who kept apologising for all the mess.
Camp Eko Oaza, Tear of Europe: €14 p/n without EHU (is available). Spotless shower and toilet block (brilliant showers!) and the owner's washing machine is available on request for €2.50 a wash. The site is all grass and situated on the hillside above the Tara River. You can walk down to a small beach area by the river – it's about 500m each way and the path is steep in places.
Again, a bit of building work going on but the family were friendly and welcoming and spoke good English. As we left the mother gave us some cake for the trip.
Campsite Medjurecje Rajo Radovic, Medjurecje: €15 p/n without EHU. Showers and toilets available and we were offered electric but didn't see any plug in points. Grass pitches on a small farm.
We didn't originally plan to stay in but when we couldn't get onto the site we were originally heading for and after a hairy drive along a very single track road we came here and had a wonderful couple of days. Very hospitable owners and we were invited over for rakija and coffee once we had parked – a few shots later and we headed back to the van, both with a headache! We politely declined the rakija the following day but were still given coffee, biscuits and half a large freshly baked loaf of bread. The owners spoke no English, just the odd word of German but we managed to all make ourselves understood. From the site we walked down to the Mrtvica River and followed the footpath to Kapija Želja, a beautiful little place alongside the river.
Other overnight parking:
Bex d.o.o. Campground, Kotor: €20 p/n. This is a former campground which is now nothing more than a car park and you are paying for the location – it's a 400m walk to Kotor Old Town and you parked beachside.
Ostrog Monastery: Free. We parked in the large gravel car park just below the entrance monastery for two nights. It was very quiet, the toilets were open and there was a water tap we could use to top up the tank. Probably not possible in the summer. We were joined for one night by a Swiss/American couple and spent a couple of hours talking travel and drinking schnapps with an amazing view.
Mratinje, Lake Piva: Free. We parked on the flattened ruins of something (maybe an old power plant or harbour area for moving stuff along the lake?) at the northern end of Lake Piva. No facilities but surrounded by mountains and overlooking the blue/green waters of the lake.
Durmitor National Park: We paid the €3 each park entry fee the following morning but were not asked for a camping fee which we believe is another $3. Parked just off Road 1 on a gravelled area from where a few hikes were available. Just about flat enough to sleep! There was a group of wild horses nearby who came down to a small pond to drink and splash around.
Kapayna Army Base, Korita: Free. A ruined army base just off Road 4 giving views of Korita and the Albanian Alps. We were that close to the border our phones switched between Albanian and Montenegrin providers.
Sipcanik Wine Cellar, near Tuzi: having paid for the wine tour and tasting, they kindly allowed us to stay near the gatehouse. They are toying with offering accommodation in the future and we did ask if they wanted to add them to any motorhome parking apps but again, they are just looking into it at the moment.
Blog: www.bobandjune.com
YouTube: https://youtube.com/user/bobclewley
Polar Steps: https://www.polarsteps.com/ClewleysOnTour/5755379-the-balkans-and-beyond?s=0A28668E-486F-4DEF-80BA-D43AA17F7A87