From -23C to + 27C in 24 hours!
Week one – the cold bit.
2nd February 2019
For once not a stupidly early start for our annual jaunt with the Woods as late morning we headed to Gatwick for our flight to Tromso in northern Norway. Yes, northern Norway in late February! This is our continued hunt for the Northern Lights which have so far eluded us. This trip has been planned to optimise our chances as we'll be above the Arctic Circle for a week, so fingers crossed.
We arrived without issue, picked up the hire car (a 4×4 was in order for this trip) and headed into Tromso and our hotel for two nights, the Smarthotel which is in the city and a great location from which to walk around. Buffet breakfast was included which given the price of food was a good option.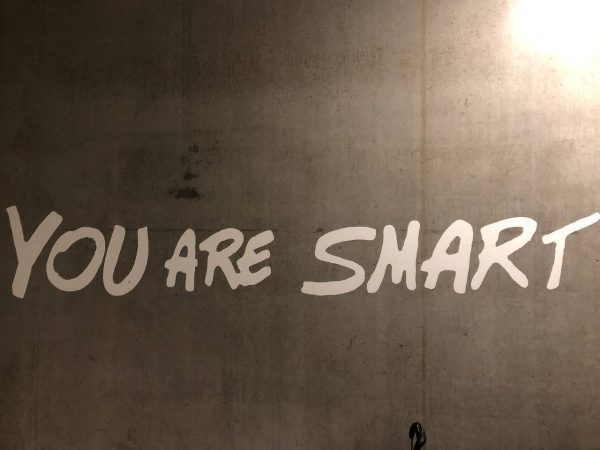 First stop the pub and as expected it wasn't cheap – two beers and two glasses of wine came in at around £40 so get over the shock we had another round.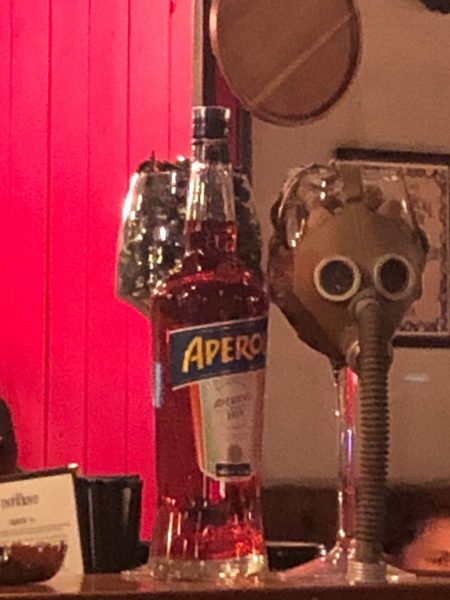 Dinner was a local pizza restaurant, Casa Inferno, at which we thankfully got discount through the hotel. Quirky place though.
3rd February
A day to explore Tromso. It was cold….no not just cold, it was bloody freezing especially when we crossed the fjord to take the Fjellheisen cable car from where at the top there are great views over Tromso town and the surrounding area.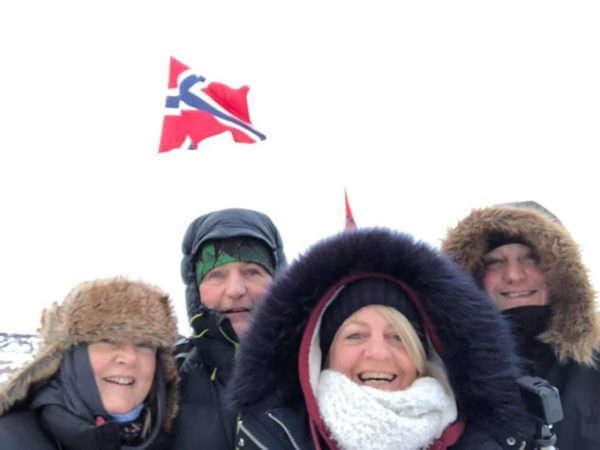 Given the constantly changing light we ended up spending most of the day up there with a few visits to the cafe for a much needed warming hot chocolate or hot wine. Given the location the sunset was early but stunning.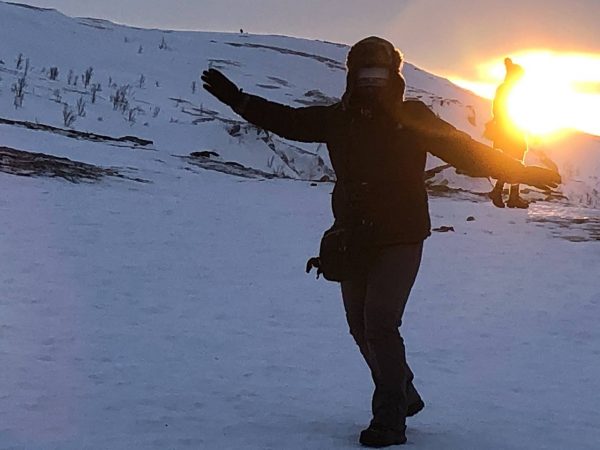 A slightly more traditional dinner tonight at Kaia with Bob tucking into a reindeer burger (no real difference to venison) before heading back to the hotel to pack as the next day we were heading to Bo in the Vesteralen Islands.
4th February
Not being sure of the road conditions and with driving time being estimated at 5-6 hours plus a supermarket stop and maybe one or two photo stops on the way, it was a reasonably early start.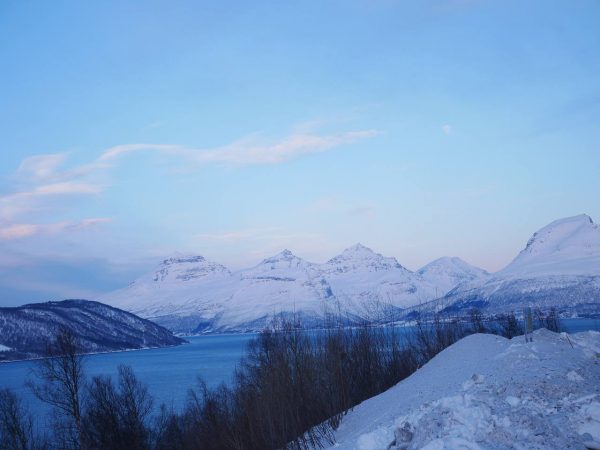 Lunch was hot dogs from a petrol station – like our previous trip to Iceland, we found a few petrol stations that also cook fresh food. Nothing spectacular but good enough to top up an empty stomach!
We'd booked a property in the southern Vesterlan Islands via AirBnB and yet again we were not disappointed. A great location with windows on all side of the property overlooking fjords and despite there being a substantial amount of snow around the house was warm and cosy.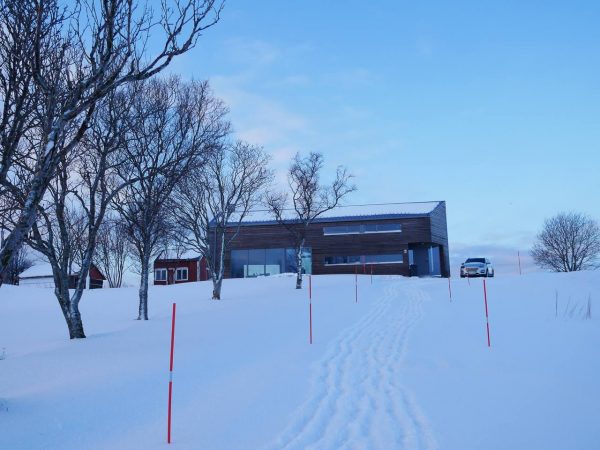 5th– 7th February
A few days exploring the region with Bob in his element driving through anything Mother Nature could throw at us! It's a beautiful area and maybe even more so covered in snow and with the light making it almost impossible to take a bad photograph.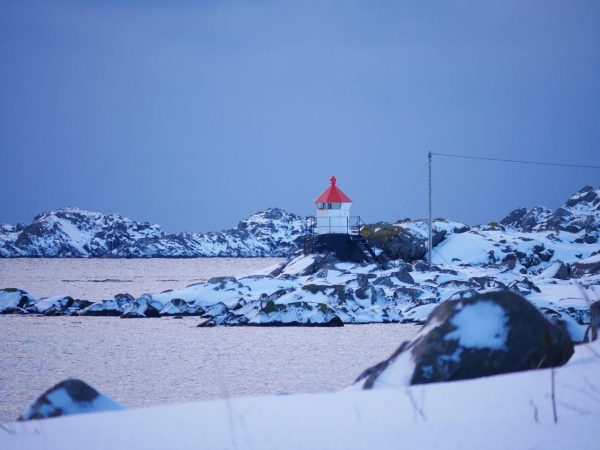 On our way back from Andenes there were times we thought we weren't going to get back to the house as each time we turned a corner in the road the weather changed and at times closed in to very limited visibility. Obviously the locals are used to lots of snow and every house seemed to have a snow plough or blower and even the remote round the house was on was cleared a couple of times every day. What we didn't expect was the snow plough coming up our drive and the man clearing the front porch – an extra touch from the house owners.
8th February
Today was our last day before heading back to Tromso so we decided to stay around the house and use the hot tub – it was a wood fired one so once lit we couldn't leave. The instructions were to fill the tub the night before which we did so the first thing that had to be done was to remove the layer of ice that had formed overnight! It was then six hours of refilling the log burner and waiting for the water to come up to a decent temperature.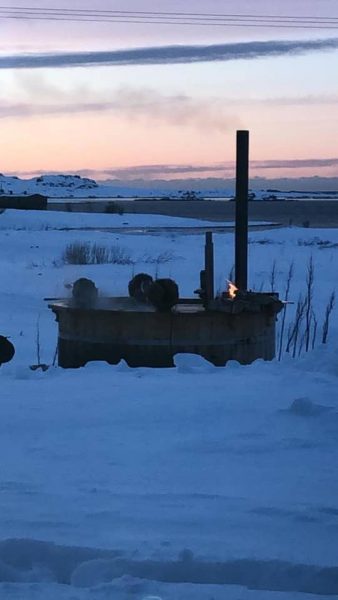 After a quick run through the snow in swimming costumes and walking boots, it was into the tub with a G & T (fresh ice of course) to watch the sun set. Amazingly the water even got too hot at one point!
9th February
The drive back to Tromso for our evening flight back to Gatwick was uneventful although there were many stops to take more photos as the light had changed from the previous journeys! And it was the coldest day we experienced with the external car temperature heading down until it reached -23°C!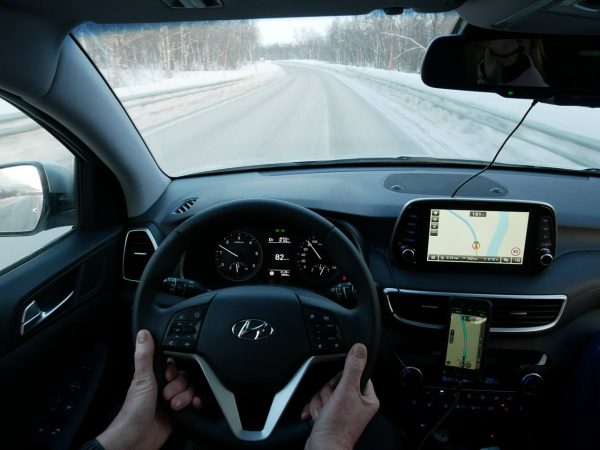 Northern Lights
Although it's not something you can guarantee we really hoped that this time the Lights would come out to play for us and we weren't disappointed as the displays got stronger as the week went on. We had all downloaded various apps to help spot the Lights but they really didn't help too much as despite the forecasts not being that good we still got some strong displays.
Top tip for taking photos of the Lights – use a tripod or even better, a GoPro on a tripod but don't forget just watch and enjoy them.
All in all an amazing week away – Norway is stunning. The only downside was the cost once we were there but we knew it would be expensive before booking so were well prepared!
[wpanchor id="Barbados"]Week 2 – the not so cold bit!
Previously it had been June that travelled for business but out of the blue Bob had the opportunity to go to Barbados (yes Barbados in the Caribbean) to help deliver some training for Princes Trust International. And with June having been made redundant a few weeks earlier there was no way she was going to sit at home and miss out!
9th February
Having arrived back from snowy Norway around 10.30 pm and needing to be back at Gatwick around 8 am the following morning, we spent the night at a nearby hotel with just enough time to grab a few hours sleep and switch the bags over – out with the thermals and in with the beachwear!
10th February
Breakfast care of the BA Lounge followed by an eight hour flight and although flying economy we got the emergency exit seats so plenty of legroom and entertainment as we watched people trying to open the toilet door which, believe us, is more fun than it sounds!
And it was 27°C on arrival – a temperature swing of 50°C in 24 hours.
Hotel for a couple of nights was the Blue Horizon at Rockley Beach, a well located small hotel sadly let down by the quality of its food.
11th – 14th February
With Bob now working, June was left in a strange situation – absolutely nothing to do! A few walks along the beach were called for and the occasional dip in the pool ensured the days passed without any boredom, along with, for once, reading all her magazines and a couple of books.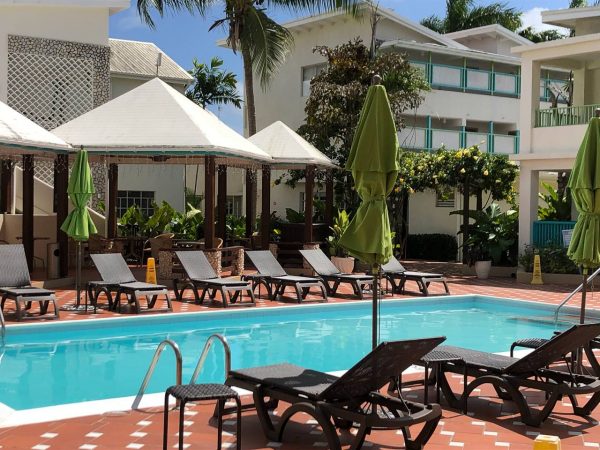 All along this part of the coast are beach bars and restaurants so we were spoilt for choice on where to go for cocktails and seafood.
Due to some confusion when the original booking was made, and due to the England cricket team being in town to play a test match, we had to move hotels to the Palm Gardens Hotel, Worthing Beach, but luckily it was only a few minutes away. After one night in the hotel annex, our second room was fine and also had a small self-contained kitchen so we could at least store some food and drink and not rely on restaurants for all our meals.
We were in walking distance of the St Lawrence Gap, a great area for restaurants so visited there a couple of nights.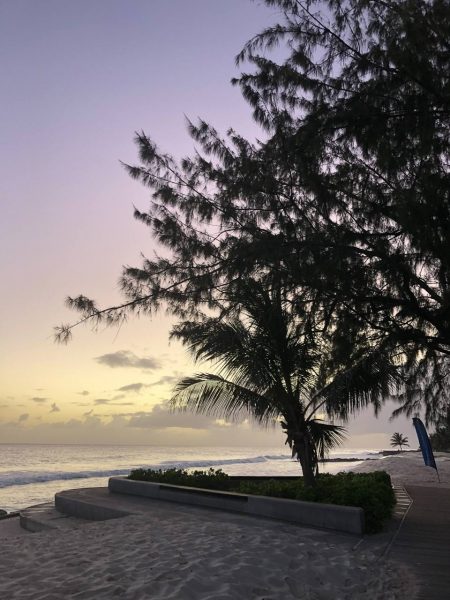 15th-17th February
We had decided to stay on when the training course finished it seemed a shame to come all this way and not see some of the island. The extra days made the flights considerably cheaper as well as we would be staying over the weekend. Beach holidays are not our normal type of holiday so we signed up for a couple of day trips to see as much as possible.
Trip 1 was the Natural Wonders of Barbados tour and the first stop was Harrison's Cave, a complex of limestone caves and tunnels in the centre of the island. A special train takes you underground for a fascinating trip to view the caverns and pools awash with stalactites and stalagmites.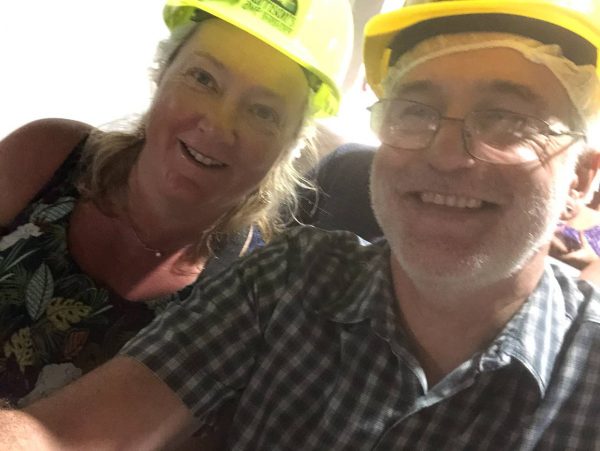 From there it was on to Hunte's Gardens, a stunning tropical garden set inside a collapsed cavern. Small paths take you from one area to another and there are lots of hidden chairs from where you can just sit and take in the beautiful plants. A few quirky statues and ornaments along the way too!
We had lunch (included in the tour price) at Chill 'n Breeze on the east coast of the island where the beaches are pounded by the Atlantic and a short stop at Bathsheba Beach to get a little closer to the waves. In contrast to the calm Caribbean Sea, this part of the island is popular with surfers.
Our last stop was the Barbados Wildlife Reserve home to peacocks, iguanas, tortoises, red brocket deer, a couple of Patagonian maras (look like a bit like a rabbit) and the Barbados green monkey. Our arrival coincided with feeding time and the monkeys, which are free to come and go as they please, came in from all sides to feast on the buckets of fruit and vegetables!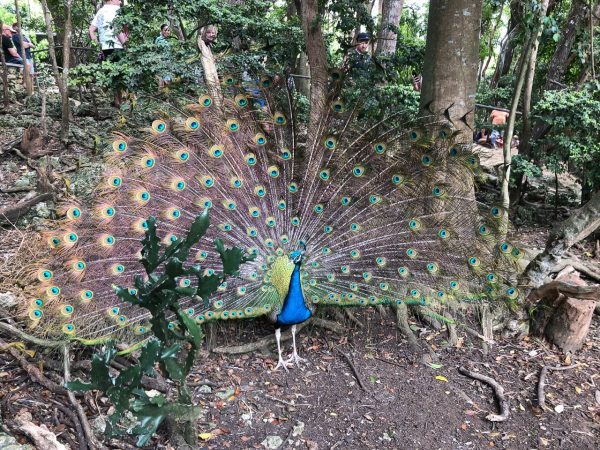 The tour bought us back along the more genteel west coast where all the large (and expensive!) resorts are located plus a few golf courses and the home of probably one of most famous locals, Rihanna.
That night we jumped on a local bus to Oistins, the place to be on a Friday night in Barbados. Every week there's an outdoor fish BBQ with dozens of stalls trying to attract your attention and such a great atmosphere. Later in the evening there's live music but we didn't stay for that.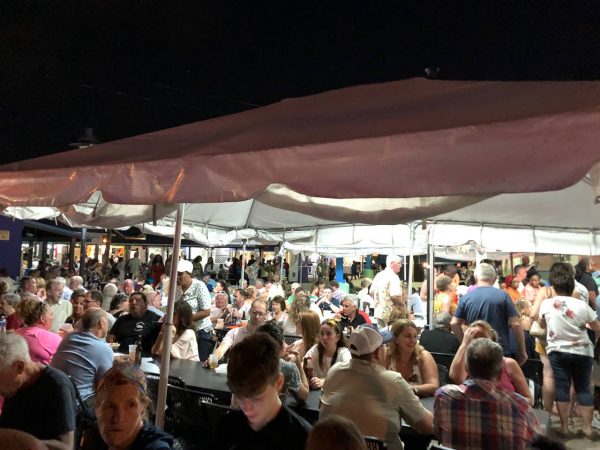 No visit to the Caribbean is complete without a boat trip so the next day we joined a catamaran cruise for some snorkelling and general lazing around on the water! We opted for Elegance Catamaran Cruises rather than one of the larger boats and the dozen or so passengers were well looked after by the crew.
The first part of the day saw us heading the south west part of the island for some snorkelling above shipwrecks and with turtles.
Once the "active" part of the day was done, the bar opened as we sailed along the west coast past the big hotels and celebrity houses with the attentive crew ensuring that our glasses were never empty. A delicious lunch was again included and served on board as we sat off-shore in a small bay.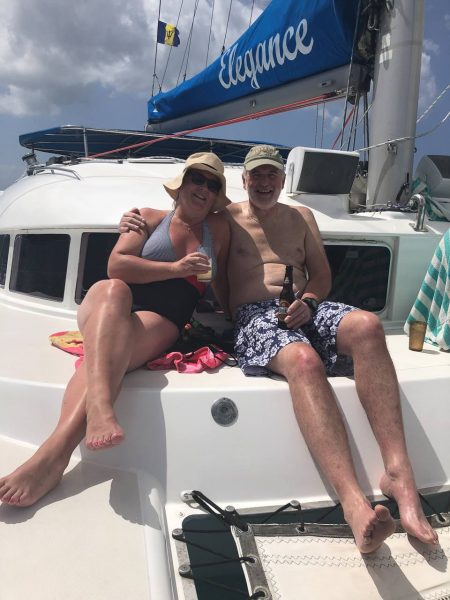 It's not normally our choice to sit around doing nothing and be waited on but just sometimes it has to be done!
We spent our final morning soaking up the sun as there was going to be too much of that when we got home. It was then an overnight flight back with poor Bob having to head straight into the office on Monday morning!