20th April
Usual departure routine with Bob leaving home at lunchtime, June leaving work at 5pm and meeting up again at Ashford International railway station. A quick trip down the motorway soon saw us at Eurotunnel for our crossing to Calais. Luckily this time we had already decided to go no further than Citie Europe as the trains were all running late so we finally parked up around 11pm local time.
21st April
A day on the road heading in a south east with tonight's destination being about 100km beyond Dijon with the only detour being a shopping stop at Carrefour in Reims.
Overnighted in Aire Le Bresse Poulet, a large but relatively quiet service station.
22nd April
France, Switzerland and Italy today. Left France via Chamonix but no stopping in Switzerland this time other than to pick up the vignette (form 1519, 32.50 Swiss Francs  and required for vehicles over 4t).
Switzerland into Italy was via the St Bernard pass but unfortunately the actual pass had not re-opened after the winter snow so we had to use the tunnel at the extortionate cost of €41.80. After a slight detour, (ie going the wrong way!) along the Autostrade we turned off the main road to drive up the Cervino Valley for tonight's stop at the motorhome park in Breuil-Cervenia. Great spot for a two night stay at €7.60 per night with facilities to take on clean water as well as dump the black and grey water.
23rd April
With good weather forecast for the earlier part of the day we walked into town (there is a shuttle bus for €1 per person but it's only 10 minutes) and bought a cable car pass, €31 each, to head up to the Plateau Rosa. We don't ski but it seems this is a popular resort amongst our friends and given the multiple ski runs we could see why! In the absence of skiing there was not much for us to do other than indulge in some people watching initially with coffee and then, seeing as it was lunchtime, a bottle of local red whilst, with the exception of a brief snow shower, enjoying the glorious sunshine.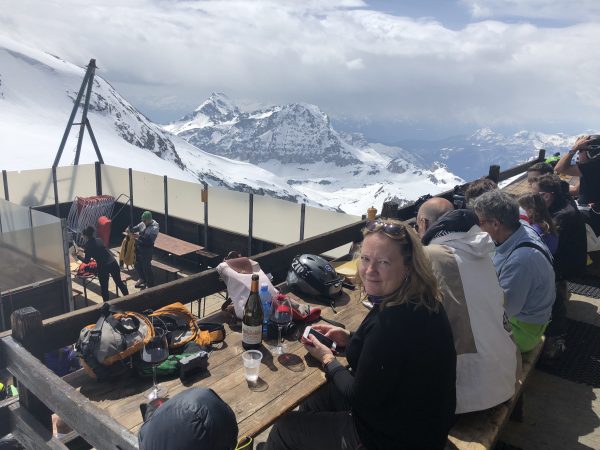 As the cloud came in we took the three cable cars back down to the town to look for a coffee but everywhere seemed closed – the town was very quiet but this time of year is between seasons.
24th April
Today's original plan had been to drive to Lake Garda but a warning light on the dashboard indicating there was a problem with the brakes had us trying to find a Mercedes garage on route. After some toing and froing via Google translate we found a place in Ivrea and arrived there just after lunch. Although they did not speak much English and our Italian is almost non-existent, we soon got to the source of the problem but they couldn't fix it on the spot and tomorrow is a public holiday. Given that we are heading back into the mountains we felt we had not choice but to stay in the area and are booked in for first thing Thursday morning. In the meantime, thanks to a very nice man we got chatting to in the garage who spoke perfect English, we will be staying in a little sosta/campsite on the edge of Lago Sirio.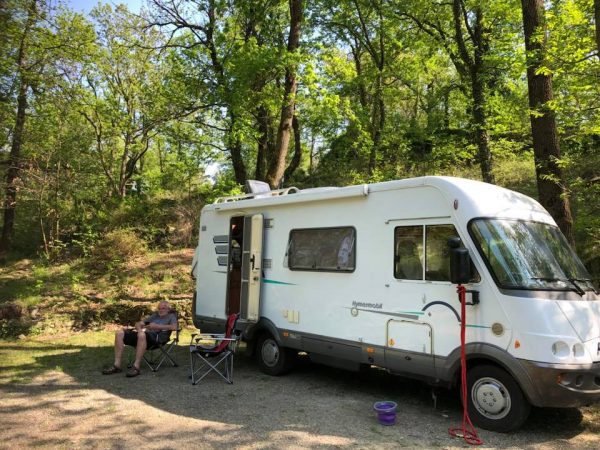 Cost here is €5 per night plus €3 for electricity plus a €5 refundable deposit for the site access card.
25th April
Today was a forced day of rest. Not that was a problem as we were staying in a pretty nice little site that was just cross the road from the lake around which we took an all too brief post-lunch stroll (the indication was 90 minutes but we did it in 45 and were certainly not racing!.
26th April
Arrived at the Mercedes dealer for just past 8.00 where we left the van while we went off to Carrefour and Decathlon.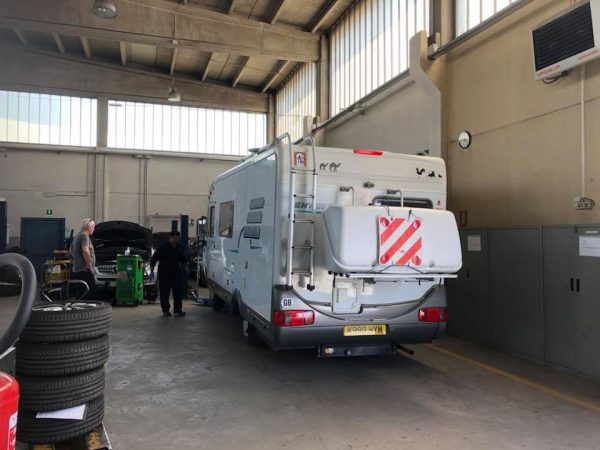 Both sets of front brake pads were changed at a cost of €260. Not bad we felt as we left for our next site at Lago di Ledro via the western edge of Lake Garda. Up until now the Italian driving was OK… However the drivers we encountered along the lake side had a different, more 'adventurous' style. Some of the overtakes were a trifle risqué to say the least, including the overtake around a blind bend in a tunnel!
The Camping Al Lago is a great little site with good facilities. The free Wi-Fi worked on our pitch really well and we were almost as far away from the buildings as you could have got.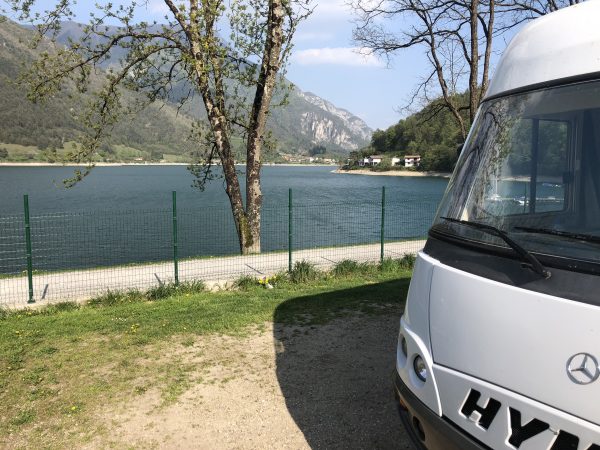 27th April
The big day! As it was Bob's birthday we had planned to go on a Via Ferrata trip that we had booked with Roberto from www.discoverydolomites.com
Roberto collected us from the entrance to the campsite at 9.00 and a short while later we parked up on the outskirts of Biacesa di Ledro. After about an hours walk it was time to put the harness and helmet on before we clipped on the line.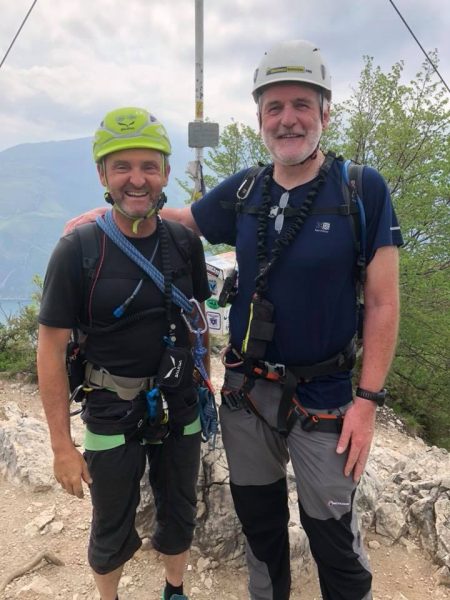 This had always been on Bob's list of things to do, not June's though.. as always she took the challenge and joined in the fun. This particular Via Ferrata, Cima Capi, was a good one to start with and is one of the original routes used by the Hungarian-Austrian army during the First World War.  This marked the frontline with the Italians on the other side of the valley.
It really was a fantastic day that we both enjoyed and we both ached a little less than we imagined we would the following day. All in all a Grand Day Out!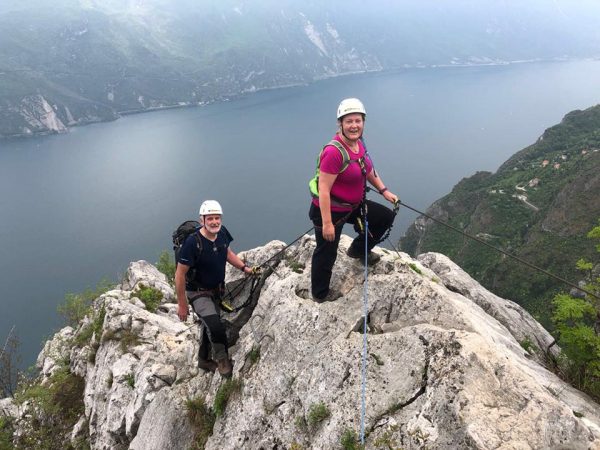 Evening time we went to a local restaurant, Osteria La Torre which was a great way to finish a great day.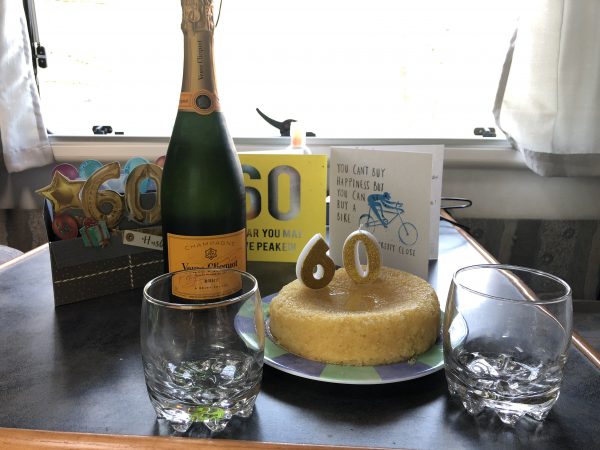 28th April
We had decided to stay at the campsite an extra night and walked around Lago di Ledro stopping for lunch for a pizza, well when in Italy etc, at Hotel Pizzeria Cima D'Oro over looking the lake.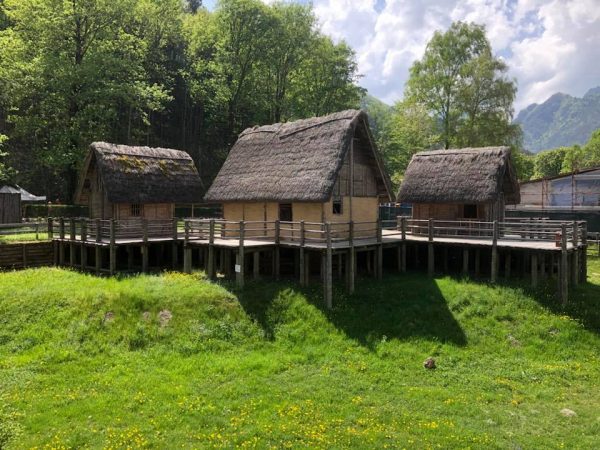 29th April
As it was the weekend (and a bank holiday one at that) and with a tendency to squish as many motorhomes in as possible we had a bit of manoeuvring to get off our pitch but soon were on the road again. Destination into the thick of the Dolomites.
The first real mountain pass we came to was the Passo Rolle 1981m which was beautiful and quite a lot of snow at the top. We dropped down into San Martino di Castrozza where we stopped in an Sosta like no other. Sostas, known as Aires in France, are locations where motorhomes can park quite cheaply, sometimes free. Often not much more than a car park but lots have somewhere that you can drop off your grey and black water and top up with clean water. There are some with free WiFi. Yes the UK has a lot to learn about encouraging motorhome tourism.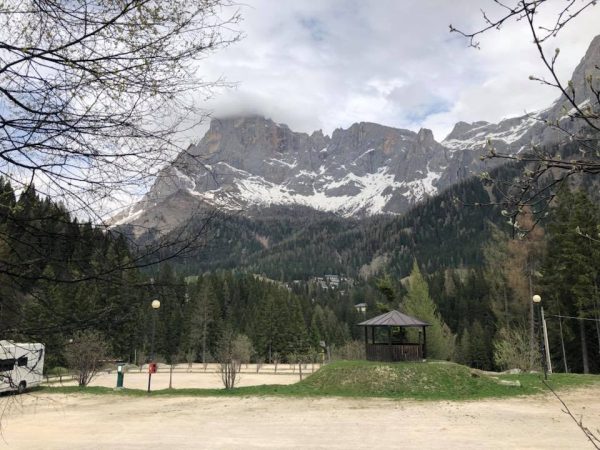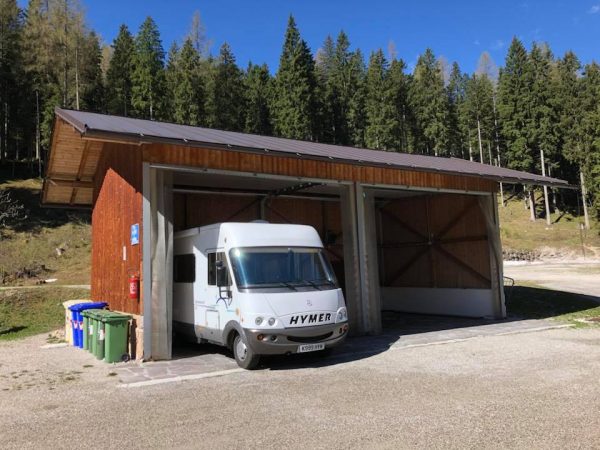 This Sosta was €10 and included free WiFi, albeit we didn't realise at the time. The dump station was under cover and one of the best we have ever used facility wise.
The town, like a lot of towns we were to find, was almost closed. It appears that there are 2 distinct seasons, winter and summer, and during the gaps between a lot of the towns and cable cars don't just reduce servcies but seem to go into hibernation. We should have done a bit more research, I guess, as we had wanted to take a few cable cars to reach hikes, however with the scenery we were not going to complain.
30th April
Looking at the map, we do now and again, we saw a large lump of dolomite in front of us that we could drive around. The rock gets the name from Deodat de Dolomieu a French mineralogist who identified the rock formation was a variant of limestone, calcium magnesium carbonate. This area was subsequently named the Dolomites in his honour.
So off we set to circumnavigate the Pale di San Martino. It was, as most of the drives in the area were looking to be, stunning. On then to Passo Pellegrino. Who knew they would name a mountain pass after a soft drinks company! Leading up to this pass were quite a few hairpins… But more, far more, were to come.
From the western end of the pass we headed north to Ortisei St. Ulrich via the Passo Sella at 2218m which had dozens of hairpins. A great drive.
The aim was to grab a cable car to a rock outcrop called Seceda. Sadly the cable cars were shut down so after a bit of shopping we headed to a Sosta at Plan De Gralba. It was a large car park (and one of the few we found that along this stretch of road that would actually allow motorhomes) but we had it all to ourselves and as no one came to collect payment it was free!
1st May
Back tracking a little we headed east over the Sella pass again and to Campolongo via the Passo Pordoi 2239m which had 33 hairpins on the downward side heading east!
As the Passo Gardena 2136m was reported closed we thought we'd check it out to see how far we could get. Well it appears we could get to the top! One of the reasons for 'giving it a go' was that a friend had mentioned there was a shop at the top that just had to be visited. Indeed there was. A shop that sold everything from aprons to serious rock climbing hardware. We came away with nothing 🙂
After lunch at the top we headed to our next campsite ' Camping Sass Dlcia'.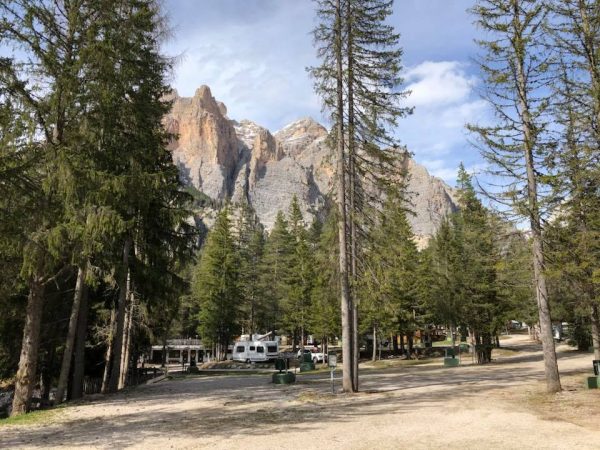 This site is the highest in the Dolomites and although quite a big site it is in a pine forest you really don't get that feeling as the pitches a well spaced out although again given the time of year there weren't that many visitors. The showers really good and the staff very helpful.
2nd May
As the weather was closing in a bit it became a stay at home morning where June baked cake and bread. Using the MrD Thermal Cooker and the Omnia stove top oven.
As it brightened up we took a bimble along on the few mountain tracks nearby. Following a series of zigzags we ended up at a mountain refuge with a small church nearby. Again this church was dedicated to the First World War. Albeit I am not a religious man at all but it is quite powerful to think of the dedication that folk had to build churches in so many difficult to access locations. We also managed to grab a quick Geocache. As we started to make our way down it began to rain and sleet a little…. OK a lot!
3rd May
Leaving Camping Sass Dicia we headed to an Aire near Tre Cime (Three Peaks). In an attempt to bag a few more passes though we didn't take the most direct route though. We managed to hold up traffic on the Valparola 2186m and the Falzarego 2105m passes. Maybe now is a good time to apologise formally to all past and future drivers that may be held behind a 4 tonne Motorhome from the UK that is crawling up, or down, an obscure mountain pass. We do pull in to let the traffic pass if safe to do so but when going uphill, this is a little less likely as once we get going I like to keep the momentum. On this trip we have pulled over many times…. probably letting 10s of vehicles pass but to-date we have only had an acknowledgement from 2. It doesn't take much for a friendly wave or toot as you pass. You never know it may make me more likely to pull over next time you are behind me 🙂
We stopped at Cortina for a few supplies and a coffee… It is taking us quite a while to get our heads around the lunchtime closing hours of about 11.30 to 3.30 or any time between. But hey we are on a holiday and we don't mind grabbing a coffee ot two while we wait.
As I mentioned at the start of today it was our aim to park up very close to Tre Cime in an Aire. However when we reached Lago d'Antorno we found the road was closed. This was a bit of a blow as the hike around the peaks was one of the big things on our list. Still it does mean we will have to come back 🙂
We found an aire close to the nearby Lago di Misurina which was free, at the time.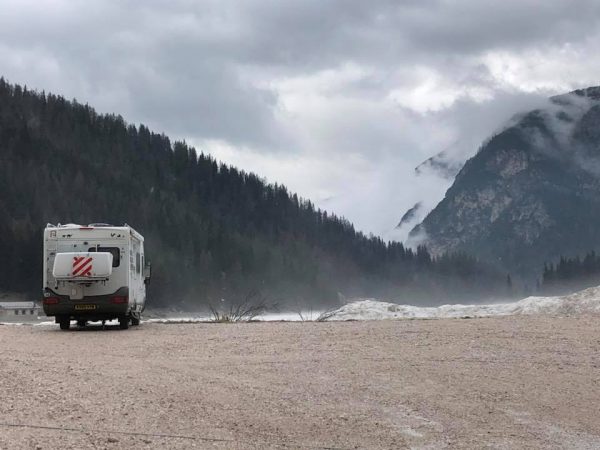 4th May
At this altitude, 1754m, there was still quite a bit of snow about still. After a quick wander around the lake we moved on to Lago Braies. Time was running out and although we had quite a few days left we had to start travelling west'ish.
On the app Campercontact, which we use a lot when in Europe, there were a couple of car parks close to the lake that said motorhomes could stay overnight in. We parked up in the one closest to the lake and for €12 not a bad location. No facilities but it was good hard standing and very quiet over night.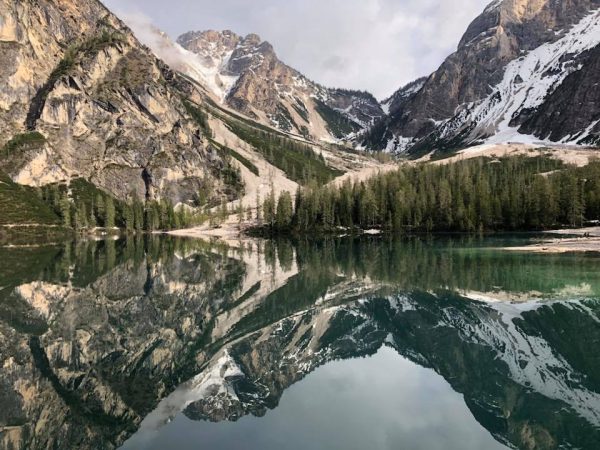 Now Lago di Braies..what can be said? It is a truly beautiful lake and the large hotel next to the water's edge was used during during the last weeks of the Second World War.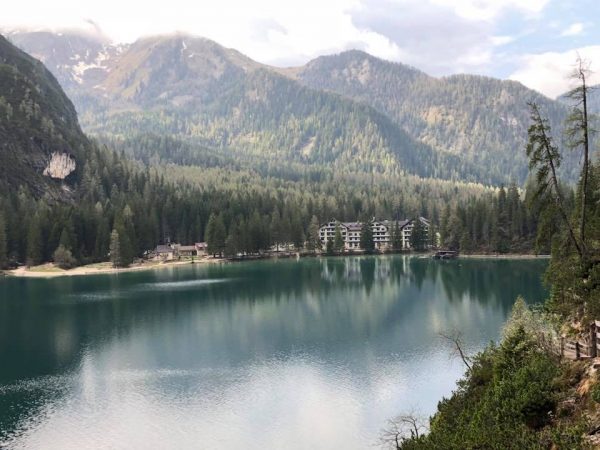 The water is a stunning shade of green and, at this time of the year, a really tranquil location. There is an easy walk around the lake, about 5k, albeit a few steps on the way.
5th May
Still heading west we had a longer driving day today as we left the ragged peaks of the Dolomites and drove through rolling green hills (and apple orchards – have never seen so many!). We managed one pass – the Giovo 2094m but our plan for the Stelio, where we intended to overnight, was scuppered by the approach roads being closed.
After tight squeezes through several Swiss villages and a two way, one lane tunnel (traffic lights either end) we spent the night in Livigno.  An OK site with facilities to drop and pick up water, electrical hook-up and free wi-fi for €20 per night
6th May
We left Livigno, back through the Munt la Schera tunnel €22 each way into Switzerland and headed to Randa near Zermatt for a few days. Essentially we're pretty much back where we started the trip proper in Cervinia – just the other side of the Matterhorn!
A drive of extremes – motorway, main roads, large towns and little villages. A heavy winter snowfall meant that the major passes were still closed but we ticked off two smaller ones, the Flüelapass, 2383m and the Oberalp, 2004m, although the snow was still piled high on the roadside and skiers were out.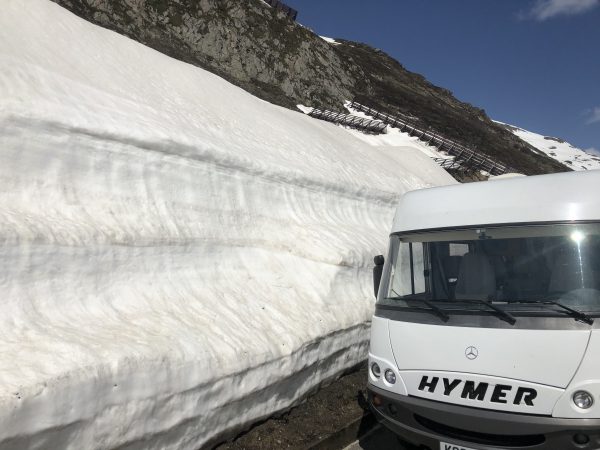 With the Furka Pass being closed we took the car train (CHF58 for the motorhome) which was an experience but it probably cut hours off the journey!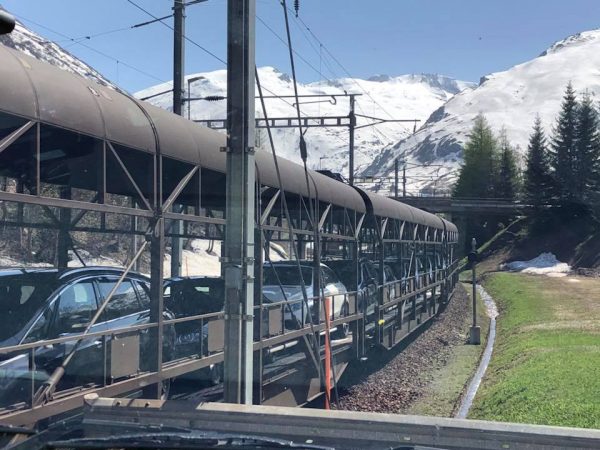 Stopping at Camping Attermenzen, Randa in the valley that leads to Zermatt. The site has a few level pitches but I would always bring levellers if you are intending staying here. Very quiet at the moment but I can imagine in summer this, like many campsites in the area, will be very busy.
7th May
As you can't access Zermatt direct the easiest way is via train from the next town down the valley, Tasch. The site has taxis available at 8.00, 9.00 and 10.00 (CHF14 per person return) that will take you to Zermatt however Tasch station it is an easy 20 minute walk.
At the station we bought a combined ticket for Zermatt and the Gornergrat  (CHF114.80 per person return) which is a stunning train ride up into the mountains that gives you a cracking view of the Matterhorn.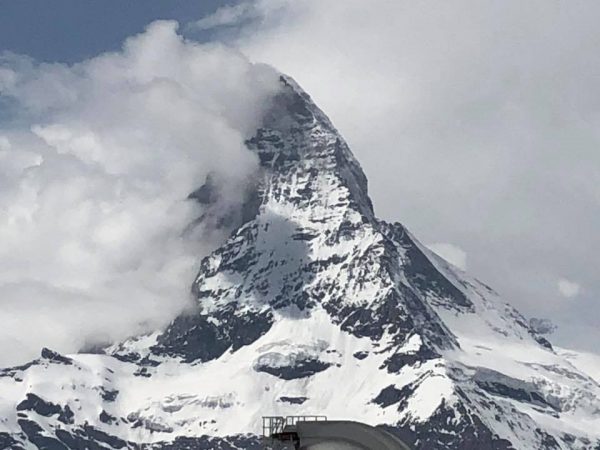 The train winds around the contours of the hillside using a cog system until you are over 3000m up. There was still quite a bit of snow at the top but the views were amazing. The iconic top of the Matterhorn drifted in and out of view. After quite a few photos and just 'mountain watching' we grabbed a bite to eat in the summit cafe (not cheap but, hey, all part of the day out) and then made our way back to Zermatt.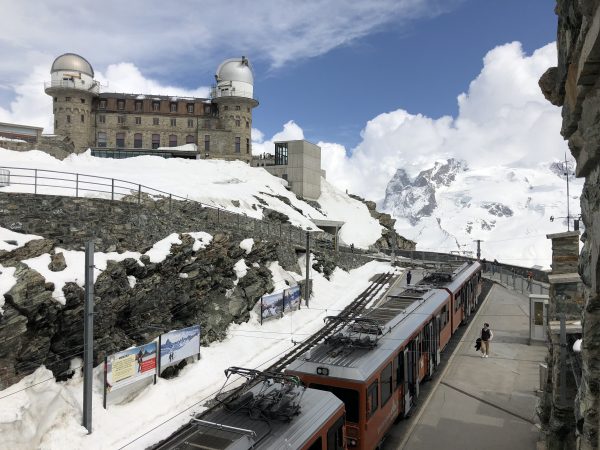 8th May
This was just a day at the campsite…  No more and no less 🙂
9th May
Leaving the campsite we headed west to Chamonix where we spent a few hours in the town.  The Aire at Chamonix is one we have used before.  Not much more that a big car park, it is very handy for the town centre and the Cable Car to the Aiguille du Midi, which if you haven't visited we would recommend….  on a clear day as the views can be stunning.
10th May
Finally heading home….  Stopped at an Aire near Troy. Again no more than a car park but very close to a man made lake.  Nice walks but I can imagine in the summer it will be packed.
11th May
Onwards to the tunnel.  The van had developed a small snag in that the battery ignition light would flash on and off for the first 10 miles or so of most journeys.  Probably the alternator brushes we think but will get it looked at as soon as we can once home.  In addition the  Goldschmitt levelling system had started to play up.  Once the legs were retracted one of them would slowly lower which set off the warning buzzer.  Thankfully this would sort itself out within a few miles of driving.  One more for the list once we get home.
All in all we cannot complain about the van at all.  We have owned it for 5 years now and this trip is the first time we have had to source a Mercedes dealer.  Not bad when you consider we have driven over 36,000 km.  I guess that is the advantage of having a Hymer built on a Merc.  Just reliable.
Tonight we will stay at the French side of the Tunnel in the Citi Europe car park again.
This trip had been in the planning for many months. It turned out to be a little different than we expected but being the adaptable, rather than the moaning 'it's always going wrong' type of people we still had a fantastic time.
The main differences were down to the cable cars being closed.  We had planned to do much more hiking.  It appears that a lot of the towns close down in between the winter and summer seasons.  The big benefit to us was that it was very quiet.
As far as the hiking is concerned….. well we will just have to go back again.  Sometimes it can be a tough life.
We are VERY lucky.