Just a few photos….
[wppa type="slide" album="18″][/wppa]
We had our big trip in April this year where we went to Andalusia for 18 days in the Motorhome so only enough leave for a week in summer. So off to West Wales which had stunning scenery and we had a week booked at the Caravan and Camping club site just to the north of St David's.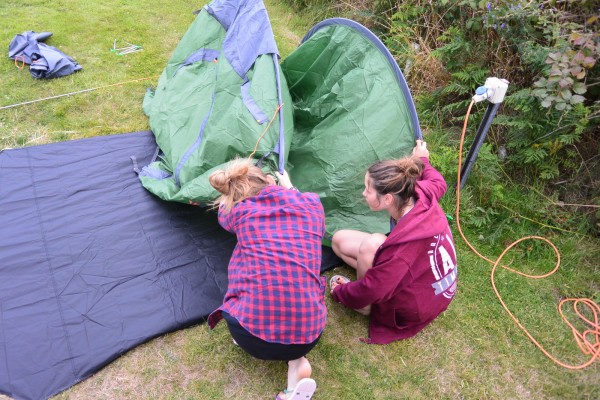 On arrival the warden pointed out that it was a little windier than normal:)…. No em the less really nice site…small, 45 pitches, with washing and drying etc. No motorhome service point but no issue as we had a waste water trolley with us just in case. The nearest beach, Abereiddi, was only a 15 minute walk away through fields.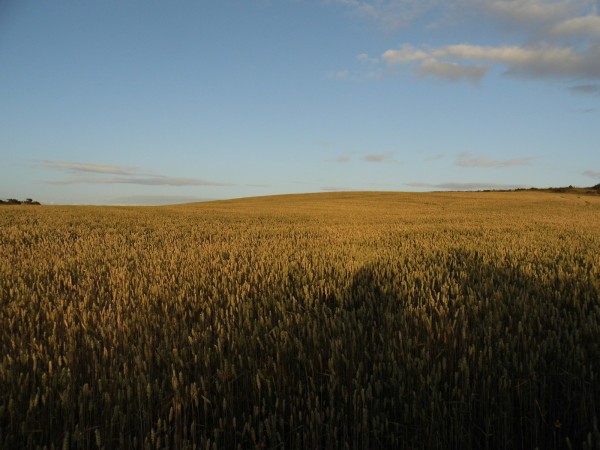 Tuesday saw a trip into St David's where we booked a boat trip for Friday and managed to grab wifi at a cafe called Pebbles Yard.
Wednesday was just a little damp but during one of the dry bits we headed off to Porthgain, a small village about 2-3 miles along the coastal path. Very similar to the North Cornwall coast line the path held some stunning views that you just wouldn't see from a car… As we descended into Porthgain it began to rain but still the Sloop Inn was dry and had great food. We couldn't stay there all day so during a lull in the rain we headed back to the Motorhome bagging a couple of geocaches on the way….. The rain did come down a little harder but hey….. It was only rain. Amy's few words describe her thoughts…..

So today was very interesting as I had mixed emotions and we also had mixed weather. So we well I mean I started the day at about 11:10 in the morning, ( as you can tell I am not an early bird ) as I lugged my self out of our tent and managed to burn a bagel. Yet I was still in a good mood thinking " yes it is raining no walking today!!" Yet the raining stopped for all of about 20 mins and started again but we I kept on pushing though. I got told by bob that it was going to be roughly 2 miles there and back and I was thinking " yeh I can do that pips" ohhhh no it was 4 miles there and it wasn't fun and please note that I was in nee length thin shorts, a thin walking top, a 'water proof' jacket and walking boots which I soon find to have holes in. So I was going from a happy mood to a very wet unhappy mood. We walk 2 miles and me being me started to complain and complain in my head but I was like cab to say it out loud so I just kept it in there. 

By the time we had gotten there my face made me look like I had been crying for months, my legs looks like I have walked into the sea and my boots well let's just say there were very very wet socks. Yet there was s lovely cheese and bacon baguette waiting for me in the sloop inn.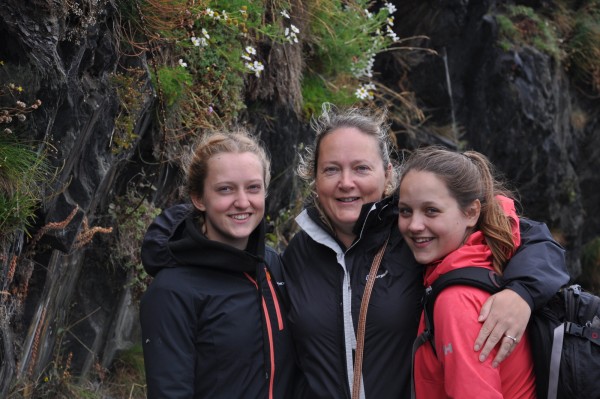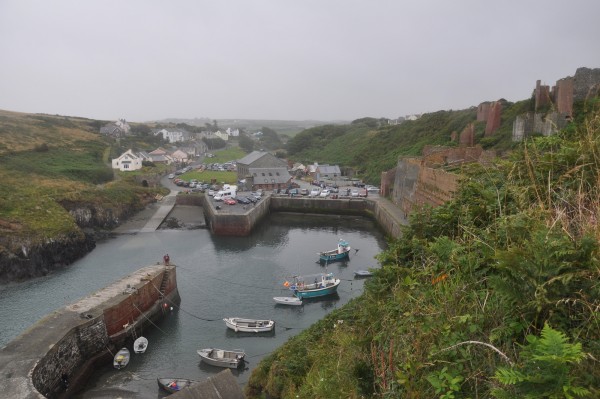 Thursday we had a couple of hours coasteering booked with Celtic Quest . Getting to the beach at Abereiddi by 9.00 was the plan and it ensured that we had a spot for the Motorhome in the car park.
Coasteering was great fun and the instructors we had, Gaz and Nick were a good laugh, Nick managing to get June to do a penguin dive. The trip ended in a disused flooded quarry, the Blue Lagoon. This has in the past been the scene of Red Bull free diving competitions. We opted for a slightly lower option but the highest just was about 30 feet.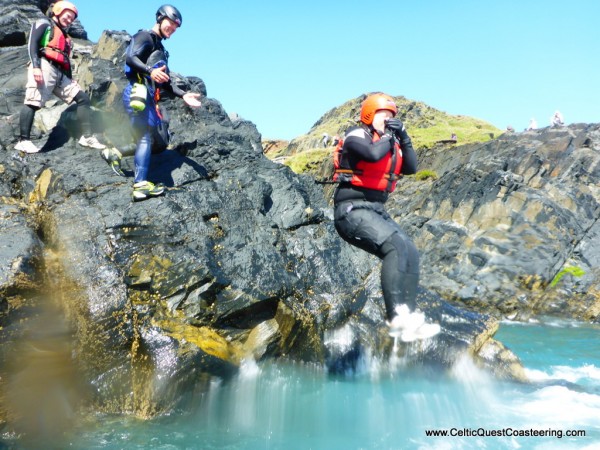 Friday was an even earlier start to get to St Justinian's life boat station for an Offshore Island Whale and Dolphin Watch with www.ramseyisland.co.uk. It was a beautiful sunny day and the sea was really calm. Once on board we headed off to Grassholm which has a large colony of Gannets. As the Rib approached the island we took a sudden turn north and headed off at speed to a pod of Dolphins that had been found by another Rib. Once in the area we had about 2 dozen beauties swimming between the two boats. It was stunning. After a while we headed back to Grassholm to see the Gannets closer…. For Chloe, one made a deposit a little too close.  The trip back to the old lifeboat station saw a couple more Dolphins and a bit of 'zapping' by the skipper as he pulled a couple of tighter turns.