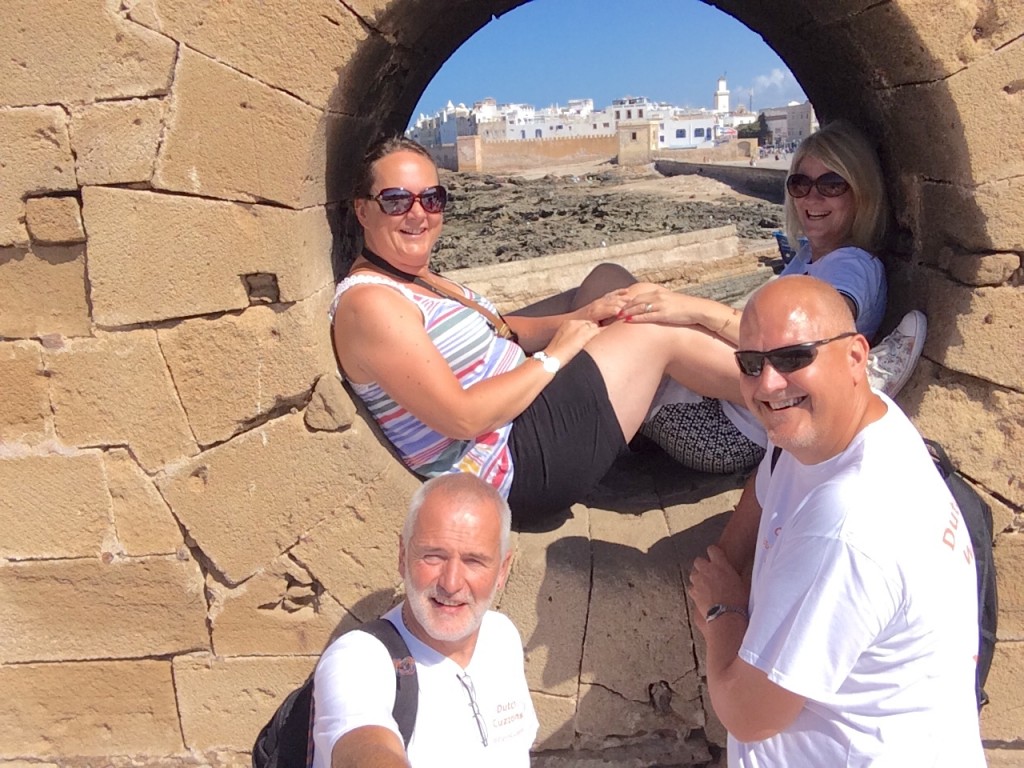 There are more photos in the Morocco 2014 Album
Having been to Morocco twice before we were both really looking forward to returning with our friends Sarah and Colin.  We had found a Riad called Dar Rocmarra in the Marrakech Medina that had some brilliant comments on Trip Advisor and ticked a lot of boxes for us.
Leaving early doors on Thursday with Easy Jet we arrived at Marrakesh just after 10.00 where transport booked via the Riad was patiently waiting after a few more minutes than we expected in passport control.  Being British we took part in an orderly queue while those  around us jumped barriers, pushed in and generally tried to get in before us.
As we were driven to the Riad we realised that the driving had not changed since we were last here in May 2013.  It is manic. Having said that though everyone seems to get along with each other, giving way seems to be a natural way of life.  Yes the horns are sounded but I really got the impression they were not meant in anger.  More of a 'watch out mate' than a 'get out of my way'.
The driver got us as close as possible and after a few minutes walk along narrow alley ways we arrived at  Dar Rocmarra 29 Derb el Halfaoui.
Once inside we realised we had hit a real gem and the reviews were right. It was beautiful!  We had been in touch with Jamilla, who manages the day to day running of the riad as well as cooking the wonderful food, before we arrived and before lunch she gave us a brief about locations of places we may like to visit and offered to book a driver and car for any days trips we wanted.
After catching up on sleep we walked into the center.  The souks, as we had experienced previously, were an assault on all senses….  the smells, the colours and the noise are very special to us.  Some feel unsafe, but I have to say, I feel as safe in Morocco as I do in London, and like in any big city with lots of people, it's just a case of keeping your eyes open and wits about you.  Having had little sleep the previous night and a good lunch when we arrived, we found a small cafe with a rooftop terrace overlooking Jamma El Fna for a light meal before heading home for an early night.
Friday started with a breakfast on the roof… and then off to Cascades d'Ouzoud Waterfalls.  Jamilla arranged a car and driver for the day at about £103 all in for the 4 of us.  Although we could have booked an organised tour, at least this way we had total control over where and when we stopped. On the way we went through the town of Ait Taguella where there was a festival going on in a field next to  the road.  There were groups of horsemen in traditional clothing riding from one end of the field to the other while firing rifles in the air.  It was a really stunning event to stumble on.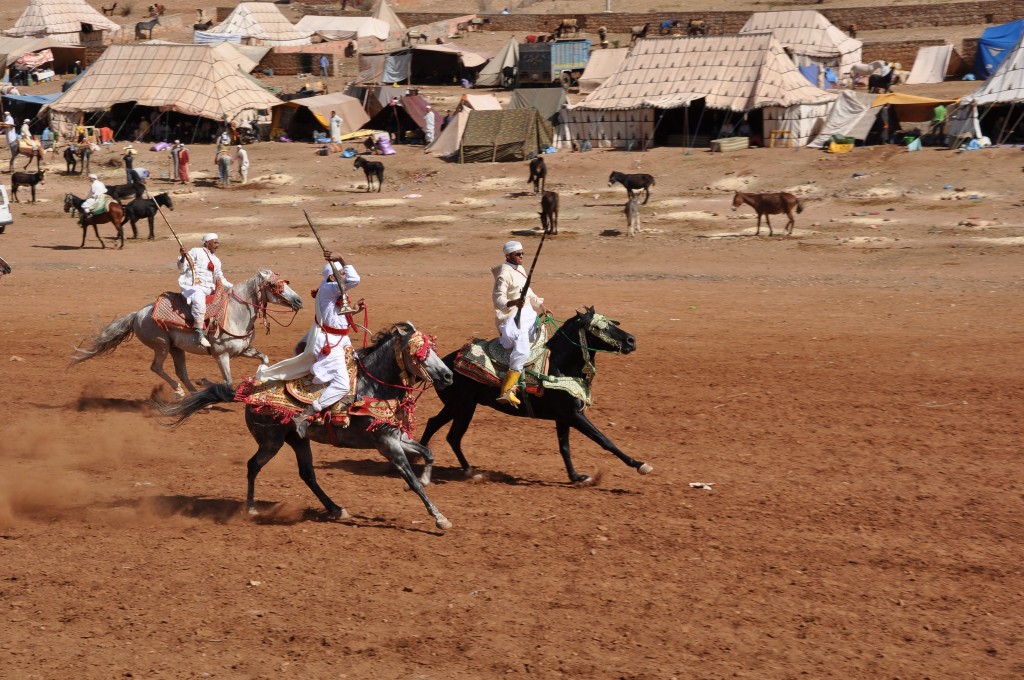 On to the beautiful Cascades d'Ouzoud.  There is a large car park at the top and as you walk towards them you can either take to the right of the buildings and go to the top or to the left and walk down the lanes past the stalls to the bottom.  There are numerous places to eat…the more expensive ones have direct views of the falls (although by expensive we mean around £10 a head for a 3 course set meal!) .  The falls stunning, yes I know that I use that a lot but have run out of superlatives.  Have a look at our Morocco 2014 album to see more…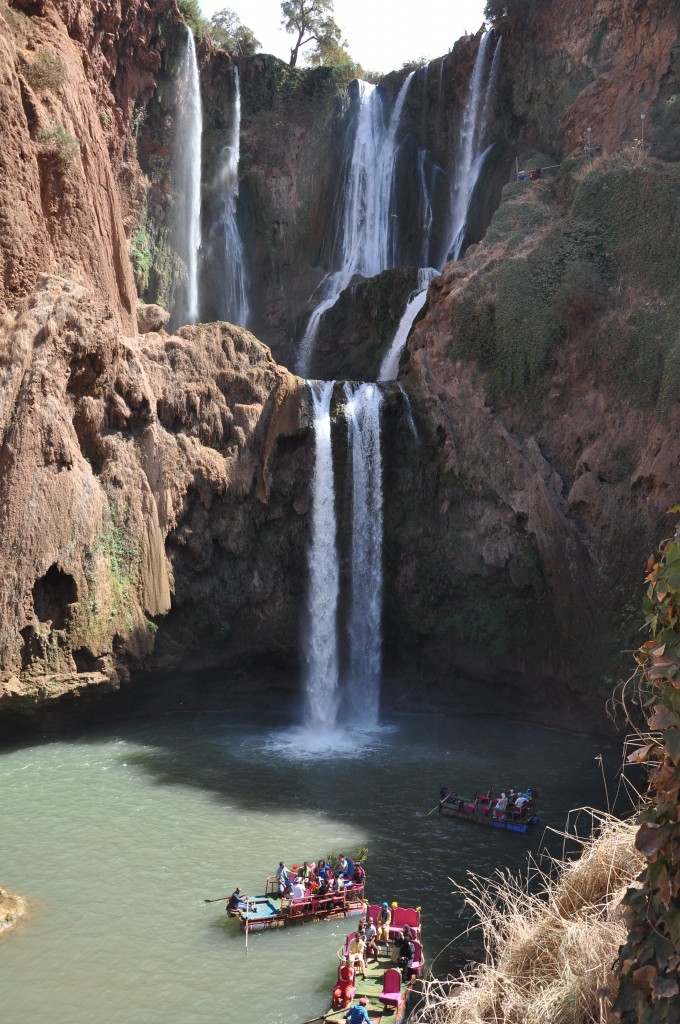 Saturday was a bimble around Marrakech  sort of day.  We love the souks, the smells, colours and sounds are really unique.  I know some folk find this environment threatening or uncomfortable but I think the art is to accept that the traders do not mind you not buying or saying no. Ultimately you have control of your wallet and if you buy something, does it really matter that much if you find it cheaper on another stall.  I guess you were happy with the price or you wouldn't have bought it.  I feel no more concerned in Marrakech than I do in some parts of London. I enjoy the banter and bartering.  Many times have I walked away to the stall holder saying 'good bye my friend. You are a good man and I like your smile'   But that is me at 6'4″…height always an advantage I feel 🙂
Having said all that we did have a bit of a 'do'.  Colin had a GoPro….more about that later, and wanted a few photos of the snakes in the main square.  The problem was we didn't agree a price before…top tip always agree a price…for everything 🙂  After some photos the guys asked for £20!!   They were never going to get that much..  They were offered £10 and refused…after a few words they were given about a fiver and off we walked .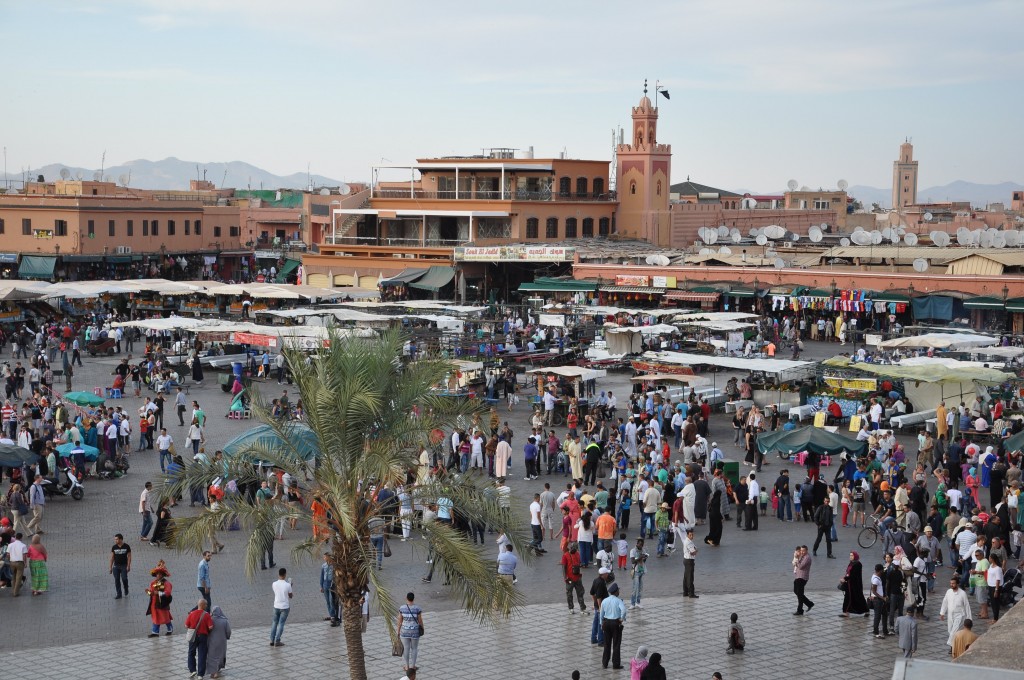 In the evening we decide to eat at one of the many stalls in Jamma El Fna, the main square.  The previous night we had wandered through and one of the stall owners had approached us saying ' One Zero Zero always the hero' referring to the stall number.  Well we had to find that one didn't we?  The main square is somewhere  Bob had always wanted to eat. Just feeling that it would be good to absorb some of the hustle and bustle.  Hannin, our waiter, suggested we had a Meze type selection and of course the obligatory photo at the end.  We had noticed young lads firing a small device into the air that gave off a blue light as it drifted down.  These were visible all above the square… It was a toy that Bob didn't have and was determined to get.  As we walked through the square a couple of boys offered these for sale.  Starting at 20 Dhirham he eventually got one for 5 (about 40p)  He was happy.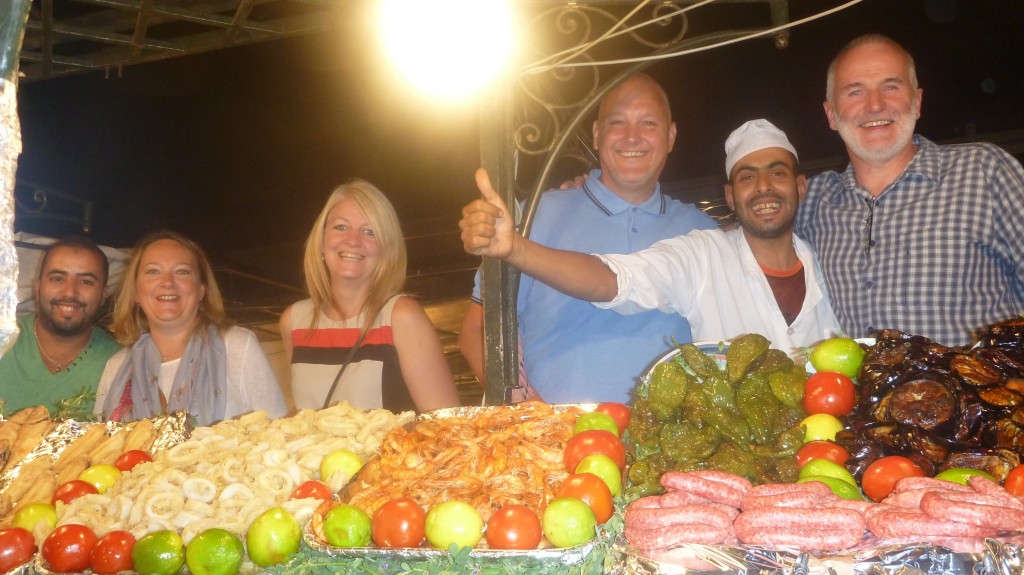 Sunday was a visit to Essaouira  which is on the coast and very Mediterranean in appearance.  Again Jamilla arranged a driver and car for the day for about £107 this time. The last time we drove from Marrakesh to Essaouira in 2009 the road was under major repair and it took us ages in the motorhome, traveling at no more that 40mph for most of the way and at 10mph for a very long section.  Drive times in Morocco always seem a little longer that here in the UK, mainly due to the road conditions, speed limits and cops with speed cameras.  On the whole the roads are OK but the speed limits are often lower that you would get in the UK.  There seemed to be, on this trip, a huge increase police checks, the more cynical might note how negotiable the fines are and wonder how much reaches official police coffers…..  Some with a speed camera, often on a tripod and others where there are 'stingers (a spiked device across half the road that can be pulled covering the whole road to stop vehicles that didn't fancy being checked).
The harbour area of Essaouira  was as beautiful as the last time we visited.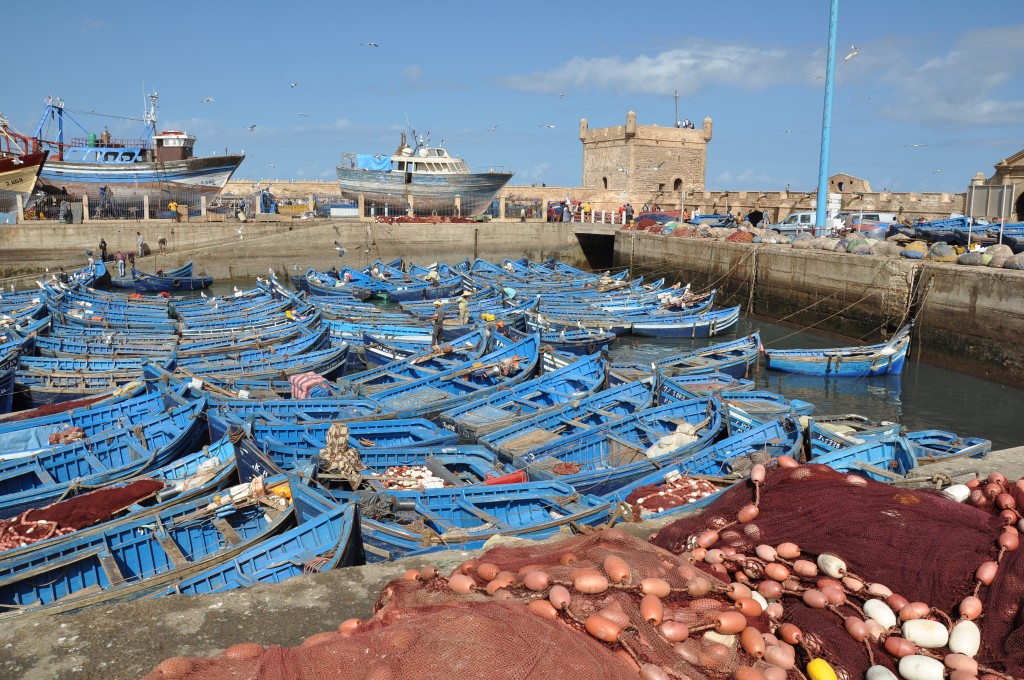 After lunch we wandered the lanes and then out to the beach. It can be very windy here, albeit not on this visit, and often the beach is full of surfers kite flyers and the like.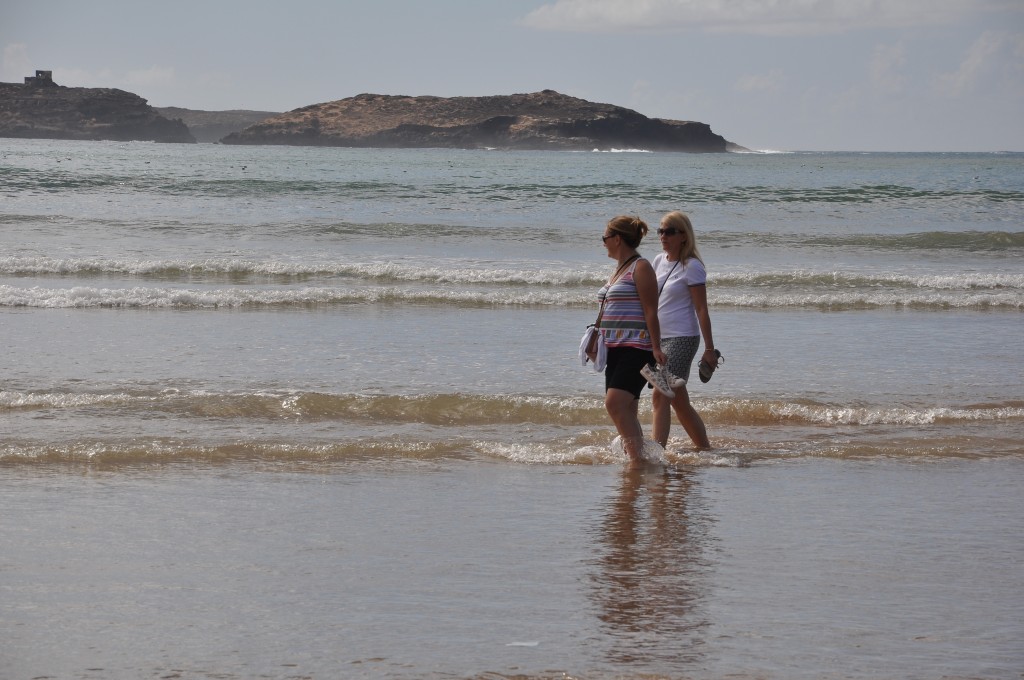 Our flight back was late Monday afternoon so we had plenty of time to visit Majorelle Gardens and more.  The gardens are beautiful and an oasis of calm in the madness that is Marrakesh.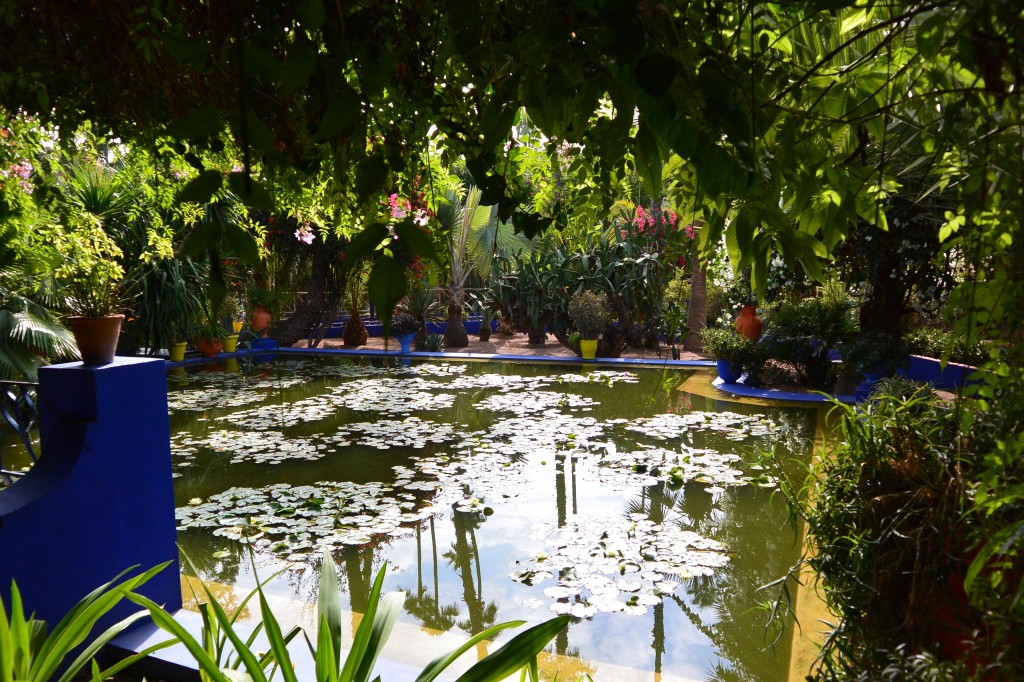 Leaving the gardens we grabbed a Caleche, horse and trap  and were taken for spin around the city.  We turned down the  offer of visiting a pharmacy as we had experienced watching a demonstration before and then being put through the sales pitch. I think we still have some magic potions left over from that visit despite Bob using them daily to maintain his youth.
Back in Jamma El Fna the girls needed to get some cash while the boys met a young lad selling some packets of tissues.  Through Bob's bad French it seemed he was 10 and sold the tissues daily around the square.  Bob asked why he didn't go to school, the bank doorman smiled and said 'this is his school' as he pointed to Jamma El Fna. A very fair point!  The lad was a real character but we found he didn't like the ginger sweets that Bob had been carrying around all weekend.  But then few did.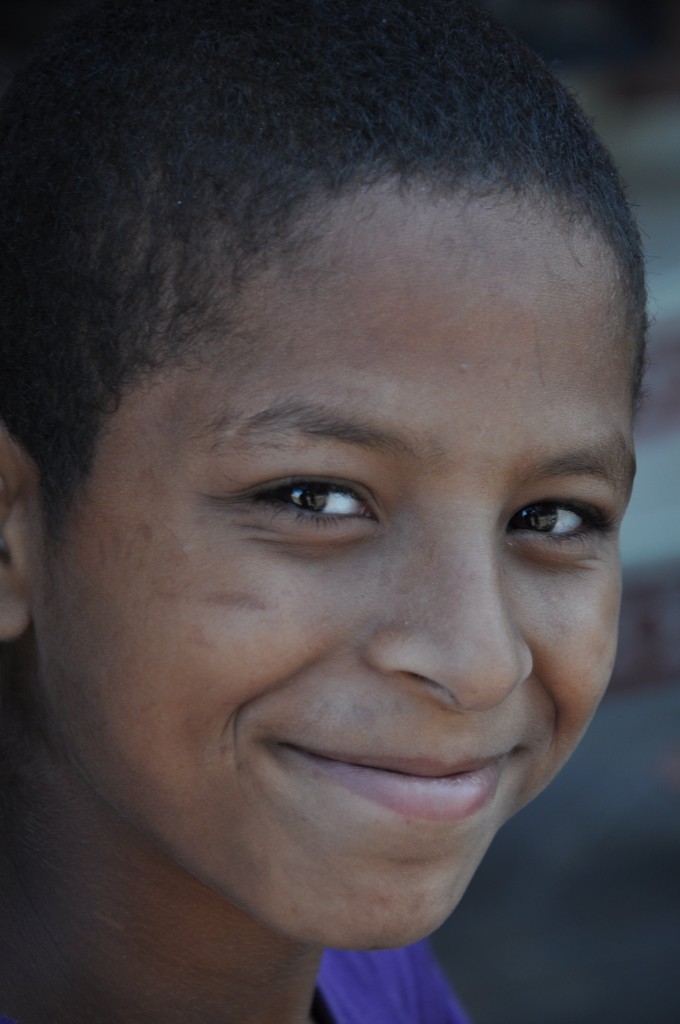 It was a brilliant weekend and one that involved quite a few Selfie on a stick photos as both Colin and Bob had one!  I am sure we will see more Selfie on a stick photos appearing in this blog.