Following a few emails and some activity on Facebook Jon Little and I managed to get a reunion for the Witney Police Area together at the Cricket Club at Standlake. Ideal location as there was a camp site in the village so we could stay for the weekend:)
It was a well attended event with around 70 people turning up. And as someone said they were all quality people:). Just brilliant to catch up with so many people. Jon did a rough calculation and worked out there was about 1500 years of policing experience in the room.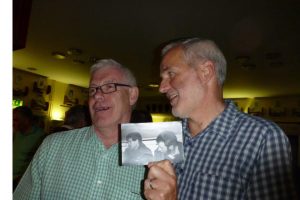 Saturday was bright to start and James, Tom and Jade came over, with the little ones for a hour or so. Great to see Jacob, Benji and Bella running around the children's park even if Jacob did fall on the rope bridge ending up straddling the rope…. A few tears but soon recovered.
Just a bit of rain 🙂 but hey what do you expect as we are in the middle of one of the worse droughts for years.