Friday 17th and tonight's destination is Tamtattouche at the northern end of Todra Gorge. But first we have to get out of the campsite…..
The campsite at Meski lies in an oasis at the bottom of a steep, slick, crazy-paved, twisting driveway and the only way to get out is put your foot down and go for it. One by one everyone takes a go and gets out on to the road; all except one that is. After several attempts someone offers to tow the van out but it was the oldest and smallest van – a bit like David towing Goliath and needless to say it didn't work. However after one last go with some extra weight at the front, the van was out. We said goodbye to Mohammed here and his delicious cooking and set off for today's drive.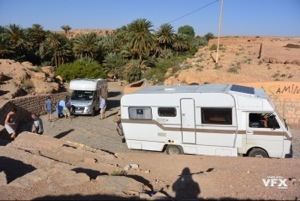 As with most of this tour, we do not head straight to our destination but take the scenic route through the southern edge of the High Atlas. Anyone who has driven in Morocco will know that the roads are not that good, if they exist at all and those that have tarmac are usually full of potholes. When we got the new van we loved the spice rack which sat above the glass topped hob but the spice jars had a real dislike for the Moroccan roads and kept jumping out of the rack. Up until today no damage had been done but as we were oohing and aahing at the stunning rock formations there was suddenly a crash from the rear of the van and the shattering of glass. First casualty of the trip and top of the list to buy when we get home – a new hob top! Not an hour later the blind spot mirror disappeared as Bob got a little close to the roadside trees but luckily Chris and Penny were behind us and had seen what happened so stopped to pick it up for us.
After no further mishaps we arrived at Campsite Bad Dou, the best site we had been to yet; hot showers, a swimming pool (bloody cold but great to spend some time relaxing by!) and even washing machines! The food continues to be excellent and good value with 3 course set meals around Dh100 each (about £8) in most places.