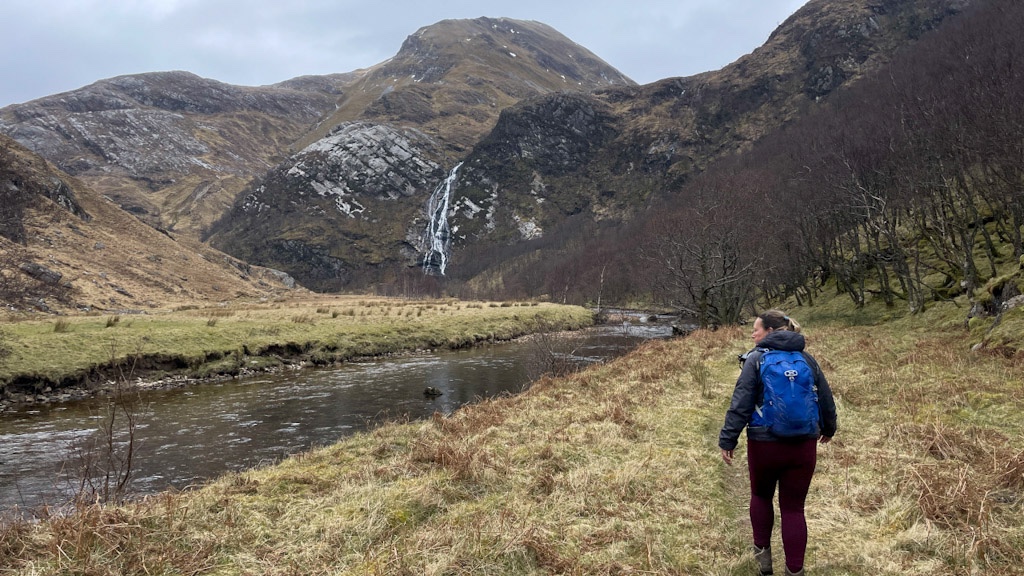 From Skye it was back to the mainland and first stop Fort William where we did our bit for the local economy with a couple of trips to outdoor shops! We had thought about going up Ben Nevis but with the forecast saying that winter equipment, ie crampons and ice axes, should be carried we decided against that and instead walked from the campsite along Glen Nevis.
This was another stunning walk to the Steall Waterfall and included on the return, a rather nervous crossing of the river via a cable bridge! Anything to not go back up the valley side again 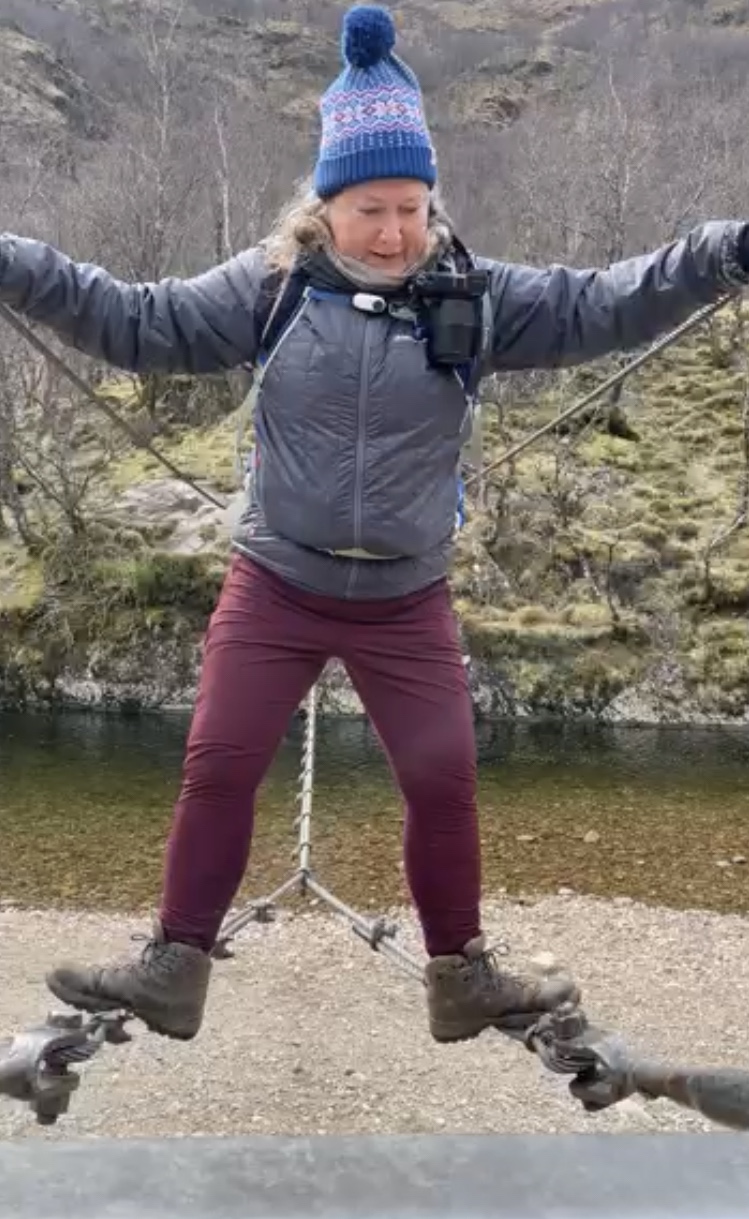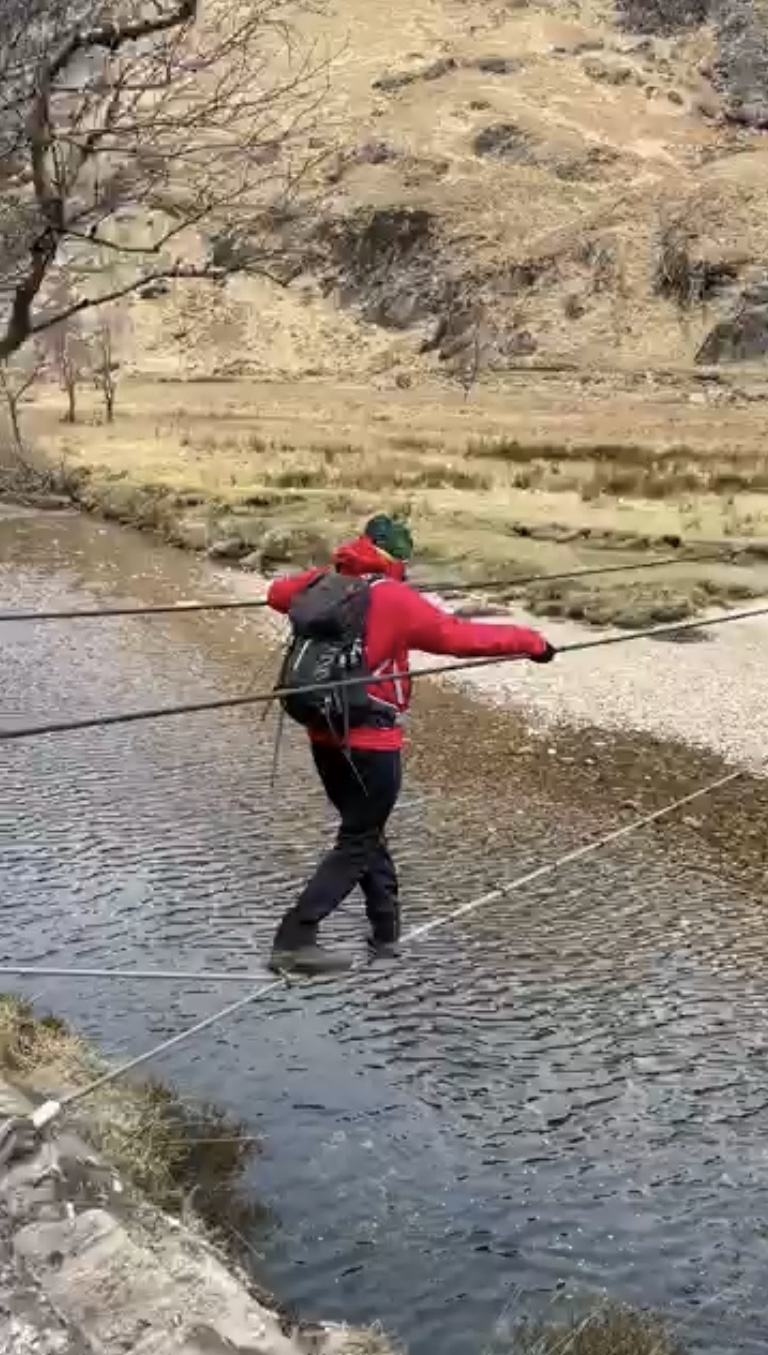 We're being spoilt for choice on places to visit and after a couple of nights on a campsite, it was back to wild camping, well as wild as you can get in a fully kitted out motorhome!
Today's drive was along Glencoe and Glen Etive, both of which featured heavily in the film Skyfall although the house used as James Bond's childhood home was actually purpose built in Surrey! After several miles along a single track road you come to the end next to the northern edge of Loch Etive where there's a small spot where you can park overnight.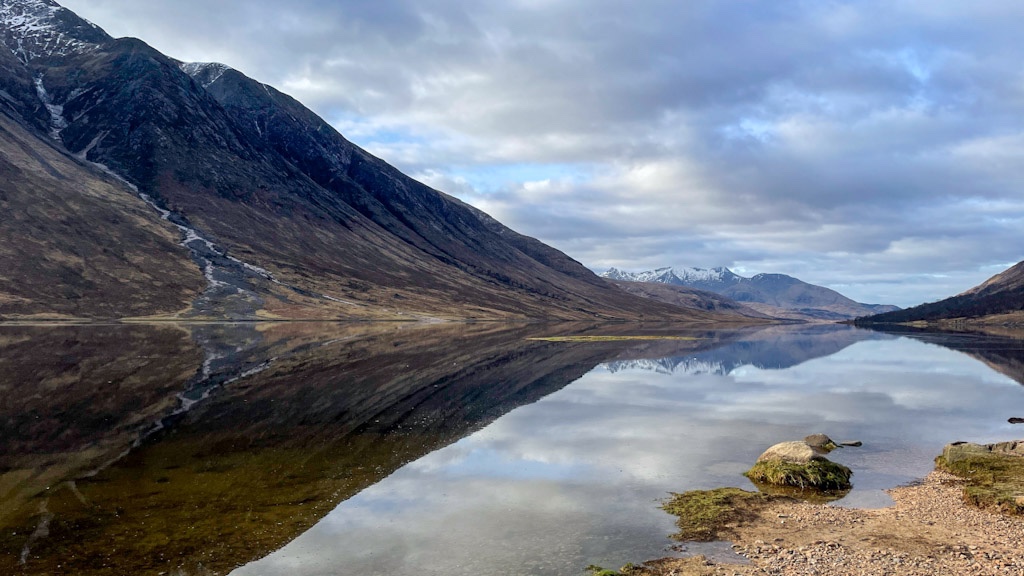 Forestry and Land Scotland has reopened its scheme for self-contained motorhomes and camper vans allowing overnight parking as part of its Stay the Night initiative. Vans are allowed to stay one night in certain locations – some charge, others not (we used Littlemill near Inverness) Hopefully the scheme won't be abused and more places will open up.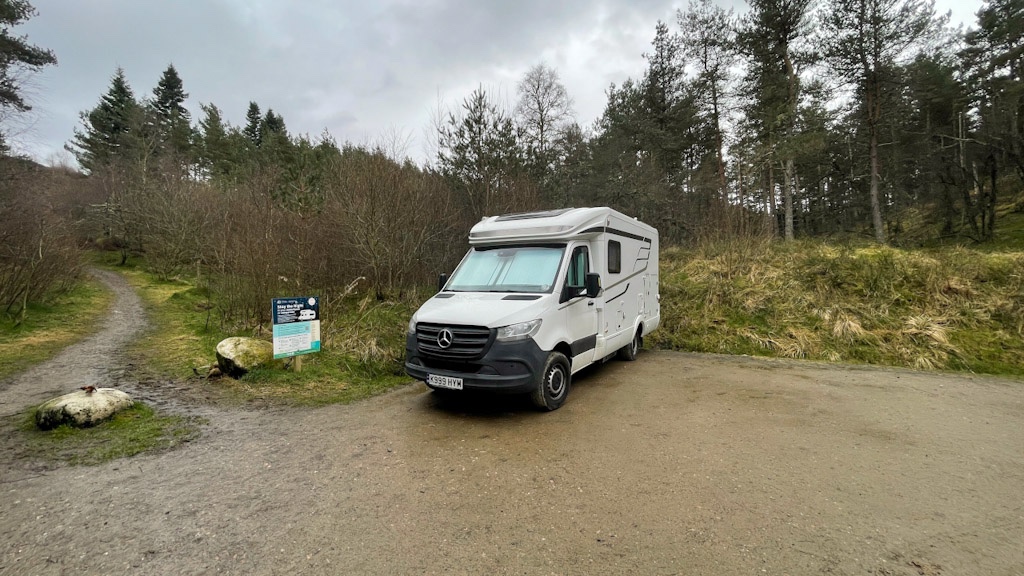 And then came the Cairngorms, a simply stunning area to visit for walking and just submersing yourself in nature. We had a couple of snowy nights in the ski centre car park where we hit the cafe a couple of times and went for a short walk but were defeated by the weather when a snowstorm blew through. We had originally planned to take the funicular railway up Cairn Gorm mountain but it's currently undergoing refurbishment. We made the suggested parking donation (which they say is optional if you use the cafe or buy something in the shop) but it looks like barriers are going across the car park for proper paid parking.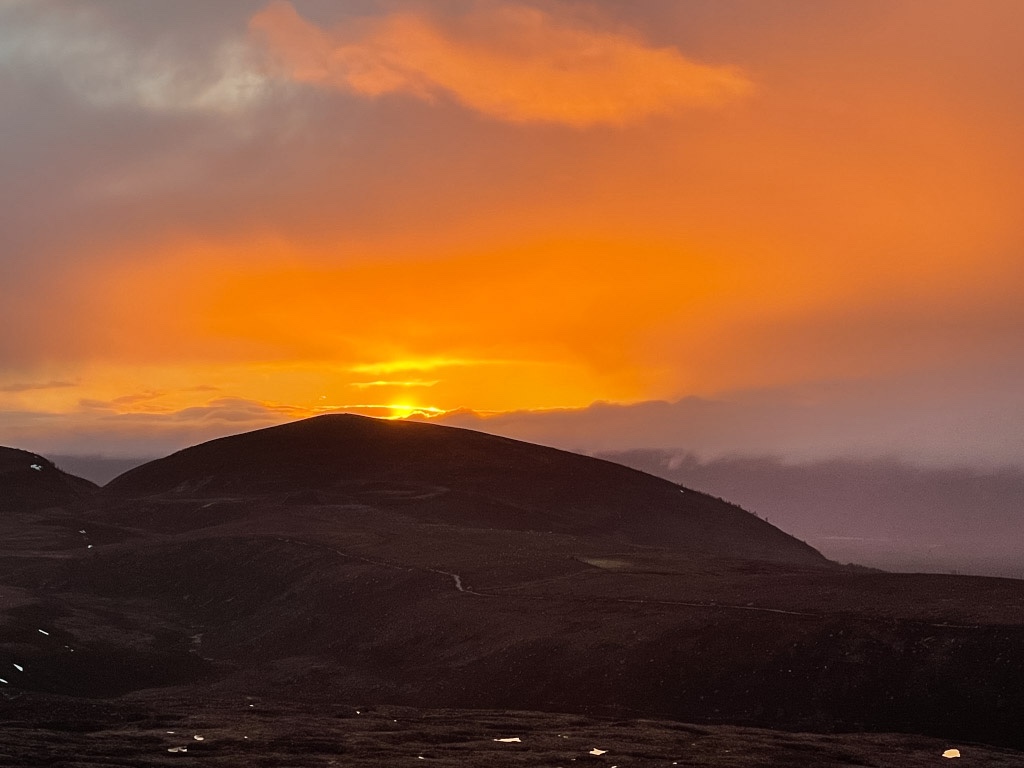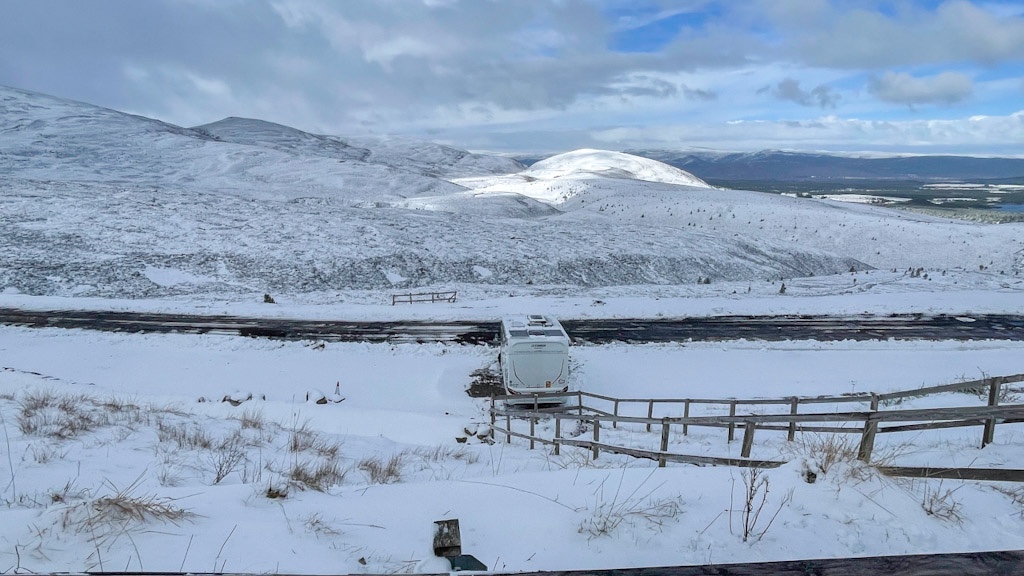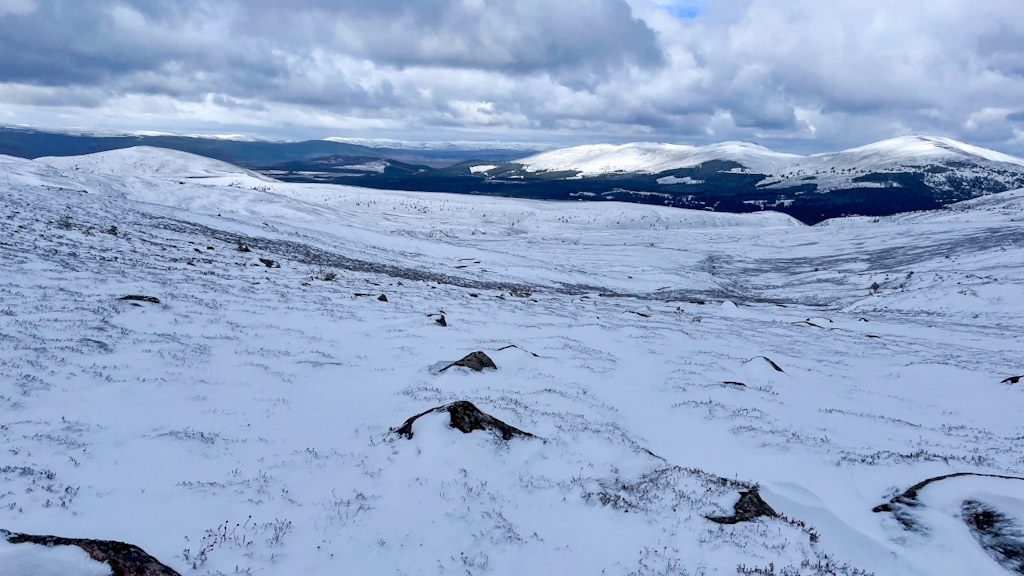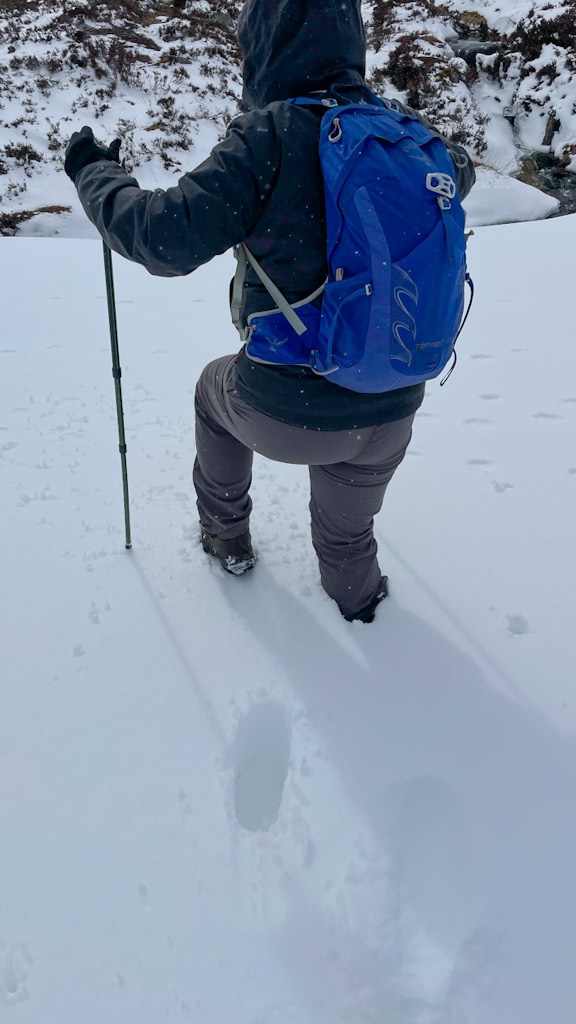 A lot of the southern area of the Cairngorms makes much of its historical royal connections beginning with Queen Victoria. We visited Ballater, Balmoral and Braemar and found some great walks around the River Dee and up into the mountains where there was still plenty of snow on the ground.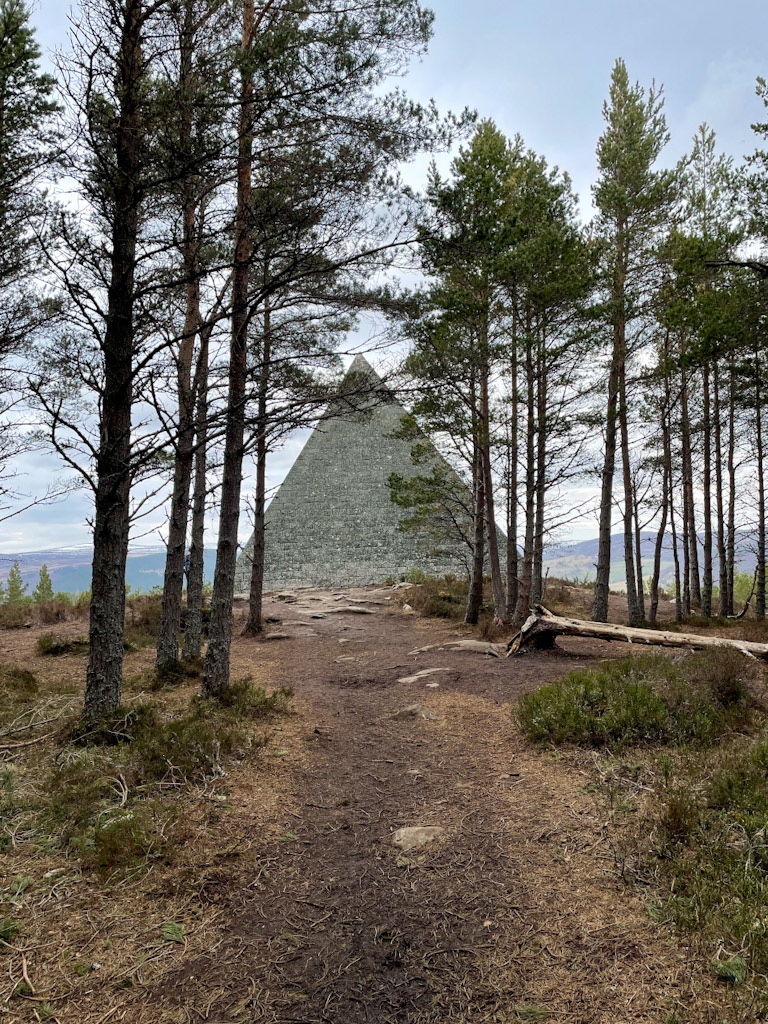 Our last two stays in the mountains were at the Creag Meagaidh National Nature Reserve from where we followed the well marked path to Corrie Ardair, and then in a small car park at Kinloch Rannoch parked right alongside the loch. There are just so many beautiful free sites in Scotland and hopefully campers in every form will respect and preserve them. We made use of the service point in Kingussie – £5 to empty black and grey tanks and top up with fresh water.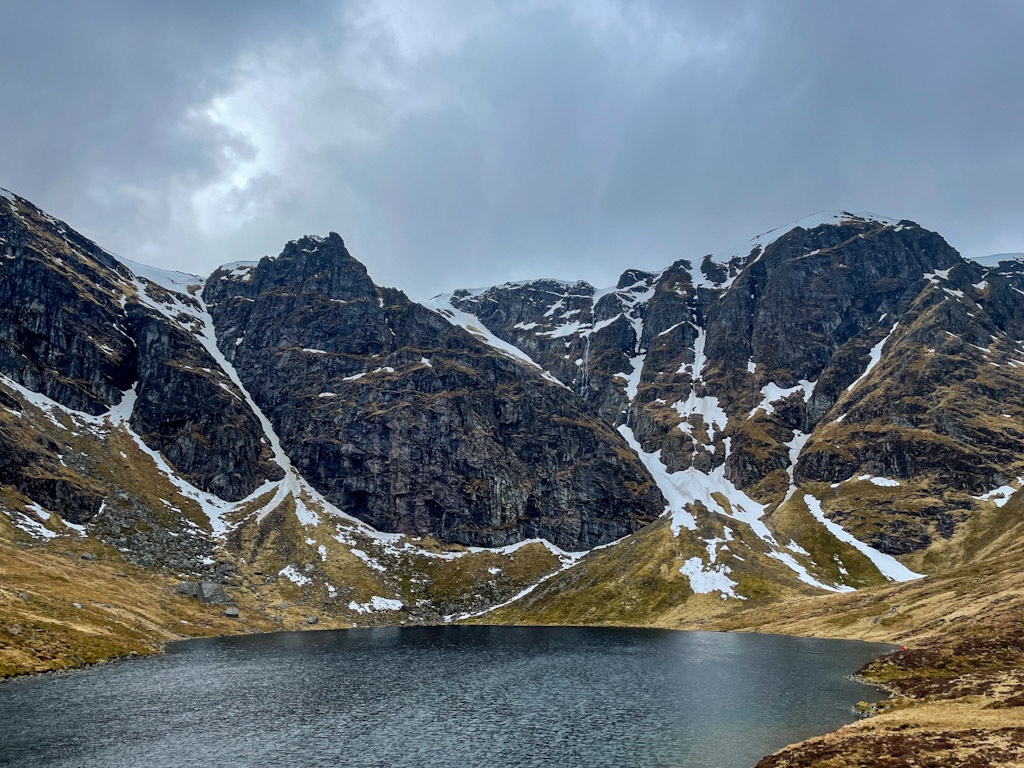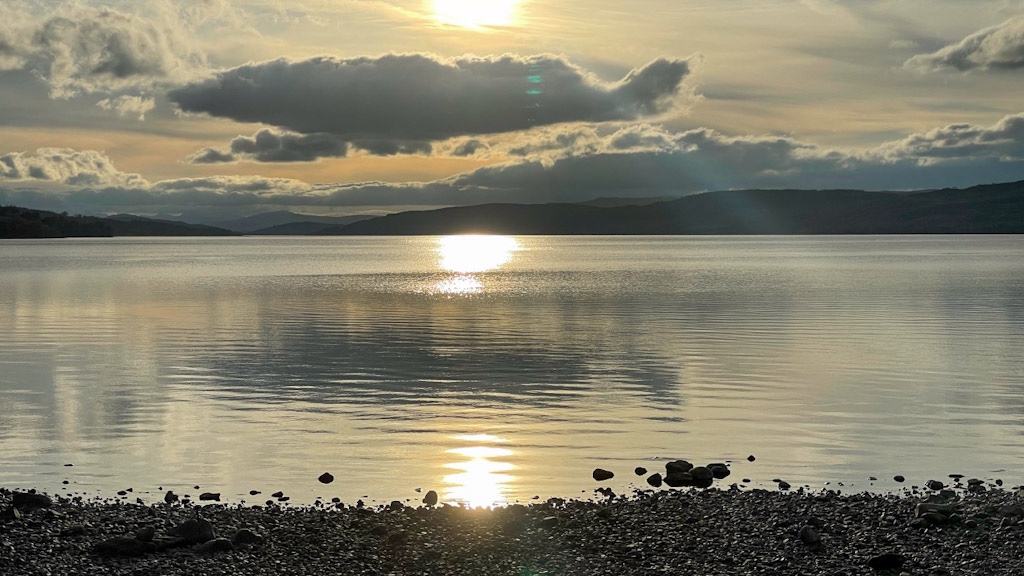 The time then came for us to start heading south. We stopped overnight at the Kelpies near Falkirk as for some reason we had missed them on our previous trip. The car park was busy (school holidays and bank holiday weekend) when we arrived so we diverted to the Falkirk Wheel where it is also possible to stay overnight for £15 (or £3.50 for day parking). After a while of watching the wheel, a fascinating piece of engineering, the car parks began to clear so we headed back to the Kelpies.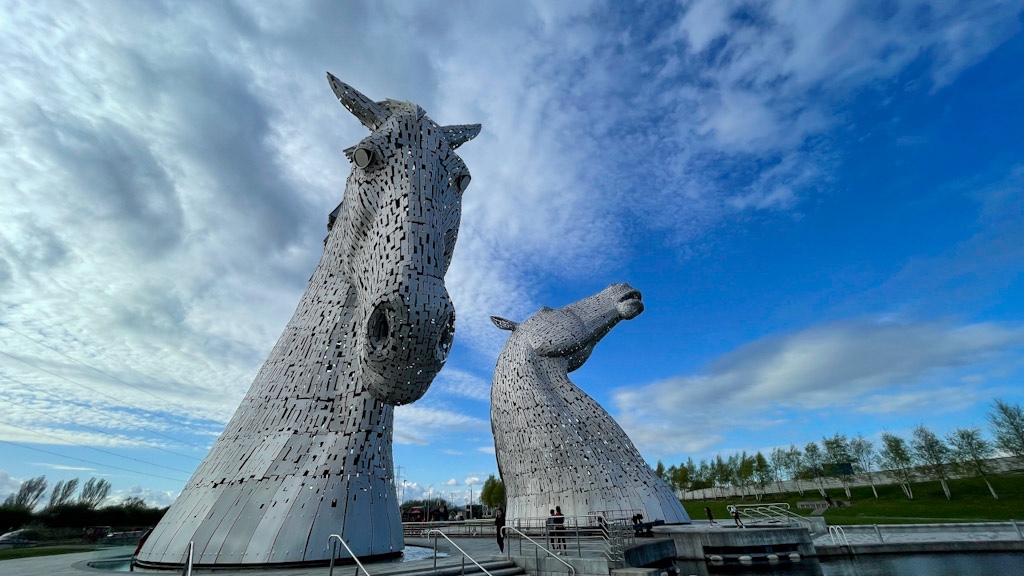 Our final destination on this trip was Edinburgh for a little sight-seeing and catching up with friends. The campsite is a little out of town but the buses are reliable despite the sheer amount of roadworks currently underway in the city! The city centre was quite busy so we decided to wander up Arthur's Seat to view it from a distance – we have definitely come to prefer being away from crowds! Lovely though to catch up with old friends over coffee and dinner and meet Felicity and Ben's gorgeous baby, Milo.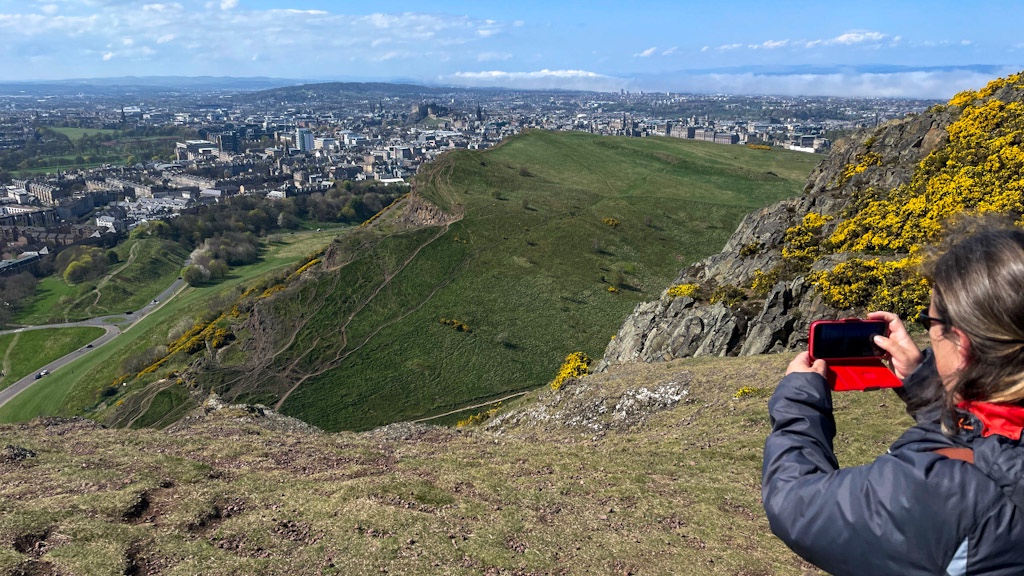 Sites used:
Glen Nevis Caravan & Camping Park, Fort William: £31 p/n – hard standing pitch with EHU. Large, modern campsite with all expected amenities a short drive out of Fort William close to the Ben Nevis path.
Glen Etive: Free. Small car park next to Loch Etive at the end of a long single track road. No facilities.
Littlemill Forest, near Inverness: Free. Forestry and Land Scotland car park allowing overnight parking for self-contained motorhomes. A couple of short walks from the carpark.
Culloden Moor Caravan and Motorhome Club Campsite: £28.20 p/n – hard standing pitch with EHU. Typical C&MC site with full amenities. Near to historical sites.
Cairngorm Ski Centre car park: Suggested £2 donation for parking but looks like pay barriers are going in. Bumpy uneven car park but spectacular views and walking including the Cairn Gorm mountain. Funicular railway being refurbished at the time of writing (April 2022). Visitor facilities include cafe and 24 hour toilets.
Ballater Caravan Park: £25 p/n – hard standing pitch with EHU. Independent campsite with all facilities. Free wifi! Easy walk into the town centre and several well signposted walks along the River Dee and around the local area.
Loch Muick visitor centre car park: £10 for 24 hours. No facilities (toilets were closed when we visited). Motorhomes is are asked to use the upper car park which is uneven. Great base for walking around the loch or up to Lochnagar.
Balmoral Castle coach park: £10 for 24 hours. No facilities but local visitor centre has toilets and a water tap (albeit not for parking and filling by hoses given its location). Quieter than expected despite being next to the main road. Easy walk to the castle and the wider Balmoral estate.
Braemar Caravan Park: £30.50 p/n – hard standing pitch with EHU. Independent site with great facilities and really friendly staff – the drying room was a great addition. Easy walk into town for cafes and shops.
Creag Meagaidh National Nature Reserve: Free but donation requested. Short walk to toilets in an information building but no other facilities. Great walking.
Kinloch Rannoch: small loch side car park just out of the village – free. No facilities other than rubbish bins. Wardens came visiting to remind us to be considerate and preserve the beauty of the location. Stunning views along Loch Rannoch.
Helix Park (the Kelpies), Falkirk: £7.50 overnight parking at in the car park near the play area. Toilets available by the Kelpies.
Edinburgh Caravan and Motorhome Club site: £38.80 p/n – hard standing pitch with EHU. Typical C&MC club site with full facilities and located on the River Forth. Easy bus ride into the city centre