Woo hoo! After six months on the road in the UK, we boarded the 07.20 Eurotunnel service to Calais and set our wheels down on foreign soil for the first time in a year. The crossing was very easy and although we had all the paperwork we could have been asked for (COVID certificates and French Passenger Locator Forms), the only change to previous crossings was that our passports were stamped by French immigration. We had abided as far as possible with the requirement for no meat or dairy but with living full time in the van, and as June likes cooking, we have an extensive store cupboard. So the fridge was empty but we took a risk with the stock cubes and seeds in the spice rack (never knew they would be on the banned lists but stock cubes are a meat by-product and theoretically mustard seeds can be planted); thankfully no inspection but we would have dumped them all if need be.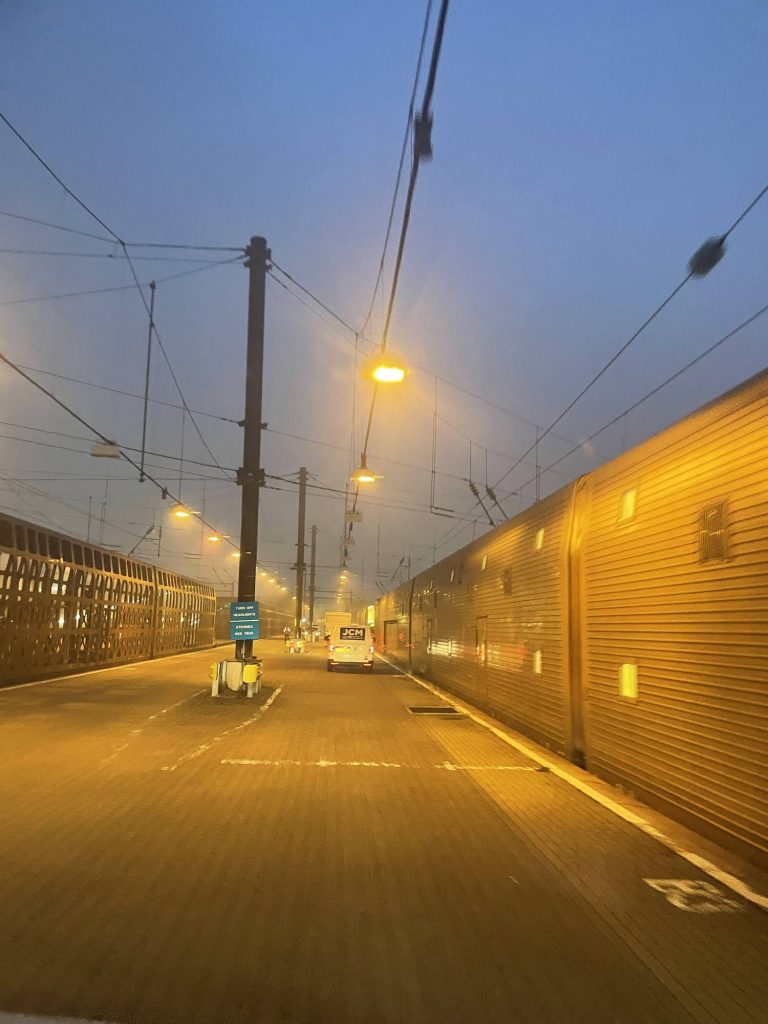 The plan is to head quickly through France, Italy and Slovenia (soon derailed when we reached Italy!) to minimise the days in the Schengen Area thereby ensuring there would be no impact on next year's travel plans. I'm sure most people are aware but for those who are not, since the beginning of 2021 when the glorious Brexit was implemented, UK passport holders, like all other non-EU citizens, are now limited to a maximum of 90 days in any 180 in the Schengen Area. This means that whilst long term travelling in Europe is not impossible, it does now require some planning to bounce in and out of the Schengen and non-Schengen countries. Hence the ultimate destination of Croatia which whilst in the EU is not in Schengen. Confused? You will be…… (really wish they'd put Soap on one of the streaming services. Sorry for the obscure reference to a 70's TV program but if you're of a certain age you'd understand!).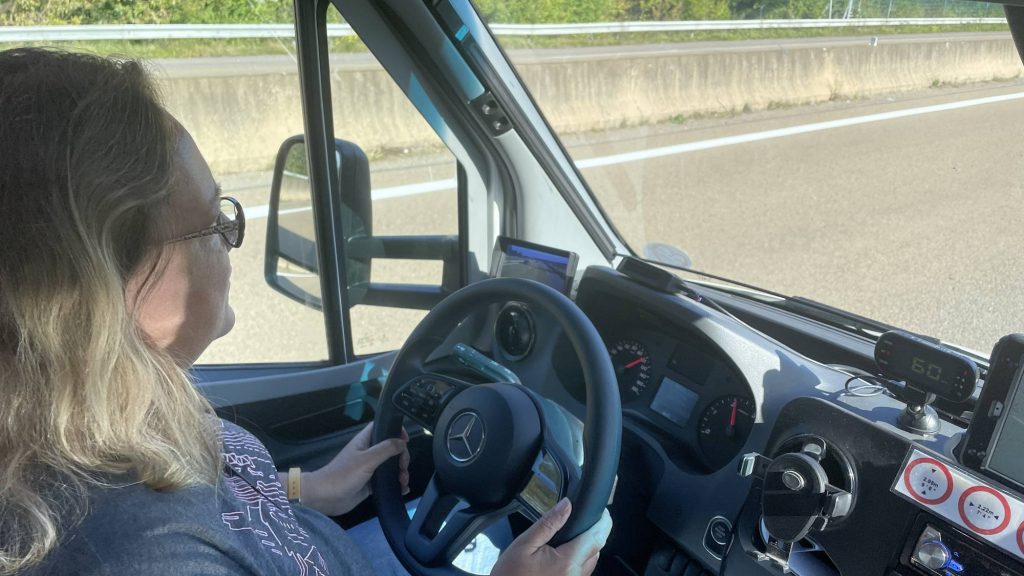 The first day in France was spent on the peage trying to cover as many miles as possible plus a supermarket stop to refill the fridge and cupboards. Although the tolls add up (€80.70 for this leg and a total of €128.30 in France and Italy on the way out), we think it's worth paying as the peage roads are usually the most direct and we've never, as yet, been caught in traffic other than once after an accident – not us I should add! Beaune apparently is a great place to stop and on a wine route but this was just a quick overnight for us in the city aire.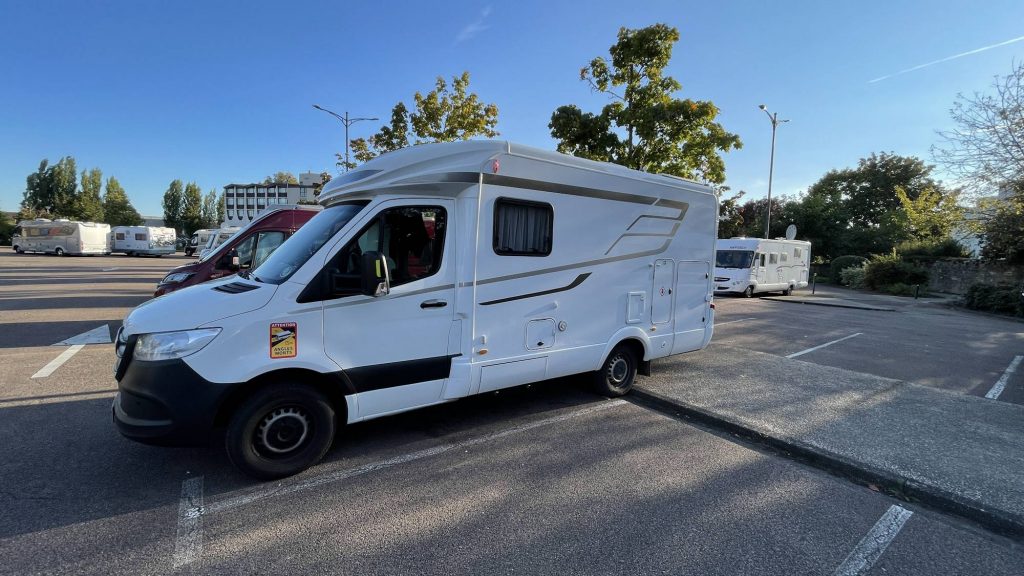 Our next night would be close to Lyon as we had to find somewhere for a PCR test to enable us to get into Italy. If we had spent a couple of weeks in France this wouldn't have been necessary but as we'd only left the UK the previous day, it was a requirement for us to enter Italy despite us both being double jabbed. Clinics offering PCR testing are widespread in France and although free to residents, we had to pay €44 each but the test was quick and the results were emailed to us within six hours. When we arrived at the campsite, the staff were really helpful in calling the clinic on our behalf to ensure we could get a test same day as well as sending us off in the right direction!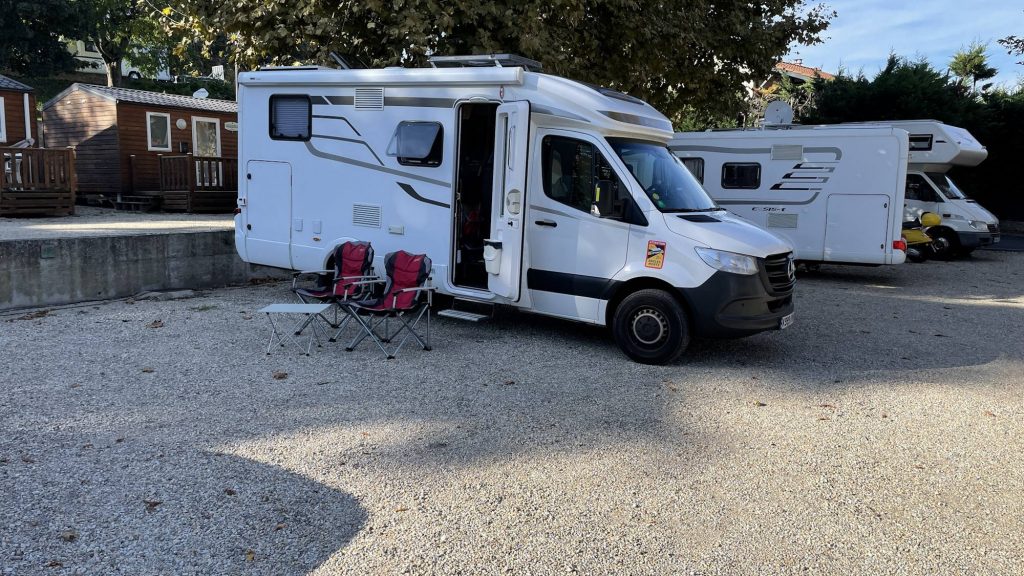 We only overnighted at Camping Barolles, but we would use it again – friendly, helpful staff, a small shop of essentials, fresh bread deliveries and a small bar plus all the usual facilities. Pitches were all of a reasonable size.
We've kept a close eye on the ever-changing requirements for travelling post-COVID and would suggest that if you are thinking of travelling you sign up to the respective country destination page on the FCO pages of the UK Government site. We've set up email alerts so we'll be notified of any changes for the countries we are potentially visiting. Another good app is "Re-open EU" where you can input your originating and destination countries and it will tell you the latest requirements. We are amazed at the number of people whose first port of call for any travel information is social media!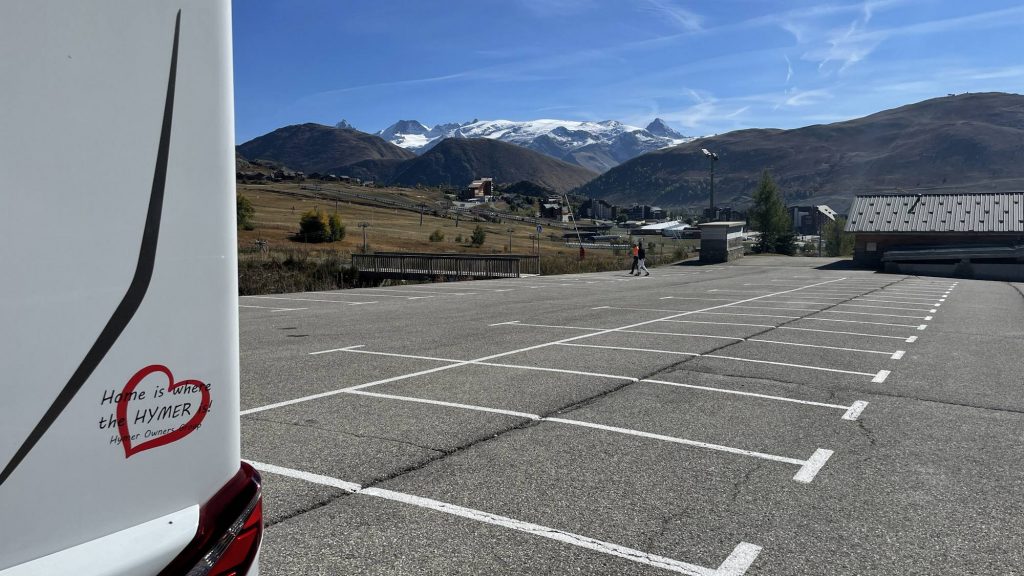 From Lyon we headed towards the Alps where just off our route June spotted the road to Alpe d'Huez, one of the iconic Tour de France climbs. Well it had to be done and 20+ hairpin bends later we were at top! All we can say is "chapeau" to anyone who cycles up there. We had thought about staying here but it was still early afternoon and being in between seasons, nothing was open (a frequent occurrence on our travels) so we decided to drive back down again and cross the border into Italy. We only had a 48 hour window from having the negative PCR test to reach Italy so we would have gone the next morning anyway.
Armed with our test results we reached the border where they didn't even give us a second look, let alone ask for any documentation! A bit miffed as it seemed that we had wasted €88 but best to be on the safe side and have everything in order.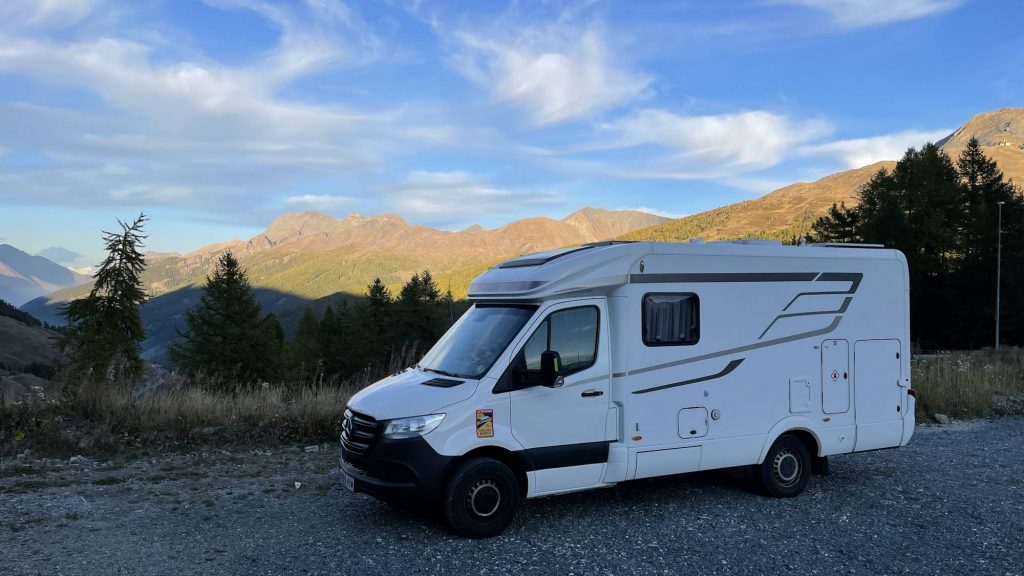 Like Alpe d'Huez, the ski resort at Sestriere was mostly closed and a lot of building was going on in preparation for the forthcoming season, but the sosta was open so we overnighted there. Not the most glamorous of places but we were just sleeping there and we had a beautiful view out of the window to the valley the following morning.
After three countries in as many days we were looking forward to a couple of days catching up with ourselves in the Italian lakes and found a free sosta on Lago d'Idro, a small lake to the west of Lake Garda. The sosta is at the northern end of the lake near the town of Baitoni and was a great find as there was so much to do and see. We walked around part of the lake and the valley sides, sat watching the kite-surfers and found hides in the small nature reserve from where to watch the local birdlife. The field next to the car park is a landing site for paragliders and morning and evening we had parachutes overhead on their way to landing.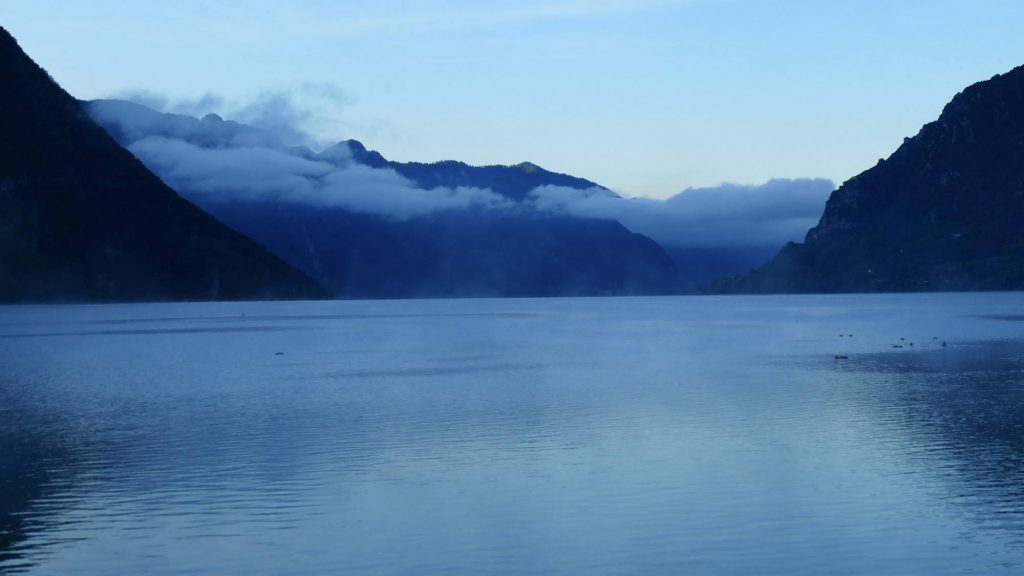 Away from the lake, there are multiple footpaths up into the mountains where there are many monuments and dedications to those who fought in World War 1 – the area is full of history as it had been part of the border between Italy and the Austro-Hungarian empire.
[sgpx gpx="/wp-content/uploads/gpx/A_Castle_and_more._.gpx"]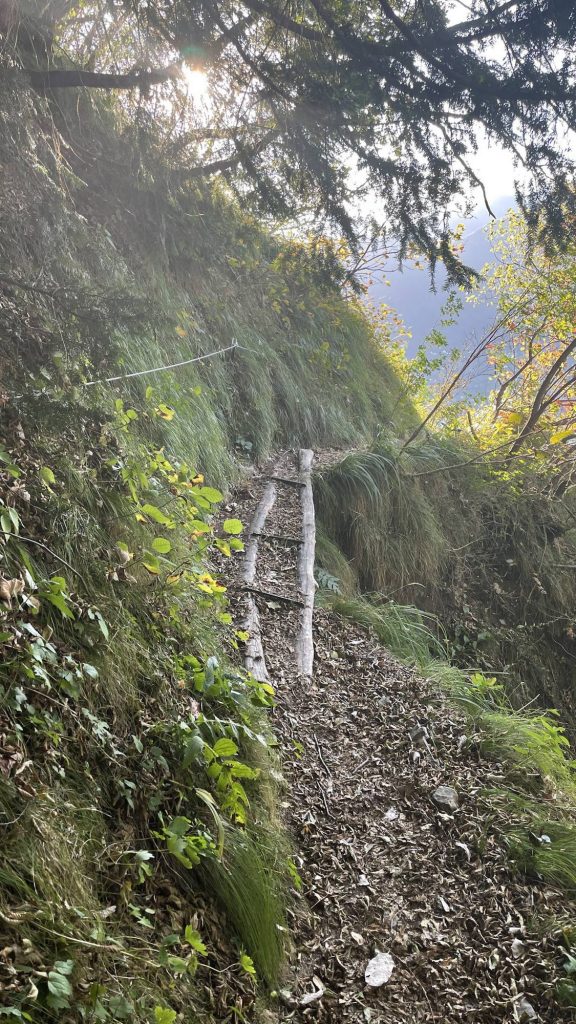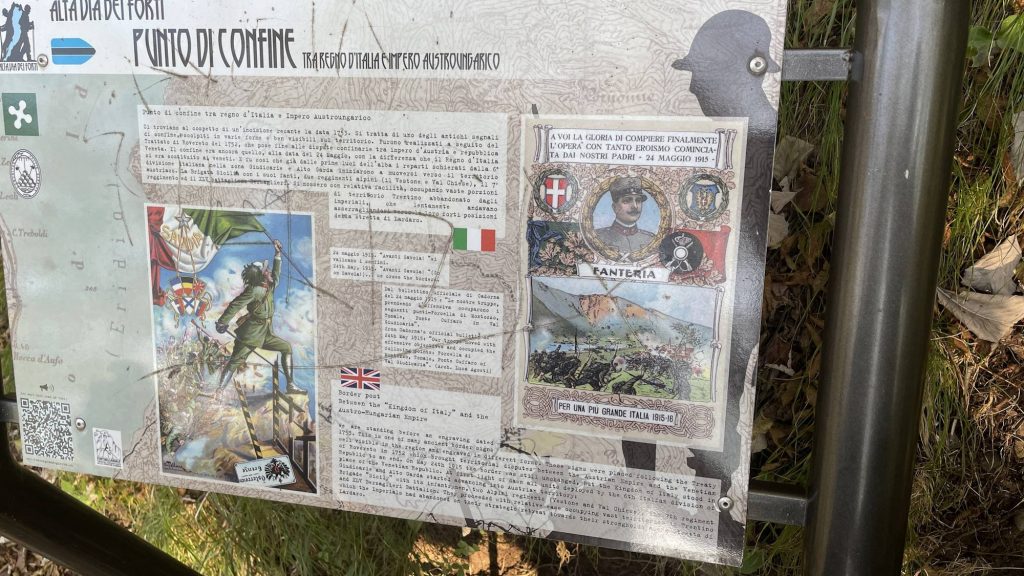 We had originally planned just a couple of nights but after four nights we pulled ourselves away and moved a little further north to the village of Castelfondo. After a steep uphill climb through the narrow streets of the village, we spent a couple of nights in the sosta there from where we have stunning views over the valley which eventually runs through to Lake Garda. The area is very agricultural and the main crop seemed to be Delicious Apples – both red and golden. We really didn't know that Italy grew so many apples!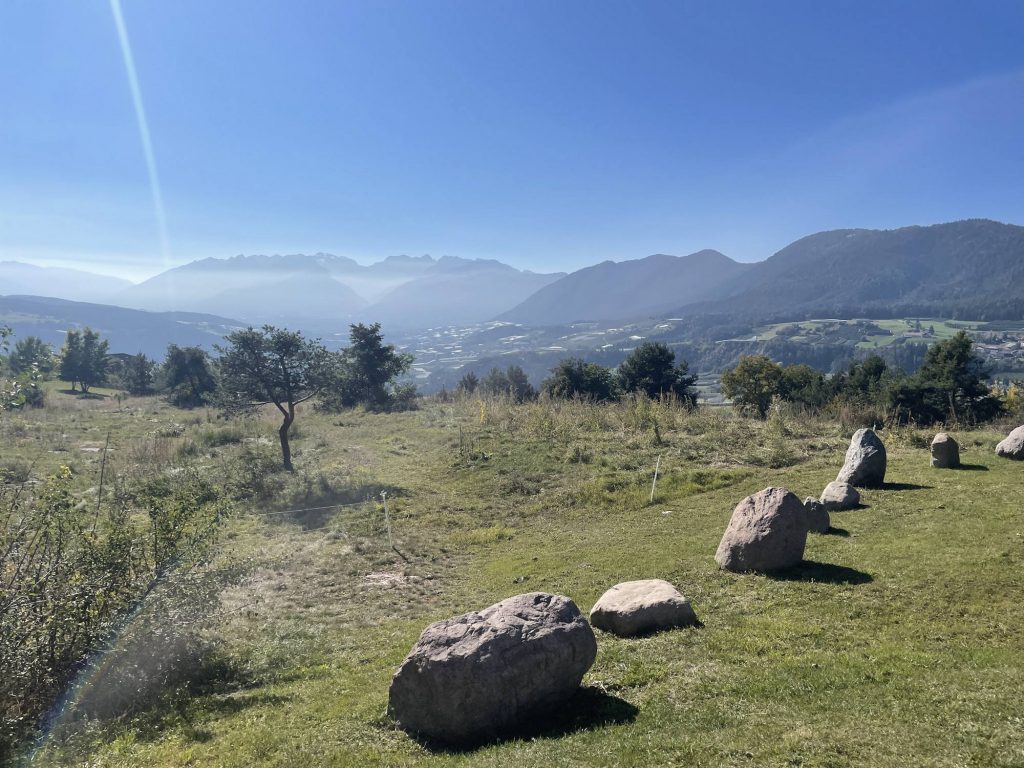 Our main destination in Italy was the Dolomites where we wanted to do the one walk we had been unable to do on our 2018 trip. We also completed a couple of the mountain passes that we had only done from one side previously as the summits had been closed due to snow. Firstly though we needed to replenish food supplies so went to the city of Bolzano. We don't know what it is with the South-Tyrol region of Italy but none of the supermarkets has a decent sized carpark so after trying a few shops, we headed straight out of the city and it took another couple of days before we found a place to shop. That was at Euro Spin just south of Cortina if interested!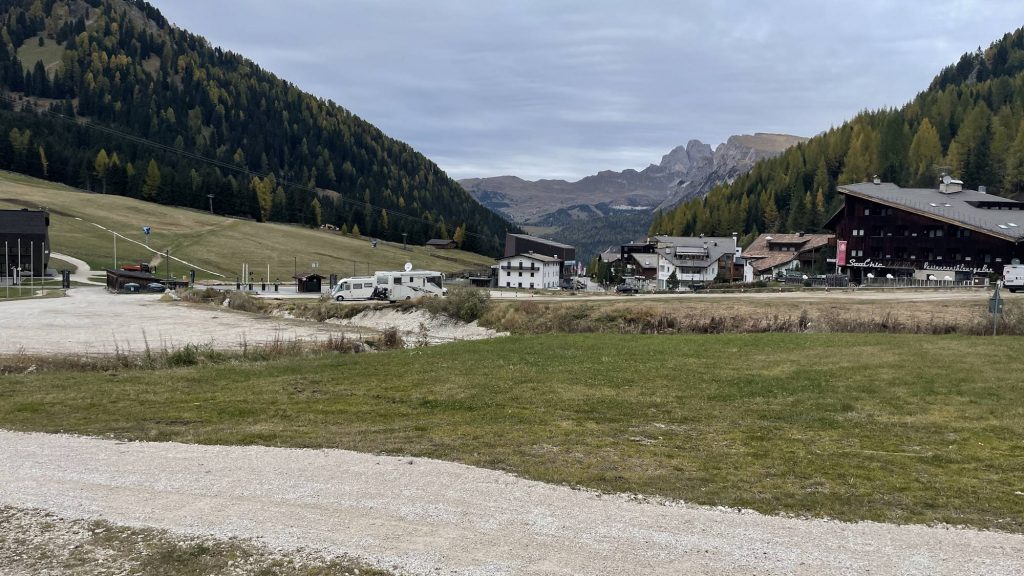 We had one night near Val Gardena in another ski resort car park and then the next in the Valle di Cadore, at a free sosta before going to Misurina to be able to do the walk around Tre Cime which was on Bob's to do list. We used the sosta at Misurina but had been unable to get the water we needed as the tap was broken (still had to pay €20 for the night!) but fortunately there was a tap in the town which we could use. Having to use this tap led to chance meeting with a fellow motorhomer who had been on the road for two years, leaving from his home country of China! He and his friend were travelling and cycling and had visited a number of countries on our wish list although for some of them his passport made visiting a lot easier than ours.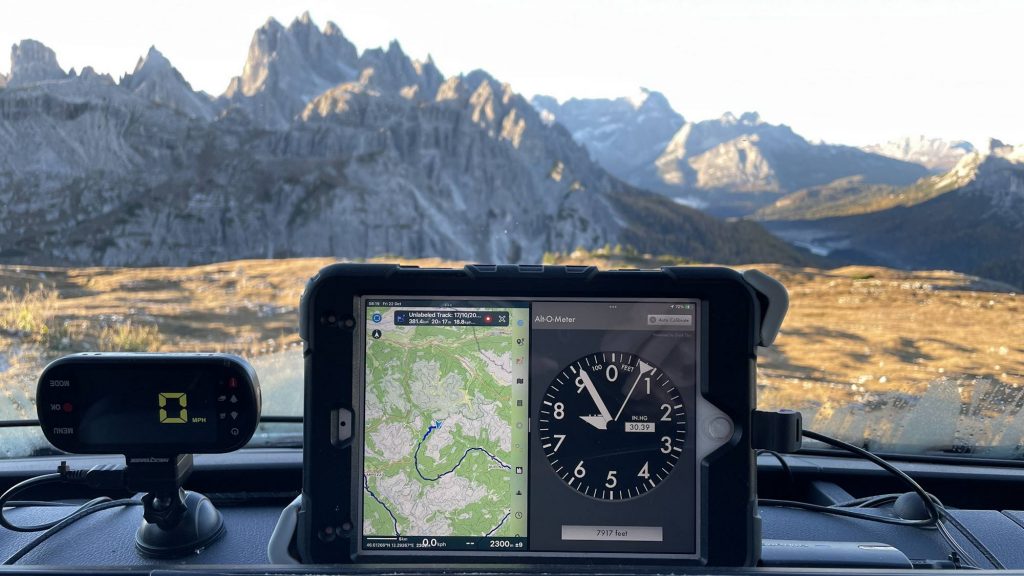 We were up at the crack of dawn the following morning to head up to the car park at the base of the famous Tre Cime peaks. Throughout the summer there is a toll to use the road but the ability to pay and park for up to a day and a half meaning you could spend the night there. We had just missed the cut-off for that so whilst we didn't have to pay the toll, the car park ticket was only valid from 8am until 2am the following morning so if you wanted to spend the night, you had to buy a two day ticket at the cost of €45 PER DAY!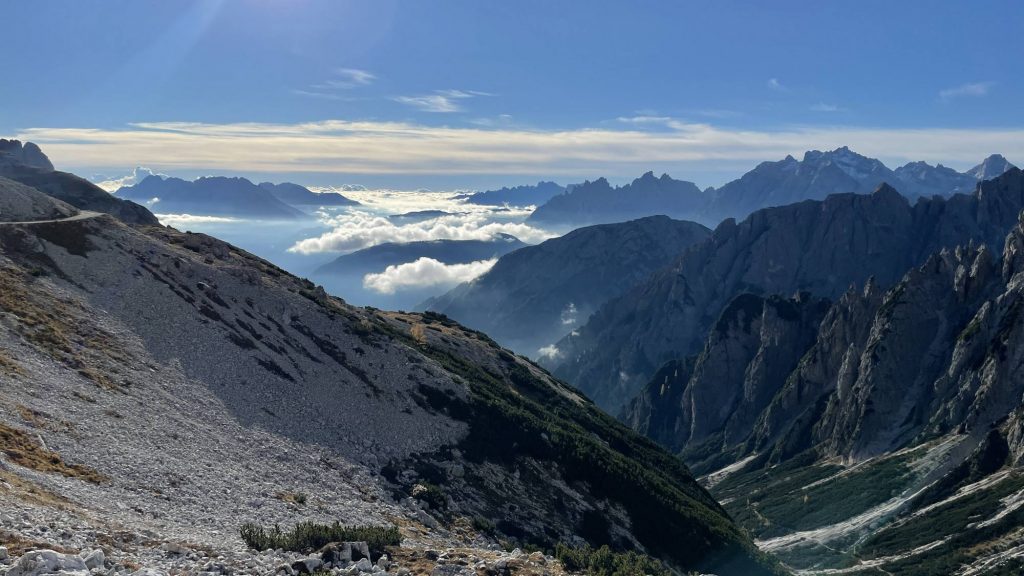 We opted for the one-day ticket but it was worth every penny. There are various walks around the formation, all clearly marked and we opted for one just short of seven miles taking us in a wide loop around the base of the peaks. The weather was on our side and we ran out of superlatives – it was all we'd hoped for.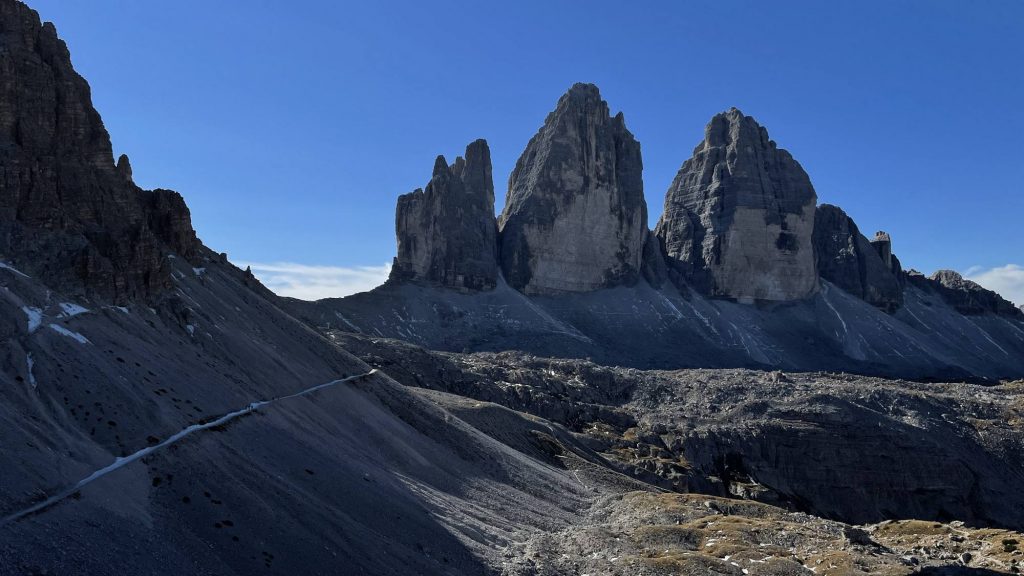 [sgpx gpx="/wp-content/uploads/gpx/Tre_Cime_.gpx"]
When we initially planned this trip, we'd thought maybe a week to get to this point…. Well having left home almost two weeks ago and having cut France to two overnight stays, we really had to move on to our next stop – Slovenia, but that's for the next post!
Sites used:
Charles de Gaulle Aire Park, Beaune: €6.90 for 24 hours, €4.20 for access to WC emptying point. EHU and water available at additional costs. Large car park close to town.
Camping Barolles, Saint Genis Laval, France: €20.94 p/n plus EHU at additional cost. Small tiered, hard standing. Bus service from outside into Lyon.
Sestriere ski resort motorhome car park: barrier was open when we stayed so probably charges in summer/ski season. Some EHU points, water and dumping facilities.
Lago D'Idro motorhome park, near Baitoni, Italy: free parking. Water and dumping facilities a short walk away.
Castelfondo motorhome park, Italy: €15 p/n. Water and EHU on each pitch. Service point available for dumping grey and black water.
Val Gadena: barrier was open when we stayed but charges applicable in season. No facilities. Sloping car park.
Valle de Cadore sosta: free. Water and dumping facilities.
Misurina camper sosta, Italy: €20 p/n. Water and dumping facilities (water not working when we visited).
Lago d'Antorno, Italy: free. A rutted, muddy area where motorhomes pitch up for an overnight stay.