A little later than we originally anticipated having been waylaid in Italy, we finally crossed into Croatia today. The country had been on our list for a while but since the implementation of Brexit it has become a destination for Brits managing their Schengen allowance because although Croatia is an EU country (yippee – UK phone package works here!) it is outside the Schengen area so doesn't count towards the 90 day limit. At the moment it is necessary to get your passport physically stamped for proof of entry in/out of Schengen so we opted to enter via one of the main crossings near to the coast.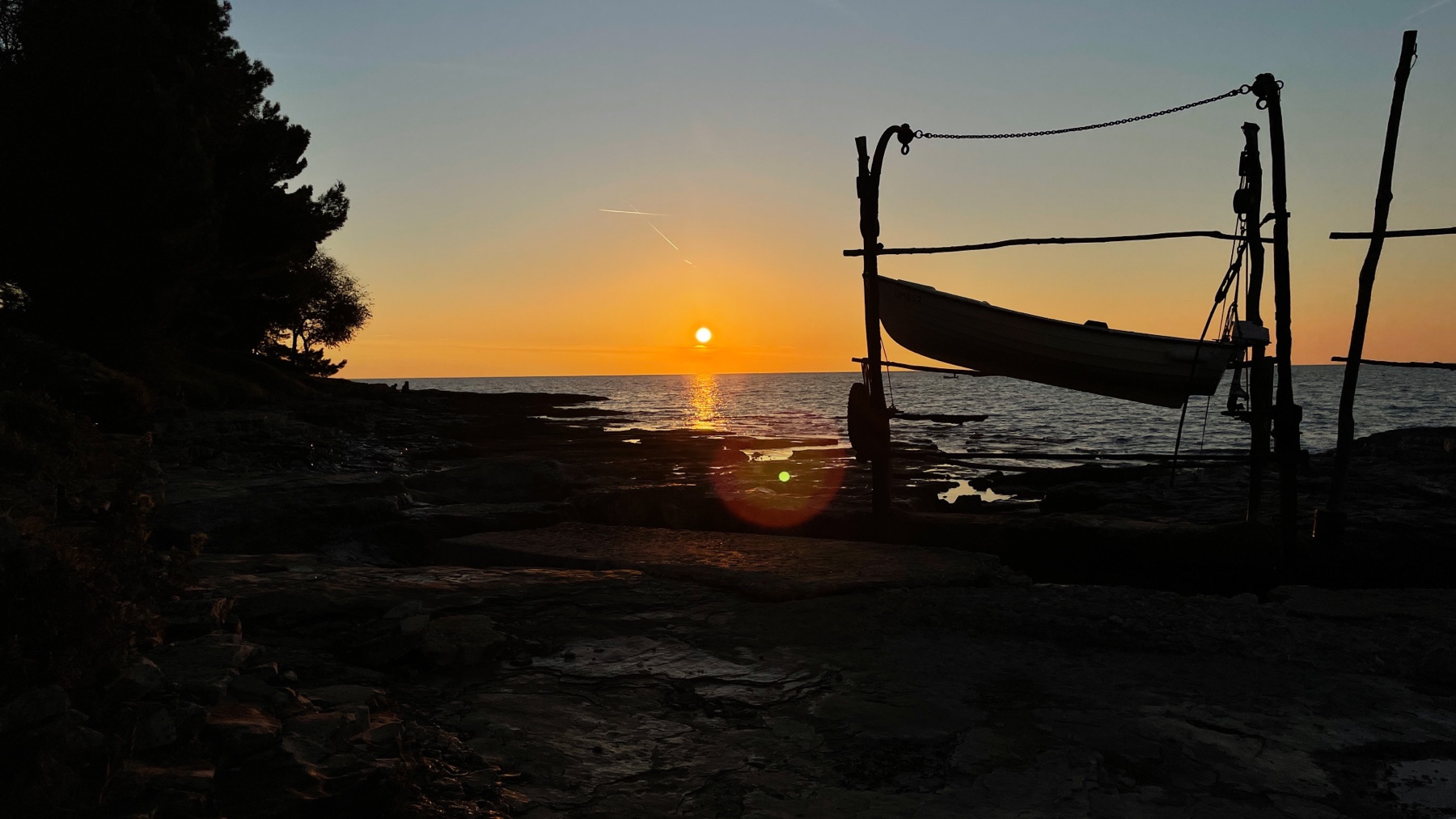 With passports stamped and no further questions asked we headed to our first Croatian campsite for a few days of relaxing by the beach, getting the washing done and planning where we were going to go over the next six weeks or so. One of the major issues facing us was finding campsites that were open – the coast is strewn with beachside sites but most are closed. The Lighthouse Campsite was a little gem and busy because we arrived on a Thursday to stay the weekend. Despite the site being full, it didn't feel overcrowded as even the small pitches had plenty of space, and for the washing to dry too! The facilities were clean and modern (free rapid dishwasher if you're fed up with dong the dishes!) and the staff very helpful and friendly. Other than a few chores, we spent our time walking along the coast and admiring the sunsets. We may have had #justttheone at local beach bar Levante to admire the view – would have been rude not to!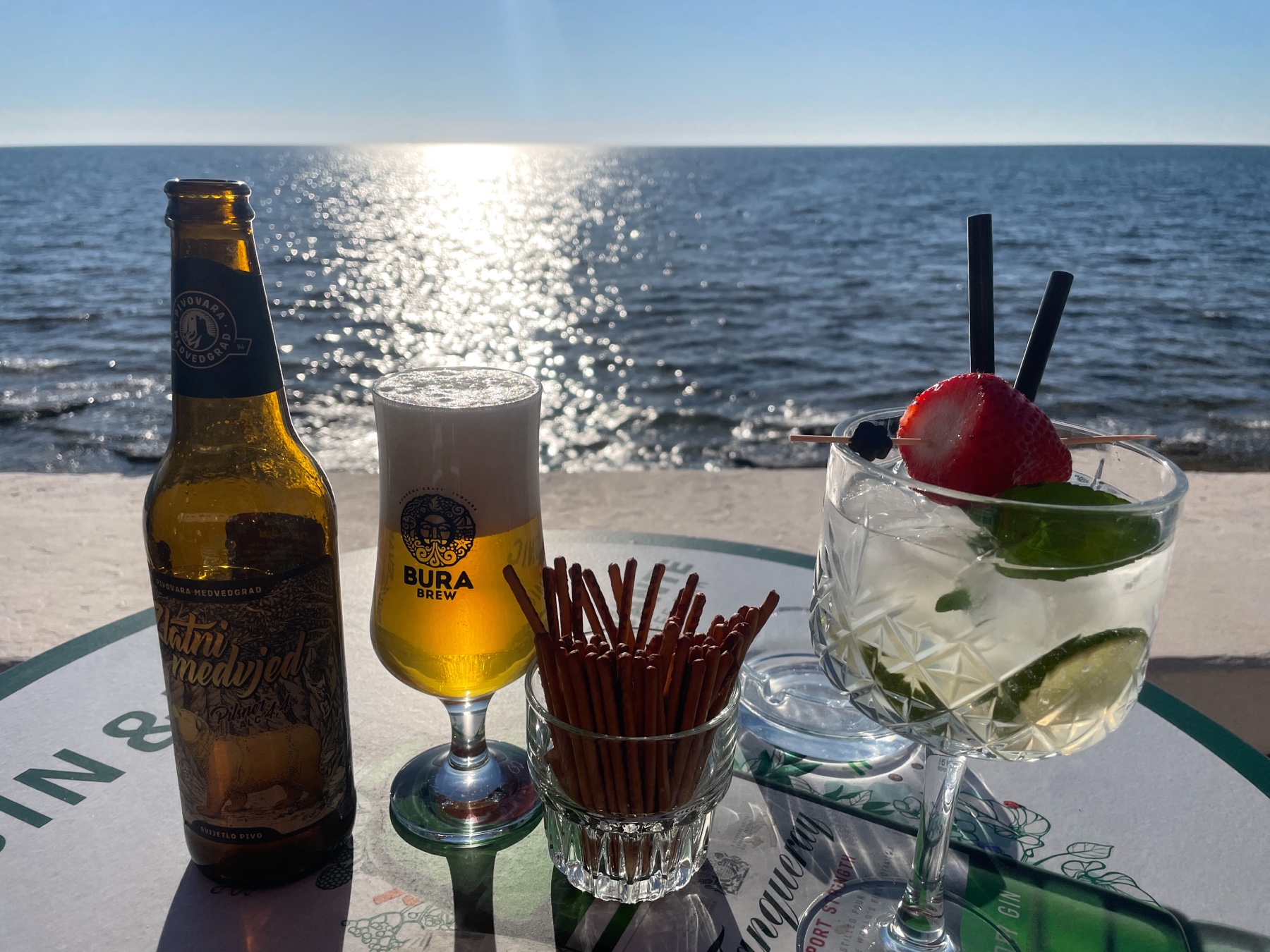 We headed south down the coast road through towns which I imagine in the summer are overrun with tourists. Our first stop was Porec for a wander around the old town to visit the Basilica of Euphrasius, which being a Sunday was closed! We were still able to see some of the buildings which date from the sixth century.
There is a large car park about 15 minutes walk from the port in Porec which has a section for motorhomes. The barrier was up when we arrived (still the bank holiday) but it is possible to stay overnight there although there are no facilities.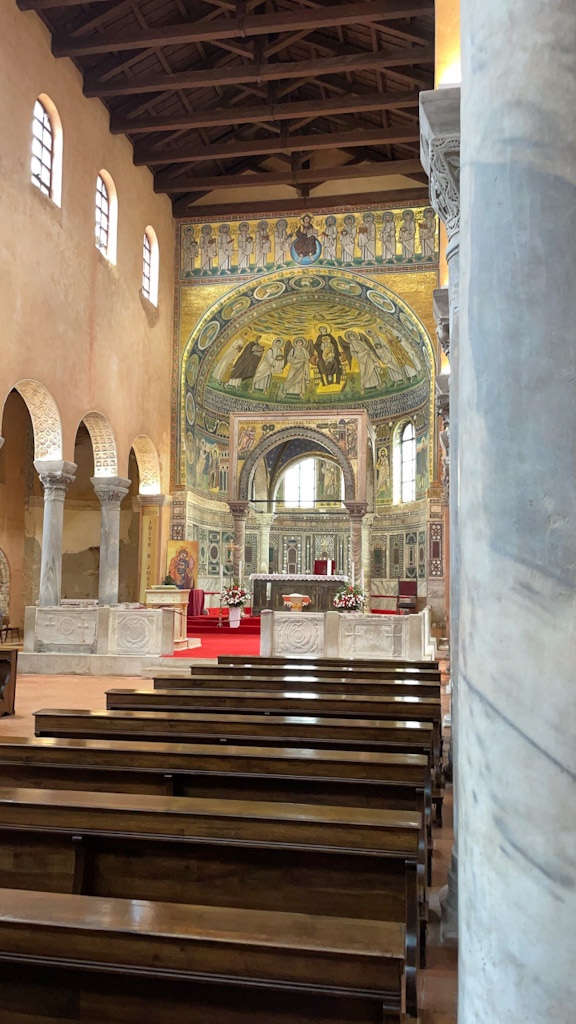 With so much closed we moved on to our next stop, Pula. With no campsites open, we looked at Park4night for any motorhome parking spots and having checked out a couple of them we opted for a large car park between the station and the port, where several other vans were already parked up – safety in numbers! There were several reviews saying that people had been fined if they didn't have the right parking ticket and the options to pay were either by coin at the machine or via an app. Not having any local coin we downloaded the app and completed a test payment but it wouldn't let us buy a 24 hour ticket. OK, we thought, it's Sunday so maybe it's free so we set our alarm for 7am the next morning when parking restrictions appeared to come into force. But….we still couldn't buy a ticket for that day and it would only give us an option for the next day. Then we twigged – it was All Saints Day, a bank holiday in most of Europe and we didn't need to pay at all or so we hoped!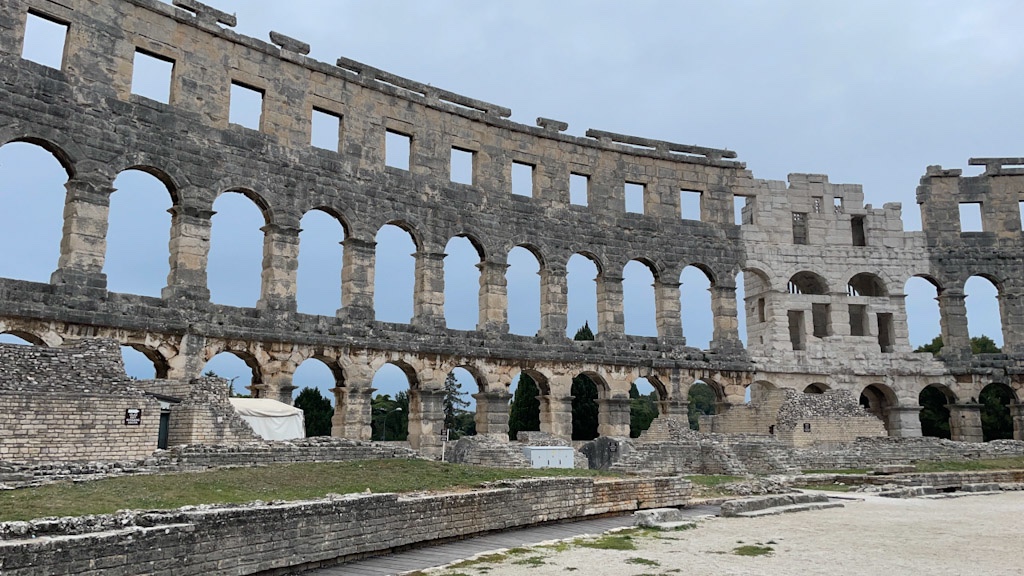 Our reason for visiting Pula was to go to the amphitheatre, a remarkably intact Roman construction built in the first century BC. We arrived as they opened at 9am and had the place to ourselves! Entry fee was kn70 per person, approx £8.
The museum under the arena provides some history of wine making and olive oil production in the region, two industries still ongoing today.
Sites used
Lighthouse Campsite, Savudrija: kn177 p/n (approx £20). Hardstanding with EHU. Showers and toilets available plus laundry at additional cost.
Pula: Large car park next to harbour and close to the Arena, no facilities