It's easy to split the Romania blog into two parts – before and after the mud incident! We'll start with the former and the latter will follow in a couple of weeks once we've moved on to our next country.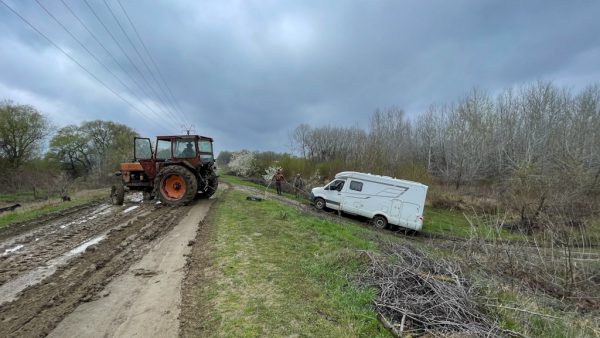 Before entering Romania we bought an online vignette (www.roviniete.or and there is an option to select the site in English) which cost Lei157.39, just over £28 for 30 days. We then renewed for a further seven days for Lei79.18, about £14 after receiving an email a week before our first vignette expired.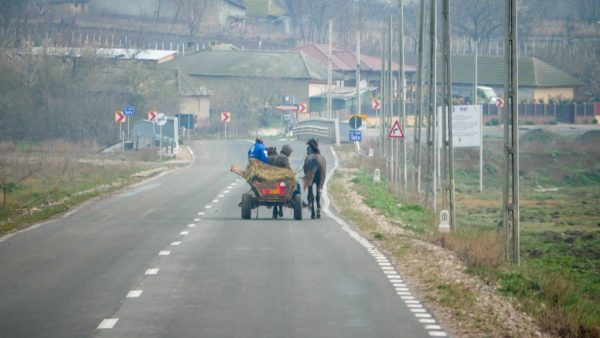 We entered Romania on a grey, wet day and drove through extensive flat agricultural land which in places looked unchanged from centuries ago – we saw so many horse and carts on the road!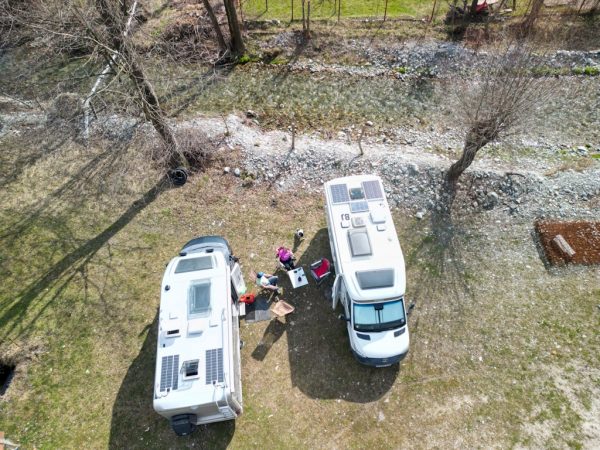 We were on a mission to reach Bran where we were meeting up with Ali and Martin (aka The Triggols), fellow travellers and also Hymer owners. The sun had finally come out and we had a couple of glorious days exploring the famous Bran Castle (admission Lei55 each) and the surrounding countryside.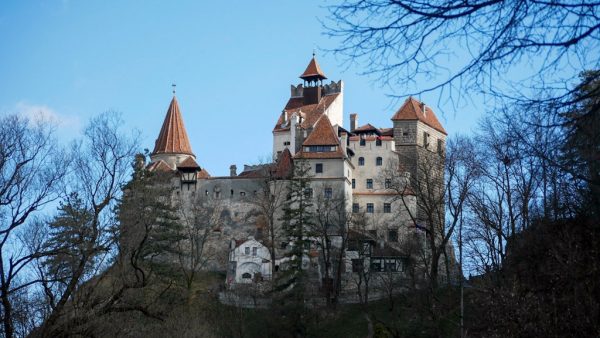 If visiting the castle, which tenuously has links with Dracula, we would advise avoiding the weekends – even out of season we could see the long queues on the Saturday (we had been the previous day). Whilst some of the rooms display local myths and legends, one floor has been restored to show artefacts from the actual history of the castle and overall is worth a visit.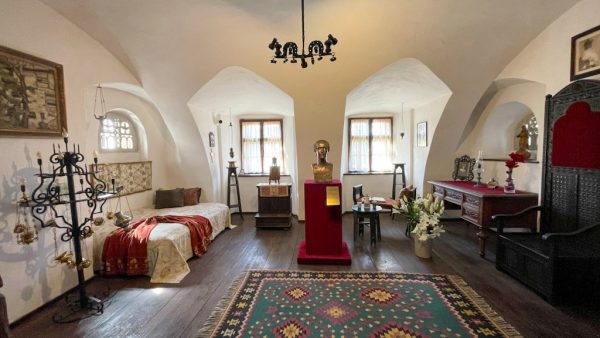 We also had our introduction to the sweet delicacies of langos and kurtos – hate to think of the calorie count but nonetheless, delicious!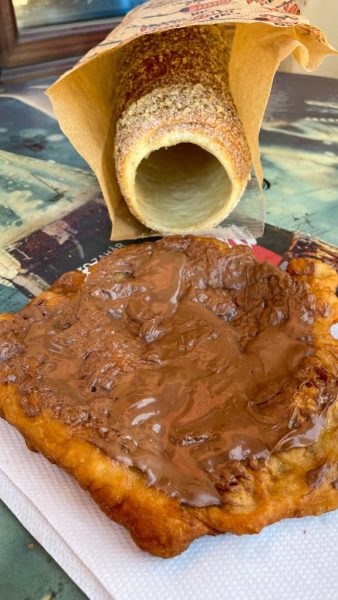 With the need for a washing machine starting to nag, we headed to a campsite in Harman, the former Saxon town Honigberg. The campsite is in the vicarage garden of the Harman Fortified Church. Within the walls is the Church of St Nikolaus which dates back to 1240 and houses "women's benches" in place of pews from 1753 when ladies' stiff clothing didn't allow them to lean back!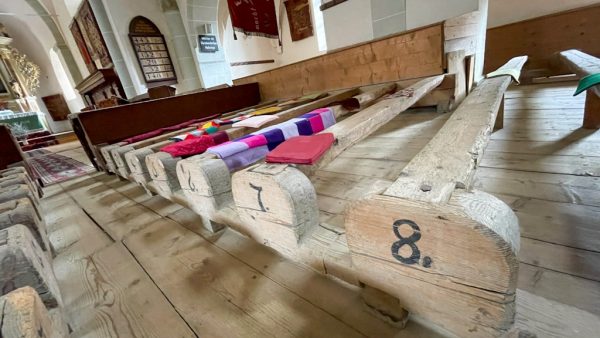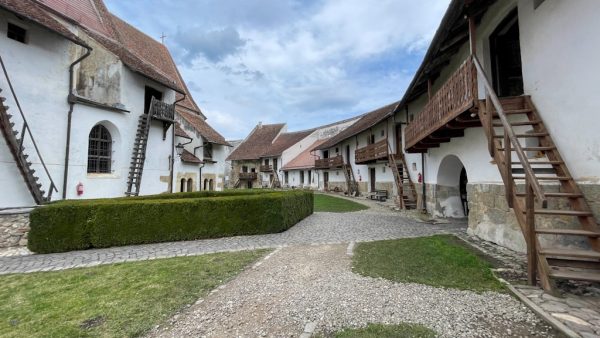 After three peaceful days by the church it was back to nature and this time, mud volcanoes…yes they are a thing. The mud mixes with gases and rises from about 3km below the Earth's surface to erupt and form cones or large burping pools of muddy water. There are two areas of these volcanoes close to the campsite and we visited both. We found the smaller area to be the better of the two – there is more going on there and not so many school parties. Each area cost Lei4 per person to enter.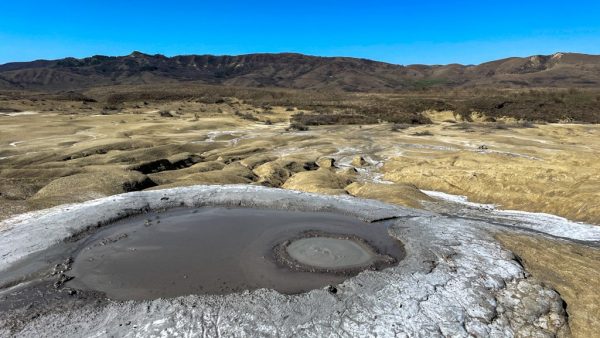 Our next destination was to prove an expensive one! We drove to the Danube Delta, a large area of wetlands with a large migratory bird population. Having walked the dry mud road first, we parked up on the bank of the Danube looking forward to a couple of days watching the comings and goings on the river.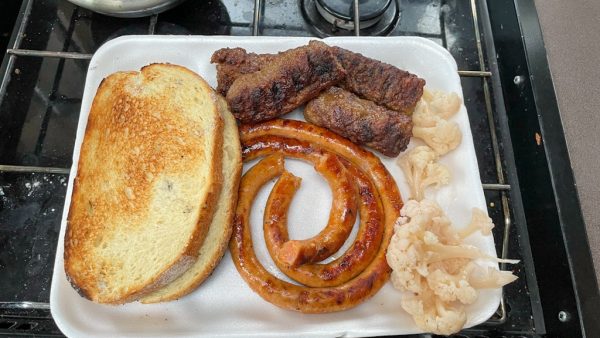 We had a visitor in the form of Kate (Overlanding Solo on Instagram) who we had previously met in Turkey and spent a few hours chatting to a couple of local fishermen who shared their food and wine with us. All seemed well in the world but then it began to rain….and it continued to rain.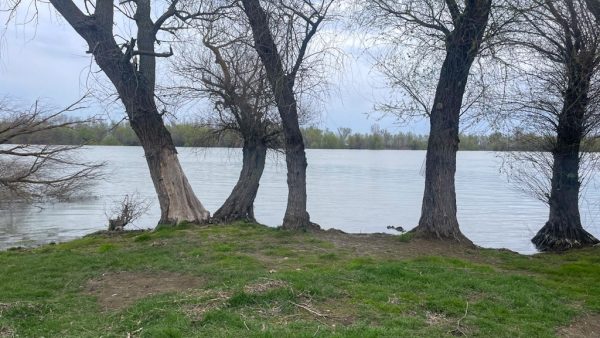 We had been watching the river and the water level was fine but we had come down a steep slope off the road to get here. The weather forecast had changed to show rain for the next few days so we decided to move on after one night. Just had to get back to the road and after 4 hours we did, being towed behind a tractor driven by a local farmer. It was lucky that we'd seen Kate the day before as she'd been on a boat trip so put us in touch with her tour guide who contacted a friend in the area who found us the farmer. No matter the situation, it seems there is always someone who will help. We saw no birds.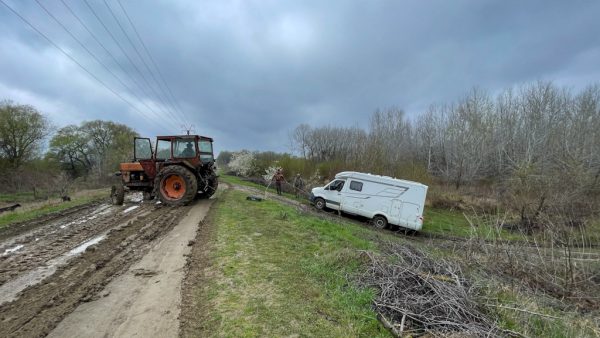 The whole sorry episode is played out in our "Stuck in the Mud" video on YouTube and the upshot was we needed the clutch looking at so we drove to the closest Mercedes truck shop which was a couple of hours away in Galati.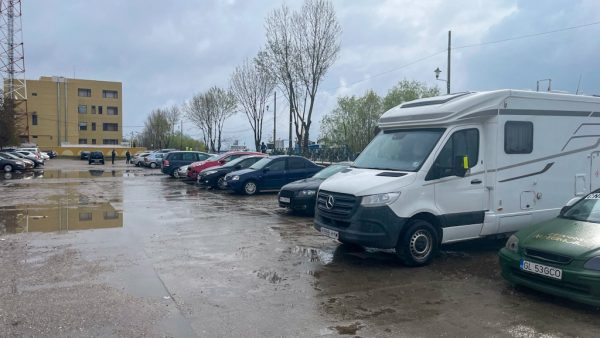 We ended up needing a new clutch, flywheel and bearing and luckily for us, they were able to fit us in within two days. We were in a free car park down by the Danube (couldn't get away from it!) and had a launderette a short walk away, so a couple of days' wait was not a problem.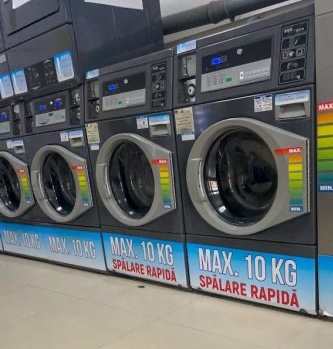 With the clutch sorted we headed north only to wake up the next morning with a rapidly deflating rear tyre. Fortunately tyre shops are everywhere in Romania and once we found one with a jack big enough to lift us, it was a 20 minute repair job after removing a piece of metal which was embedded between the treads.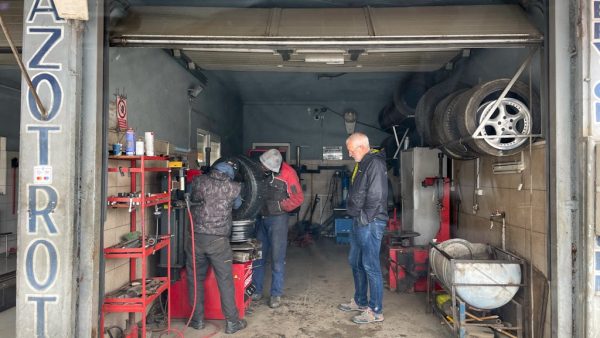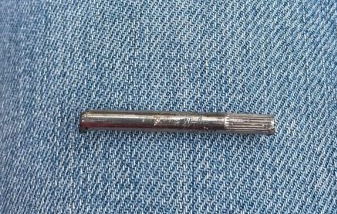 Having also broken the toilet flush handle (and in the absence of a Thetford dealer in the immediate vicinity, mended with an improvised spindle cut down from a 9mm knitting needle) during this time, we needed a change of scenery so it was back to the mountains for us. More of that next time when we visit the beautiful painted Bucovina Monasteries.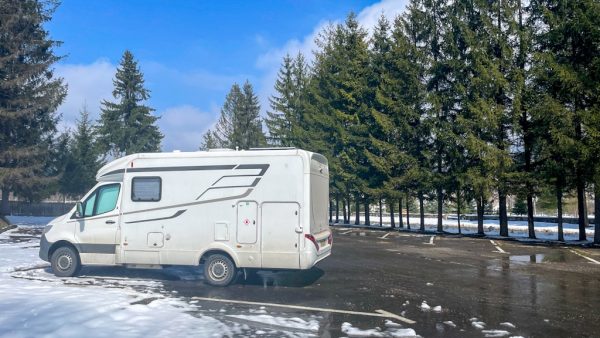 Campsites used:
Camping Honigberg, Harman: EUR15 p/n for 2 people and a motorhome without EHU (EUR3 extra). The campsite is within the walled garden of an old vicarage and parking is on grass. Standard water and WC facilities are available plus a washing machine at EUR2 per wash. Immaculate shower/toilet block – so much so that we used it rather than our onboard shower, which is a first since COVID. The fortified church is just across the road and there are shops close by. In fact we liked this campsite so much we came back!
Muddy Camping: Lei60 p/n (approx £11) without EHU. Clean water and black dump on site. All grass. Didn't use any other facilities. Ongoing building work re toilets and showers. Great onsite restaurant offering traditional home cooking. Easy walking distance of two mud volcano sites.
Other overnight parking:
Snagov: free overnight spot next to a small football stadium. Quiet and flat – great for one night. No facilities.
Bran: parking is currently on the land of a house owner just outside the centre of Bran, who is in the process of building a small campsite. Currently just fresh water available and he is only asking for donations to the new facilities. Really friendly owner who can advise on walking in the local area. Short walk to the town and Bran Castle.
Near Garliciu: after a long day driving we tried a few places before settling here for the night. It's nothing other than a pull off from the road and grassy (potentially muddy) but OK for the night. No facilities.
Danube Delta: one of several grassy areas used by fishermen right on the banks of the Danube and just across from the nature reserve. You are supposed to buy a permit to stay overnight – there are no signs but one of the fishermen gave us the website so we bought one each online for Lei5, less than £1. Access is via a mud track with steep banks down to the parking areas – great when it's dry but in the wet, the mud turns very quickly to clay making driving out very difficult. In our case, a tractor was required to pull us out of the quagmire, up the slope and back along the track until we hit the tarmac.
Galati: Free riverside car park by the border force building. Flat and hard standing but no facilities. Easy walk into town. The road is busy but does quieten down a little at night.
Bacau: roadside park up next to the old stadium. No facilities but OK for one night to break up a long journey. A busy road which did calm down a little overnight.
Blog: www.bobandjune.com
YouTube: https://youtube.com/user/bobclewley
Polar Steps: https://www.polarsteps.com/ClewleysOnTour/5755379-the-balkans-and-beyond?s=0A28668E-486F-4DEF-