There are, obviously, so many vehicle options for this kind of trip. We decided to go with a new Hymer MLT560.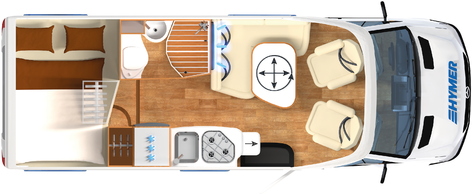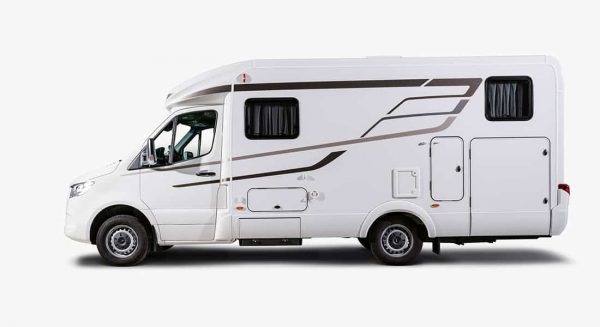 Previously having owned 2 other Hymers one on a Fiat base and the more recent was a Starline on a Mercedes chassis. That set our mind that if we ever bought a new one it would be on a Merc. You see Mercedes all around the world and I guess that means there must be mechanics that can work on them everywhere too.
The MLT560 we bought from Becks Motorhomes in Norfolk was an ideal layout for the two of us. Becks weren't our nearest Hymer dealer but, and it is a very big but, they are a family run company with a second to none reputation. We met them at the NEC Motorhome show and instantly felt a trust. It was only after this we found out how good they were. Sadly they have now ceased trading.
The van has a large garage at the rear and very comfortable living area it works a treat. The garage allows us to lock everything up for shipping as it has separate keys from the living area. It also is big enough for both of our full size fold up Dalton bikes. This leaves us with a clean van with no bolt on bike racks or ladders for people to interfere with.
One of our minor concerns was the overhang at the rear of the van. This could be a bit of a problem getting on and off smaller ferries as we move to South America. Simple solution, after a bit of research, was to have some adjustable rear air suspension fitted.
Base Vehicle
The donor vehicle for our MLT is a 2019 Mercedes Sprinter. These are really reliable vehicles and can be found all around the world.
Following a post on social media I was contacted by Jason who is the Group Parts Manager at Intercounty Truck and Van, a Mercedes Dealership in Peterborough.
Jason and his team have been a great source of information.
Bearing in mind some parts will not be held as a matter of course at Mercedes dealerships in the US and Canada Jason helped put together a spares list that we should take with us. He also ran through setting my vehicle up on Mercedes Me, an online portal.
When you consider I didn't even buy the vehicle from Intercounty I really couldn't get better customer service. It is very reassuring that I have a 'contact' back in the UK should i need spares shipping out.
Latest Additions
Separating Toilet.
We have recently changed our Thetford Cassette system for a Simploo separating toilet and have had a few ask how it is going so I thought a little update was due.
We live full time and, some will know, spend as much time as we can away from campsites, this was highlighted on our last 8-month trip to Europe and Turkiye.
Following quite a bit of research we went for the Simploo Mini. Simploo are a UK company based in Datchet near Windsor. The footprint fitted in our toilet / shower room, it had clean lines, was cost effective and had manual flap to the solids (some you must sit down to open).
The urine container holds 9 litres while the solid container holds 19 litres, we line our solid container with a 35-litre bag. Toilet paper goes in with the solids.
It has a fan that runs permanently drawing very little current. This can be switched off if required. We haven't needed to as it is very very quiet. From the fan the air is pushed to a carbon filter, however, using an adapter we connected it to the SOG vent we had previously fitted which vents through the roof.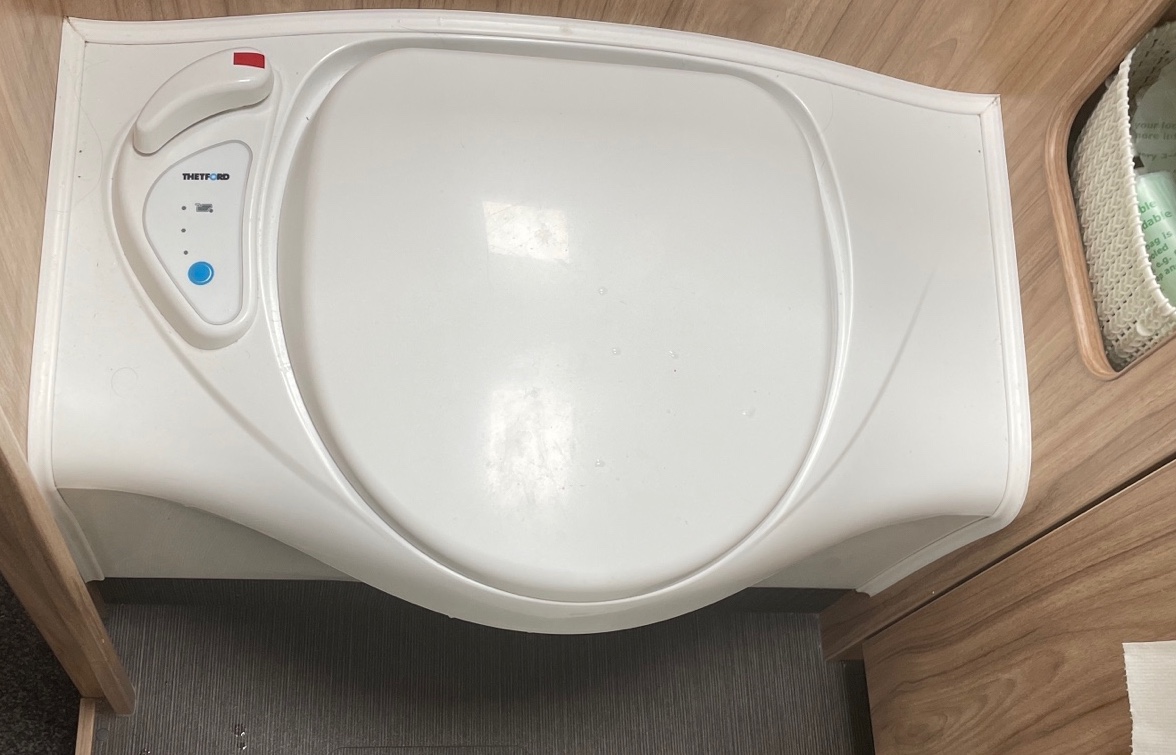 The most difficult part of the fitting was the removal of the Thetford. The fitting of the new loo was very easy. It screws down to the floor although it can be fixed to a shower floor using a sucker system.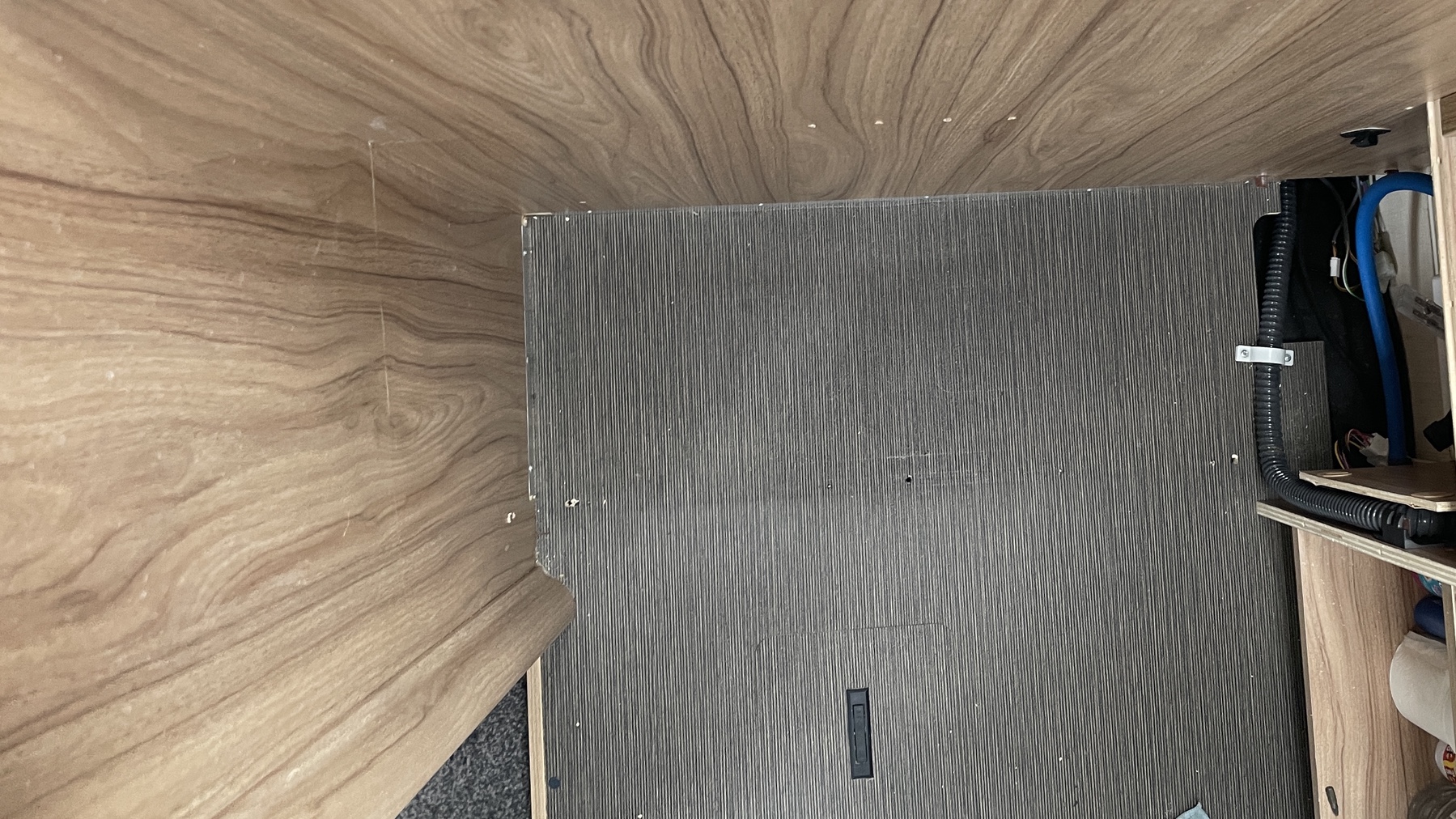 A few weeks down the line we both love it. The 'use' is quite natural.
Smell? Quite simply there isn't any. As I understand from research most of the smell is caused when solids and urine mix…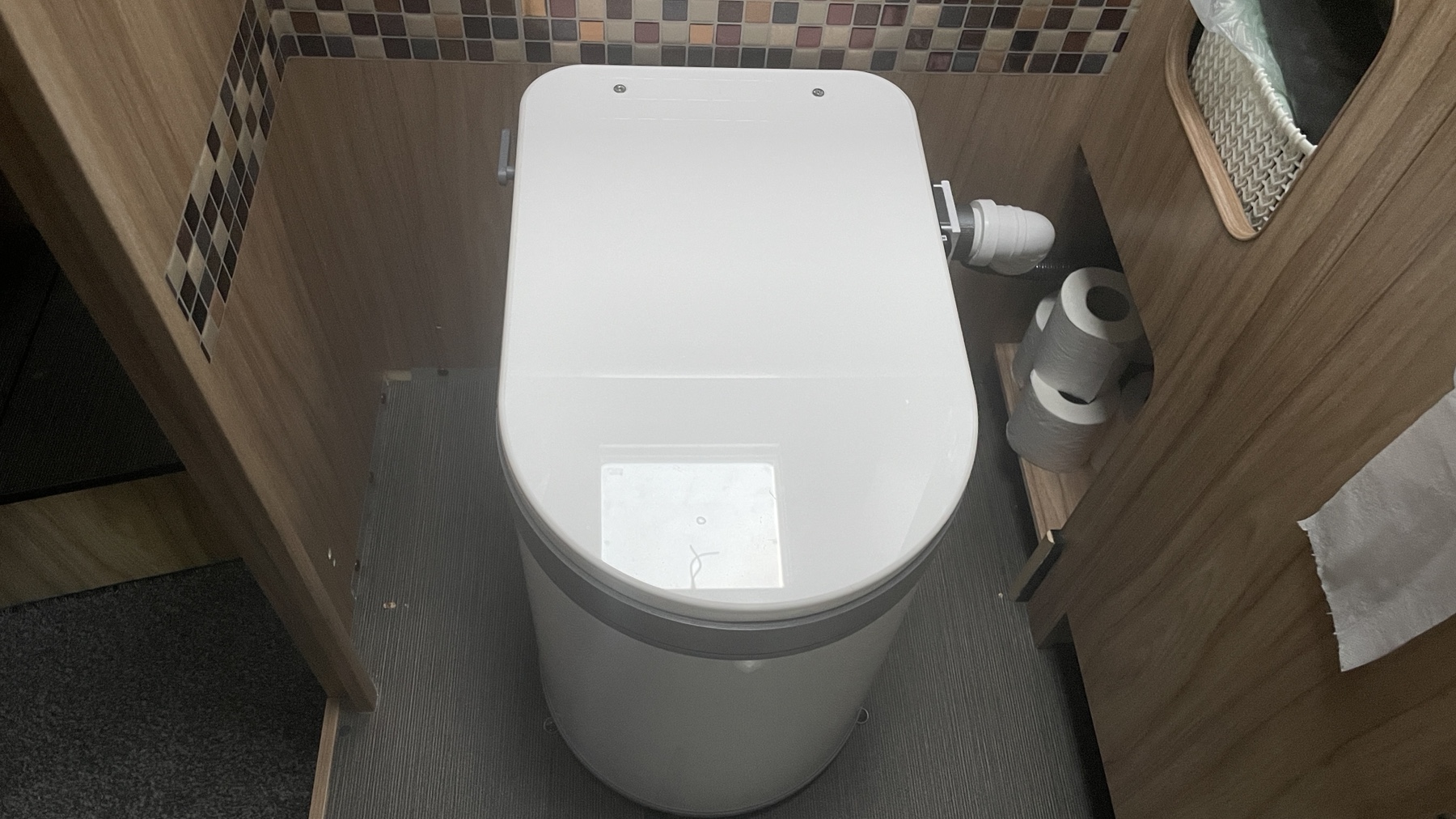 The urine container can be disposed of, away from a water course, into the hedgerow while the solids are double bagged and placed into a bin where you would dispose of used nappies, and other sanitary products. We are thoughtful with this and would never use a bin that is over flowing etc.
For those that mainly use campsites this change probably isn't needed however I am aware a lot 'wild camp' for the want of a better phrase
Headlamp Protection
For some of the roads we will be driving along I felt the headlamps needed a bit of protection.
As the van is a new vehicle there isn't much about yet but I did find a set at VanComfort.
Fitted them and they look a treat and very secure. At £69 the pair it was a no brainer.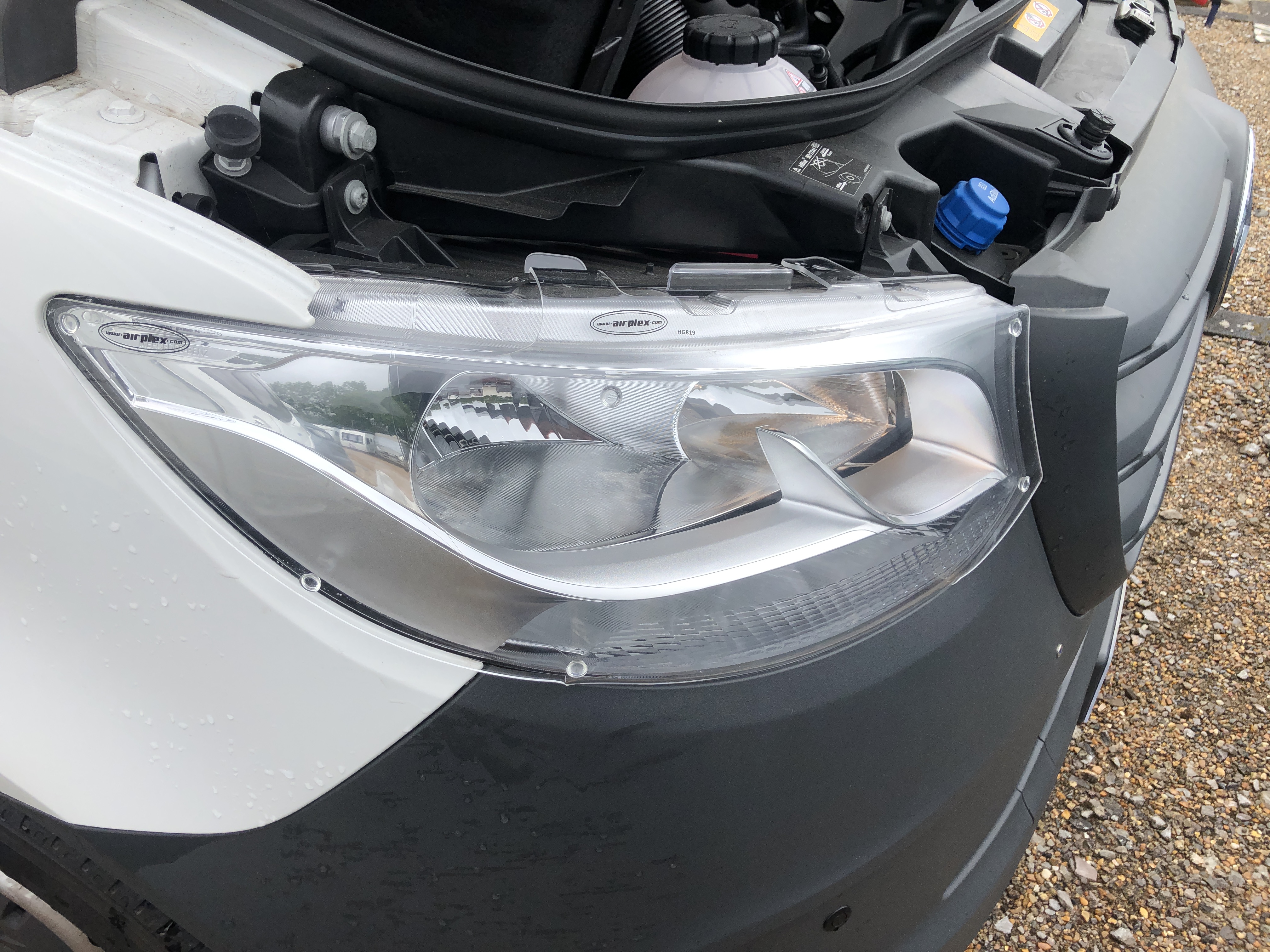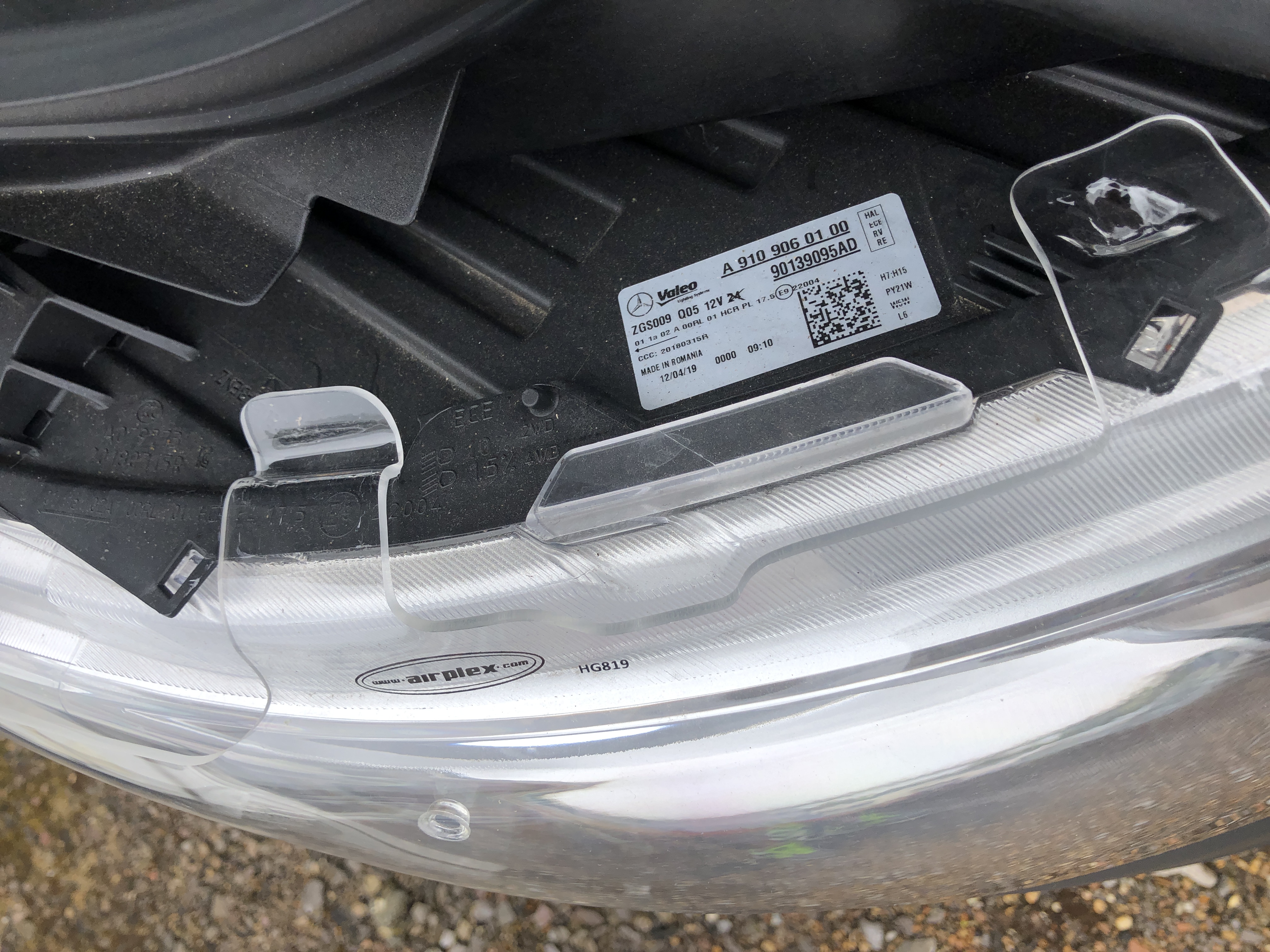 Semi Air Suspension
One of our concerns with the MLT range is the clearance. Looking around it seemed that air suspension could be the answer.
Rhino Installs at Preston came highly recommended and they fitted the kit in a morning. The VB Semi-Air Suspension Comfort kit we went for allows us to air up and down from inside the cab as it has a compressor fitted under the drivers seat. This now gives us an extra 10 cm at the rearmost point as well as being able to lift the left or right rear, interdependently, once parked up.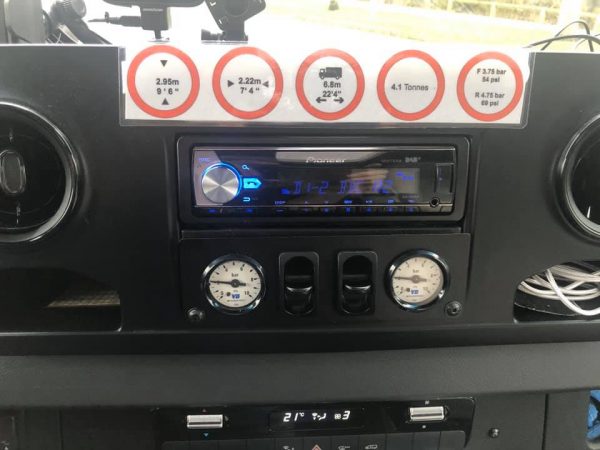 Internet Access
We both felt that access to the internet was quite important. Not just for blogging but keeping in touch with family and friends and route planning etc.
Previously we had used a MiFi and frond them really good. However as we intend going a little more off the beaten track we looked at ways to get a better signal.
We ended up in buying a 4G Antenna with a 4G Router and dock from MotorhomeWiFi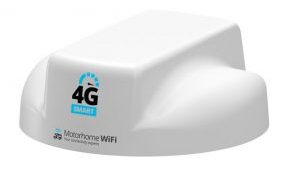 It is a really tidy fit and works a treat allowing us to connect Ipads and Laptops to the internet along with the Amazon Fire Stick which gives us access to YouTube and various TV channels.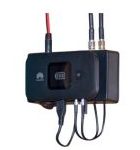 Additional Heating
The next addition we are looking at having fitted is an indoor diesel heater. Having a Gaslow system fitted we can refill quite easily but we would rather save the LPG for water heating if we can.
There are quite a few imports but we will probably go with one of the two markets leaders.
Eberspächer and Webasto have both been around for quite a while and have a good reputation. The imports are quite a bit cheaper but we would rather pay a little extra than it fail in the cold lands of Alaska.
Update: Having contacted a few people that have driven the route we intend to we have decided that we will stick with LPG as a form of heating. My main concern was getting LPG on the road. The good folk I chatted with said this is not a problem.
In addition it wasn't really going to be easy to get the warm air into the rear garage (to protect the fresh water tank) where as the current system has ducting and vents there already.
Further Update: We are now have a Planar diesel heater fitted. Although it won't be sharing the vehicle's heater ducting it will be able to warm up the main living area quite well and save us LPG overall.